Waking up in the morning to my car frozen in an inch of ice wasn't exactly thrilling on a Sunday morning. Let me tell you though, I was feeling a lot better after I thawed out the 2014 Volkswagen Golf Wagon TDI. Diesel engines and the cold have never been friends to each other, but the Golf's engine started up without a struggle. This was my last day with the Golf, and earlier in the morning I had received a message from a colleague who shall remain nameless. "It's too dangerous outside to return the cars this morning". Despite the fact that I didn't want to give this particular tester back, I set out to prove him terribly wrong.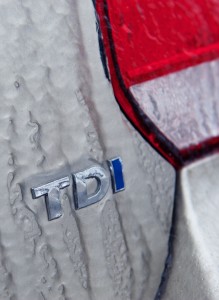 The ice storm that ravaged Toronto this December, leaving thousands without power for weeks, had just struck. My place lost power at 8PM on Saturday evening. Trees were falling apart all over the places, and there were power lines down all over the city. However, by the time I hopped inside the Golf and turned the aggressively warm seat heater on, the pandemonium had become a playground. My tester was fitted with some seriously sticky Continental winter tires, and they definitely shone in this storm. I headed out of Georgetown and further into the countryside, passing an array of downed trees, trucks tangled in sagging hydro lines, and a serious lack of functional traffic lights. Volkswagen's much acclaimed DSG transmission provided quick responsive shifts along the way, but I always miss having a third pedal. Despite the uneven road conditions the suspension was comfortable and forgiving, even if it didn't shine during aggressive cornering.
Anyone looking to purchase a wagon probably isn't looking for performance, but moreso practicality. The Golf Wagon TDI gives you both, one to a further extent than the other, but as a daily year-round driver in Canada this car will even keep an enthusiast happy. The 2.0 turbocharged 4-cylinder diesel pushes out about 140 horsepower at its peak. It lets you have fun in winter weather without scaring you or your passengers. The typical diesel characteristic of torque is also prevalent. Standard equipped roof rails add that touch of practicality, and actually look quite nice.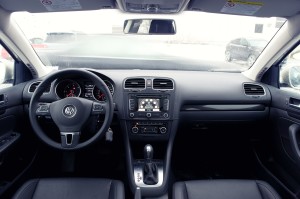 When it comes down to it, the TDI wagon doesn't try to be anything it's not. There are no gimmicky embossments, nothing added for show or to purvey a false racing image – it's very modest and humbling, without feeling cheap. It's not the image of modern luxury, mind you, but it will get 4 people across town quite comfortably in an ice storm (adding a fifth person might get a tad crowded) and certainly will leave the driver feeling satisfied when they get there.  The diesel-factor meant in snowy, slushy, icy roads I was seeing a city/highway average of about 7.0/5.1L per 100km which is more than respectable in these conditions.
This car didn't really come with too many negatives, but as someone who is excruciatingly picky, there will always be a few things I would change. For starters, the ride is a bit noisy, to the point where I often questioned whether I'd cracked open a window by accident – perhaps that has something to do with the massive sunroof. Getting pickier, I don't particularly like the climate control system – the air temperature uses dials, but the fan speed doesn't and I don't like that. The infotainment system is also a bit sluggish. Then again, this is me really trying hard to complain.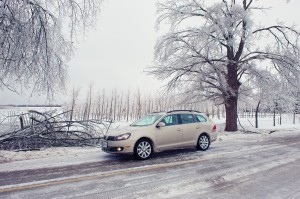 My fully-loaded, Highline tester came in just under $35,000 with all the toys – not bad considering much of its competition consists of more-expensive and fuel-thirsty crossovers. Added points for the diesel factor as well. For me though, the addition of an intelligent key system and push-to-start would've really sealed the deal. Quite frankly, the Golf TDI Wagon will keep most folks happy simply with the practicality it offers, but the performance in the snow on solid winter tires is what will put a real grin on their face.
2014 Volkswagen Golf Wagon TDI Gallery