It will be difficult for Nissan to steal very much market share away from the top three North American automakers.
Going back to the original unveil of the full-sized Titan back in 2003 as a 2004 model year vehicle, Nissan set out with their guns out to compete in a market previously dominated by the GMC Sierra (reviewed here), Chevrolet Silverado, Ford F-150, and what was then known as the Dodge Ram (reviewed here). It sold decently well, but the reality was, the market just wasn't ready to give Nissan a monopoly or enough sales to give the big players a run for their money. The Titan was around for twelve years with minimal major changes, and by the end of its life cycle, it was beginning to show its age. Styling aside, the interior electronics were archaic, and it was ready for a replacement. This new one though, it's right up there with the rest of its rivals.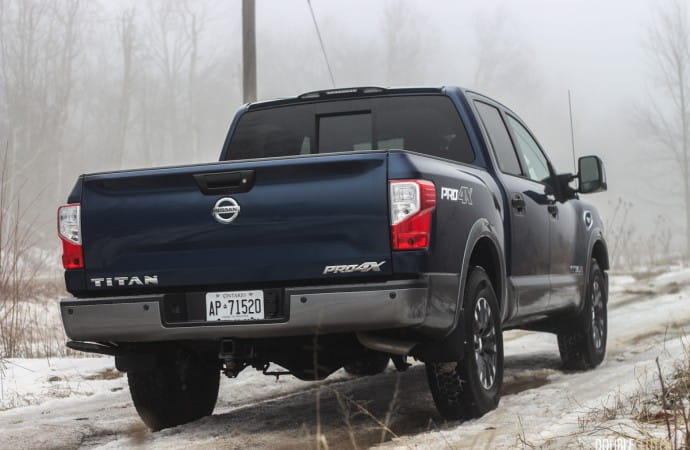 The Titan now comes in two sizes, the regular-sized 2017 Nissan Titan PRO-4X 4×4 tested here, and starts at a base price of $44,650. This particular test vehicle, with the Crew Cab and all of the PRO-4X off-road bits, is mid-range and sits at $57,100. A fully decked-out Platinum Reserve model with the same cab setup will set you back $65,800. The heavy-duty XD model, in all trims, is a little bit more expensive. Whereas the previous model was built in Japan, the second-generation Titan is an all-American product, assembled in Mississippi. Design and engineering was conducted by Nissan teams from across the United States such as Arizona, California, and Michigan.
What isn't built in Mississippi sits under the hood of the mighty Titan, a 5.6L V8. Not to be confused with the unit in the previous generation model, this is a refreshed VK56VD 32-valve V8, part of Nissan's "Endurance" series. It offers 11:2:1 compression and direct-injection, all of which comes together for some serious power. Output is 390 horsepower at 5,200RPM and 394 lb-ft of torque at 3,400RPM. Immediately noticeable is the roar from the Titan's exhaust, both from the cab as well as outside the truck. It packs a similar noise to the Ram 1500 (reviewed here) equipped with the 5.7L HEMI, and definitely more substantial than the turbocharged V6 F-150.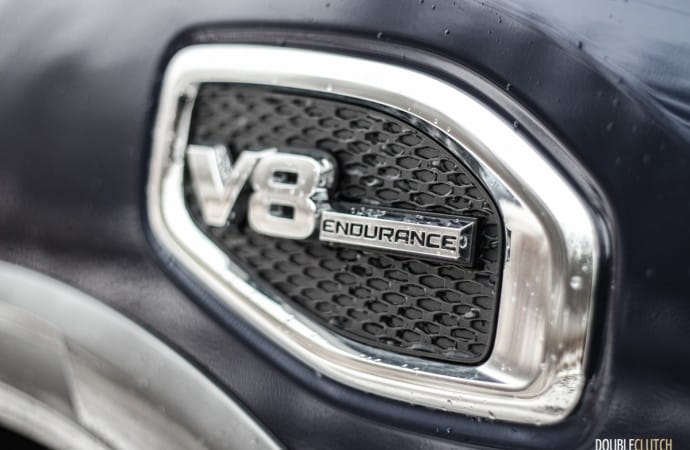 Sending the power to all four wheels (or just the rear two, depending on the 4×4 setting) is Nissan's seven-speed automatic transmission. It has a Tow/Haul mode, and good response, shifting gears adequately and smoothly. It does a great job of finding the right gear at the right moment, and when using the manual shifting mode, it even rev-matches downshifts. With the Titan, passing power is ample, and it's available urgently, with no lag as would be experienced with a turbocharged powertrain. This truck is all motor and makes itself known, with okay throttle response (though we noted the pedal to be a bit longer than we'd have liked) and a punchy power band.
Rather than transitioning to electrically assisted power steering, the Titan still retains a traditional hydraulic power steering system. It has actual, analog feedback, with great on-center feel. The system as a whole is very confidence inspiring, and helps both on-road as well as off-road. Regardless of the Titan's massive size, the steering and suspension systems allow it to handle amicably, and not require much overcorrection while barrelling down the highway.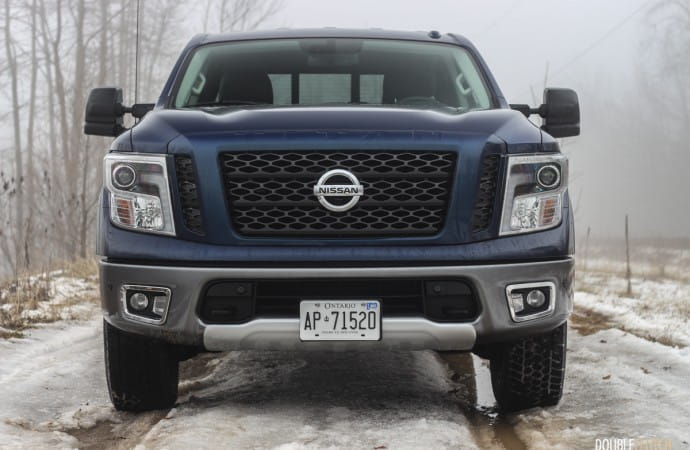 As expected, the Titan is equipped with the safety features that have become a standard in the industry, especially at this price point. This includes Nissan's Vehicle Dynamic Control (VDC), a four-wheel-drive system with a shift-on-the-fly two-speed transfer case, a Switch-on-Demand electronic locking rear differential, reverse camera with the AroundView monitor, and parking sensors. The 360-degree parking assist camera system is a saviour, especially when parking this brute in urban settings. Our test consisted of a good amount of urban gridlock commuting, and the size of the truck is quite obvious. The cameras combined with the responsive steering make navigating and manoeuvring tight spots a cinch.
Stepping into the interior, it's obvious that the Titan is spacious, comfortable, and extremely quiet and isolated from exterior noise. We liked the bolstering on the seats, which gives the truck a slightly more luxurious feel despite the off-road nature of this particular model. The infotainment system, though, still feels outdated and lacks expected technologies like Apple CarPlay and Android Auto – we hope to see Nissan adding this connectivity sooner than later. The 7.0" touchscreen is responsive enough, but graphics aren't as sharp as rivals – a saving grace is the Rockford Fosgate sound system with decent sound quality.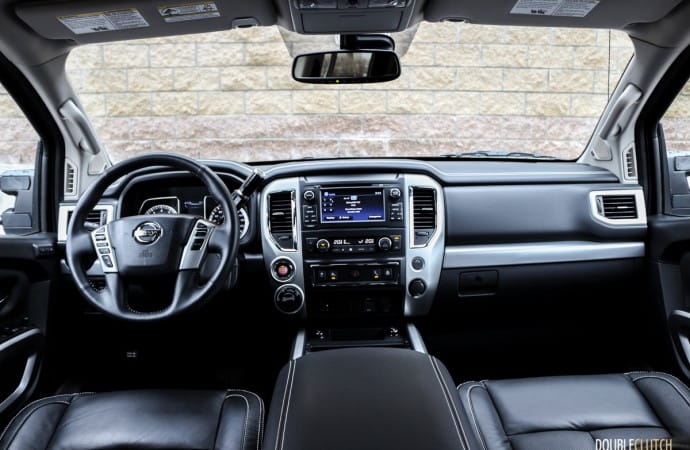 What differentiates our Titan test vehicle from other models is the PRO-4X off-road kitting. This starts with simple upgrades such as meaty P275/70R18 tires wrapping 18×8.0" six-spoke aluminum wheels. The wheels look aggressive too, with dark finish on the machined spokes. The PRO-4X package also adds Bilstein shock absorbers, the locking rear differential, independent double-wishbone front suspension with a stabilizer bar, slightly altered ride height, fog lamps, and handy tailgate illumination for added convenience.
The PRO-4X package does have an impact on fuel economy, and this particular truck is estimated at 16.0L/100km and 12.0L/100km, city and highway. We averaged 13.4L/100km over the course of our test, which was right in line with the projected numbers. The XD model (reviewed here) can be equipped with a diesel powertrain if your commute requires towing or you simply prefer a diesel in your heavy-duty truck, but this is the only powertrain available for the regular Titan. There is word that a V6 option will be available later in the year, but this hasn't been officially confirmed just yet. Thankfully, it can accept 87-octane regular fuel with no penalty to fuel mileage.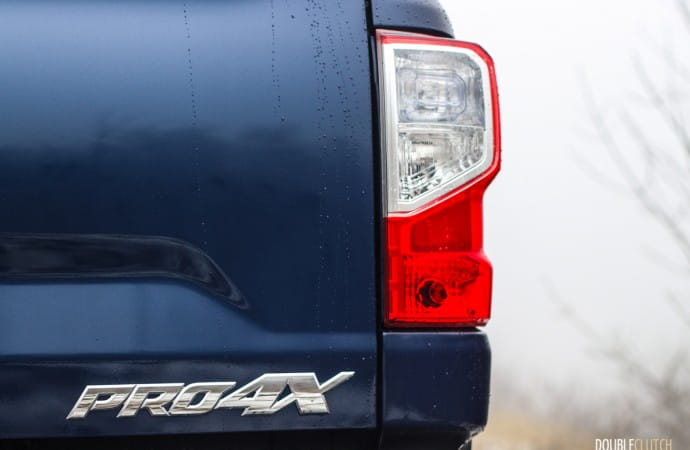 With its 1,610lb payload rating and towing capacity of 9,390lbs., the 2017 Nissan Titan PRO-4X is a competitive new pickup in a very popular segment. It will be difficult for Nissan to steal very much market share away from the top three North American automakers, which have a monopoly over light-duty pickups, but it's refreshing to see a commendable effort from the Japanese. My personal pick in the light-duty segment remains the Ram 1500 thanks to its frugal EcoDiesel powertrain (reviewed here), but if you want to own a truck that your neighbours don't already own three of, the Nissan might be the one for you.
2017 Nissan Titan PRO-4X 4×4 Gallery
See Also: