The Titan XD opens up an interesting segment between light and heavy-duty pickups.
Having spent a considerable amount of time driving both light duty pickups, and their more serious heavy-duty versions, I was really intrigued when Nissan released the new Titan XD. See, the Titan XD is positioned between a typical light-duty (aka "1500") pickup and the much more capable and expensive, heavy-duty ("2500") series pickups. The concept is great as there are plenty of pickup buyers out there who are fine with a light-duty truck 90% of the time, but occasionally need something more capable.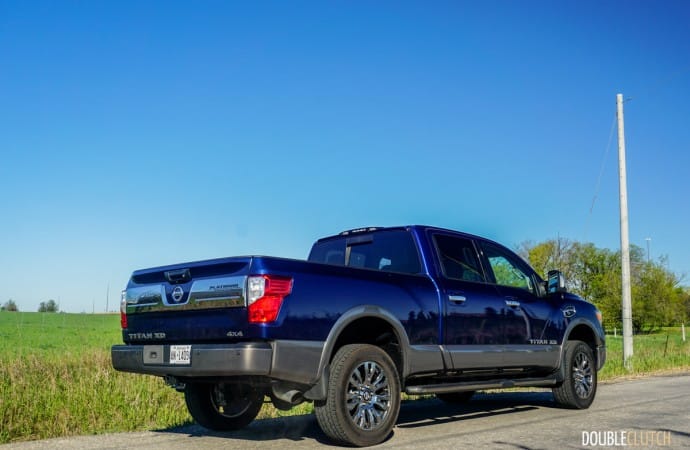 Then of course, you're stuck deciding whether you can push a light-duty truck to get by, or whether to spend the extra money and ongoing operating costs on a true heavy-duty truck. All that to say; I definitely see a market for something like this new Titan XD. Of course, when Nissan offered me a week with their 2016 Nissan Titan XD Platinum Reserve test truck I jumped at the opportunity to get some seat time and compare it to the competition.
My test truck is a top-of-the-line Platinum Reserve model, equipped with the infamous Cummins 5.0L turbo-diesel V8. The first thing I noticed is that the Titan XD absolutely looks the part of a proper heavy-duty truck. Its proportions are massive, it features big heavy-duty-style tow mirrors, rolls on gorgeous 20" dark chrome wheels and sports a huge intimidating grill adorned by intricate headlamps featuring projector beams and LED running lights.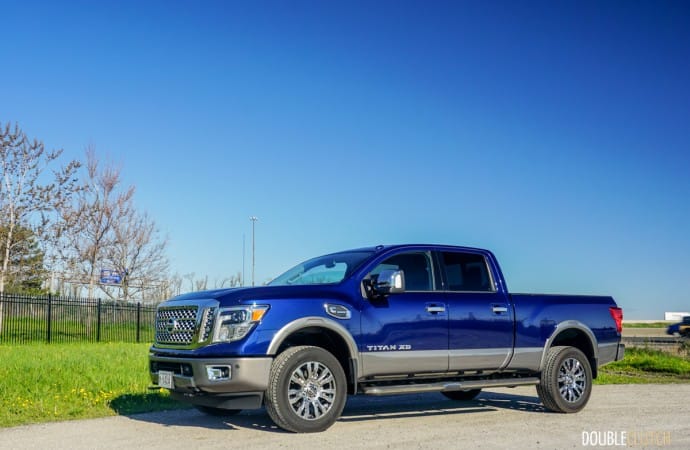 While the front end of the Titan is definitely unique, and all Nissan, the rear and side angles allow it to be easily mistaken for a Ford; especially the large chrome strip across the tailgate with its large "Platinum" badge. It does look good, but it's far from original. My tester wears an optional ($500) two-tone color scheme of Deep Blue and Grey; the two colors suit it well and help to break up the truck's sheer mass. Being new to the market, my test vehicle attracted plenty of compliments and looks from people all week.
If you've been around pickup trucks at all in the last five years or so then you already know that interior design and comfort have come a long way, and the Titan XD is no exception to this. Keeping in mind that my tester is a fully loaded example, the interior is just as luxurious as an equivalent from any of the Big 3 domestic manufacturers – and that's saying a fair bit. As expected, soft brown and black leather, heated and cooled front seats, heated steering wheel, navigation, and an impressive Rockford-Fosgate sound system are all present.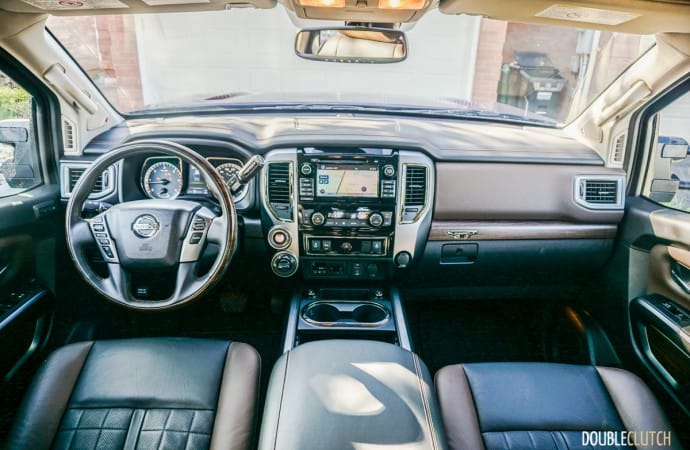 Strangely, there is no sunroof available in the Titan XD, but there is a power-sliding rear window, which is nice provided that the bed isn't full of dirt. The build quality inside the Titan XD is superb, with no obvious shortcuts, rattles, creaks or cheap materials to be found. From a strictly aesthetic standpoint the interior is very well done, and I'd put it on par with my favorite interior in the segment, which happens to the Ram with the Long Horn package (reviewed here).
From a functionality standpoint through, the Titan XD's interior falls a little short. To its credit, it also offers loads of handy storage for small items up front, which is critical if your truck is also your office. I did find a few ergonomic annoyances though. For instance, the heated steering wheel button is all the way to the right of the climate controls and requires the driver to lean forward to reach it. Same goes for the radio tuner dial and a couple of other controls that are just out of reach. The biggest issue for me is actually in the rear seat area – like most full-size trucks the rear seats flip up to allow for extra cargo space, but unlike most other trucks, the floor is not flat, nor is there a false floor panel to make it flat. There are some small plastic storage bins under the seats, but I don't find that nearly as useful as a flat cargo floor.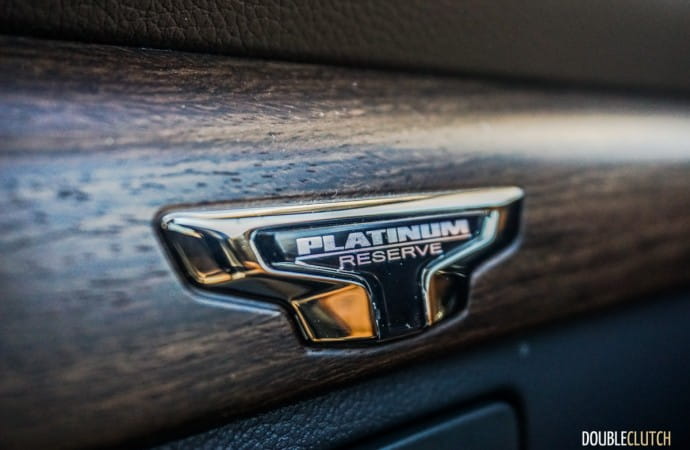 The bed of the Titan XD is definitely designed with practically in mind. It features LED lighting under the rails, out of harm's way, shallow wheel wells allowing for wider loads and well-placed tied down hooks. It also features a built in goose-neck hitch which is attached directly to the frame for extra strength, it also flips around and hides when not needed or in use so it's completely out of the way – that's pretty innovative.
The most intriguing part of the Titan XD and certainly what has made a lot of waves among truck enthusiasts is the available 5.0L Cummins turbo diesel. Previously a nameplate associated with Dodge trucks, Cummins is a force to be reckoned with in the heavy-duty commercial equipment world. Now, the last couple diesel pickups I drove left me surprised at how un-diesel like they felt and sounded, which can be good or bad depending on how much you like diesels. The Titan XD stands out as an exception to that, from the moment you push the start button it's blatantly obvious that you're in a diesel; all the typical diesel sounds can be picked up around the truck. Personally, I sort of enjoy the diesel-ness of it, but that might wear thin over time.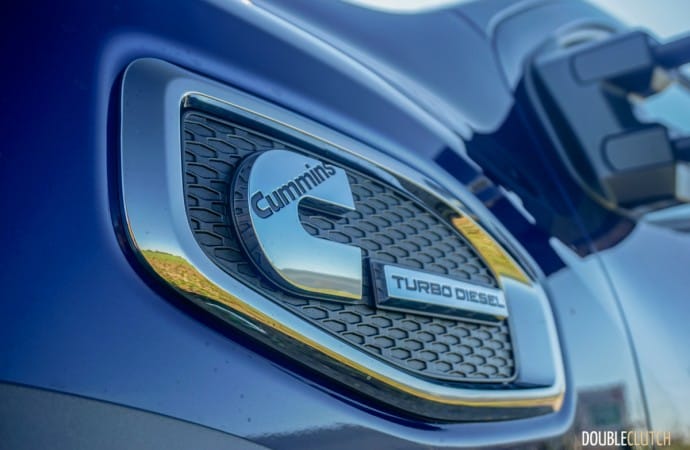 The less refined diesel like theme continues from behind the wheel, and that's not something I particularly enjoy. See, the impressive 310 horsepower and 555 lb-ft of torque is enough to throw you back in your seat and pass slower moving traffic with a quick roar from the big diesel; but it's not always that smooth. The Cummins gets a little bit bogged down at lower speeds and occasionally requires a large time delay before responding to throttle inputs.
Also, while chugging along in traffic, the Aisin six-speed automatic transmission tends to gear hunt a lot, which makes for a choppy ride. I am complaining about traits that were almost expected with diesels of the last decade, but the technology in many diesel pickups today has advanced beyond that, and I've recently driven some exceptionally responsive and smooth examples.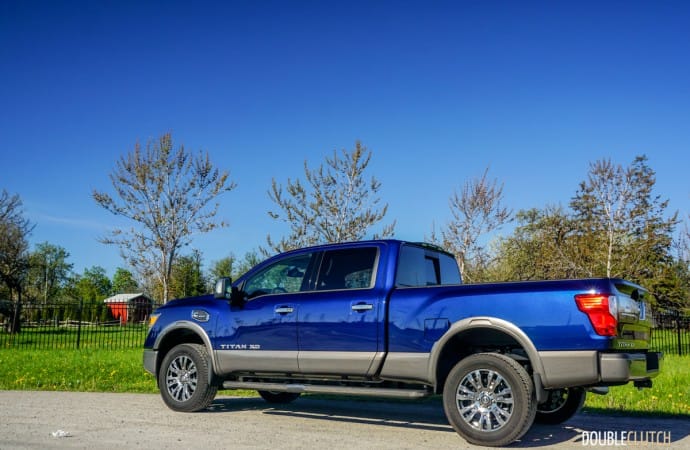 Beyond that, the Titan XD drives and rides like a heavy-duty truck. It feels big, the steering feels comfortable, smooth and isolated from the road, and the ride is a little bouncy on city streets. These are traits I totally expect in a proper heavy-duty truck, but I had hoped that the "middle ground" Titan XD would offer a more light-duty-style driving experience, which it does not. That said, driving the big Nissan is far from unpleasant; visibility is great for a truck of this size, the reverse and Surround-View cameras make parking easy and the experience on the highway is, solid, composed and quiet – a great long distance hauler.
Fuel efficiency is one of the big reasons buyers opt for diesels, but with a truck of this stature I wasn't sure what to expect from it in terms of fuel economy. I ran my normal weekly commute in the truck and ended the week with an average of 16.8L/100kms. That's better than a typical heavy-duty gasoline-powered pickup, but worse than any light-duty truck I've driven recently, and also considerably worse than the 13.8L/100kms I averaged in a diesel Silverado 2500 HD (reviewed here).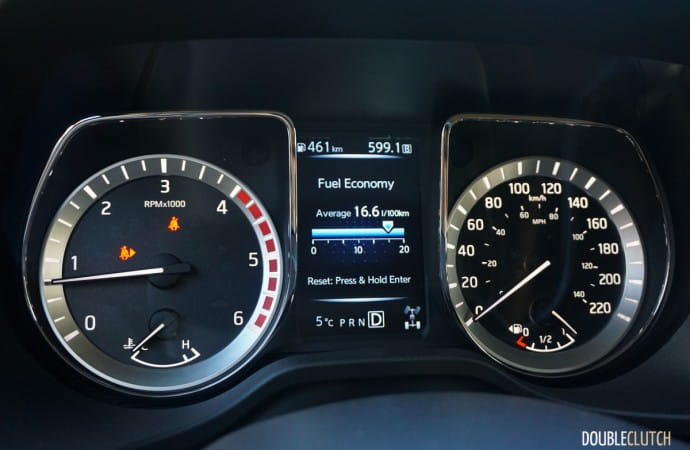 The Titan XD drives more like a heavy-duty truck and drinks like a heavy-duty truck, so you might expect the capabilities of a heavy-duty truck. This is where the Titan XD doesn't quite add up – its 12000lb tow rating is impressive on its own, but when you compare it to the fact that a typical HD diesel truck is rated at 17000+ lb, the Titan sounds a little less impressive. Payload in the Titan is 1471lbs, good for a light-duty, but far short of the 3500lb you'd get in a true HD diesel.
This would all be okay if you don't need the full HD capabilities, but you might expect to save some money with the Titan XD. The cost of entry into a diesel-powered Titan XD would be $53,400, and quickly pricing out a comparable Silverado 2500 diesel landed at $52,055. My fully loaded test truck in Platinum Reserve trim came out to $75,000, which is what I would expect for a loaded diesel truck.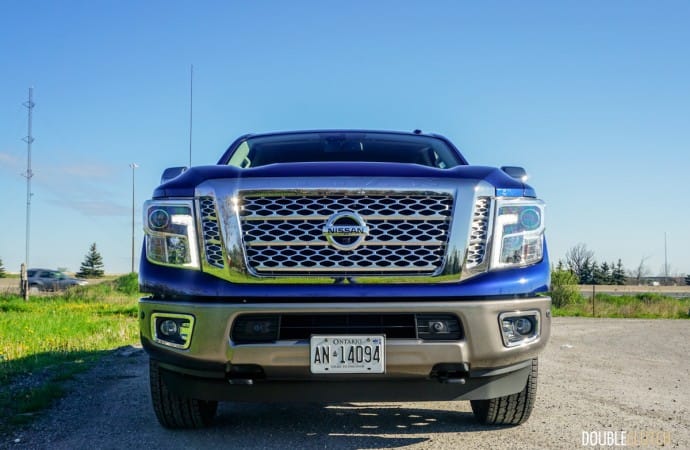 The 2016 Nissan Titan XD opens up an interesting segment between light and heavy-duty pickups, and I do believe there is a market to be served in this class. The Titan serves as a mix of both worlds, but it definitely skews towards the heavy-duty side of things when it comes to its driving experience, efficiency, and cost. A new option and a new face in the pickup truck world is always welcome, and I am looking forward to seeing where the engineers at Nissan take the Titan XD next.
2016 Nissan Titan XD Platinum Reserve Gallery
See Also:
2016 Ram 1500 EcoDiesel Laramie Limited