The Fusion Titanium offers levels of technology not commonly seen in mainstream midsizers.
The 2017 refresh of the Ford Fusion revitalises what was already a proper-looking car for its segment. A midsize sedan built to offer a stylish, yet comfortable ride with a relatively low cost of ownership. The Fusion has come quite a long way since the original car was introduced back in 2006. The first generation of the Fusion was as about as exciting as a grain of rice – yes it was something new, but there was no real wow-factor in terms of styling. Ford then revamped the car in 2010, slightly modifying external body components, with few minor interior changes.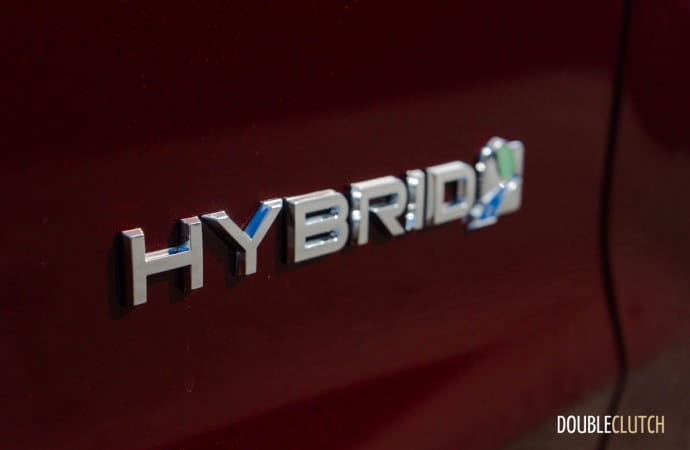 In 2013, Ford dropped a bombshell – a completely redesigned Fusion that sported sleek new lines and elegant contours. It was complete with a new interior featuring new tech that made Fusion fans light up with impish glee – not to mention a new front-grill that resembled the front fascia of a familiar British nameplate. Three years later, Ford has now given the Fusion a slight facelift to keep the car's design current and competitive.
We went on a first drive and had the opportunity to test all current Ford Fusion variants (reviewed here) – all but one, until now. The 2017 Ford Fusion Hybrid Titanium offers identical styling cues as the standard gasoline vehicle, all while offering the second-best fuel economy figures within the Fusion family tree (the exception being the plug-in Energi). Powered by a a 2.0L inline four-cylinder gasoline engine, mated to a 1.4-kWh battery and an electronic continuously variable transmission (eCVT). This motor puts out 188 horsepower and 129 lb-ft of torque. To those who are unfamiliar with eCVT systems, it may take a little time to get comfortable with the how the car feels under hard acceleration; think of what it's like when you hammer down on the accelerator of a golf cart.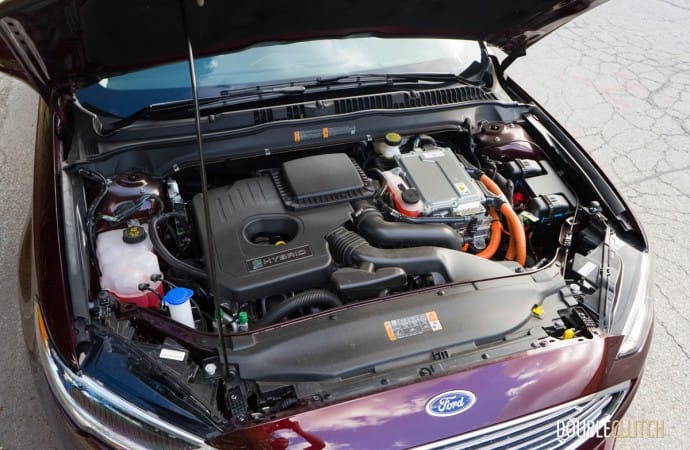 By no means is this car meant to break land speed records, nor does is market itself in such a way. The Fusion acts as a modest yet sharp family sedan that will get you to your destination in a comfortable fashion, while at the same time lifting some stress off your wallet thanks to the hybrid powerplant. Ford claims the Hybrid can operate on just electric power at speeds up to 135 km/h. The battery will then recharge when the vehicle is braking or when even when the vehicle starts coasting. Our Fusion Hybrid averaged 6.2L/100km during our weeklong test drive, which falls right in line with Ford's claims.
The exterior of the car boasts brand new 18-inch machine-faced aluminum wheels, which are mounted on a set of 235/45 Michelin Green X energy saving tires. The body is painted in what Ford calls Burgundy Velvet; a dark metallic paint that contrasts quite well with the many chrome accents which can be seen all around the car.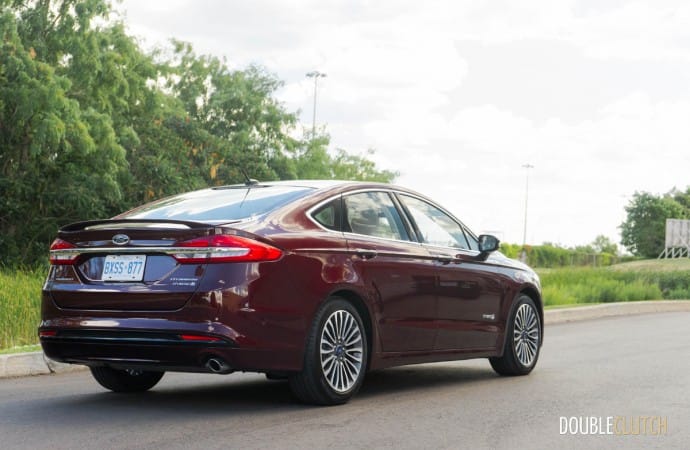 Not only has the new Fusion earned a handful of new exterior design traits, it also receives some technological upgrades to boot. The Titanium trim comes with all new LED headlight and tail light systems. One thing we had noticed with the new daytime running lights, which consist of two LED strips in the headlight assembly; one that lines the top of the casing, and one shorter strip that comes down the side, connecting both pieces at a near 45-degree angle. We can't help but comment that this design seems rather identical to the running lights of the Audi A3 (reviewed here).
The Medium Soft Ceramic (a creative way of saying "beige") leather seats create a nice contrast with the exterior paint, all while at the same time complimenting the darker components in the found in the rest of the cabin.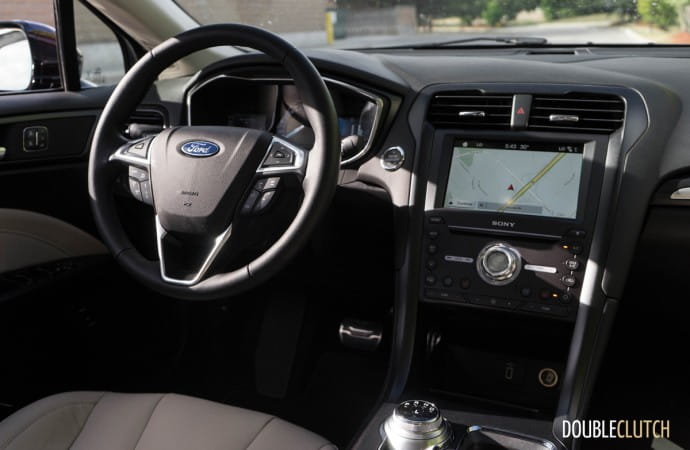 The days of traditional automatic shifters are over for the Fusion. Ford has adopted rotary shifter dial technology with the hopes of keeping the Fusion current. We've seen this same type of tech adopted by Jaguar-Land Rover in recent years, and in the mainstream segment, Fiat-Chrysler has them right through their lineup. This new way of changing gears is coming off as a little controversial. Some people stating that it is a dangerous tool, with drivers leaving their car in the wrong gear at times. Luckily, the rotary gear shifter denies the driver from stitching to reverse from drive unless the vehicle is at a complete stop. Additionally, if the car is shut off with the shifter in either "Reverse" or "Drive", it automatically engages "Park".
Our tester came with a basket full of optional extras. One of our favourites are the heated and ventilated seats, with an emphasis on the "cooled". This time of year it comes as a blessing to have refreshing seats to drive in, rather than hot sticky leather that reminds you how much a car resembles an oven after having it sit outside for 10 minutes. The new SYNC 3 media system comes standard on the Fusion Titanium. This proves to be one of the best media infotainment systems the automotive market has to offer. This model also includes Apple CarPlay connectivity, which is beginning to become more and more universal across the industry.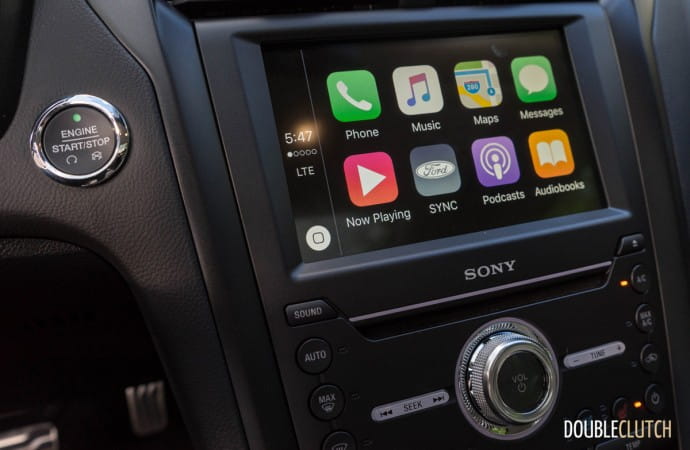 Overall, the 2017 Ford Fusion Hybrid Titanium delivered exactly what was expected. This is an impeccably comfortable midsize with optimised fuel efficiency. As tested, our Fusion Hybrid Titanium is priced at $44,138.00. This is a bit higher than fully-loaded examples of the Mazda6 (reviewed here) or the Honda Accord, both benchmarks in the segment. The Fusion Titanium offers levels of technology and safety features not commonly seen in mainstream midsizers, and a ton of style to boot.
2017 Ford Fusion Hybrid Titanium Gallery
See Also: