Comes close to the utility of a minivan, without any of the negative stereotypes!
For many young and young-at-heart moms and dads, there is a notion that purchasing a minivan signifies that the game is over: it brings the end of cool sports cars, responsibility takes priority, and you now have mouths to feed that you didn't have to before. Thankfully, automakers have come up with plenty of options for image-conscious parents. The crossover sport utility vehicle (CUV) is a rapidly growing segment just about everywhere, and lets buyers have all the utility without the uncool minivan stereotype.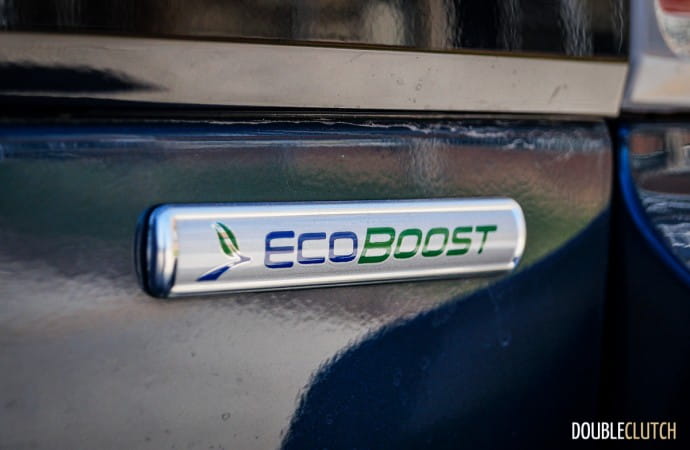 On the contrary, the large station wagon has fallen almost completely out of favour, yet vehicles like the seven-passenger 2016 Ford Flex EcoBoost Limited still maintain a small but loyal following in a niche corner of the market. With a mix of old-school cool station wagon and crossover SUV, a Too Good To Be Blue Flex Limited found its way into the DoubleClutch.ca test garage. Would the decidedly retro styling end up being only skin deep, or is it a car that families can live with every day?
The Limited trim level represents the upper echelon of the Flex lineup. A base SE can be had starting at $29,799, a mid-range SEL is $36,799, and the fully loaded Limited starts at $43,599. The test vehicle was equipped with a selection of options and packages, including the $6,800 Equipment Group 303A, which included Active Park Assist (automated parallel parking), adaptive cruise control and forward collision warning, as well as heated and cooled seats and a power tilt and telescoping steering column. Most importantly, this package brings in a more powerful twin-turbocharged 3.5-litre EcoBoost V6 that outputs 365 horsepower at 5,500 rpm and 350 lb-ft of torque at 3,500 rpm.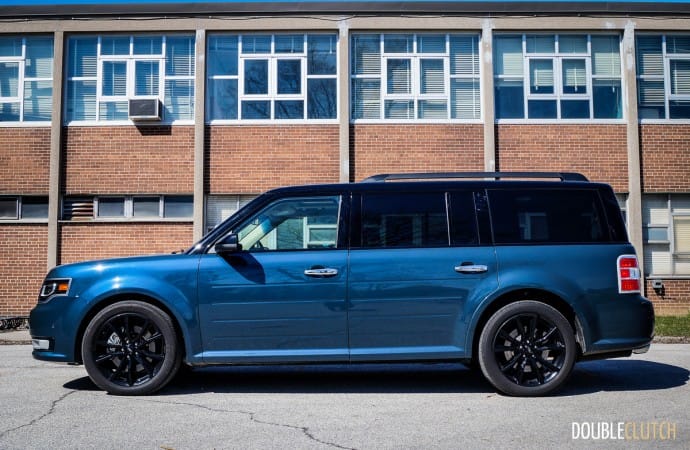 Rounding out the options included a $600 Cargo Versatility Package (all-weather floor mats, roof rails, tow package), a $1,750 multipanel sunroof, $800 voice-activated navigation, and $250 rear inflatable seat belts. This brought the total as-tested price to $56,299. With the options total exceeding $11,000, this may sound steep, but the Flex places itself neatly into loaded midsize crossover SUV territory. The Honda Pilot Touring (reviewed here) and Toyota Highlander Limited offer similar options but have more conservative styling less power, and competitors such as the Lexus RX 350 (reviewed here) or the Acura MDX either lack a third row seat, or are more expensive once options are considered.
The interior of the Flex Limited is a no-nonsense environment, and while some may find it to be a little spartan in terms of design, it's still a well-assembled environment with high fit and finish levels. The multi-panel Vista roof provides four separate sunroofs that allowed passengers to let light in as they desired, but only the glass panel above the front seats could be tilted and opened. Unlike the newer Fords tested, the Flex still has capacitive touch buttons for the heating and air conditioning controls; this made them a little distracting to operate, as drivers have to take their eyes off the road to adjust any functions. Other Fords such as the Edge, Explorer (reviewed here), and Escape, all have proper buttons that are much more intuitive to operate.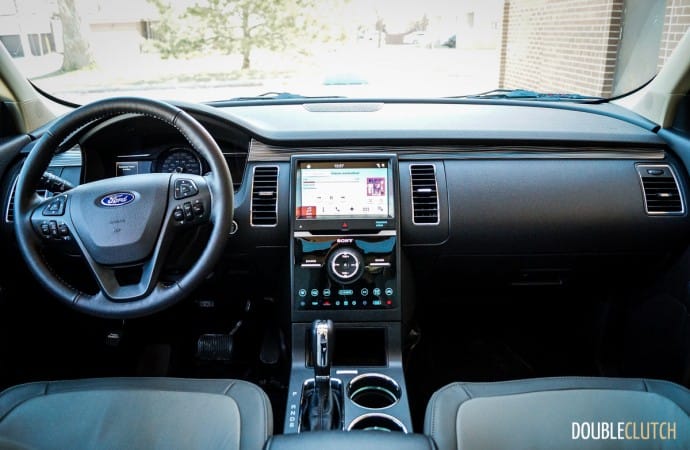 In terms of space, things were very generous for first and second row passengers. The seats appeared to be very flat, but were quite comfortable and were very much up to the task of long distance driving. In the second row, the optional inflatable rear seat belts aim to reduce the risk of injuries for passengers in a collision – but check with your infant and/or booster seat manufacturer for compatibility. As with most crossover SUVs, adults may have some trouble squeezing into the third row, but children will be no problem. The third row itself was equipped with a neat power folding option that allowed the seats to be stowed flat, folded down, or faced backward for tailgate parties.
For 2016, many Fords are coming equipped with the new SYNC3 multimedia system (reviewed here), and the Flex is no exception. Gone are the days of the frustrating MyFord Touch; SYNC3 is simple, intuitive, and is an overall pleasure to use. With full smartphone, navigation, and configuration ability integrated into the head unit, drivers will be up and running in moments with SYNC3, compared to eons with MyFord Touch. A premium Sony sound system also packed a good amount of punch, and is the final touch on making Ford's multimedia among the best in the business.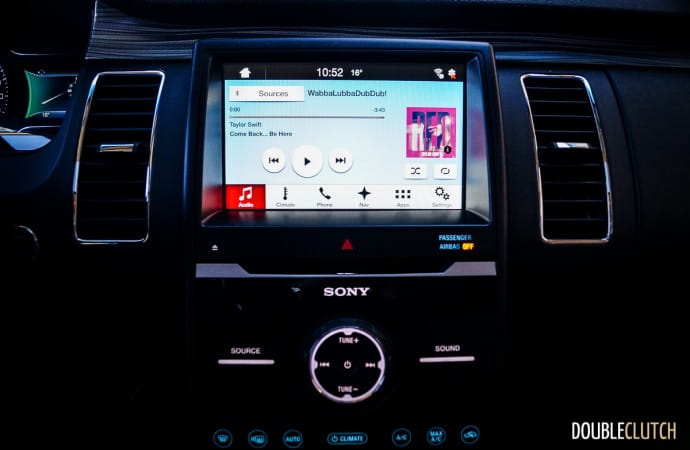 Back to the EcoBoost engine for a moment – the 365 horsepower and 350 lb-ft of torque gave the Flex excellent acceleration and passing power. The direct fuel injection and twin turbochargers made quick work of the rev range, with turbo lag was kept to a bare minimum. With a quiet induction and exhaust setup, bystanders only heard the gale force whistle of the turbos coming on as the Flex quickly disappeared into the distance.
The exhaust note wasn't quite as sweet sounding as the 315-horsepower, 2.7-litre EcoBoost V6 in the Edge Sport (reviewed here), but still wasn't too dissatisfying to hear. Motorists are bound to be surprised by the way that this family wagon is able to slingshot into position amongst traffic; the sleeper effect is in full swing with the EcoBoost-powered Flex. Thankfully, with an automatic all-wheel drive system, there was also a heap of traction for quick getaways off the line, with some hints of torque steer from the front-wheel drive biased setup.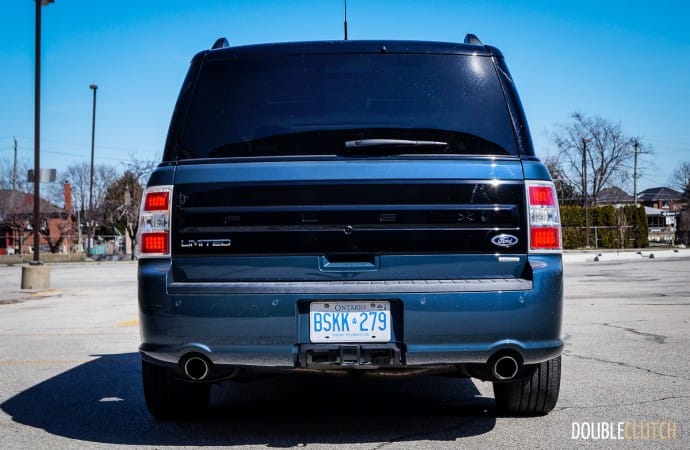 Backing the ballsy powertrain is a six-speed automatic transmission that did its job admirably well. It did, however, get a bit flustered during dynamic throttle applications in between shifts. It was fairly evident that Ford has programmed the powertrain to pull back power during shifting in order to limit the amount of torque being passed through the transversely mounted transmission. Due to packaging constraints, it's often an inherently weaker design compared to longitudinally mounted setups. If you observe closely, you can feel the control computer yank power, perform the shift, and then return the power as originally scheduled. While this is a common trait on all cars today, the extra power of the Flex means that this torque management window is a bit more pronounced.
On the road, the Flex did a wonderful job at swallowing up the miles, with the long wheelbase helping to smoothen out the ride. The highway is where the Flex is the happiest, but it's equally at home maneuvering around the city. With an overall length of 5,125 mm (201.8 inches) and a turning circle of 12.4 meters (40.7 feet), tight spaces weren't too much of a problem for the big Ford to handle. There were some rattles emanating from the third row of seating that made themselves evident under low speed bumps, but this may have been anomaly on the test vehicle itself – your mileage may vary.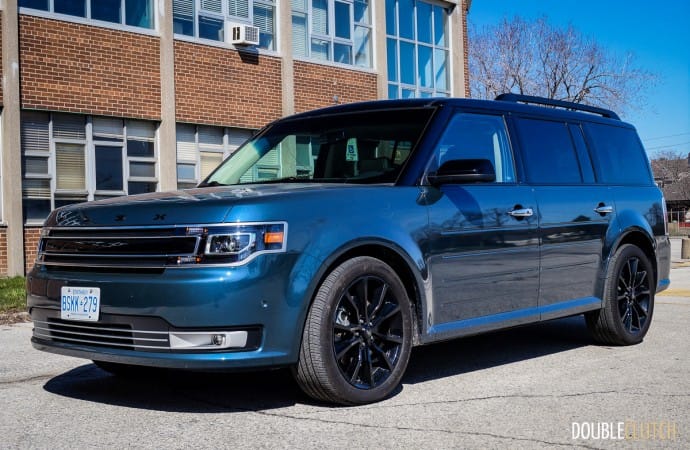 Speaking of mileage – the Flex does reasonably well in the fuel consumption department, all things considered. While the nominal rating of 15.7 L/100km in the city and 11.2 L/100km on the highway don't seem particularly stellar, a full-size SUV with an eight-cylinder engine is still likely to perform worse overall, especially around town. At 13.3 L/100km, observed test economy for the week split the two nominal numbers after a good amount of mixed driving and turbocharger use. Thankfully, the Flex happily accepts regular 87 octane fuel. For those more concerned about fuel consumption, the 287-horsepower naturally aspirated base engine will offer a further improvement in economy (approximately 1.0 L/100km better in all areas).
Overall, the 2016 Ford Flex EcoBoost Limited lies in a great niche market with a loyal set of buyers. While sales numbers aren't exactly setting new records, the Flex is still a great vehicle for Ford to produce. Built in Oakville, Ontario alongside the Edge, it's an offering that comes close to the utility of a minivan, without any of the negative stereotypes and connotations. Taking into account the EcoBoost V6, it's a fast and cool people carrier that also happens to look the part. Having been around since 2009 in its earliest form, it still isn't particularly outdated, and still remains relevant in the ever-changing family car segment. Cool moms and cool dads should consider the Flex without reservation.
2016 Ford Flex EcoBoost Gallery
See Also:
2016 Cadillac Escalade Platinum