The Spark EV is a very practical car with a fun, cheeky personality.
I've grown to fall in love with electric vehicles in the past little while. They don't exactly fit my lifestyle just yet, but with a growing infrastructure of charging stations and increasing ranges on most respective EV models, we're moving closer and closer to the EV becoming a mainstream thing. Luxury automaker Tesla has been a pioneer in cannibalizing sales of comparable gasoline-powered vehicles, and more and more mainstream manufacturers are pursuing this setup. We were sent a 2016 Chevrolet Spark EV, hot off the press, to preview for a few days before it officially goes on sale to Canadians in the spring of 2016.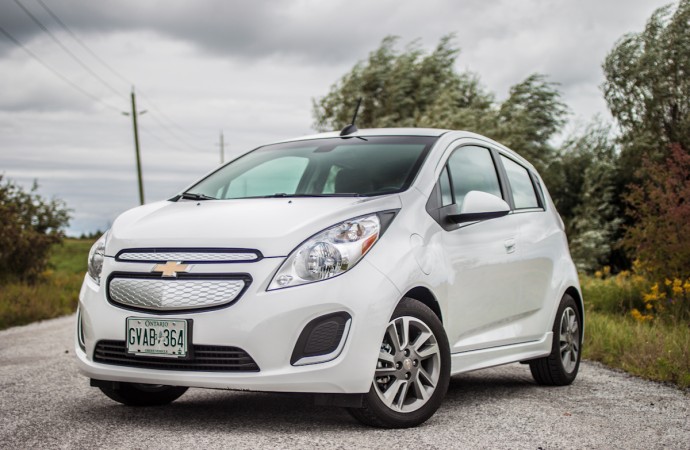 First off, I've driven the regular Spark and come out with mixed emotions. It's a funky looking little city car, but the base model is relatively expensive for its segment, and the Nissan Micra provides decent value. The Spark's spunky styling and short overhangs make for a fantastic city commuter, and the 1.2L inline four-cylinder engine does a better job of hustling it around the city than the Mitsubishi Mirage's three-cylinder unit. Again though, the Nissan Micra's 1.6L is shared with the larger Versa Note, and actually makes the little car quite fast. The huge advantage the Spark now has though is the addition of the electric model, something nothing else in its segment offers.
The Spark's electric motor is capable of 141 horsepower, 327 lb-ft of torque, and is supposed to top out around 150 km/h. We didn't have access to a closed course during our testing, so we only got to take it up to highway speed during normal commutes. It's actually pretty quick, and it immediately becomes evident that this electric motor packs some serious power. Of course, the Spark's extremely light weight contributes to this considerably – 100km/h arrives in about 7.5 seconds, and the single-speed transmission means there's no shift time either. As with every other electric motor, torque arrives instantly at 0 "rpm", and the Spark is capable of soaring off the line with no lag whatsoever. It actually does feel like a smaller scale Tesla at times. There is a bit of torque steer on hard acceleration, but nothing that causes much alarm.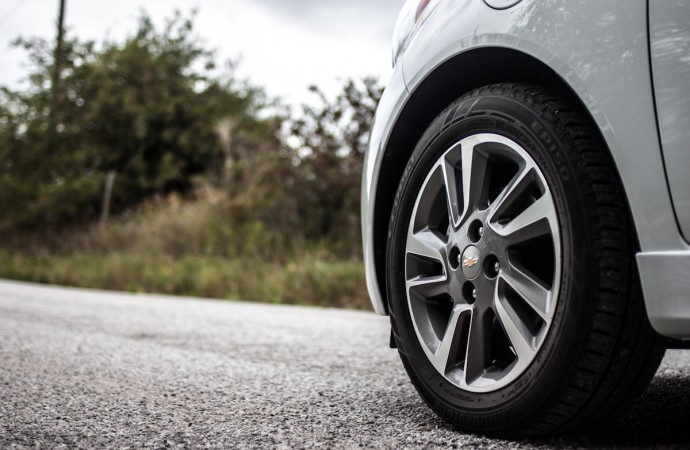 Because all of the Spark's weight is down low, handling is very balanced. Steering is light and effortless, though there isn't very much lifelike feedback. That's okay though, because those who convert to electric vehicles typically don't crave the noise, feel, and smell of a traditional gasoline engine in their everyday motoring experience. The Spark EV is a blast to zip around the city with, and with our city welcoming electric vehicles with open arms, things like priority parking and solo-use of the high-occupancy lanes only sweeten the deal a bit more.
The weight difference between the Spark EV and the regular Spark is a hefty 600lb, making this model quite a bit heavier. However, the fact that most of the weight sits very low on the chassis definitely works to the Spark's advantage. The battery packs are hidden under the rear cargo bay and rear seat, resulting in no compromise in storage space. Thanks to all of this, weight distribution is almost 50/50, which explains why it's so balanced to drive in most environments. Additionally, the electric Spark gets four-wheel disc brakes, as opposed to the disc/drum combination in the conventional model.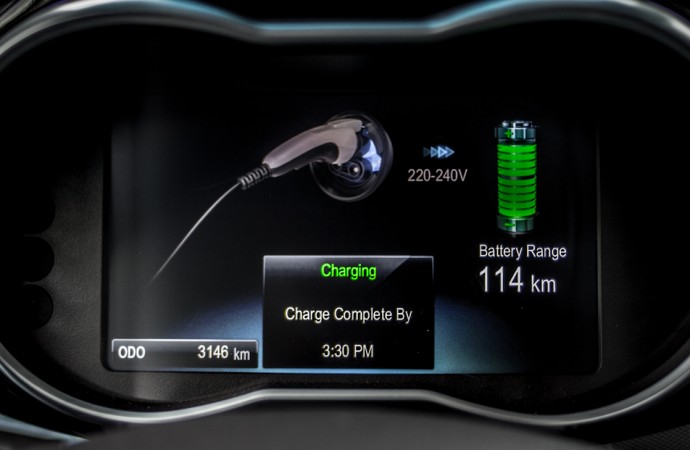 Ride quality is at an all-time high, thanks to the suspension that has been completely overhauled from the regular Spark. As opposed to a conventional setup seen across the subcompact segment, the Spark EV makes do with springs and dampers that are far more advanced and aggressive than the gasoline model. The Spark EV almost behaves as if it has GM's Magnetic Ride Control, and the result is a subcompact that has road manners almost as good as the Cadillac ATS. Of course, grip and handling is nowhere near as sharp as the ATS, and the skinny low-rolling-resistance Bridgestone mean the Spark is prone to a bit of understeer when pushed hard.
Since I popped my EV cherry with the first Nissan Leaf we drove a few years ago, driving them has almost become akin to a video game for me. It becomes about maximizing electric range by minimalizing driving to conserve as much energy as possible. When we first picked up the Spark EV, it displayed a remaining range of 135km. I was told by our PR representative that at full charge, it could do up to 165km with conservative driving in ideal conditions. Our evaluation over a couple of cycles confirmed this, with one cycle doing as much as 178km with a displayed 20km remaining when we plugged it in.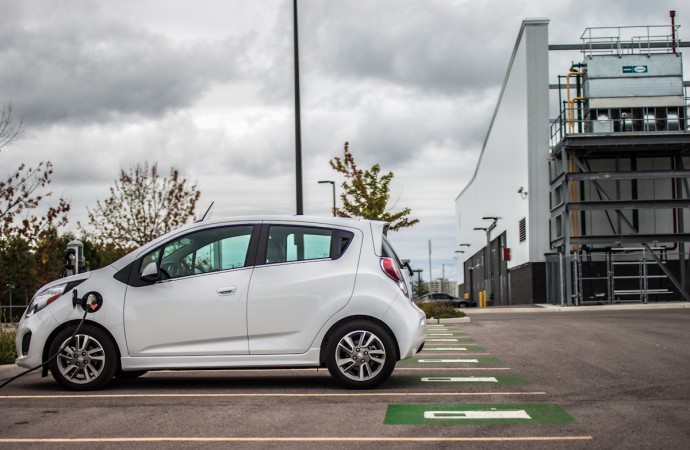 As with all other electric vehicles, range is directly impacted by driving style as well as weather conditions. During an extreme cold weather test of a Tesla Model S we conducted in 2013, we came to the conclusion that range is shaved in half when temperatures are below freezing. Considering these temperatures are only typical in our climate, it's important to take this into consideration when making the decision to convert to this "lifestyle". For me personally, range anxiety is still a very real thing, but I can only assume that it would slowly dwindle as I spend more time with EVs.
Charge time is something that has been addressed since the Spark became available for sale (in California and Oregon only at first) last year. On a 240V charger, many of which are scattered through the Greater Toronto Area, charge time from empty is about seven hours. For the typical Torontonian, this isn't a huge deal because upon purchasing (or leasing) a Spark EV, they would presumably get their home retrofitted with a 240V outlet in the garage. An $800 option renders the Spark EV compatible with superchargers (just like the Tesla), which can charge the car fully in just twenty minutes.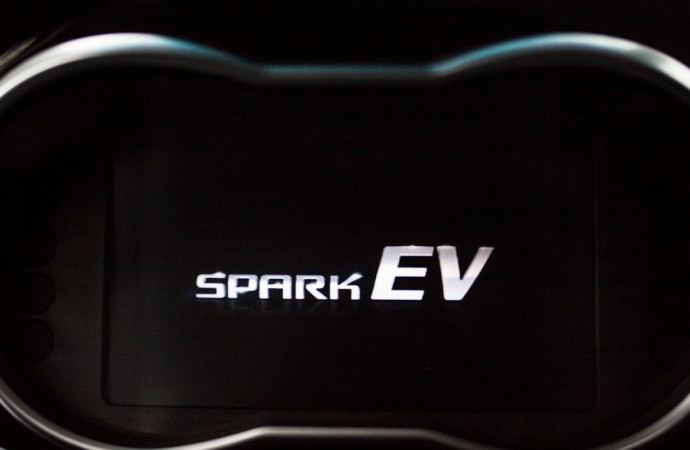 What I found really interesting is that the instrument cluster and interior on the Spark EV is actually considerably different from the regular model. The gauge cluster on the last Spark I drove was a motorcycle-inspired display with monochromatic digital characters. This one is almost identical to the one in the Volt, with a video game-like full colour display, and tons of features including a history of energy use, speed, trip computer, and a bunch of other stuff. The display is crystal clear and, once past the learning curve, extremely simple to use.
My colleagues who have reviewed the conventional Spark in the past have commented on how good the Chevrolet MyLink system is in this application. The setup is virtually identical on the EV model, and after spending a week with it, I wholeheartedly agree. The touchscreen is extremely responsive and large enough to see clearly even in direct sunlight. There is a bit of glare from the piano-black bezel that surrounds the screen, but that's only at certain angles. The ease-of-use from this version of MyLink more than compensates for any other flaws.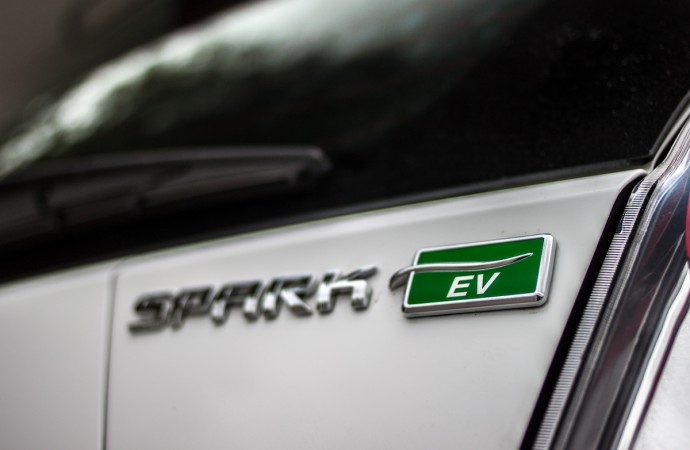 Now, because the Spark EV isn't officially on sale in Canada for another few months, real pricing numbers have yet to be released. The starting price as of now is $31,445, with an Ontario government rebate of $8,500 for driving an electric vehicle. This brings the price of the EV down to just over $23,000, whereas a fully loaded gasoline Spark tops out around $21,000. The price difference is significant when you factor in the fact that it's still a subcompact, but quickly begins to make sense when one remembers that refueling weekly becomes a thing of the past. Additionally, 327 lb-ft of torque available instantly isn't attainable at all for $23,000 anywhere. The BMW i3 produces similar numbers for considerably more money.
The slightly more expensive Volt, also from Chevrolet, has a backup generator that's fuel-powered. This gives it the ability to be used for road trips, something that's not doable with the Spark. The 2016 Chevrolet Spark EV is a car that provides as much EV range as the Nissan Leaf, the Kia Soul EV, and significantly more than the Ford Focus BEV and Mitsubishi i-MiEV. Additionally, it also gives us a bit of a preview of what we can expect from the upcoming Chevrolet Bolt, the next big EV move from General Motors. The Spark EV is a very practical car with a fun, cheeky personality – a car that will provide effortless miles of transportation for years to come.
2016 Chevrolet Spark EV Gallery
See Also: