The Audi R8 Spyder is a full body experience meant to enlighten all the senses.
When Audi released the 2017 R8, it was only a matter of time before a "chopped top" or spyder version followed. Sure enough, Audi followed suit and pulled the covers off the 2017 Audi R8 Spyder. Although Audi unofficially leaked the Spyder a number of times in Europe (by driving it around without camouflage), it made its official global debut at the New York Auto Show.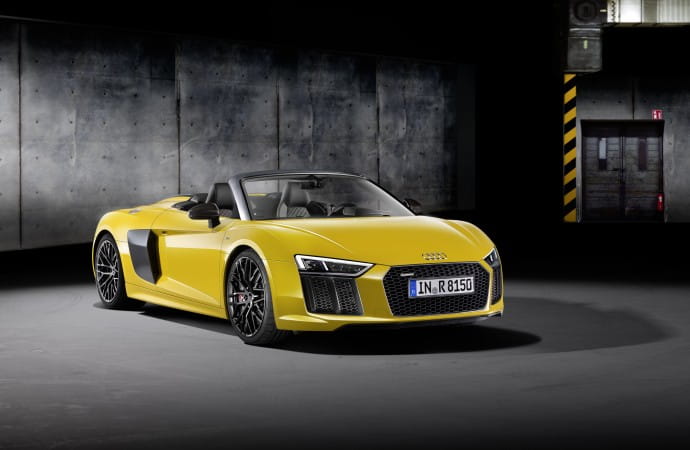 The R8 Spyder maintains all of the key design elements of the R8 coupe minus the roof. In its place is either a lightweight cloth top which has the ability to open and close in a mere 20 seconds at speeds up to 50km/h, or the atmosphere. Due to the loss of rigidity by removing the roof, Audi engineers compensated by using a stronger, albeit lighter, Audi Space Frame (Carbon fiber and aluminum components) to increase rigidity by 50%, over the coupe.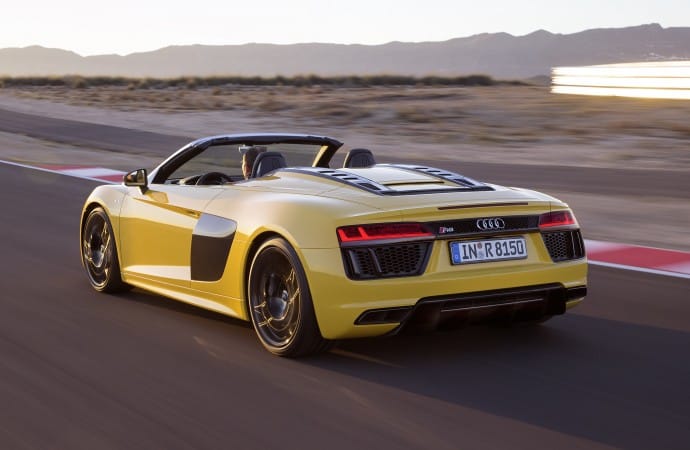 A mighty, 5.2 liter V10 sits behind the driver, and makes for a sensual driving experience with the top down. The V10 produces 540HP and close to 400lb.-ft. of torque, propelling the R8 Spyder to 100km/h in 3.6 seconds, a tad bit slower than the coupe. The 7 speed S-Tronic, dual-clutch controls a water cooled all wheel clutch system as well as a multi-plate clutch on the front axle. As with all high performance Audi's, the Spyder comes with Quattro all-wheel drive, making it ready to tackle the track and, if daring enough, Canadian winters. To help tackle winters, Audi included a "Snow" setting alongside the conventional dry and wet, which controls the torque of Quattro (ability to send up to 100% to front/rear wheels) according to the conditions/setting selected. All these combined make the Audi R8 Spyder exhilarating and fun-to-drive.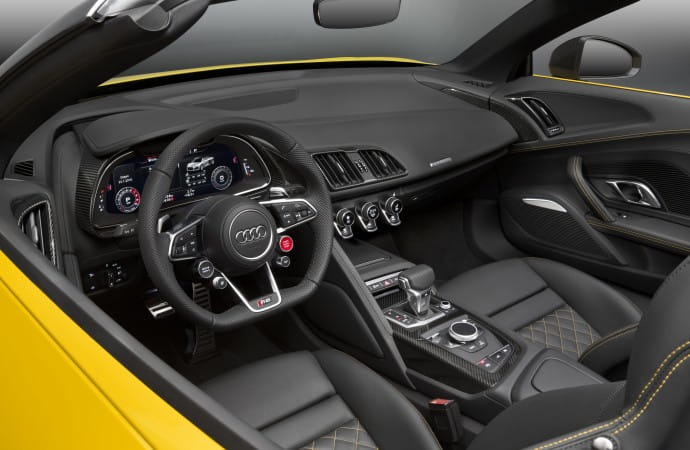 The inside of the R8 Spyder is comparable to the coupe. It includes Audi's Virtual Cockpit, along with the same plethora of interior amenities. New in the Spyder is Audi's phone interface which includes a suite of phone compatibility options (i.e. inductive charging, Android auto, Apple car play, etc) all controllable via the Virtual Cockpit. Additionally, built-in head restraint speakers help deliver clear and precise audio with the top down.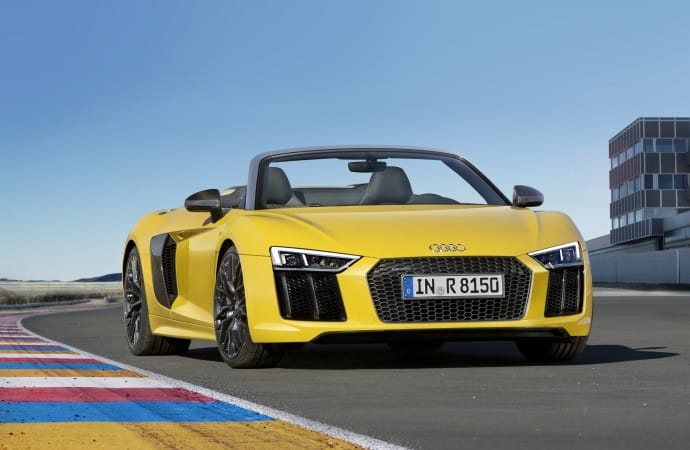 Overall, the Audi R8 Spyder is a full body experience meant to enlighten all the senses. The fact that it is hand built, with Audi giving customers the ability to fully customize every component of the R8 interior and exterior (i.e. front spoiler, side blades and rear diffuser carbon option), shows just how tailored the R8 Spyder is to each individual's personal preferences.