Shell out a little bit more for the Elantra GT Sport and you have a peppy hatch with turbo power.
ESTÉREL, QUÉBEC – Last year, the Honda Civic set a new bar for the compact sedan, and what it means to most Canadians. Offering sporty driving dynamics and plenty of features, the Civic will continue its reign as a high volume seller. It's not alone on that pedestal though – Hyundai followed very shortly after with the 2017 Elantra (reviewed here). A unanimous winner among our editorial team, the compact from Korea offers just as much as the Japanese entries and some added value, with excellent ride quality to boot. There's now a five-door variant, and we were invited just north of Montréal to sample the 2018 Hyundai Elantra GT.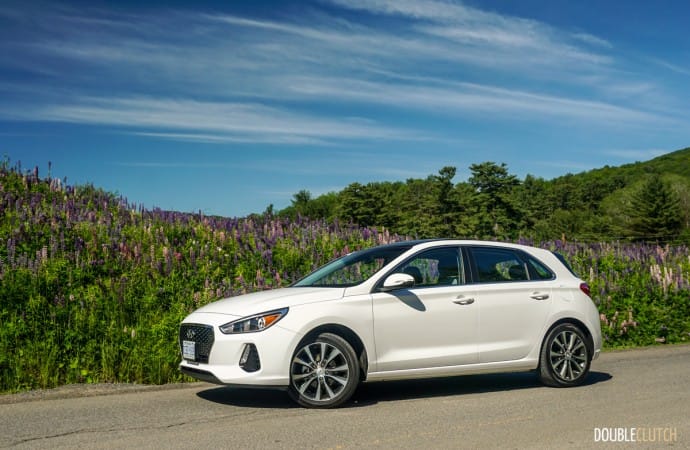 Like the sedan it's based on, the Elantra GT and Elantra GT Sport employ a more conservative look than the outgoing model. From the front, the fascia is familiar from other newer Hyundai models, with the "cascading grille" design and functional air curtains. This blends in with a handsome side profile with a prominent character line and out back, a more traditional hatch shape than the Civic Hatchback (reviewed here). The rear window wraps around the pillars, GT Sport models get a dual exhaust setup. Stylish wheel designs are employed, and vibrant new colours set the Elantra GT apart from blander rivals like the Corolla iM.
The new hatch layout may not be as swooping as the previous Elantra GT (reviewed here), but it makes for a very generous 25 cubic feet of storage space with the seats in place. Fold them down, and this number goes up to 55, which surpasses both the Civic and the Volkswagen Golf. Hyundai boasts that cargo capacity with the seats up exceeds that of the Range Rover Evoque (reviewed here) and Audi Q5. With regards to passenger space, four will be able to ride comfortably even in model equipped with the sunroof, though rear legroom is a luxury for taller folks. The driving position is very good, with ample leg and knee room regardless of configuration.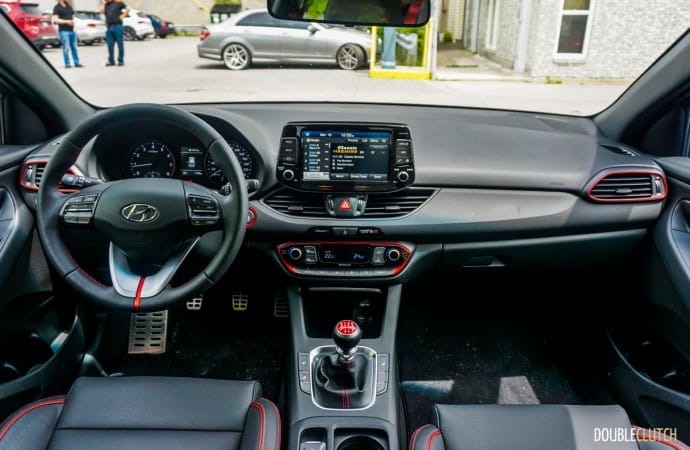 On the inside, the Elantra GT gets some major changes from its sedan counterpart. Infotainment is controlled via an 8.0" touchscreen that now offers Apple CarPlay and Android Auto connectivity. The flat-bottomed wheel on the Elantra Sport has not been carried over here, though the GT Sport gets red stitching and accents throughout as a reminder that you opted for the zippier model. Higher trim levels get a panoramic sunroof, which does a great job brightening up the cabin, and there's good visibility all around. There is, naturally, some use of cheaper plastics around the cabin, but nothing that really works to the detriment of the car.
Non-Sport variants of the Elantra GT get a naturally aspirated "Nu"-series 2.0L inline four-cylinder, with direct-injection. This is not the same Atkinson Cycle example as seen in the Elantra GLS (reviewed here), and hence output is 162 horsepower at 6,200RPM and 150 lb-ft. of torque at 4,700RPM. The four-pot has an 11.5:1 compression ratio and its performance is right in line with all rivals. Power delivery is smooth, linear, and quiet. The Elantra GT exhibits the same effortlessness as the sedan, with brilliant ride quality and perfect on-center steering feel at highway speeds. This is the compact to have if longer road trips are the norm for your lifestyle. A six-speed manual is available, though most Canadians will opt for the six-speed automatic.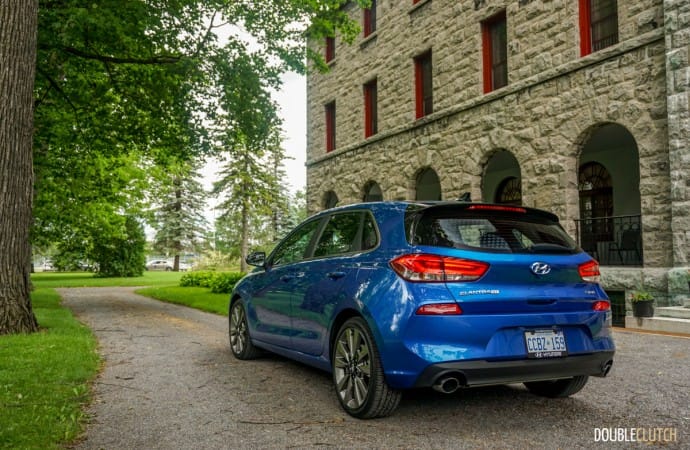 The Elantra GT Sport shares its drivetrain with the athletic sedan, with a 1.6L turbocharged and direct-injected four-cylinder. It pushes 201 horsepower at 6,000RPM and 195 lb-ft. of torque between 1,500 and 4,500RPM, which is right in line with the Nissan Sentra NISMO and Honda Civic Sport. A six-speed manual is standard equipment, and the one we would highly recommend, though a seven-speed dual-clutch box is optional (standard on the GT Sport Ultimate). Some turbo lag is evident, though Hyundai does an adequate job at minimizing this. Overall, the Sport is a remarkably fun car to toss about, with responsive steering and a cheeky personality.
Also standard on the Elantra GT Sport is an independent multi-link rear suspension, which replaces the torsion-beam setup on the regular model. Beefier brakes are also implemented in order to do a better job bringing the hot hatch to a halt, and bigger 18" wheels are equipped on this model as well. The GT Sport is significantly quieter from the outside than the Elantra Sport sedan (reviewed here), as the prominent exhaust note of the four-door has curiously been dialed down. On the opposite side of things, the Sport displayed a lot more road noise than the regular GT, thanks to the sportier tires.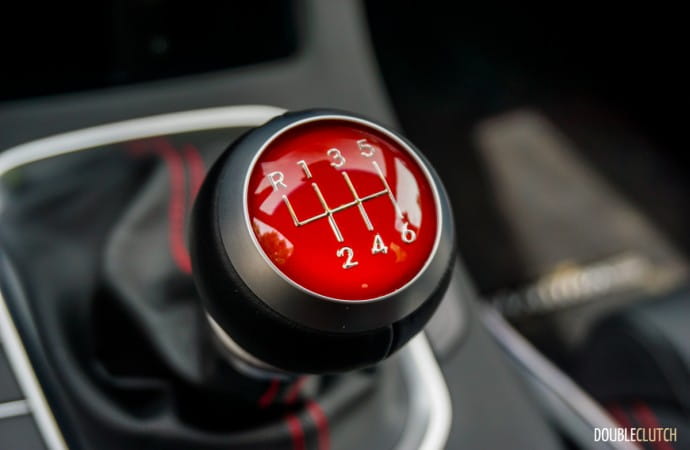 With technology like Honda Sensing and Toyota Safety Sense making itself more popular, Hyundai has ensured that there are no compromises with regards to safety on the new Elantra GT. Aside from use of Hyundai's "SuperStructure" architecture, the five-door Elantra is available with features such as adaptive cruise control (with stop/start ability), automatic emergency braking with pedestrian detection, lane keep assist, blind spot monitoring with rear cross-traffic alert, and high beam assist. A reverse camera is standard across all trim levels.
Hyundai is using the 2018 Elantra GT to launch their BlueLink Telematics system into the Canadian lineup. This is an app downloaded to your mobile phone (Apple/Android/Blackberry) that allows connectivity with your vehicle, including remote start, set climate temperature, lock and unlock the vehicle. Also capable of finding your car on a map and setting a timer for a parking meter, the BlueLink setup is Hyundai's answer to OnStar. Offered at no charge for a five-year period, and BlueLink at this time offers more features than BMW Assist, GM OnStar, HondaLink and NissanConnect.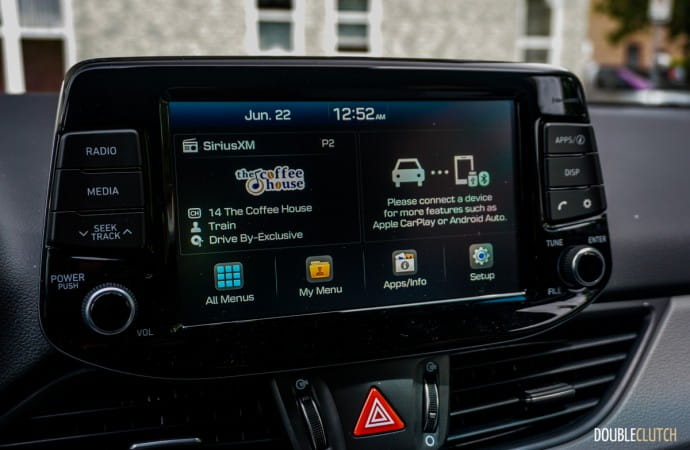 Speaking of standard features; this is one area in which the Koreans top the Japanese and Americans. The base trim still includes blind spot detection, LED daytime running lights, cruise control, Apple CarPlay/Android Auto, heated front seats and steering wheel, and 16" alloy wheels. Stepping up to the GLS adds 17" wheels, a proximity key, dual-zone climate control, and a panoramic sunroof.
The Elantra GT Sport adds the more eager powertrain plus full LED headlights/taillights, leather seating, power driver's seat, and wireless charging. The range-topping GT Sport Ultimate adds all of the safety features previously mentioned, plus a 4.2" Super Vision display, ventilated front seats and an Infinity seven-speaker sound system. Pricing has not yet been released at the time of this writing.
The 2018 Hyundai Elantra GT builds on the same basic philosophy as the sedan. In its non-Sport form, the hatchback doesn't try to be athletic, and remains a comfortable and smooth choice packed with immense value and good quality. Shell out a little bit more for the Elantra GT Sport and you have a peppy hatch with turbo power and a bite that's about as eager as its bark. Either way, the Koreans have a surefire winner on their hands, and we will be conducting extensive testing of both models in the weeks to come.
First Drive: 2018 Hyundai Elantra GT Gallery
See Also:
2017 Volkswagen Jetta Wolfsburg Edition