There finally is a viable alternative to the Toyota Prius for those who don't like its polarizing styling.
KELOWNA, BRITISH COLUMBIA – The hybrid and electric vehicle market is growing extremely quickly within North America. Every single major manufacturer either has one or more environmentally friendly products on the market, or has this technology in development. Hyundai joined this club in 2011 with the introduction of the Sonata Hybrid (reviewed here), and then followed up with a hydrogen-powered Tucson in 2015. In 2016, a Sonata debuted with a plug-in hybrid powertrain. With the launch of this 2017 Hyundai IONIQ Hybrid and IONIQ EV, Hyundai is officially the only manufacturer in the world to offer every single hybrid technology in production, from conventional hybrids to full EVs and everything in between.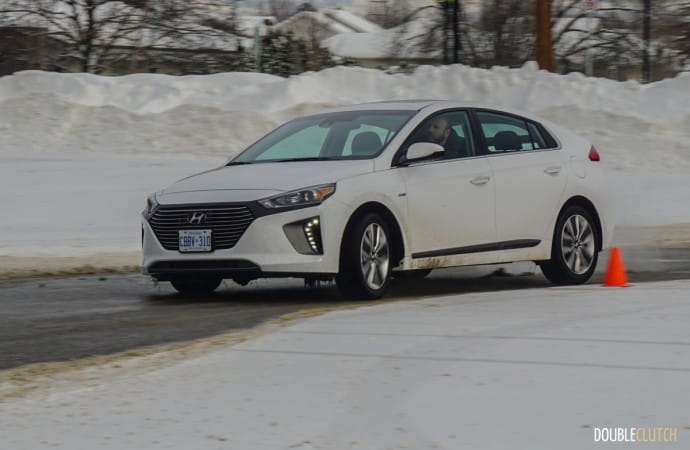 The Ioniq is marketed as a "#BetterAlternative", and is Hyundai's first venture into the dedicated hybrid market. The Sonata Hybrid is a mass-produced vehicle, but it employs a hybrid drivetrain added onto the standard model after the fact – IONIQ is the first Hyundai vehicle to be designed from the ground-up as a hybrid. This car is entering the market with the bestselling Toyota Prius (reviewed here) in its crosshairs, and should be a legitimate contender in the segment.
Virtually packing the exact same powertrain as the Kia Niro (reviewed here), the IONIQ Hybrid mates an electric motor to the 1.6L inline four-cylinder combustion engine. The combustion engine alone is good for 104 horsepower and 109 lb-ft of torque. The electric unit is a 32kW/43 horsepower (88kW/118hp on the IONIQ Electric) mill. Combined system output is 139 horsepower, and it doesn't feel particularly slow either. Thankfully, sticking with Hyundai's tradition to avoid the CVT, the transmission is a six-speed "EcoShift" dual-clutch transmission with quick engagement and efficiency-oriented shifting.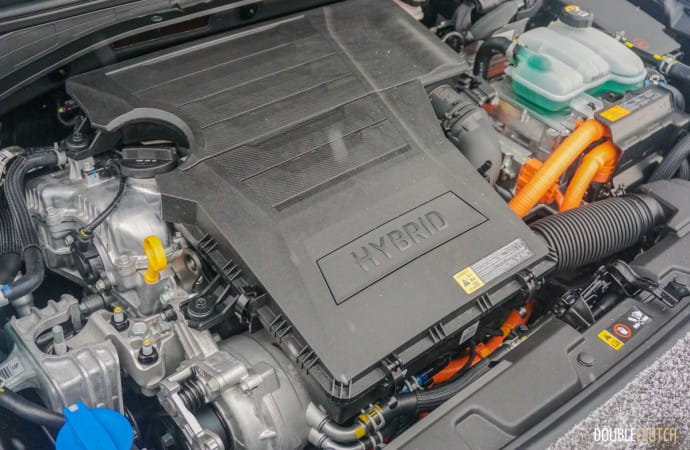 Power delivery on both vehicles is extremely smooth, with one of the most seamless transitions between hybrid and all-electric driving modes that we've experienced. IONIQ Electric has instantaneous torque sent to the wheels thanks to the all-electric motor, and as such feels far peppier at city speeds than the hybrid model. The added boost on the hybrid motor does allow the car to feel quicker than its 139-hp combined rating would have you believe, but it's no rocketship. From our initial testing, we found it to feel more fun overall than the Prius, thanks to the slick dual-clutch transmission.
The IONIQ Electric employs four stages of regenerative braking, toggled via two paddles located on either side of the steering wheel. The left paddle increases the level of re-gen braking (between 0 and 3), and the right decreases it. The higher the selected level, the more aggressive the braking system of the car will be. When regenerative braking is engaged, it's theoretically possible to drive the car with just careful modulation of the accelerator, without using the brake pedal at all. This actually does a decent amount to conserve and produce a little bit of extra range, though we must warn that Level 3 is extremely powerful.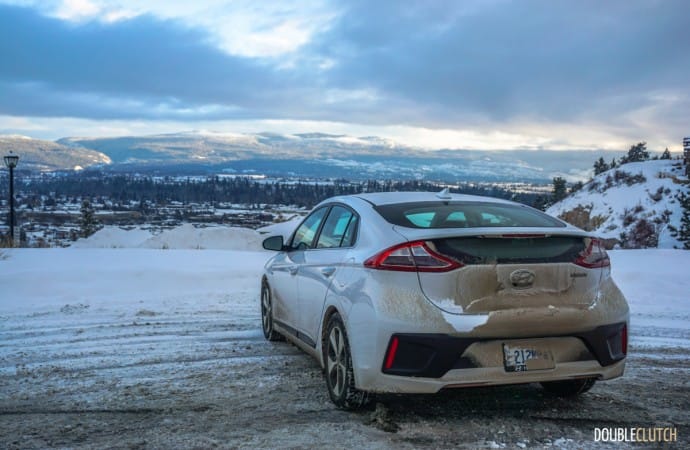 Hyundai rates the IONIQ Hybrid Blue (the entry-level model) at a combined 4.1L/100km with its 15" wheels, and the more loaded-up trim at 4.3L/100km. This is more efficient than the official rating for the Toyota Prius, which is 4.5L/100km. As such, the IONIQ Hybrid will be the most efficient non-electric car sold in Canada. Now here's the thing – during our test of the 2016 Prius last year, we absolutely obliterated that rating with a combined test average of 3.8L/100km. Whether or not the IONIQ ends up being the most efficient will depend on our real-world testing, but based on our drive, it looks like it will have no real issue beating Toyota's number.
The IONIQ Electric has three levels of charging, which will depend on what your home or office power supply can handle. On a standard household outlet (120V), the car will take approximately 24 hours to fully recharge a depleted battery. Most IONIQ buyers will have level 2 chargers installed (240V), which drops the total charge time down to four hours, and the level 3 "superchargers" with 450V power can juice the car up in just 30 minutes. Hyundai has also included a battery temperature management system that can pre-warm the battery to ensure maximum battery performance. Hyundai estimates a total driving range of 200km for this vehicle under ideal circumstances.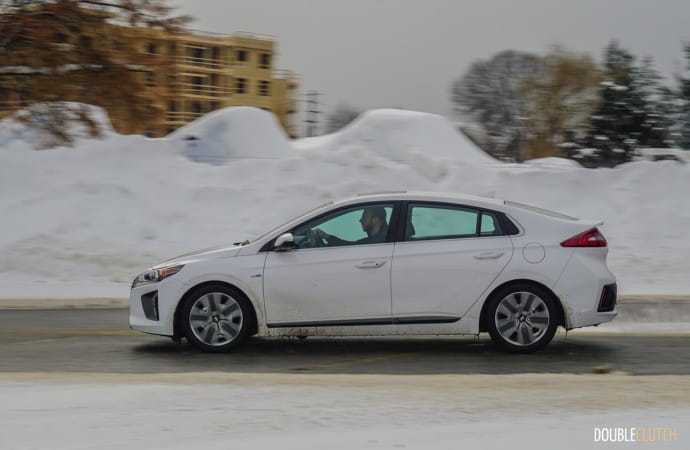 From a styling perspective, we already like the IONIQ a lot more than the Prius. Whereas the Toyota is an engineer's car designed purely for aero, drag, and efficiency, the desginers at Hyundai have managed to pull off a drag coefficient of 0.24. This is achieved thanks to a wheel air curtain, underbody cover, functional rear spoiler (it's very subtle, but it's there), and an aggressively sharp profile. This drag coefficient matches the Prius as well as the Tesla Model S (reviewed here), but without a compromise in aesthetics. All trim levels and powertrains of the IONIQ are attractive liftbacks, and the only real difference is that the all-electric model gets a solid black grille.
On the inside, the "normal-ness" continues, with no funky or controversial designs. The dashboard and switchgear are all exactly what's to be expected from a regular car. Electric models get a push-button gear system and a massive open-concept console for storage, which is quite nice. IONIQ Hybrids get the latest iteration of Hyundai's interior layout, with nice materials throughout and clearly marked buttons. The battery and hybrid components are located under the rear cargo area, so there's minimal space compromise in terms of actual passenger space. We found there to be adequate head and legroom in both models, and myself and my driving partner (both of us over 6' tall) were able to sit in all four seats without issue.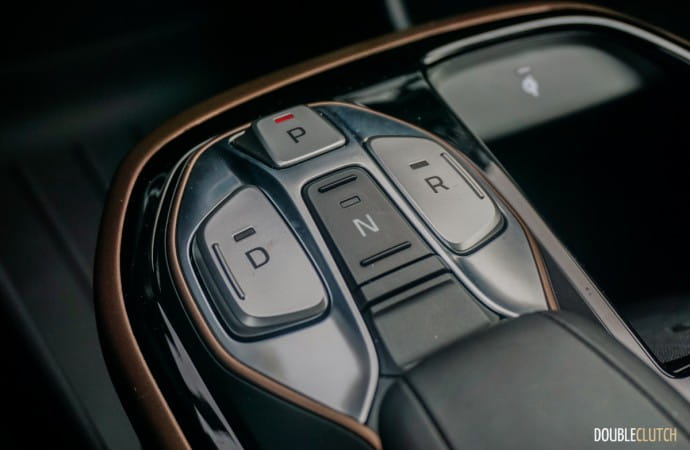 Hyundai starts the IONIQ Hybrid lineup at approximately $24,000 for the entry-level "Blue" trim, which still comes extremely well equipped. A 7.0" touchscreen with Apple CarPlay/Android Auto connectivity is standard, along with a rear-view camera, Bluetooth, six-speaker stereo, remote keyless entry, cruise control, heated front seats, and automatic climate control. The SE will be the volume seller in Canada, adding a power driver's seat, blind spot detection/lane change assist, proximity key, LED lighting, and heated steering wheel/rear seats. Stepping up to the Limited and Limited with Tech will add things like leather upholstery, HID headlights, and more driver assist technologies.
The 2017 Hyundai IONIQ Hybrid and IONIQ EV are certain to be serious game-changers within the green vehicle class. It's also worth noting that Canadian buyers will be eligible for rebates on the Electric and forthcoming Plug-in Hybrid variants of IONIQ. With these new models, there finally is a viable alternative to the Toyota Prius for those who don't like its polarizing styling, inside and out. On top of that, while Toyota has been pushing more and more hybrid vehicles into the market, Hyundai has been the underdog, quietly developing technology that can provide a more captivating, fun drive while returning better overall efficiency.
First Drive: 2017 Hyundai IONIQ Hybrid and EV Gallery
See Also: