The Sequoia drives like a big truck, but it never once did feel cumbersome or clumsy.
When it comes to items that happen to be "large", many are familiar with the Sequoia tree (shortened from Sequoiadendron giganteum), for how big and tall they can be – they're among the world's largest single trees, and the largest living thing by volume. They're also known for being the oldest living things on Earth. In the context of cars and trucks, it's a little appropriate that Toyota chose the Sequoia name for their biggest product. Those into their Toyota trucks may know that the Sequoia in its current generation has been with us for very long time – ten full years now. Those also in the know will know that Canada doesn't actually get the larger Land Cruiser. This doesn't mean Toyota hasn't been chipping away at the Sequoia – the 2018 model year gets several significant updates to keep it fresh. We sampled a Magnetic Grey Metallic Sequoia, 2018 Toyota Sequoia SR5, the base trim, to see how it all comes together.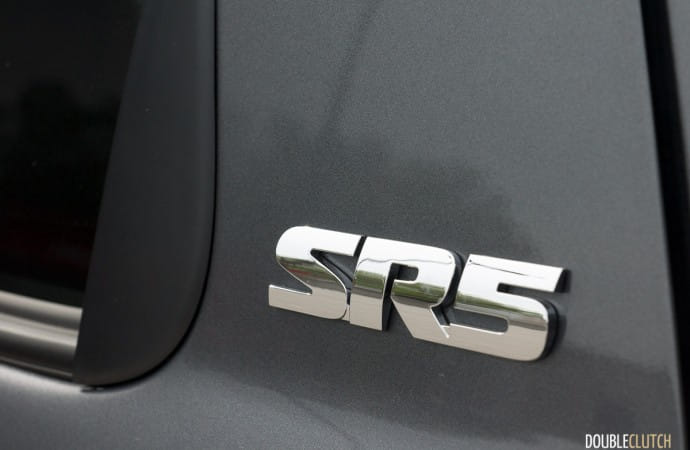 Before crossover utility vehicles roamed the land, if you wanted a vehicle that could seat more than six, and didn't want it to look like a minivan, your sole option was essentially to pick up a large body-on-frame SUV. Now that Toyota has the Highlander (reviewed here) handling family duty, their big trucks can focus on what they're good at: towing and possessing actual off-road capabilities. To that end, the Sequoia rides on a fully-boxed frame and has a dedicated two-speed transfer case, as well as a lockable Torsen centre differential for maximum traction off-road. This is no reactive slip-and-grip part-time all-wheel drive system here, this is the real deal. If even serious off-roading is more your thing, the Land Cruiser comes with more goodies to help you during the zombie apocolypse.
Toyota is managing to max out the lifecycle of the Sequoia, but the updates are handy to use every day. The biggest update is the addition of Toyota's "Safety Sense P" active safety suite – standard across the board. From the outside, the Sequoia benefits from upgraded LED headlights, driving lights, daytime running lights, and a glossy plastic window in the lower front grille that contains the adaptive radar cruise control hardware. Otherwise, the Sequoia continues with a functional two-box design that prioritizes interior passenger and cargo capacity. There's not much in the way of fancy design elements here – this is a conservatively styled truck. One underrated feature: the rear window in the tailgate is powered and can be lowered remotely, either from the driver's seat, or with the key in the tailgate.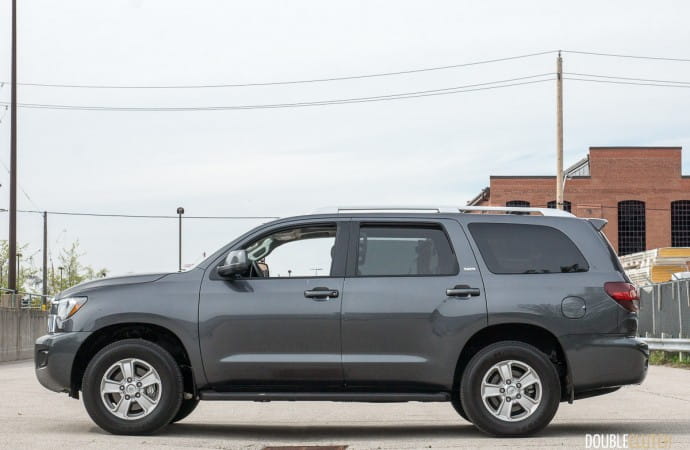 Inside, there's seating for eight, and thanks to the Sequoia's squared-off dimensions, the third row of seats is decently comfortable for those of average height. The more modest independent rear suspension configuration also allows the third row to fold down into the floor, compared to the Land Cruiser and Lexus LX with its cumbersome side-folding third-row seats. Even in the base SR5 trim, you get leather seating surfaces (heated for the driver and front passenger, but not perforated leather), three-zone climate control, and a power-folding third-row bench. This isn't a luxury truck, so you get a decent amount of plastics in many areas, but they provide a simple and durable feel. One handy feature that is missing on the SR5 trim is a power tailgate – you need to be fairly tall and possess decent strength to pull down that large tailgate.
The powertrain in the Sequoia is positively dated, but its proven abilities and durability are big assets for long-term ownership. Displacing 5.7L, this gasoline V8 (codenamed 3UR-FE) soldiers on with a lot of old-school technologies: port-fuel injection, hydraulic power steering, and a mechanical cooling fan. It is paired up to a six-speed automatic transmission, sending power by default to the rear wheels, or all four if you enable the 4WD transfer case. Power is rated at 381 horsepower at 5,600RPM and 401 lb-ft. of torque at 3,600RPM.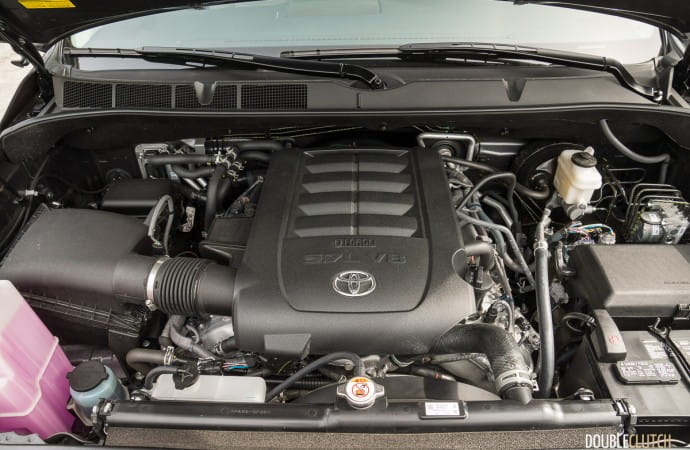 The roar from the cooling fan when you start the truck is very purposeful (read: I love it), and the feel of the powertrain is that Toyota opted to stick to known-good durable parts, to ensure maximum reliability and durability. This is, for the most part, the same engine that's in the legendary Land Cruiser (and Lexus LX 570), minus the newer eight-speed automatic transmission those trucks have. There's no idle start-stop system, no direct fuel injection, and no forced induction. In the case of the Sequoia, simple power is the name of the game. This is what we can consider a lazy V8 – in general street use, you'll rarely find yourself revving it up beyond 2000RPM to get moving in the usual pace of traffic.
From the driver's seat, the Sequoia drives like a big truck, but it never once did feel cumbersome or clumsy. One needs to always be aware of its dimensions, but metrics such as wheel and body control are well-controlled. The Sequoia also makes no effort to feel "sporty" in any way, and thanks to the 18″ wheels with meaty 65-series sidewalls, ride quality is cushy without being floaty. There aren't any fancy adaptive dampers or air suspensions here, just a traditional suspension configuration that works. If you need it, you can get air load-leveling for the rear axle as well as adjustable dampers in the Platinum trim.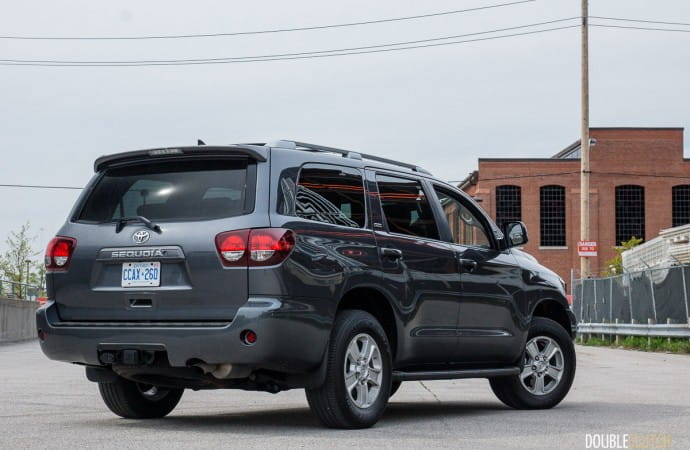 As much as I love the proven and known-good powertrain, the way it shows its age is at the fuel pumps. Toyota Canada rates it at 18.7L/100km in the city, 13.8L/100km on the highway, and 16.5L/100km in a combined cycle; this is a thirsty truck. Even during my week of mostly highway driving, I ended up with an indicated average of 15.3L/100km. Thankfully, the Sequoia only asks for regular 87-octane fuel, and the large 100L tank means you should be able to squeeze out 500km per tank of fuel.
The excessive fuel consumption really becomes apparent when you look at the American stalwarts, namely the Chevrolet Tahoe/GMC Yukon, and even the new Ford Expedition (reviewed here). The GM twins are rated at 15.2L/100km in the city and 10.8L/100km on the highway – both of these numbers are around 20% better. Ford's new Expedition is rated to 13.8L/100km in the city, and 10.7L/100km on the highway. If you do the math, that city figure is almost 30% better. All these American trucks utilize newer and more advanced hardware (direct fuel injection, more gear ratios, and forced induction in the Ford camp), so there is something to be said about the Sequoia sticking to what is proven, but the hit to your wallet at every fill up just cannot be ignored.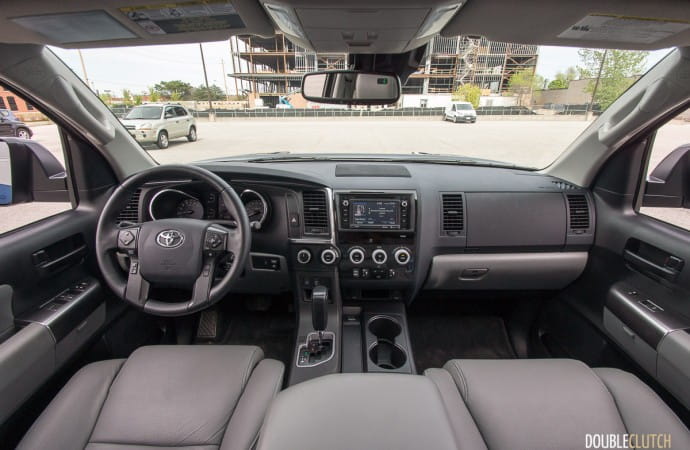 Big trucks like the Sequoia come with big numbers attached to them: namely towing capacity. Toyota Canada says the Sequoia is rated to tow up to 7,100 pounds. The Americans, however, manage to do better than the Sequoia, sometimes by a fairly significant margin. The Tahoe and Yukon both are equipped with smaller engines, but are rated to tow 8,400 pounds, properly equipped. Towing is more of a function of brakes and cooling, rather than outright engine power, but if towing is high on your list of priorities, you may want to consider something from General Motors or Ford.
Toyota prices the base Sequoia SR5 at $59,850, before taxes and additional fees. There were no options on this particular truck, so if you were looking to equip your Sequoia with ventilated seats or integrated satellite navigation, you'll have to step it up to the Limited ($67,090) or Platinum ($75,275) trims. You also get larger 20″ wheels, more speakers, and the all-important power rear tailgate. The Platinum adds more goodies such as a rear entertainment system, interior wood trim, and chrome brightwork on the outside. It's worth noting that the Sequoia is hit with a $2,000 "Green levy", which translates to a gas guzzler tax. This brings the as-tested price to $61,850.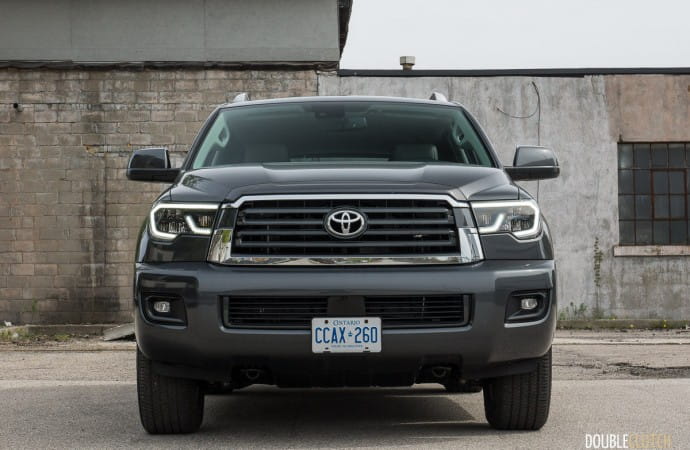 You get a lot of truck for that sort of money, but it depends on your priorities in terms of what you want out of your truck. Are long-term ownership costs important to you? There's a good chance the 2018 Toyota Sequoia will remain a trouble-free companion for many years to come, partly owing to how simple all the hardware is. How the Sequoia has been updated for the 2018 model year puts it ahead of the options from General Motors, thanks to its active safety suite. If this is a feature that matters to you, the Sequoia may be worth looking at. It's not the best option in the category for a variety of reasons, but it feels like one of the safest choices amongst its peers. It's conservative in the most "Toyota" of ways, and for some, that's exactly the winning formula.
See Also:
2018 Jeep Grand Cherokee Summit