The days are over where an entry-level, beginner's motorcycle had to be a weakling with 250cc or less.
Popular models like the Honda CBR 125/250 and the Kawasaki Ninja 250 have sold like hotcakes, but they are quickly outgrown and sold in favour of larger-displacement machines. BMW has been producing some stellar product on their Motorrad side, with exciting models such as the R nineT (reviewed here), but the lineup was rather thin on their affordable side. We conducted a test of the 2018 BMW G310R, a bike we first sampled on the product launch last year.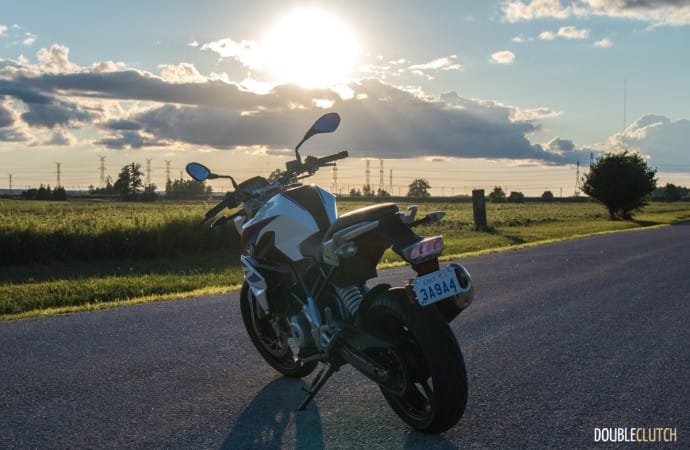 An all-new motorcycle, the G310R signifies BMW's first road bike below 500cc, which is special in itself. It also happens to be the first bike they have produced outside of Germany, despite being fully designed in Munich. The G310R is built in Bangalore, India, by the TVS Motor Company that is experienced in producing both motorcycles and scooters for Asia.
The G310R may be an exercise in simplicity, but it feels every bit as robust as any other BMW product. The steel frame shows nice welds throughout, and all fit and finish is perfect. There are no jiggles or rattles anywhere on the bike, and every part feels well made and solid. The gauge cluster directly ahead of the rider has a full array of information including a trip computer, clock, gas gauge, speedometer and tachometer. Everything is clearly labeled and there are no hidden secrets.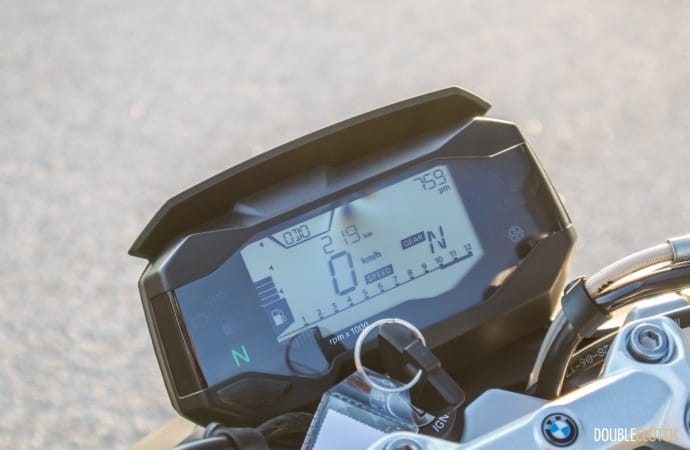 Out on the road, BMW's smallest street bike does a good job at charming its rider. The 30.9" seat height is perfectly manageable for both new and shorter riders. My 6'1 frame fit on it without issue, but over a 200km highway ride, my knees became a bit sore – something that would happen on any smaller motorcycle. At 349 pounds, the G310R's lighter weight means it remains very tossable and nimble, handling the curves as well as on-ramps with eagerness and grace. The corners really are where this bike comes alive, and the 50/50 weight distribution helps maintain balance too.
ABS is standard fare on all G310R models sold in Canada, and kicks in quickly and almost imperceptibly when attempting panic stops. The front brake setup is a 300mm rotor and radial mount four-pot caliper, but the lever on the handlebars remains one of the biggest shortcomings of this bike. It's simply too far away, and will be reachable naturally for those with larger hands, but it lacks adjustability and I did happen to miss it a few times when reaching out for it.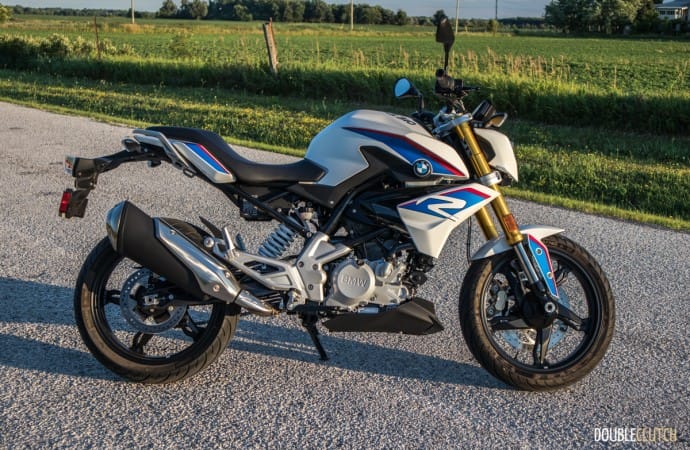 In terms of actual power, the BMW is quite responsive and pulls off the line smoothly and quickly. The 313cc liquid-cooled single-cylinder screams all the way to the 10,600RPM redline and is surprisingly peppy through the city. BMW claims 34 horsepower at 9,500RPM, and the six-speed transmission shifts crisply. North of 5,500RPM or so, engine vibration is significant and the G310R reminds you of its lack of pull, but it's absolutely manageable at regular highway speeds. Riders will not have an issue keeping up with traffic on this as they would with sub-300cc bikes.
The riding position is comfortable and the overall ease of use makes this one of the best value-for-money motorcycles out there today. The G310R's tiny 10L fuel tank drains rather quickly if doing lengthy highway rides. At the end of the day, coming in at a very attainable $5,250 in Canada, the 2018 BMW G310R represents a classy and grown-up choice for not just novice riders, but those who primarily ride in the city. It's easy to see why this bike has quickly developed a cult following and immense popularity worldwide.
See Also: