The V90's interior feels like an upscale Scandinavian living room.
Have you ever done that thing where you say a word over and over, and eventually if you say it enough times, it totally loses meaning? I have, except usually I do it for fun: "banana, banana, banana, banana," giggles. However this week, due to apparent gaps in my vernacular, the word "nice" has lost all meaning. This is because I have been using it a lot lately, and that is in turn because I have been driving the 2017 Volvo V90 T6 AWD Inscription. Which is very, uh, nice.
I can't seem to think of a more appropriate word. My life, for one reason or another, has been inexorably linked to Scandinavia. I grew up in Volvos, and in a family that collected and displayed fine Scandinavian furniture, so this particular Volvo hit home for me, because it encompasses everything I have known about that part of the world. After spending a week commuting in it, I can say wholeheartedly that it is very nice indeed.
Our tester came in "Inscription" trim with the optional Vision Package ($2000), Convenience Package ($1500), and Climate Package with Graphical HUD ($2300). In other words, with a whole troop of cameras, sensors, safety add-ons and "Volvo on Call" for emergencies; it was essentially a health and safety committee on wheels. At first, the electronic nannies come off as intrusive. The Active Lane Keeping Aid will steer the car back into the lane without asking, and it seems as though the parking sensors are going off full time when you are driving around looking for a spot to leave your wagon.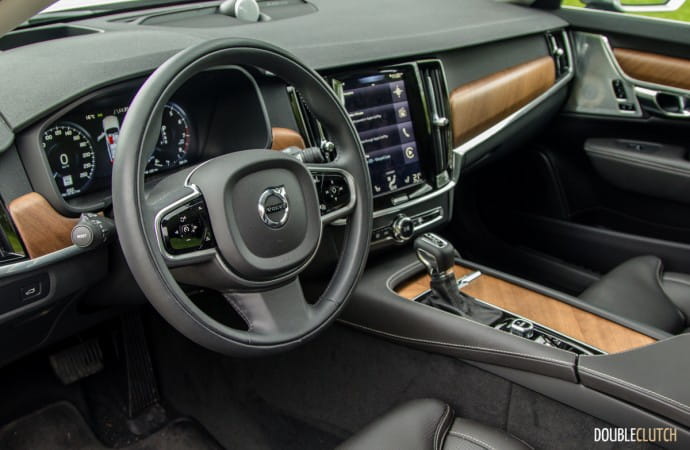 After a few days with the car, you learn to accept the rulings of the watchful Swedish mother. To fully embrace her control, select Pilot Assist, and sit back with a relaxed hand on the wheel; the Volvo keeps a selected distance to the car ahead, and steers the car automatically to keep it in the lane. At first, it's like "Pffft. I can drive my own car thanks." But after kilometer number four million of near stand-still traffic on the 401, I relented, turned on Pilot Assist, and in no time was reclined in my seat, listening to classical music. The miles melted away; The V90 is a supremely comfortable commuter.
When you arrive at your destination, and decide that you shall continue to be lazy, the V90 will park itself with Park Assist, into either a perpendicular or parallel spot.  In reality, this system isn't 100% accurate and seemed to require that you to set the car up properly. However, if you don't choose a comically small space, and you give the car enough room, it does quite a good job. If you feel like parking your own car, like a peasant or something, the high resolution 360-degree and reverse cameras make it simple.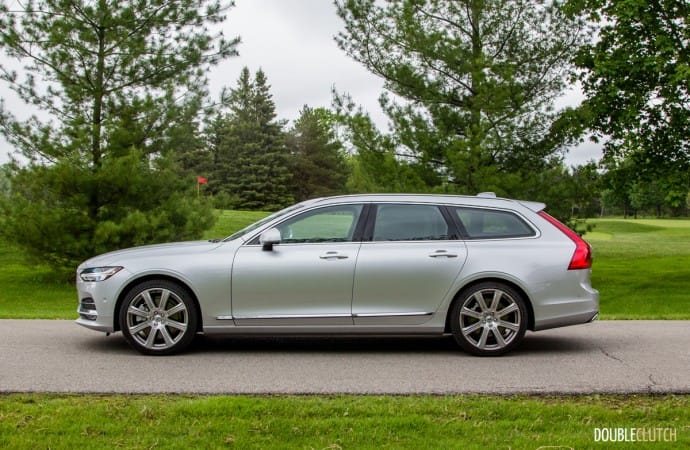 Our tester came in at $79,323, which seems like a lot of money.  That is, until you plop down into the cabin for the first time. You'll have a sort of "Ohhh I get it," moment, as your eyes scan from the beautiful Nappa leather steering wheel, to the digital high-res gauges, to the massive centre touchscreen, to the open pore walnut trim on the dashboard. Make no mistake, the V90 has one of the nicest interiors in this, or any car segment today. Everything you touch is nice, nothing is too blingy, or overdone, and the lines and proportions meld together perfectly.
Volvo was going for a less cluttered, more calming atmosphere. They nailed it. This isn't one of those interiors that you feel underdressed when sitting in, or that people will scoff at because it's "unnecessary". It simply exudes pure class, and you get a welcoming airy feeling, even in the dark leather trim of our tester.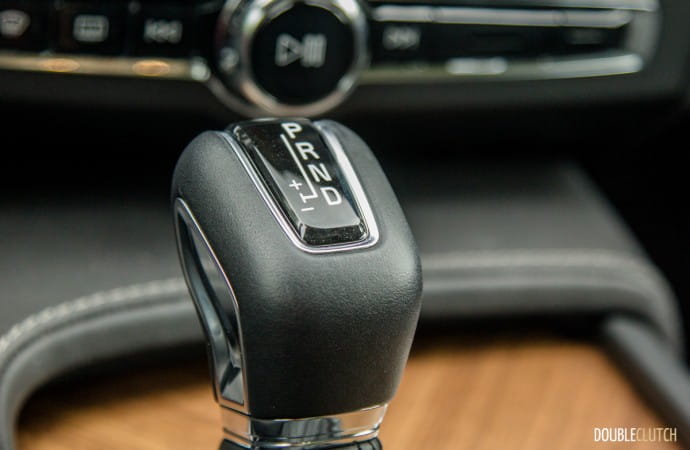 Interior comfort is clearly a priority for Volvo, however the seats were a bit of an issue for me. Many have said they are incredibly comfortable and I believe them, but I found that if you move the under-leg support out at all, you will end up sitting on a distinctive bar which runs perpendicular to your tush. Being  5'10/190lb., I'm not exactly a larger proportioned gentleman, but I found the seats a touch too narrow, and the side supports would bite into my leg in long journeys. Since the lumbar and bolsters are adjustable, the seats move every way you can think of, and they are heated and ventilated, you will likely find an adjustment that suits you.
The comfort extends to the ride for the most part. The interior is quiet and smooth on the highway, and the damping is excellent over larger bumps. The V90 feels very well controlled over larger road features, but occasionally harsh road imperfections would send a judder into the steering wheel. The suspension is adjustable, and in Comfort mode, most won't have an issue. In "Dynamic" mode, since our tester had Rear Air Suspension and Active Chassis ($2,350) the ride stiffens up, and the steering becomes unnecessarily heavy. Don't confuse "heavy" with "feedback" though, because the V90 has none.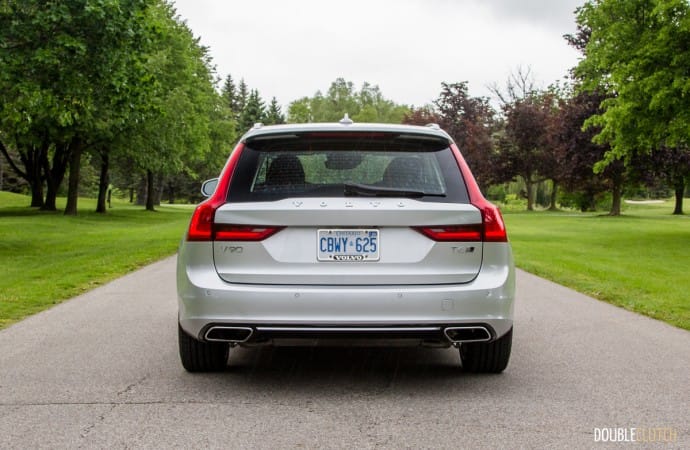 The steering weight feels very artificial, and Comfort mode is a better option, even if it's a touch light. However in Dynamic mode, while the steering is too heavy, the transmission is much more responsive. So how do you get the best of all worlds? Thankfully there is an "Individual" mode, where you can set your choice of transmission response, ride stiffness, and steering set up. I tailored my own during the week so I always had the combo I desired. These selections are done through Volvo's 9.3" Sensus touchscreen, which controls all of the functions in the car.
The Sensus system had a bit of a learning curve. I didn't find it to be the most intuitive menu system, but it is highly responsive and looks wonderful. After several days of playing with it however, it began to reveal its secrets. It controls everything from the sound system, to the passenger's power seat. The V90 has quad-zone climate control, and all of the climate controls are integrated into the digital display. The digital climate system works well, but in reality, a physical button for heated seats would go a long way.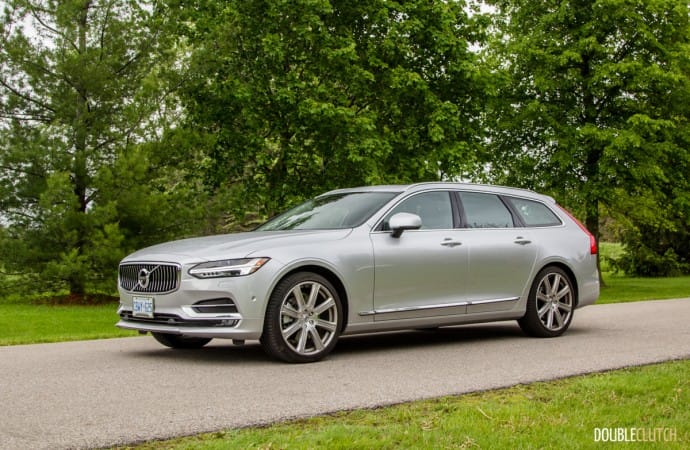 On the screen, there are several menu pages for applications, running apps, and car controls, and a pull down settings menu that seems to change depending on what screen you are on. The main functions are simple enough, and if you choose, you can adjust everything from EQ of the stereo, to turning on and off sensors and cameras around the car. The adjustability options in the V90 seem endless and are easily worthy of their own write up, however, we must move on to discuss the sound system in this car, because damn. It is really, really good.
If you so choose (for $3,250) Volvo will include a premium sound system by Bowers and Wilkins. Select some classical music on your iPod, turn up the volume, balance the EQ just so, select Pilot Assist, and do your best not to close your eyes as you thrum down the highway totally insulated from the outside world, in a cocoon of sonorous envelopment. This was easily my favourite part of the car. The 19-speaker system with a Class D amplifier and "Tweeter On Top" is truly immersive, and highly adjustable. If you like, you can even ask it to simulate the acoustics of the Gothenburg Concert Hall in Sweden. Enough said.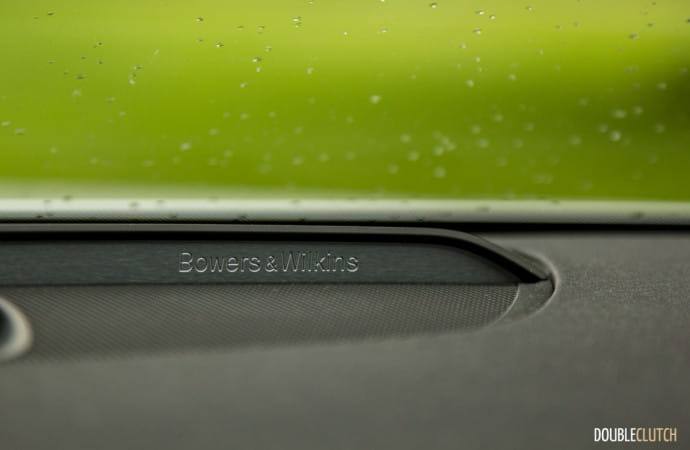 The Volvos of the 90s were inherently boxy, and I had always pictured the designers sitting somewhere in Sweden on one of those weird kneeling chairs surrounded by clean, stark white, right-angled decor. Clearly however, modern Volvo designers have gone for "stunning" instead of "cubic." The LED "Thor's Hammer" headlights, and 20" Bright Silver Diamond Cut wheels ($975) make this one of the best-looking wagons around. The front grill is striking and easily recognizable, and the rear end looks awesome as well. With a power operated trunk, and more than enough cargo space, the V90 fills all the gaps between style and function.
Under the hood, there is a 2.0L,turbocharged AND supercharged, inline four-cylinder engine making 316 horsepower and 295 lb-ft. of torque. It delivers power smoothly with very little gap in the torque band. The eight-speed Geartronic transmission upshifts smoothly and with a satisfying bark on hard upshifts. When coming to a stop, depending on the transmission mode selected, you might feel slight lurches as the transmission downshifts without 'blipping' the throttle. This made coming to a smooth stop difficult.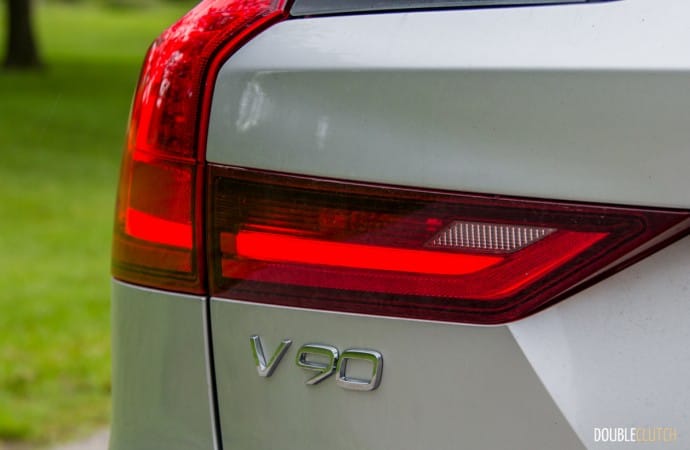 Over the week, we turned out 10.6L/100km of mostly city driving. This is totally acceptable considering the size of the car and acceleration on tap. The V90 puts its power down through a front biased all-wheel-drive system, which directs power to the rear wheels only when needed. Generally these systems work great on a slippery surface, but sadly I didn't have a chance to test any low traction situations, but it is nice to know that power is being put to the tire that needs it.
When we first picked this car up, I'll be honest, certain parts of it were a bit annoying. I had trouble finding a comfortable spot in the seats, and the touchscreen was a bit too complicated. But in the end (after several days of fiddling and learning), the 2017 Volvo V90 T6 Inscription and I found our groove. From the Bowers and Wilkins sound system, to the epic wagon styling, to the distinctly Scandinavian interior, It just felt right. It felt like home.
2017 Volvo V90 T6 Inscription Gallery
See Also:
First Drive: 2017 Volvo V90 Cross Country