With its healthy amount of power, the Forte5 wasn't too much of a slouch when it came to driving dynamics.
When shopping for a compact hatchback, there are a multitude of options from manufacturers all over the world. America, Japan, Europe, and Korea all make good products that each have their own little nuances and differences that make them a better choice for various reasons, depending on the buyer. The 2017 Kia Forte5 SX Luxury is the Korean automaker's current flagship entry in this crowded segment, and is expected to do battle against the likes of the Mazda3 Sport GT, Volkswagen Golf (and the GTI in a pinch), Subaru Impreza, Honda Civic Sport, and the Chevrolet Cruze Hatchback.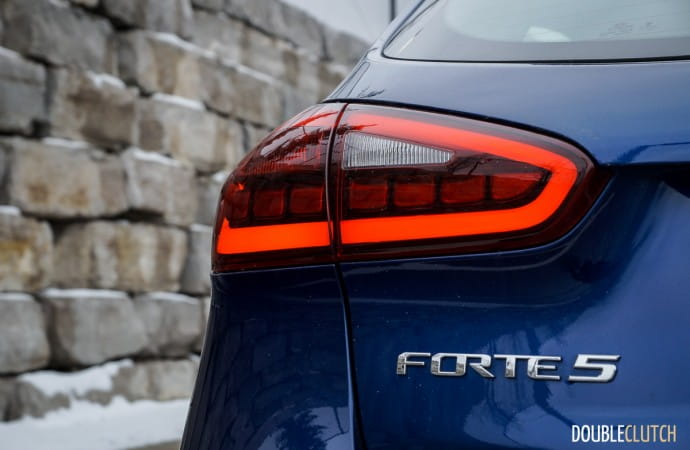 Kia's parent company, Hyundai, has the latest Elantra and an upcoming hatchback to contend with as well. Although refreshed for 2017, the Forte sedan and Forte5 hatchback are still based on the previous generation car – at least for now. Will it be able to keep up with the ever-changing compact car Joneses? The mid-cycle update includes new lighting and more modern looking fascias, which give the Forte5 a smart, if not slightly understated look. Keep the fog lights off, though – with high-intensity discharge headlights on the SX, an additional white LED ring around the yellower halogen fog light bulbs made the difference in colour temperature look pretty goofy.
The front-wheel drive SX AT Luxury came in at an as-tested price of $28,795. For this, you there was an up-level 1.6-litre turbocharged engine, 18″ alloy wheels, dual exhaust tips, LED taillights, push-button start, navigation, leather seats (heated and cooled up front, heated outboard in rear), heated steering wheel, and a sunroof. There was also the full suite of sensor-based autonomous safety features, including lane keep assist, blind spot warning, and automatic emergency braking. With this level of equipment, the SX AT Luxury was a solid value for the money. In comparison, a similarly equipped Mazda, Honda, Chevy, and VW are about $1,000 more, for less features. The Kia's rear heated seats and safety suite were value-adds that are not all available with the competition.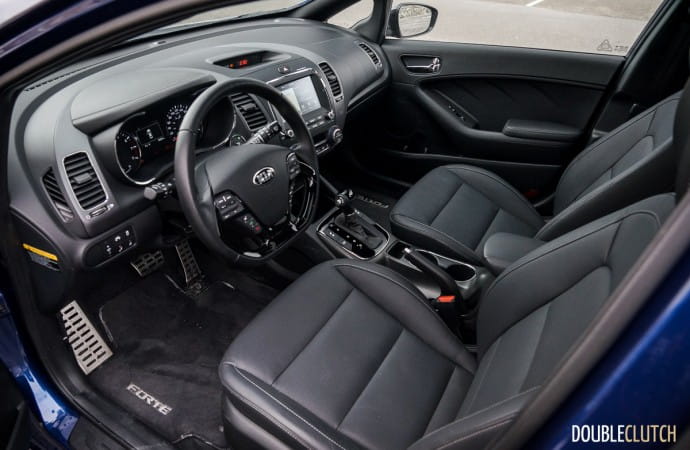 The cabin of the Forte5 seated five people in reasonable comfort and space – compact cars aren't going to vary too much here. If fully loaded, shoulder and hip room for rear seat passengers will be a bit tight for longer trips. For cargo, 657 litres (23.2 cubic feet) exist behind the rear seat; this grows significantly with the 60/40 rear seats folded. The tilt and telescoping steering column and heated leather-wrapped steering wheel felt like a quality piece, but the piano black glossy plastic will likely scratch easily and get loaded up with fingerprints. Material selection was about average in this class, with good fit and finish – it's just not the most premium environment. Volkswagen's Golf (reviewed here) and Honda's Civic are better in this regard.
In the realm of multimedia connectivity, the Kia had a seven-inch touch screen complete with navigation, as well as the industry-standard Android Auto and Apple CarPlay smartphone integration. Similar to the Sorento SX+ V6 (reviewed here), the system was fairly logical and took very little time to get used to. The only gripe applies to those who frequently use Bluetooth streaming audio – every time the car was started, the audio source reverted back to satellite or FM radio before the phone connection initialized; Bluetooth audio had to be manually re-selected. Otherwise, buttons to control and access major functions were bigger than average, yet didn't look comical, and access to audio track, phone, and map options were easy to find.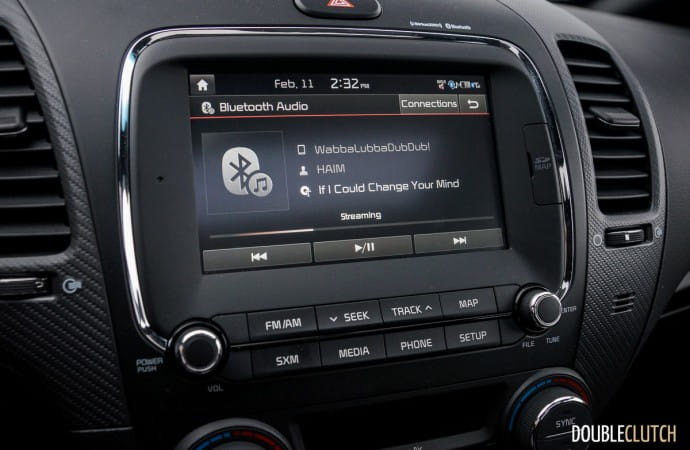 Under the hood of the Forte5 SX Luxury was a 1.6-litre, turbocharged four cylinder engine that made 201 horsepower at 6,000 rpm and a formidable 195 lb-ft of torque between 1,500 and 4,500 rpm. With direct fuel injection, the powerplant had very strong pull in the midrange, but there was a bit of turbo lag before full boil came on. Noise, vibration, and harshness were well-controlled, and the engine didn't sound or feel excessively coarse or laboured at any point.
Paired to the engine was a seven-speed dual clutch transmission (DCT). SX non-Luxury versions are also available with a six-speed manual. With the DCT, the 1.6-litre turbo made the most of having seven available gear ratios, and was always in the meat of the powerband when accelerating. In automatic mode and during daily driving, upshifts were lightning quick and the car rolled through the gears very confidently, as is typical for DCTs. Launching from a stop was a little more deliberate, as the clutches needed to slip like a conventional manual transmission to get the car going. Downshifts also took a moment before the Forte5 picked up steam – with a bit of time elapsing before the transmission collected itself.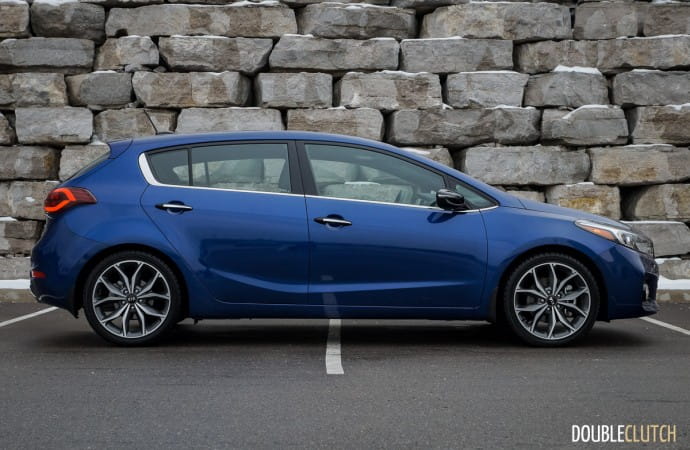 For fuel economy, the Kia Forte5 with the 1.6-litre is rated for 9.4 L/100km in the city, and 7.9 L/100km on the highway. With a bias toward more urban driving and blistery Canadian winter weather, observed fuel economy was closer to the city rating, at 9.5 L/100km. The available torque from the boosted engine often encourages drivers to give a little bit more on the skinny pedal; as expected, this generates more smiles per gallon at the expense of miles per gallon. Fuel capacity is 50 litres, and with today's cars taking advantage of direct injection for fuel delivery, regular octane fuel is perfectly acceptable.
With its healthy amount of power, the Forte5 wasn't too much of a slouch when it came to driving dynamics. Steering was light but accurate, but there wasn't a whole lot of feedback going to the driver. The suspension was tuned toward the firm side, with the low profile 225/40R18 tires not helping for comfort either. Thankfully, turn-in response was fairly sharp, although still not quite up to par compared to the Mazda3 Sport GT, Honda Civic Hatchback, or Volkswagen Golf and GTI (reviewed here).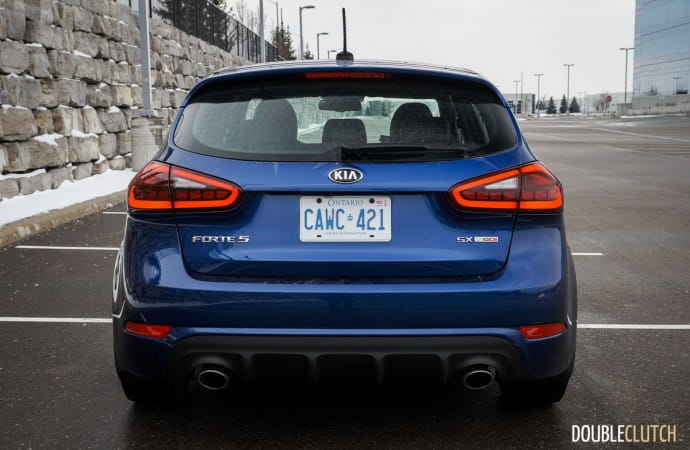 To be a little bit fairer, the test car was equipped with winter tires, so expect handling response, confidence, and feedback to improve with better rubber during warmer months. By comparison, the new Hyundai Elantra Sport (sedan only for now), with the same powertrain, gets the benefit of a multilink rear suspension compared to the Forte's conventional torsion beam, which helps with staying planted in turns and during left-right transitions. The Forte5 tested wasn't particularly poor at handling, but its platform's age is starting to show.
If this was two or three years ago, the 2017 Kia Forte5 SX Luxury would have been an excellent car – possibly class leading. In between then and now, the compact car heavy hitters have come out with excellent and very competitive new models – the Honda Civic and Hyundai Elantra are still the current gold standard. It's definitely a case of relativity – it's very hard to justifiably fault this little Kia hatchback, and it still does have its merits. For the money, 201 horsepower and dual clutch transmission were hard to beat, and its features and equipment inside and out made it a solid value. As another bonus, Kia's bumper-to-bumper warranty is five years or 100,000 kilometres, where most other automakers fall short. If buyers find that the price is right, looks are good, and the feeling is there, it's definitely worth a close look.
2017 Kia Forte5 SX Luxury Gallery
See Also: