The Challenger handled my week with a certain charisma that few modern cars can match.
Owning a muscle car and keeping it hidden away from foul weather and tough commutes is fine if you have the means and the space to do it. But I am here to say that you don't need to, because driving a muscle car every day is actually very doable. I promise you that you'll enjoy, appreciate and get to know your car a lot better than most owners ever would. I speak from experience having commuted into the city every day for over five years now, most of that time in my own muscle cars, mixed with just about every other test car you could think of. It's just more fun in a muscle car; the crackle of the exhaust in the driveway on a chilly morning, the rush of acceleration, and the looks you'll get.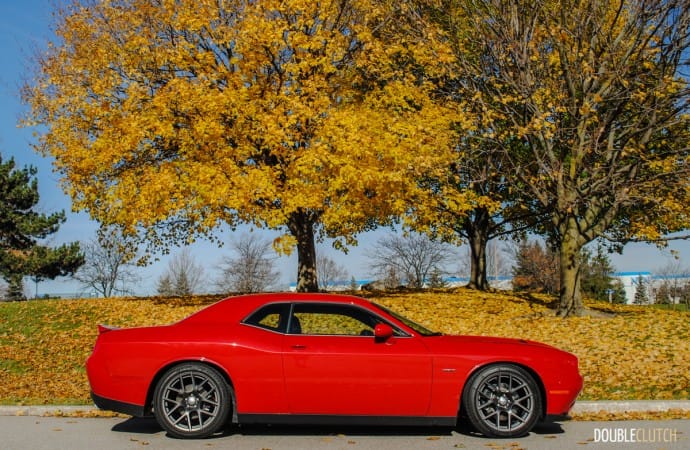 It's a perfectly imperfect experience; and as an enthusiast it's a great motivator as you go through the ups and downs of a busy day. Driving a big thirsty V8 coupe everyday however is a dying tradition. We've been convinced that any inconvenience is a problem, and that our vehicle of choice should do anything and everything well – hence the rise of the crossover. The truth is though; a modern muscle car is more than practical enough for most people's day to day requirements, and obviously its way more exciting to live with than a boring crossover. To prove my point, I took a 2016 Dodge Challenger R/T to be my wheels for a very busy November week.
The Challenger I spent my week with was optioned out similarly to how I'd set up a nice daily driver. It's an R/T model, with the 5.7L HEMI V8 and the optional ($1,000) Tremec six-speed manual transmission. Option boxes were ticked for all the major comfort and convenience options, including rain sensing wipers, blind spot monitoring, nine-speaker 506-watt sound system, navigation, 8.4" Uconnect touch screen, Nappa leather heated and ventilated seats, and the all-important heated steering wheel. It's not a factory race car, like the Hellcat (reviewed here). Rather, this is a performance car that's livable enough for comfortable daily use.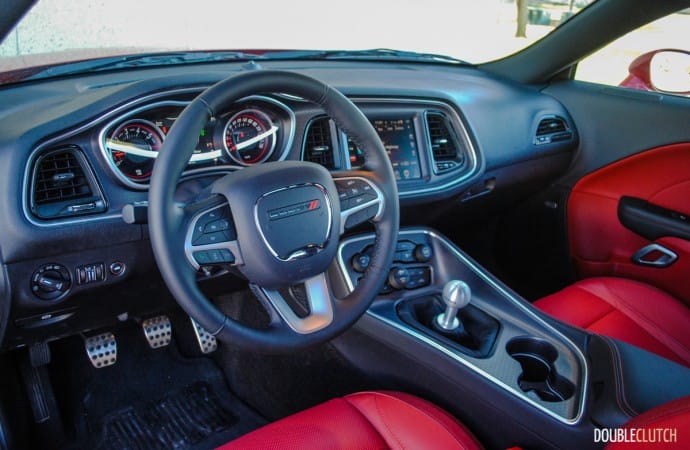 On top of that, the folks at Mopar got their hands on this particular vehicle and fitted it with another $4,400 worth of Mopar performance accessories. This includes stiffer and lower suspension (shocks, springs, isolators and rear strut mounts), front strut tower brace, cold air intake, short throw shifter, cat-back exhaust and a Mopar branded aluminum gas cap. The surprisingly affordable upgrades did a lot to wake up the 5.7L, and set the car apart from the other Challengers out there on the road.
The base price for an R/T Challenger is $39,895. Add in the $5000 worth of factory options on my car, plus the $4,400 in Mopar updates and our as-tested price is sitting right around $50,000. That's a little on the high side in my opinion, especially when you consider that an R/T Scat Pack, with the bigger 6.4L SRT HEMI can be had for just over $51,000. That said, a basic $40,000 R/T is still a well-optioned car, so I'd likely opt to keep the extra $10,000 in my pocket.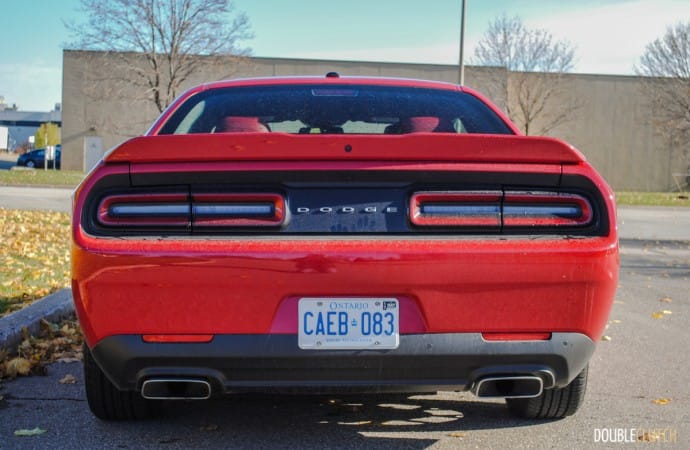 My test car was finished in Tri-Coat Redline Pearl with a bright red leather interior, and sits on 20" graphite wheels wrapped in Firestone Firehawk performance rubber. The colors work very well, and I am a big fan of the updated rear fascia, which flows well with the original retro intention of the body style. There's no mistaking the Challenger for anything but a serious muscle car, but this R/T was frequently mistaken for the legendary Challenger Hellcat all week long. I credit that to the eye-catching red, the deep and powerful rumble of the Mopar exhaust, and the aggressive stance. For that reason I've nick-named the car the "Heck Kitten".
The 5.7L HEMI might be the base V8 in the Challenger, but I can tell you with certainty that it offers more than enough power to be a ridiculously fun daily driver. Without the Mopar upgrades it's rated at 375 horsepower and 410 lb-ft of torque, through the performance exhaust it sounds mean, and with its power channeling through the six-speed transmission it feels just the part. The clutch is heavy, but offers good feedback and engagement. The manual transmission is nicely gated and shits surprisingly smoothly with a nice solid "click" into each gear. To keep track of your fun there's even a handy 0-60 timer for track use that can be displayed in the gauge cluster.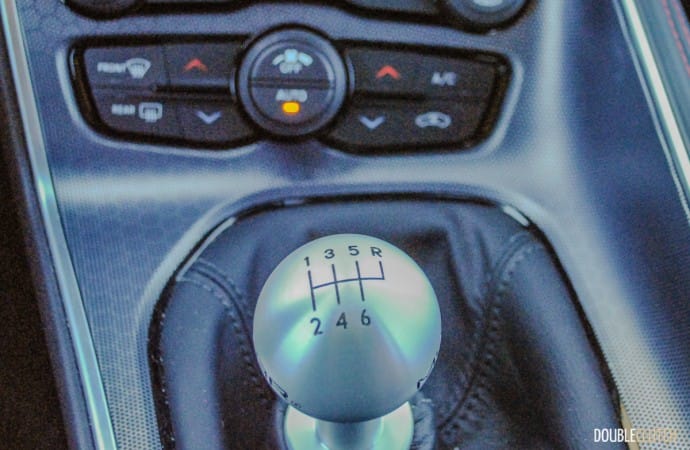 The Challenger R/T has aggressive acceleration down perfectly, but the handling leaves a little bit to be desired, especially from a performance standpoint. Steering is light and road feel is fairly negligible, which takes some of the fun out of tossing the car through corners. In contrast, I recently drove a 2016 Camaro (reviewed here), and that car is a lot more fun in the corners. On the flip side though, even with the upgraded Mopar performance suspension, the Challenger's ride quality is softer and more comfortable then both the Camaro and Mustang. The big brakes haul it down to a stop in what certainly feels like a surprisingly short distance given the car's size, and the big Firestone tires have no problem keeping the beast on course despite chilly mid-November temperatures and wet roads. Interior noise is well controlled and only intruded by the awesome roar of the HEMI under hard acceleration.
The interior of the Challenger is also a nice place to spend a long commute. I did notice a few instances of shoddy build quality, like the uneven gap between the dashboard and windshield, but overall it's well done. There's significantly more space than a Camaro or Mustang (reviewed here), thanks to the taller roofline and sculpted headliner. I did carry an adult passenger in the back seat during my week, and he commented that there was plenty of head and legroom in the back, and that the rear seats were fairly comfortable; impressive for a modern coupe.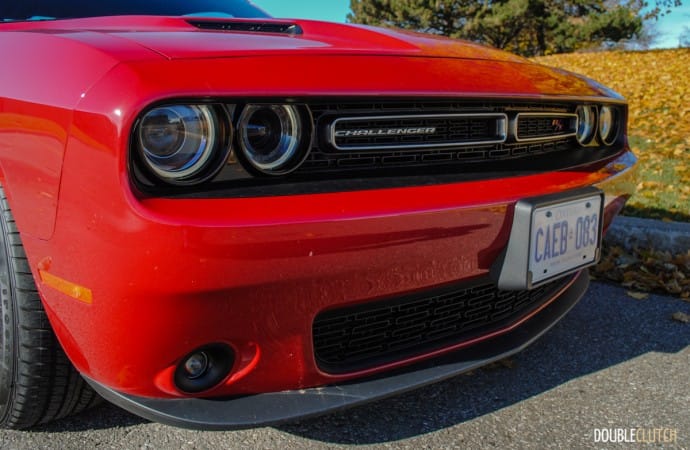 The interior also feels more grown-up than the Camaro or Mustang, both of which come off as a little bit gimmicky, whereas the Challenger stays away from toys inside. The two cup-holders in the centre console interfere with your arm when shifting, so they're useless to hold cups, but good for change and other small items. There are good usable cupholders built into both of the door panels, a decent sized centre console storage bin, and an average sized glovebox. Unlike the current Camaro, I was able to find a spot for all my daily items. Interestingly, not only does the Challenger have a huge trunk, but it also has a split folding rear seat, not something commonly found in a coupe, and definitely a nice practical feature.
I did my best to avoid wasting fuel, but the incredibly smooth, loud and forceful acceleration of the R/T is something I did indulge in a fair bit during my week with the car. At the end of the week I'd done over 500km and averaged 12.8L/100km, almost all of that in heavy commuter traffic on a week that seemed to be plagued with traffic delays. Despite that, the numbers fall right in line with what I would expect based on the official fuel economy ratings.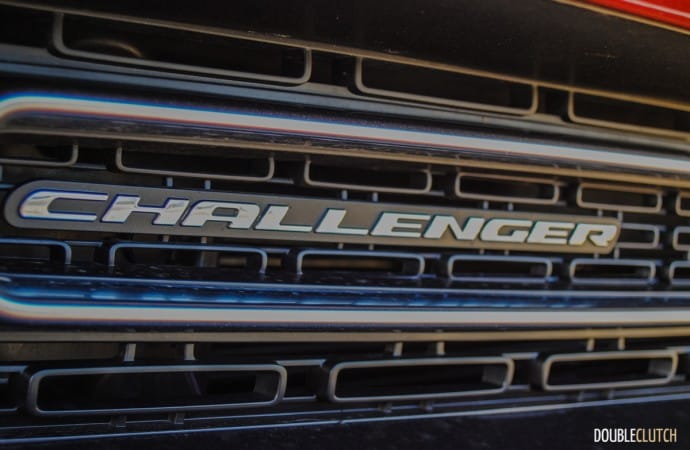 The 2017 Dodge Challenger R/T kept up with my commuting demands all week. From taking a business associate to lunch, to filling the surprisingly large trunk with boxes of stuff from a local auction, I never needed anything more. The thing is, the Challenger handled my week with a certain charisma that few modern cars can match, it's unmistakable, it's contagious, and you just can't help but smile when you're behind the wheel of one of these cars. As winter approaches, I'd rather drive nice modern muscle car like this with good set of winter tires over a generic all-wheel drive crossover any day, every day of the week.
2017 Dodge Challenger R/T Gallery
See Also:
2017 Ford Mustang GT Convertible