My initial prediction is that the RAV4 Hybrid is going to sell like crazy.
Being the master of hybrid technology that Toyota is, I was a little surprised to see the RAV4 Hybrid took this long to show up on the market. Sticking the proven Hybrid Synergy Drive system into their popular and frugal compact SUV seems like a no-brainer, right? Both the RAV4 as well as Toyota's hybrid family have such loyal followers that rushing something like a RAV4 Hybrid into the market before its perfected could risk the legendary reputations at stake. It finally happened though, and the 2016 Toyota RAV4 Hybrid is pleasing in every sense of the word. In keeping with the money saving theme of both hybrids and the RAV4, Toyota set us up with a RAV4 Hybrid XLE to test for a week.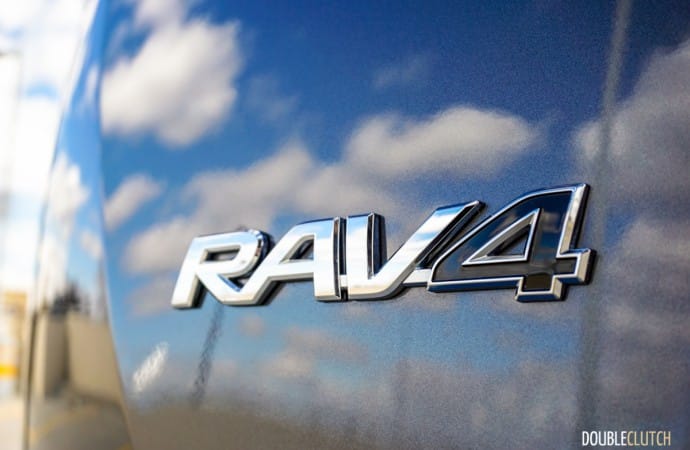 The lowest trim level available on the RAV4 Hybrid is the XLE, so while the standard RAV4 starts at $24,990, you'll need to allocate $34,465 to get into a Hybrid model. That said, the XLE does offer a nice set of features over the base model to help justify the price jump. This includes heated front seats, heated rain sensing wipers, blind spot monitoring, rear-view camera, power sunroof, power liftgate and dual-zone automatic climate control. The XLE Hybrid also comes with great looking 17" alloy wheels, unique blue "Hybrid" emblems, and premium cloth seats. My tester came in Magnetic Grey Metallic, and while I am generally not a fan of grey, this color has loads of metallic in it and looks great on this RAV4. The new darker color taillights also really compliment the metallic grey very well, giving it a nice cohesive look.
Inside the RAV4 XLE Hybrid looks and feels very well built. The dash is faced with a padded faux-leather, the thick three-spoke steering wheel is also leather-wrapped, the dash top and door panels are made from a sturdy low-sheen plastic and the cloth seats provide very good comfortable support. I found the dash layout to be a little disorganized and it took some getting used to things before I was comfortable with where everything is placed. Even then, certain controls like the buttons to the right of the radio are not within easy reach from the driver's seat, at least not from my driving position.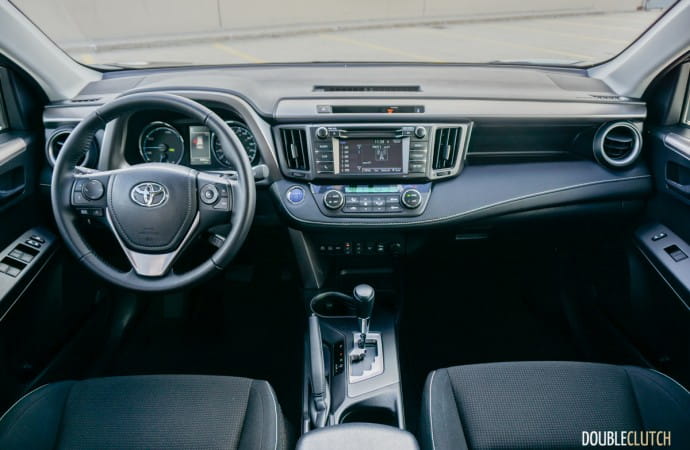 There is a plethora of convenient storage cubbies up front, including a couple of really nice, deep cupholders in the console. The rear seats offer plenty of head and legroom, even for adults, and the cargo area is more than enough for most day to day jobs. The one and only interior compromise associated with the Hybrid model would be a small bump in the floor just behind the rear seats in the cargo area for the batteries and hybrid system. This means that even with the rear seats folded flat you won't have a fully flat cargo floor, which can make sliding large and heavy items into the space a little tricky. The bump does incorporate a storage compartment for the cargo cover when it's not in use – a nice touch, and there is also the inclusion of a real spare tire unlike many other hybrids.
I was a little disappointed with the RAV4's audio system – the XLE comes with a basic 6.1" touchscreen, six speakers and no XM satellite radio availability. You can stream music via Bluetooth, but the 6-speaker sound system is weaker than more impressive systems found in most crossovers at this price point. You'll need to step-up to the Limited model to get XM capability and a larger 7" screen, and you'll need to add the Technology package on top of that in order to get the upgraded JBL Synthesis 11-speaker sound system. It's a shame that there is no stereo upgrade option for the XLE, because a competent sound system and a heated steering wheel were the only features I missed in this otherwise very well equipped model.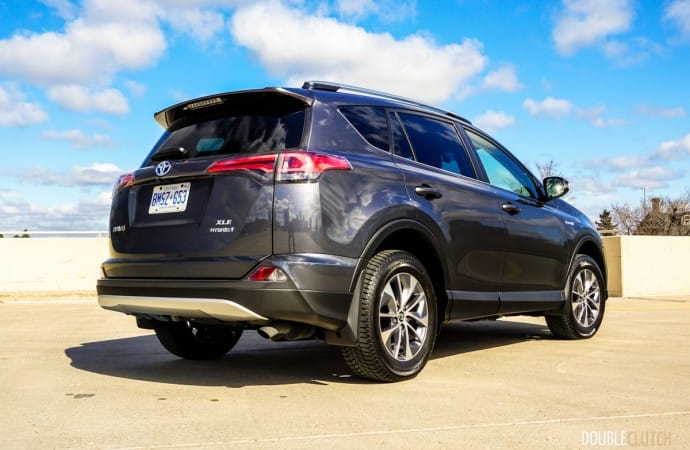 Entry into the RAV4 is extremely easy due to its perfect step-in height and tall door openings. Once you're inside, frontal visibility is great, but the rear C-pillars do impede a bit on rearward visibility. The clear high-resolution reverse camera works wonders to compensate for that issue though. Driving the RAV4 is also just as easy. The steering is light and predictable, the ride is soft and comfortable and power from the 194-horsepower 2.5L Hybrid Synergy Drive system is adequate for commuting duties. It's not a fun vehicle to drive by any means though – the soft ride and steering don't invite much corner carving, and while power is adequate, any attempts at brisk acceleration are met with lots of moaning from the CVT transmission. That's all ok with me though, because the RAV4 Hybrid isn't trying to be anything it's not. This a practical fuel-saving family vehicle and its driving dynamics reflect that.
My fuel economy for the week landed right in line with the published numbers. I saw an average of 7.4L/100km for my week of rush hour commuting. That's about 2L/100kms better than I typically see in similarly sized non-hybrid AWD SUVs such as the Hyundai Tucson (reviewed here), Mazda CX-5 and Kia Sportage. If you don't mind stepping down in size though you can get yourself a Honda HR-V or Mazda CX-3 (reviewed here) and get similar numbers. Another thing to note is that the RAV4's hybrid system does its best work at lower speeds, in traffic and the city. Out on the highway, fuel savings over the standard RAV4 would be minimal.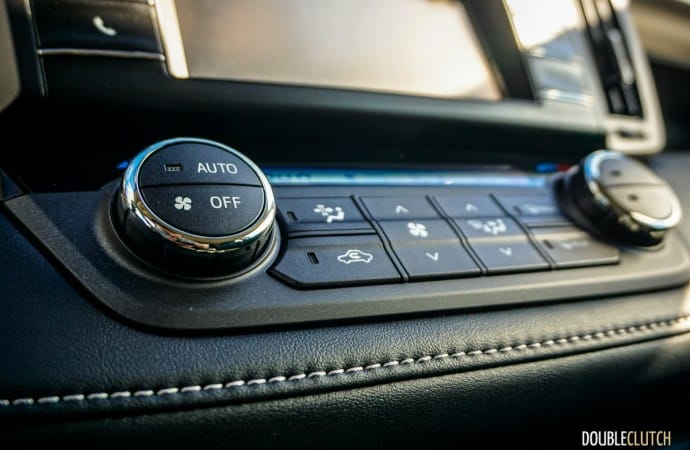 While highway driving might make the best use of the RAV4's hybrid system, the vehicle does feel right at home at higher speeds. The extra weight from the hybrid and AWD systems work to smooth out the ride and keep the RAV4 feeling well planted. Cabin noise is minimal and the interior is a pleasant place to pass the time – typical for Toyota. Interestingly, the RAV4 Hybrid comes with a tow rating of 1750lbs; that's enough for most tent trailers, a small camper, a utility trailer or even something along the lines of a jet ski. That really opens up the number of things you can do with this frugal little hybrid.
Toyota's all-wheel-drive system actually also left me feeling fairly impressed after I got a chance to really put the system to the test. Being mid-March the weather can be rather erratic and I woke up one morning to a good 5 centimeters of icy freezing rain. Roads were totally ice-covered and I had an important early morning meeting to attend. Noting my tester's nice Continental WinterContact tires I got into the RAV4 and set off. To my surprise the quality winter rubber and Toyota's AWD system never missed a beat keeping me confidently in control for the entire 60km drive. Seamlessly transferring power where it was needed, the AWD system minimized wheel spin and made cautious driving in such treacherous conditions very easy.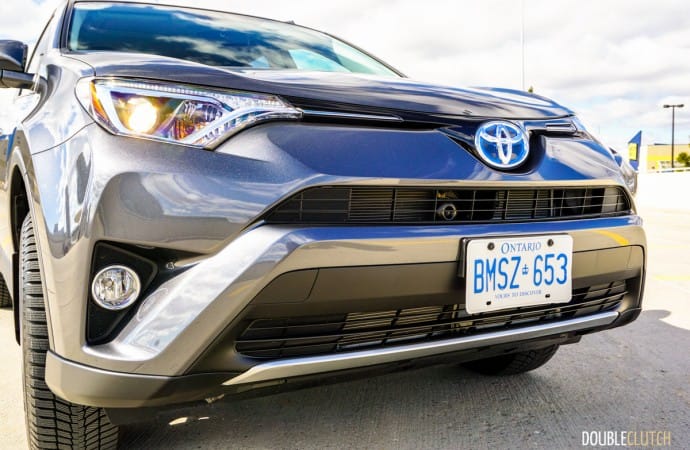 My prediction is that the RAV4 Hybrid is going to sell like crazy because the car is excellent at all that it's supposed to do. The driving force behind the popularity of these small SUVs and CUVs in recent years is the desire of many buyers to save money on fuel while maintaining a high level of practicality and AWD for winter conditions. The 2016 Toyota RAV4 Hybrid not only checks all those boxes, but looks good, drives like it should, is priced competitively and comes with the confidence of Toyota build quality and hybrid expertise.
2016 Toyota RAV4 Hybrid Gallery
See Also:
2015 Toyota Highlander XLE AWD