Nissan's recent designs have been edgy, sporty, and definitely attention seeking.
Model year 2002 marked an all-new identity for Nissan's midsize sedan. This was the year that the Altima ditched its anonymity and identification as nothing more than a generic import sedan for a fresh look. The 2002 Altima was inspiring, sexy, and dare I say, dynamic to look at. A couple of generations and several restyles later, the Altima no longer has that huge styling edge that it did fifteen years ago, but it's still a bit of a stunner. Refreshed for this model year, we were sent the keys to a 2016 Nissan Altima SR in a stylish Deep Blue Pearl for evaluation.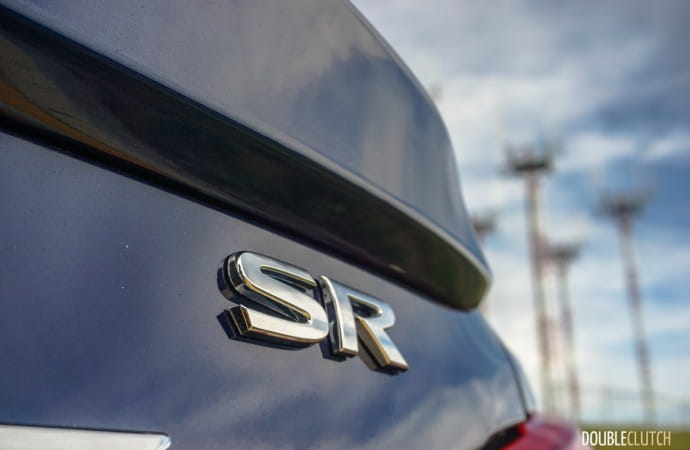 Nissan's recent designs have been edgy, sporty, and definitely attention seeking. Some love them, others don't like the polarizing nature. This year, the Altima gets a new face with LED daytime running lights, a new grille, and sharper ground effects. Similar updates have been applied to the rear end, and the overall look of the Altima now resembles that of its older sibling, the Maxima (reviewed here). The interesting thing here is that the compact Sentra (reviewed here) has been given a similar treatment, also having been refreshed this year. I find the Altima to be a decently attractive car, and definitely not as conservative as some of its rivals, namely the Hyundai Sonata (reviewed here).
On the inside, Nissan has given the Altima subtle tweaks, but only the very observant will notice any changes from the outgoing model, which was introduced in 2013. Our sporty SR-trim tester received some nice blue stitching throughout the cabin. This isn't just on the door panels, but also on the cloth seats and floor mats. It's a tasteful touch that is largely ignored in this segment, and it looks fresh. The seats are the "NASA-inspired" Zero Gravity seats, which is fancy-speak for "they are very comfy". Interior materials are average for the class – there are some plastics around the cabin but nothing that screams poor quality.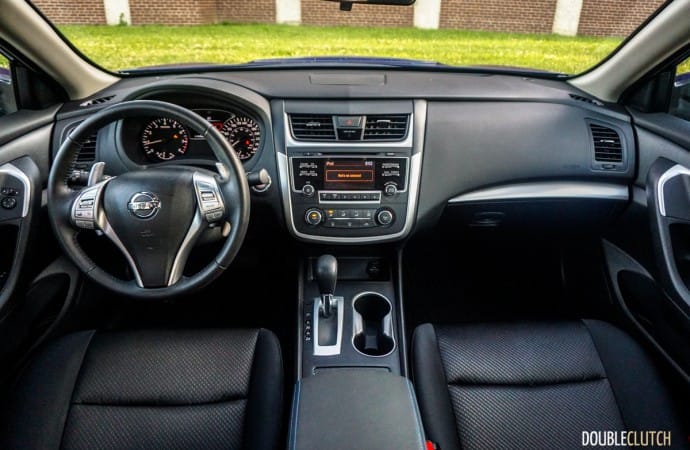 Though significantly revised, the Altima still offers the same two engine choices that debuted for the 2002 model year. The award-winning 3.5L V6 is still available, but our car was equipped with the 2.5L "QR25" inline four-cylinder. It has variable valve timing, and is good for 182 horsepower at 6,000RPM, and 180 lb-ft of torque at 4,000RPM. There is no manual transmission available – the only choice here is Nissan's Xtronic CVT. We would have liked to be driving the sport-oriented trim with the V6 engine, but the reality is, many more of these will be sold as opposed to the punchier option.
Having taken a bit of criticism for it in the past, Nissan has excruciatingly worked on developing their CVT technology to a point where they're an industry leader. The transmission is by no means fun, but it's easy to see why CVT technology has been banned in Formula One. As slow as it is, the 2.5L is always in the powerband, and acceleration is decently quick thanks to the lack of shifting. Passes on the highway are effortlessly smooth, if not exactly quick. Interestingly enough, the paddle shifters for the simulated manual mode are attached to the steering column rather than the wheel, so they're always in the right place. These paddles are also the perfect size and feel great to use.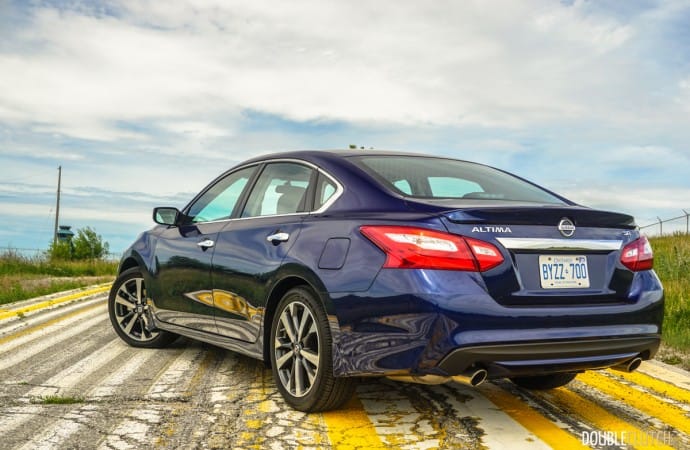 With the 2.5L engine, Nissan rates the Altima at 8.9L/100km on the highway and 6.3L/100km in the city. The non-sport trims with the 17" wheels are rated a bit better, at 8.7 and 6.0, respectively. The quick 3.5 SL consumes a bit more, at 10.3/7.4. Over my week of testing, which consisted of a lot of highway driving, I observed 8.7L/100km in the Altima, which wasn't exactly ideal. I expected a bit better, because my colleagues have seen sub-7L/100km numbers in rivals like the Accord (reviewed here). The Nissan's fuel tank will hold 68L of regular-grade fuel.
The base price for the Altima is $23,998 for a bare-bones 2.5 model. Even at this price though, the car is nicely equipped with all power options, Bluetooth connectivity, tire pressure monitoring, and the Advanced Drive Assist display located in the instrument cluster. Our 2.5 SR is two steps up from the base model, and holds a sticker of $27,798. Unique to this trim are 18" alloy wheels, a leather-wrapped steering wheel, paddle shifters, and a rear trunklid lip spoiler. Also standard is the 5" screen for the audio system, reverse camera, intelligent key, and NissanConnect with mobile apps. The premium paint scheme on our car is worth an extra $300.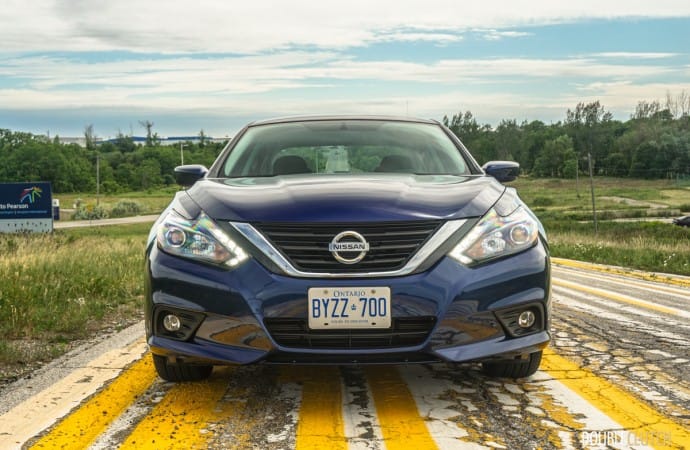 The Altima had a running start back in 2002, but things start to fall apart when you consider that the competition has advanced significantly. The current crop of midsize sedans is just so good that there's no really poor choice. At this point, the Altima's weaknesses all revolve around the fact that it feels dated overall. Save for its slick display within the center console, the interior feels like it's a generation behind its rivals, and from some angles, even the exterior starts to look like it's trying too hard. Some new powertrains wouldn't hurt it either, because everyone else has moved on to direct injection and turbocharging.
Dated as it may feel, the 2016 Nissan Altima SR is sure to sell in high volume. It's a car that has attracted a loyal fan base, one that adores the solid feel of Nissans as well as their long-term dependability. The Altima nameplate now dates back well over twenty years, and it's not uncommon to see an early model still puttering around in mint condition. A huge percentage of sales consist of fleet sales to large corporations as company cars as well as rental fleets, and this isn't a bad thing. If anything, it's a testament to how reliable the car is, and a solid choice for anyone looking for a no-nonsense sedan for years of headache-free operation.
2016 Nissan Altima 2.5 SR Gallery
See Also: