The Tucson's aggressive styling and unique colour palate help it stand out in its segment.
In an ever-growing market of compact crossovers, I seem to be the team member most entrusted to providing an accurate, hands-on opinion. After my recent engagement, my life now requires the ability to haul many things for various errands in both my personal and professional life, and what better way to evaluate this latest generation of crossovers than to put them to the test in a real-world setting? Hyundai sent over their latest offering, the 2016 Hyundai Tucson 1.6T Limited, in a polarizing Caribbean Blue paint scheme, for a weeklong test.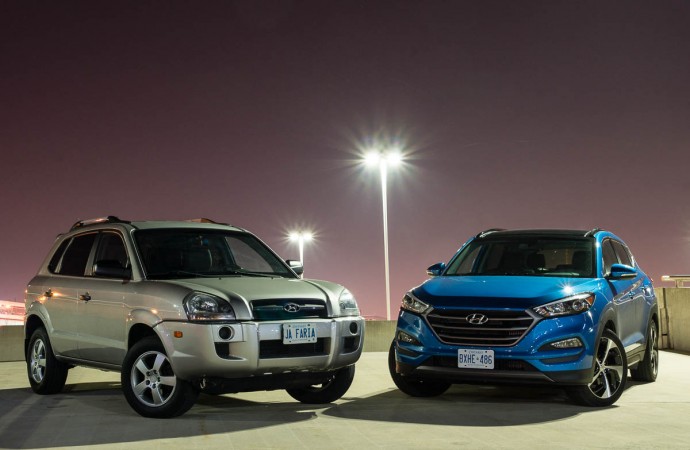 I'm a huge fan of the Hyundai Santa Fe Sport after our long-term test last year, but I do hold the Mazda CX-5 to be the benchmark in the (smaller) crossover segment. The previous-generation Tucson was becoming long in the tooth, but the current Santa Fe's design language and interior quality was definitely an accurate preview of what we could expect from this new Tucson. In my opinion, this is one of the best executions yet of Hyundai's Fluidic Sculpture styling philosophy; it flows perfectly and the proportions are excellent. On our loaded Limited model tester, the 19" alloy wheels set off the lines even more and give the little ute great road presence.
The Tucson has some aggressive styling in an attempt to steer away from the traditional crossover path, and the story doesn't change much under the hood. The entry-level 2.0L four-cylinder is still in existence, but the more powerful 2.4L is now gone, replaced by an all-new turbocharged offering. Not to be confused with the 2.0T in the uplevel Kia Sportage, this motor is a boosted 1.6L that we have also seen in variants of the Hyundai Veloster and more recently, the 2016 Kia Optima. The four-pot has direct injection and is good for 175 horsepower and 195 lb-ft of torque.
Though the motor is down by seven horsepower compared to the outgoing 2.4L, it has 18 more lb-ft of torque and is more responsive as a result. Base models with the naturally aspirated 2.0L get a six-speed automatic, whereas the 1.6T gets a segment-exclusive dual-clutch transmission. It's a seven-speed unit that puts the Tucson one step ahead of the rest of its rather numb segment, but it's not the performance-oriented gearbox that its name would suggest. There are no paddle shifters, and shifts are quick but not as quick as Volkswagen's DSG. The average buyer will not be able to differentiate this from a conventional automatic.
Hyundai claims the turbo-four is a little bit more efficient than the old 2.4L too, and it can get away with using regular fuel instead of premium despite its forced induction. They have rated it at 9.9L/100km in the city and 8.4L/100km on the highway, for a combined rating of 9.2L/100km. Built into Hyundai's Drive Mode Select system is an "Eco" setting that dulls throttle response and short-shifts the transmission for better efficiency. Taking all of this into account plus utilization of premium fuel, I averaged 9.6L/100km overall throughout my test.
The Tucson 1.6T drives surprisingly well, and the motor-driven steering is responsive and predictable. Power delivery is smooth and the exhaust note is satisfying, though it's not exactly involving to drive in any way. The Tucson feels like a smaller version of the Santa Fe, which it essentially is now. I must mention that compared to the CX-5 and even the CR-V, this one feels significantly slower. A 7.9-second run to 100km/h is about on par for the segment, so I might just be imagining things, but on a couple of spirited merges onto our local highways, the Tucson's engine felt as though it was gasping for breath while its transmission was more than up to the task.
Hyundai expects the vast majority of Canadian buyers to opt for the all-wheel-drive Tucson thanks to our harsh weather conditions. On models where AWD is optional, the cost is approximately $2300, and completely worth it in my eyes. Unfortunately, our test period was at the end of October, well before the white stuff started hitting the ground, so we didn't get a chance to properly evaluate the system. However, Hyundai's all-wheel-drive is an on-demand system that runs in front-wheel-drive until it detects slip, when it's capable of sending up to 40% power to the rear wheels. For those camping trips where drivers need to venture into deep mud or gravel, the Tucson also has a locking differential that can lock torque 50/50 front/rear as well.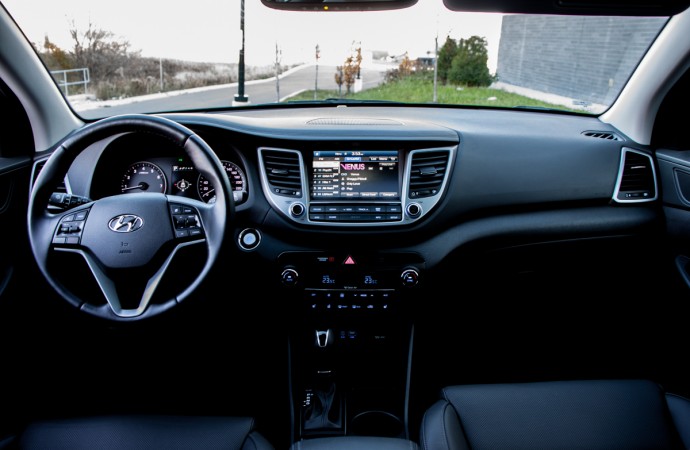 The single largest weakness of the outgoing Tucson was its cheaply built interior. Hyundai acknowledged this and has revamped the entire cockpit of the new model, taking cues and features from the rest of their newly redesigned lineup. The materials within the cabin are high quality, with minimal cost-cutting and plenty of piano black dash trim. The steering wheel is leather-wrapped, and an 8" touchscreen takes up a good chunk of the dashboard, giving the Tucson that premium feeling it so desperately needs.
Our 1.6T Limited tester is only one step below the range-topping 1.6T Ultimate. This means that in addition to all-wheel-drive and the optional turbocharged engine, its $36,649 price tag includes a plethora of equipment. When compared to the $24,399 base price of the Tucson 2.0L FWD, this may seem a bit steep, but it's important to consider what you get for your dollar. The base 2.0L Tucson already includes a serious amount of standard equipment – heated front seats, Bluetooth connectivity, stability control, projector headlights with LED accents, and automatic headlights are all standard.
The additional $12,000+ to get to the 1.6T Limited gives the buyer dual-zone automatic climate control, the touchscreen infotainment system with navigation, a rear-view camera, heated rear seats, leather upholstery, power driver's seat, a huge panoramic sunroof, proximity key, instrument cluster with 4.2" LCD, 19" alloy wheels, HID adaptive headlights, and LED taillights. Of course, if a nearly fully-loaded model isn't what you want, there are seven total trim levels to choose from. With two engine choices and a pretty flexible choice between front and all-wheel-drive, it's extremely easy to spec a Tuscon to your liking. Like Hyundai's other offerings though, there's no custom ordering for specific options – the buyer must choose from an existing trim level in order to keep manufacturing costs down.
Considering the 2016 Tucson is built on an all-new platform, it has gotten a lot closer to the Santa Fe in size when compared to the outgoing model. The overall length has been increased by 35mm and the width by 30mm. Hyundai has lengthened the wheelbase by 30mm, which results in a more cavernous interior as well as a roomier cargo area. The wider track means it rides a bit smoother than the last model thanks to a larger overall footprint. An interesting note is that the Tucson is still smaller in all dimensions than rivals such as the Honda CR-V and Toyota RAV4.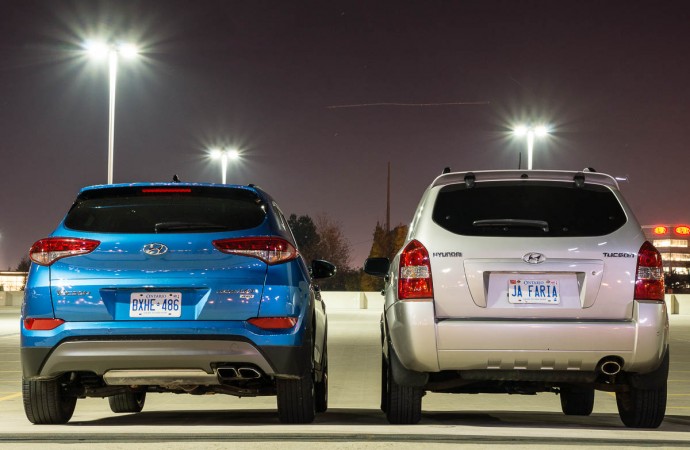 What I think the Tucson really needs is an improvement in connectivity and infotainment. Though Hyundai's touchscreen system is very responsive and one of the best in the mainstream segment, Volkswagen, General Motors and Honda have raised the bar for 2016 by including Apple CarPlay and Android Auto in many of their models. It's only a matter of time before more manufacturers begin to adapt these technologies into their lineups. The Hyundai system is almost completely operated via touch, and could also use a central controller, which doesn't require leaning forward to browse through playlists and radio stations.
The 2016 Hyundai Tucson 1.6T Limited has been created by taking an aging crossover that was never really loved, and performing a complete overhaul by using all of the company's resources and implementing modern technologies and touches. In a very crowded class of crossovers, the Tucson's aggressive styling and unique colour palate help it stand out, and should go a long way to helping Hyundai on their path to becoming one of the world's leading automakers. It's not quite as sharp to drive as the Mazda CX-5 or as punchy as the turbocharged Subaru Forester XT, but the Tucson provides verve and quality at a decent price point.
2016 Hyundai Tucson 1.6T Limited Gallery
See Also: