Nearly 350 horsepower for under thirty grand | For enthusiasts who crave rear-wheel-drive, a proper limited-slip differential, good brakes and sharp steering.
The Hyundai Genesis Coupé has always been a bit of a dark horse in a popular segment, but in recent years has been increasing in popularity and emerging out of its shell. Young enthusiasts adore the coupé's sexy lines previously assumed impossible from Hyundai, and the tuner scene has ample aftermarket choices for the car. I've tested Genesis Coupés in previous years bearing the Hyundai factory axle-back exhaust accessory, something that brought music to my ears. This year, there's a new model, the 2015 Hyundai Genesis Coupé 3.8 R-Spec, and I just had to borrow it for a week and discover what it packs.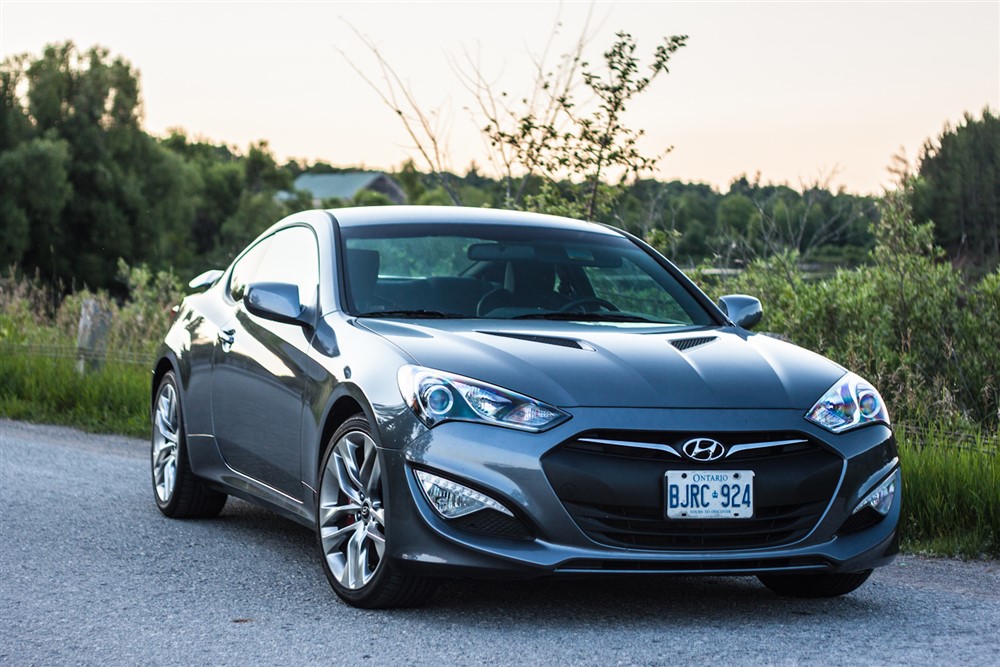 Now that Hyundai has done away with the 2.0L turbocharged 4-cylinder and gone V6 only, the Genesis has a lot more to offer for its dollar. After all, value for money has always been a huge focus for the Hyundai/Kia umbrella. The R-Spec model is the entry-level Genesis, priced to sell at $29,499. For under $30,000, this car offers close to 350 horsepower and driving dynamics that can demolish cars that cost considerably more. Despite being a base model, the R-Spec offers Brembo brakes, a Torsen limited-slip differential, a manual transmission, a sport suspension, and 19" wheels. Yes, this is a legitimate contender in the performance coupé class priced in the twenties.
The 3.8L direct-injected V6, shared with its very-different sister the Genesis sedan, makes a delicious noise even without the Hyundai performance exhaust. It pumps out 348 horsepower and 295 lb-ft of torque, numbers that are well above both the EcoBoost and V6 Ford Mustangs, as well as the V6 Chevrolet Camaro, Nissan 370Z, and Scion/Subaru twins. The Genesis is seriously quick, and the engine loves to rev once it gets going. Response from the throttle is remarkably quick, and it feels like a real sports car every second you're behind the wheel.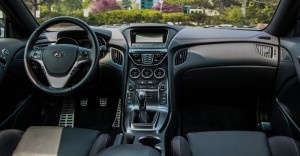 Thanks to the suspension, wheels, and excellent steering calibration, the Genesis handles like a dream too. The steering is decently heavy and there isn't too much assist there. Thanks to the stability and traction control systems on board, the Coupé has no problem staying in a straight line, but disable these systems and it happily kicks the back end out and wants to dance. My editor drove one of these at a Hyundai event last year at Canadian Tire Motorsports Park and raved about how much of a hoot it is on a closed course. It may not be the most precise, but damn, this car provides many smiles for your dollar.
Where the Genesis did fall a bit short was the transmission, something that has been a weakness for a few years now. The 6-speed unit, as with gearboxes in other vehicles, has a bit of a learning curve, but it could be a lot smoother. The clutch is on the heavier side but this is something I can live with. The shifter is too rubbery and the throws are pretty vague. However, after spending a few days behind the wheel I never missed a shift and was able to heel/toe downshifts and rev-match perfectly. The next-generation car is expected to debut soon, and I have zero doubt that Hyundai will have addressed this concern by then. For those who don't want to row their own gears, the Koreans offer an 8-speed automatic on models without the R-Spec badge.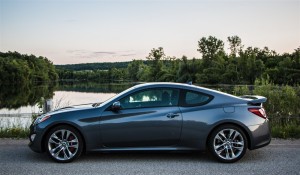 The 3.8L motor has never been a particularly efficient one, but Hyundai does allow the car to get away with using regular 87-octane fuel. As luck would have it, the journalist who borrowed the car before we picked it up definitely filled it with the cheap stuff, because I noticed a distinct difference in engine performance after refueling my first tank with 91-octane premium. Additionally, I was able to average as low as 9.4L/100km on premium, whereas the car refused to do any better than 10.8L/100km on the original tank. The Genesis becomes a bit of a fuel pig in the city, but when cruising on the highway (with zero exhaust drone here), it can return excellent numbers.
In this case, the base model is also the most performance-oriented model. For value seekers and true purists, the Genesis R-Spec is a godsend. This car does pack a very usable interior including fantastic R-Spec seats with active front head restraints, a six-speaker stereo with satellite radio, USB and Bluetooth connectivity, automatic climate control, and cruise control. There's also a Hyundai "Supervision" instrument cluster, fog lights, LED taillights, and a rear wing spoiler with built-in LED brakelight. The only real thing the R-Spec lacks that some might want is a power sunroof. The issue is, a sunroof does affect the structural rigidity of the car as well as making it heavier, so it's only available on Premium and GT models.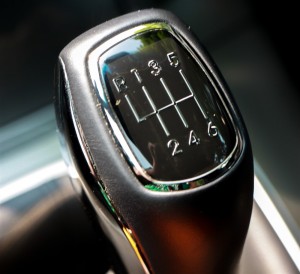 On the styling front, the Genesis is still a very attractive car, and the post-2013 refresh has grown on me pretty heavily. When this update first came out, I was unsure and felt that I would prefer the original model, but the 2009-2012 cars have not exactly aged well. The general profile has been the same since 2009, but the current model continues to look fresh and stand out from the rest of the tuner crowd. This is especially true considering Genesis owners are an eclectic bunch who enjoy expressing their individuality using tasteful (sometimes) visual modifications.
There are a series of cars in this segment that stand out to enthusiasts, some with a series of improvements and refreshed styling making them even more appealing. The Scion FR-S and Subaru BRZ are still hot picks, but their lack of torque and straight-line power are a bit of a deal-breaker for me. That's a bit of a bold statement too, considering I was strongly contemplating an FR-S a couple years ago. I really like the Nissan 370Z, but it's a bit dated and the 3.7L V6 is lacking the refinement of the Genesis. There are also the V6 models of the three muscle cars (Camaro, Challenger, and Mustang), but those don't really compete here. The other dark horse is the Honda Accord Coupé, which I'll be sampling again soon, but it's front-wheel-drive.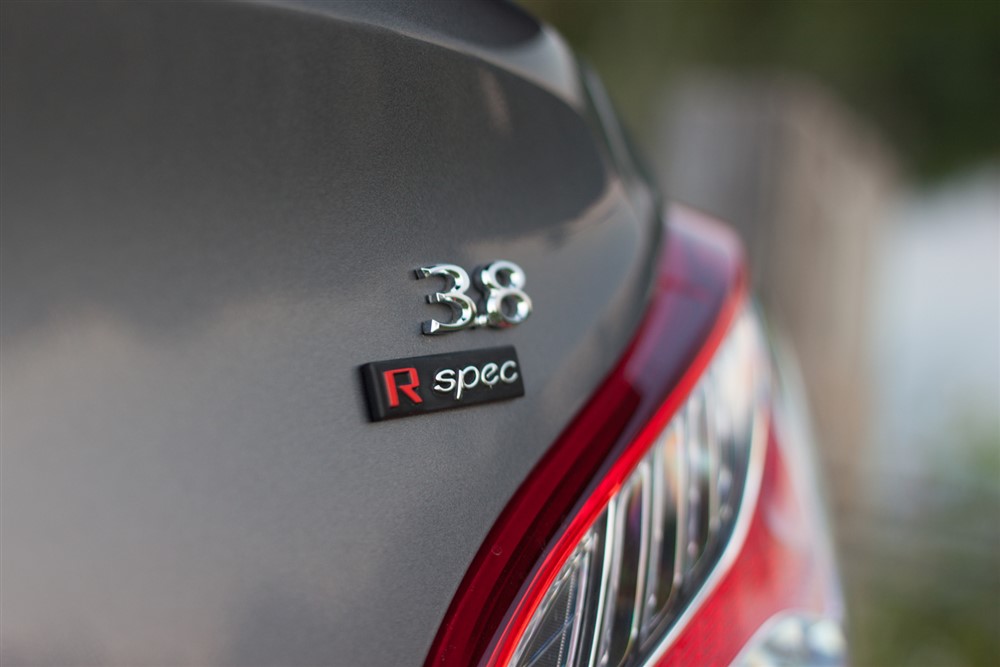 For enthusiasts who crave rear-wheel-drive, a proper limited-slip differential, good brakes and sharp steering, there are quite a few choices out there. However, if you don't want to spend more than $30,000 (taxes/freight not included), and want close to 350 horsepower, Hyundai has you covered. Once a company known for producing disposable vehicles, the Korean manufacturer has evolved into a legitimate contender in every segment they choose to enter. The 2015 Hyundai Genesis Coupe 3.8 R-Spec is an excellent choice that provides true driving pleasure, reliability for years to come, and plenty of toys in the aftermarket scene. Protip: Opt for Hyundai's factory axle-back exhaust that's offered as a dealer-installed accessory.
2015 Hyundai Genesis Coupe 3.8 R-Spec Gallery
See Also:
2015 Scion FR-S Release Series 1.0