This is Batman's motorcycle | If Batman ever gets tired of driving around on four wheels, this is the bike he would ride.
I'm almost embarrassed to say that I don't do a whole lot of reading of news releases on new motorcycles. This isn't because I'm lazy or that I don't want to, but it's because I don't want preconceived notions to ruin my perception of bikes I will ultimately get to test out for myself. More often than not, my reasoning has caused me to fall head over heels for a bike that I didn't expect to like in the slightest. On a day where it was so cold I typically wouldn't even bother to ride, I received an e-mail offering me 24 hours with the 2015 Honda NM4. I pulled my gear out of the closet and decided to bear the cold and get on what I expected would be one of the wildest rides of the year.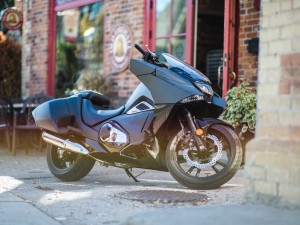 If Batman ever gets tired of driving around on four wheels, this is the bike he would ride. The styling is polarizing to a point of menacing. The NM4 looks like a pterodactyl with its huge fairings (and convenient front compartments!), and the huge LED headlight makes it look evil when bearing up on its prey at night. My particular NM4 was equipped with two hard side bags, leading me to believe that there's enough room for a pile of stuff in there. I was a bit disappointed here; the hollow hard cases only have about a melon's worth of space in each one, and they're awkwardly shaped so small bags aren't an easy fit. There are two compartments up front as well; the one on the left has a power outlet to charge auxiliary devices.
The seat is extremely low and it's very easy for even shorter people to place both feet flat on the ground. I actually really like the NM4's riding position; Honda has done very well here. There's also a backrest that can be flipped up and is lockable with the key, and I'll mention here that despite having ridden numerous cruisers, this is my first time on a bike with a backrest. I also took advantage of my one full day with this big Honda and did a ton of highway cruising. The backrest does come in handy, and it's very easy to get comfortable. I would have liked to see some more support in the seat though; the foam is a bit on the soft side for longer hauls.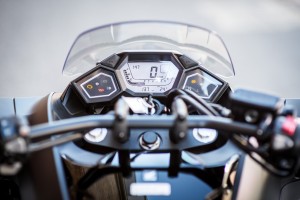 So, the Honda NM4 has the looks to park confidently beside the Batmobile. This means it has to be packing the punch to haul ass, right? Well, not quite. Powering the NM4 is the same long-stroke 745-cc twin that powers the Honda NC750S/750X series. It's not exactly quick, and the added weight here means the bike doesn't exactly hustle. It's reasonably quick, and after you get used to the twin's low-revving demeanour, the NM4 is actually quite pleasant. The 44 horsepower and a peak 41 lb-ft of torque doesn't seem like much, but the Bat-Bike maintains highway speeds with ease. The low centre of gravity makes it easy to maneuver for a cruiser-type motorcycle as well.
The most interesting part of the NM4 has to be the transmission; it's not a conventional 5 or 6-speed manual. This big guy has a 6-speed dual-clutch tranny, as indicated by the emblem on the side. There's no clutch and thus no lever on the left side, and there's nothing for your left foot to do either. This transmission works similarly to the DCT units we've seen in tons of new automobiles, and is actually a pretty decent one to use. A button located to the left of the front brake lever toggles between automatic and manual shift modes, and in manual mode, shifting is done by two buttons located by your left hand. If left to shift itself, the NM4 moseys around in a relatively lazy manner. However, there is an "S" mode that makes it shift at higher RPMs and downshift sooner too, changing the behaviour of the NM4 altogether.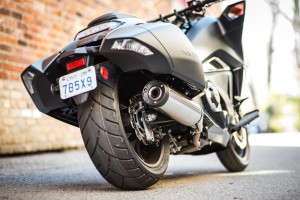 There's also another semi-hidden gimmick built into this motorcycle. If you break into the settings within the instrument cluster, you can actually select the backlight colour of the gauges, not unlike that in the late-model Ford Mustang. Honda offers approximately 25 different colours, from hot pink to bright yellow and including the cool blue that I opted for during my night ride. It's a touch cheesy but I like the ability to customize without having to put in a whole lot of effort, so this actually worked well for me. Riding around for a day, I actually went through a whole tank of gas. In combined city/highway riding, I averaged about 3.9L/100km, right in line with other ~700cc motorcycles.
If I hadn't read the spec sheet or any of the press releases, I would have assumed that with insane styling like this, the NM4 would have a beastly engine as well. There were a couple things that put me off though, and it wasn't necessarily the engine. For instance, the front tire is way too thin and makes the whole front end of the bike look slightly awkward from some angles. Also, I do appreciate the technology and development behind a dual-clutch transmission, but a proper motorcycle isn't a motorcycle without a manual transmission. Without a clutch lever for my left hand and shifting for my left foot, I almost thought I was riding a scooter…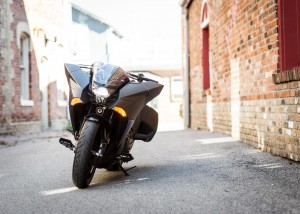 I think Honda's onto something with this design. I couldn't ride a kilometre without people pointing or staring, and every time I parked the bike to run an errand or grab something to eat, I returned to find a small crowd gathered around the bike trying to figure out what on earth this thing is. The engine and attached exhaust note is a bit underwhelming, as is the lack of a clutch lever. Now, if Honda squeezed the engine from the Gold Wing Valkyrie into this thing, complete with its vicious exhaust note, the NM4 would be absolutely ridiculous. With its price tag of $12,499, the 2015 Honda NM4 is a forward-thinking bike that's going to pave the path for motorcycles to come.
2015 Honda NM4 Gallery