A much-anticipated return | GM has made a great leap forward in reviving the midsize truck.
The GMC Canyon has been one of my most anticipated vehicles of the year. I own a 2000 GMC Sonoma, and despite the long list of cars I've owned and driven over the years, I have yet to find anything else that I feel more at home in. The Sonoma has been with me since high school and has carried me through almost all of life's milestones and challenges since. What sold me on the Sonoma initially was its small size, relative sportiness and somewhat practical bed. Truth be told though, it has plenty of faults that I may have grown to overlook. It rides like a dump truck, steers like a cruise ship and burns fuel like an arsonist. Even still, I was eagerly awaiting the arrival of the new Canyon for no reason other than straight nostalgia.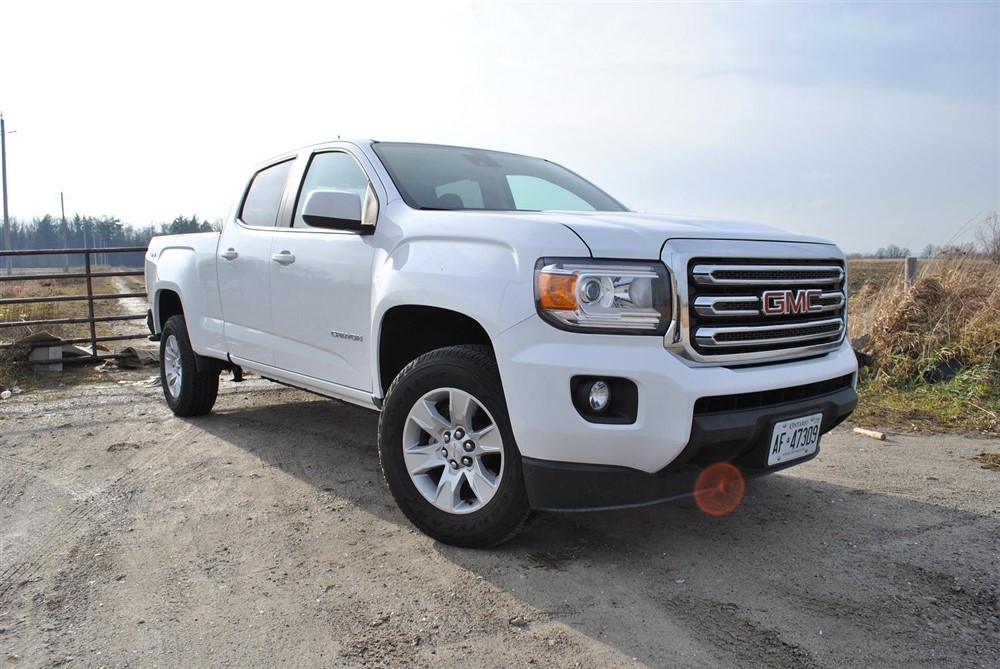 After months of bugging our editor to make sure we were near the top of the list to get one of these, I finally picked up the keys to a brand new 2015 GMC Canyon SLE 4×4 Crew Cab long box. I wouldn't say it was love at first sight; I couldn't get over how much bigger it looked and felt compared to my Sonoma. That's when I had to come to the realization that this isn't a "new Sonoma", and never will be. This is a brand new mid-sized pickup truck and it needs to be viewed as such.
The exterior looks quickly grew on me, especially the GMC front end, which is very well executed. Getting behind the wheel I was quickly reminded that GM knows how to build a good pickup. The driving position is simply the best "high" seating position I've experienced. As I sat in the comfortable and supportive cloth seats, my body just fell into the controls. The floor mounted automatic shifter is perfectly positioned and feels excellent – seriously, everyone on the team commented on just how satisfying it felt to move. The dash layout is almost identical to the fullsize GM pickups, and the rest of the interior is very well thought out with the requirements of a working man (or woman) in mind. There is an abundance of cubby holes and compartments to stash stuff and controls such as the optional automatic climate control are navigated using large knobs that can be simply handled by bulky winter gloves. My crew cab tester will easily seat five, although rear passengers might not be too happy about the amount of leg room available for a longer trip.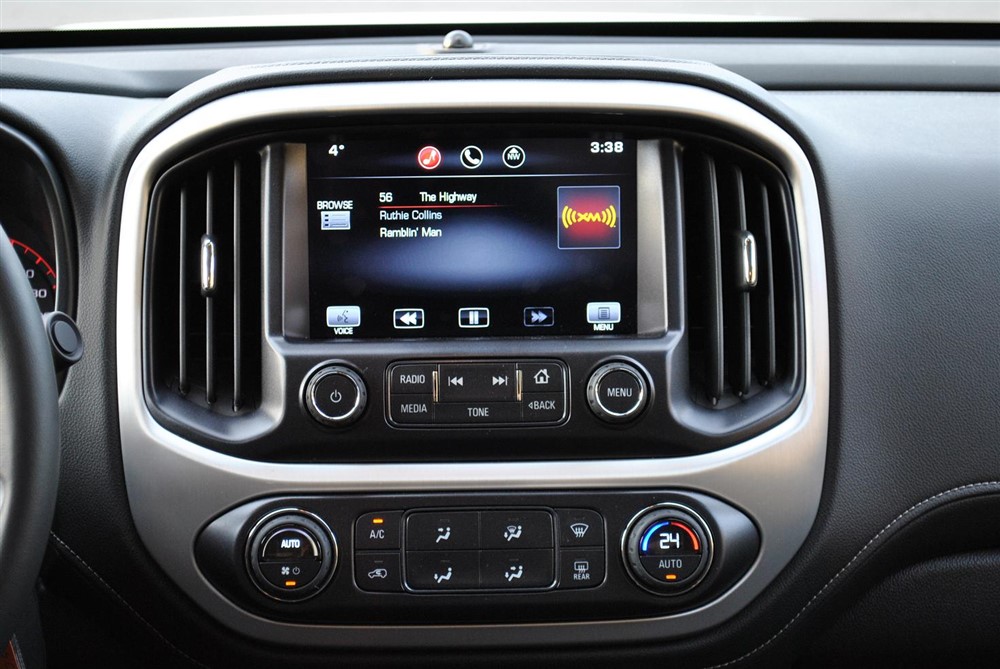 The Canyon has moved forward in leaps and bounds in the tech department too. Much like everything else GM builds today, the Canyon is available with the Chevy (or GMC in this case) MyLink infotainment system, which is one of the best in the business. My SLE tester came equipped with the latest OnStar 4G LTE Wi-Fi Hotspot, Bluetooth, SiriusXM radio and a 6-speaker sound system. My tester also came with the $415 Driver Alert Package which includes forward collision and lane departure warning systems – nice additions if you plan on spending lots of time in your truck.
The Canyon is more than just a pickup with a nice interior though. As it turns out, it's also a very refined cruiser. On the road, the new baby at GMC has a very distinct and confident feel. Despite rear leaf springs supporting a solid rear axle, the ride is never choppy or bouncy like you might expect in a mid-sized pickup, yet it still manages to feel rugged and tough. It handles city potholes like a dream and cruises along the highway with the smoothness of a CUV. My only complaint while cruising along would be some excessive wind noise, which is typical of pickup trucks with their large and flat cabs.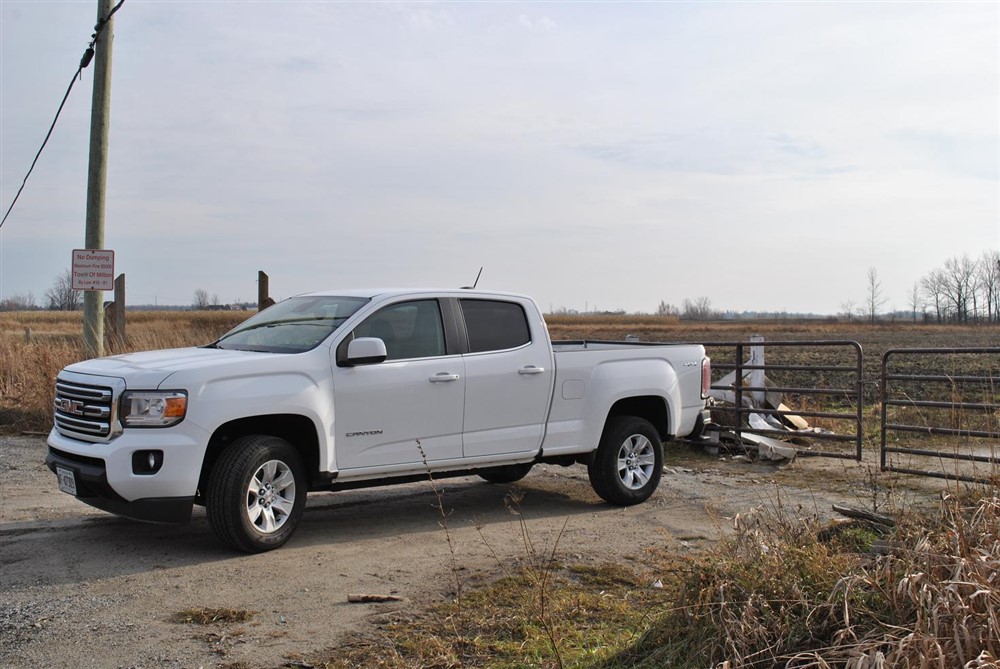 My tester is equipped with GM's corporate 3.6L V6 and a 6-speed automatic. Call me old fashioned, but I think it's a great combination. The V6 puts out 305 horsepower and 269 lb-ft of torque. It feels like it has been tweaked a fair bit in order to sound and feel like a proper truck engine. Like most trucks, throttle response isn't the sharpest and the 6-speed is sometimes slow to downshift, resulting in bogged down acceleration. However, in most situations, the transmission does a good job keeping RPMs where they need to be to maximize torque, meaning the Canyon scoots along pretty well. The V6 makes a pretty solid workhorse supporting the Canyon's impressive 7000lb towing rating and reasonable 1500lb payload. These numbers are shy of a typical full-sized truck, but they are significantly better than those of the Toyota Tacoma, which serves as the closest both in size and pricing to the Canyon.
Fuel mileage is a topic that constantly comes up whenever the Canyon is mentioned, and I am happy to say that I came away satisfied with my mileage numbers after a week with the truck. Through a week of winter commuting, I averaged 12.5L/100kms and actually saw numbers below 10L/100kms on a highway run. Those numbers are considerably better than what I've been able to squeeze out of any full-sized gas truck and are comparable with many of the V6 powered SUVs and CUVs I've tested. I do think that fuel mileage is a key selling point and one of the biggest reasons for the renewed interest in the mid-sized pickup segment. Like many others, I am still patiently awaiting GM's diesel, which would really make the Canyon a force to be reckoned with in this game.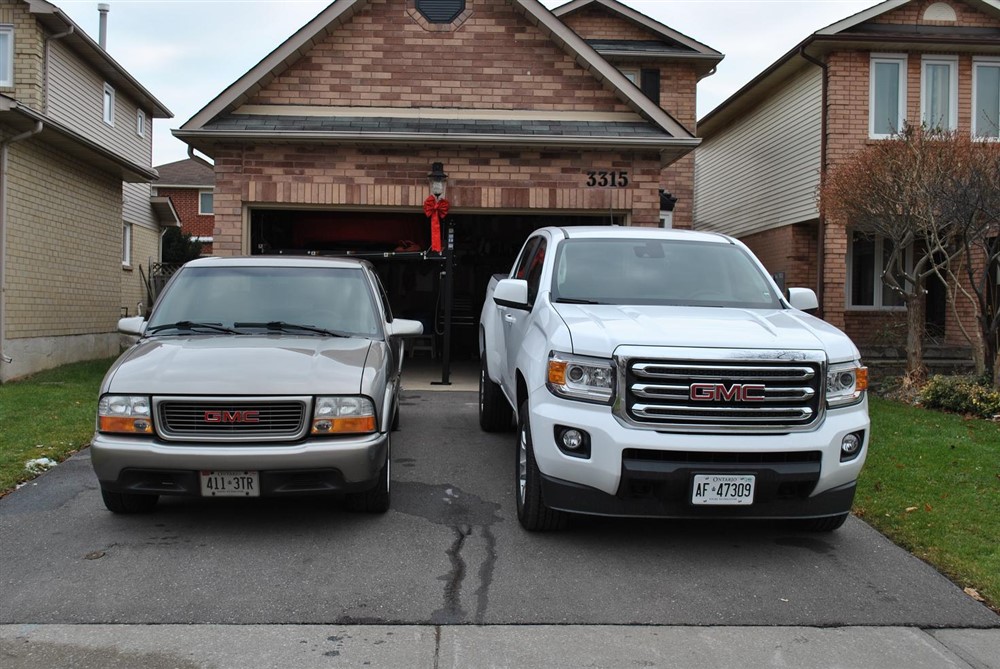 With an as-tested price of $36,200, I came away wanting a few more toys. Considering the fact that the same money would buy me a well-equipped CUV or SUV, I don't feel like I should be paying more, or giving up luxuries to have a bed attached. That said, it's not particularly expensive to kit up the Canyon to make it a lot more exciting. However, extra $1440 buys you the All-Terrain package, which comes with most of the good stuff you'd want on a truck like this; heated seats, big all-terrain tires, body coloured bumpers, skid plates and beefed up suspension.
Much to my enjoyment and that of other like-minds, GM has made a great leap forward in reviving the midsize truck, and I sincerely hope they stick with it and keep improving upon this great platform. There are some areas for improvement, but the truck makes a pretty solid case for itself. Palatable fuel mileage, available seating for the whole family, towing and hauling capabilities not too far off from those of a full-sizer and dimensions that make getting around in urban areas much easier – these are the makings of a very versatile truck. It can easily transform from a workhorse for the urban contractor to a fun adventure vehicle for an urban couple looking to haul all their toys to the cottage and back, or even an exciting alternative to the typical family vehicle with the added function of the bed. I can't wait to see where GM takes this truck.
2015 GMC Canyon SLE Gallery