The restyled Civic Coupe is pretty great What Honda has here is a car that has an absolutely outstanding mechanical side while providing a combination of driving engagement, efficiency, reliability and comfort.
Growing up as a car guy, the Honda Civic Coupe easily set the standard for cheap, fun and easily modifiable cars. Cruising around the car scene in the GTA on a warm night it's almost impossible not to find a Civic hanging around just about every Tim Horton's lot in the city. It's easy to understand why, as an entry level tuner car the Civic is the ideal; cheap, good looking, basic to work on, readily available and surprisingly fun to drive. This means that the new 2014 Civic Coupe has a lot to live up to, and not just from the enthusiast crowd, but from the millions of drivers who've come to rely on the Civic's reliability and efficiency to get them through the daily grind. So picking up the keys to the shiny new bright blue 2014 Honda Civic EX Coupe I'd be driving for the week, I couldn't help be feel a little anxious to find out if it was going to live up my admittedly high expectations.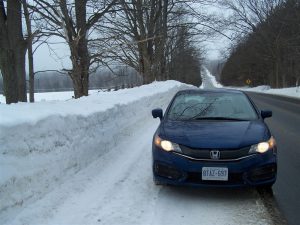 Looking at my tester, it's certainly not one of my favorite looking Civic Coupes. The formula for any good looking coupe in my opinion is a long hood, swooping roofline and a flowing defined rear end.  This is where the latest iteration of the Civic Coupe falls short; the majority of the car's profile is all cockpit, with a short stubby hood and abrupt little trunk area. Sure that does maximize interior space, but driving a coupe is all about the look, not about making sure your rear passengers have that extra 3 centimeters of leg room.
While Honda may have a little tweaking to do on the visual aspects, they have absolutely nailed the powertrain and driving dynamics of the Civic. From behind the wheel all styling atrocities are forgiven and the driving experience takes over. The car represents the prefect balance of practical comfort, efficiency and excitement.  The steering is sharp, responsive and is perfectly weighted, this is a car that is meant to be driven around corners and holds the road surprisingly well even when pushed. The ride is also just right, with a firm solid feel whether you're motoring down the highway, crawling along potholed city streets or navigating the curvy back-roads, the car feels very well planted. More surprisingly, despite the sharp handling the ride somehow manages to be very comfortable, not jarring or bouncing like previous generations.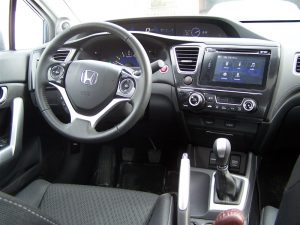 The mechanical bliss is continued into the powertrain as well. The Civic's 1.8-litre SOHC i-VTEC with an energetic 143 horsepower actually feels more powerful than it really is and should keep most drivers entertained. While a CVT transmission can be had for an extra $1300, the engine in my tester is coupled with a wonderful little 5-speed gearbox that feels so right it makes the task of rowing your own gears a real treat. Coming from me, that means a lot as I am generally the first to admit that I love my automatics, especially during my bumper to bumper daily commute. However, in the Civic the clutch and shifter continue to represent that perfect balance between comfort and excitement that makes the car so much fun.
Now, usually when I am enjoying the driving experience of a car as much as this Civic there's always a big downside, and that's generally my fuel consumption. However, I am very happy to say that I averaged a very impressive 7.0L/100ks over my week of mixed commuting, and saw an average as low as 6.2L/100km on a short day trip out of town on the back-roads. I do feel that the only limiting factor here is the 5-speed and with an extra cog on the highway I could have dropped another litre or so off of my average.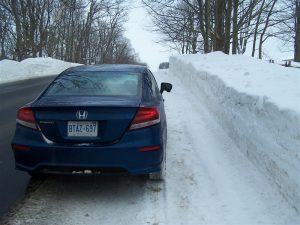 My Civic in EX trim came out to a total just over $22,500, which seems like a real bargain for the amount of fun and economy the car delivers. At this price the car comes equipped with its fair share of toys as well; heated and bolstered cloth seats, power moonroof and a back-up camera. More impressive though is the Civic's innovative blind spot camera, whenever you signal right a camera positioned on the right side exterior mirror is activated on the car's infotainment screen giving you a perfect view to anything in your blindspot. The camera can also be activated by pushing a button on the end of the turn signal stalk, it's a well-executed idea that I am sure many drivers will appreciate and is a very impressive feature at this price point.
Inside the Civic is exceptionally comfortable, up front at least, and the overall quality of the interior seems to continue to improve. There are still a few areas inside the Civic where the materials used do look and feel rather economical, but then again, what can you really expect at $22,000? In addition to the digital dash, Honda has gone high-tech with their infotainment system, which uses a 7″ touchscreen that is intended to work just like a common tablet. I am not much of a techie, but I do find navigating some of the menus rather annoying and the system does seem rather laggy, so I can't help but feel that Honda still has some work to do here.  The EX is equipped with automatic climate control, which is a nice feature to have at this price point, as is complete Bluetooth compatibility. Rear passengers are not nearly as comfortable as in the front due to very limited headroom, making the rear seats best left for short trips.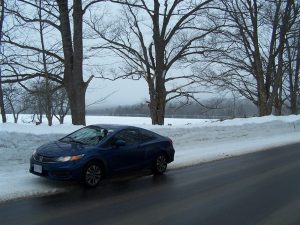 What Honda has here is a car that has an absolutely outstanding mechanical side, providing a combination of driving engagement, efficiency, reliability and comfort that very few cars can hold a candle to. Yet, there is always room for improvement, both inside and out, and so while the Civic Coupe might be perfect as is for a few hundred thousand commuters looking to add some excitement to the daily grind, there's still plenty of room for the enthusiasts to have their fun.
2014 Honda Civic Coupe EX Gallery