When talking to people about vehicles these days, you'll often hear the phrase, "they just don't make them like they used to." While mostly true, it doesn't really apply to the full-size, body-on-frame 2023 Infiniti QX80 because, quite literally, Infiniti has been making them for over a decade. But with Toyota finally updating the QX80's main competitor, the Lexus LX 600, the writing could very well be on the wall for this aging machine of grandeur and opulence.
In a world where subtlety often takes the backseat, the QX80 stands as a monument to unapologetic extravagance, a literal automotive behemoth. The first thing you'll notice is the sheer magnitude of the QX80; it's a hulking leviathan that commands attention. The front grille, a cascade of chrome and intricate design, the LED headlights, and giant 22-inch dark finish cast aluminum alloy wheels radiate luxury and create a modern image that defies the design's age. Our tester is finished in a grand finish of Champagne Quartz paint and does a great job revealing the Infiniti's visual complexities.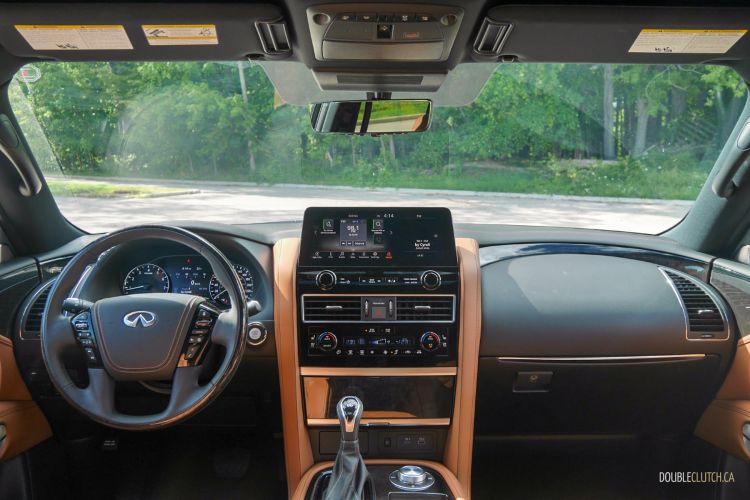 Slipping into the cabin is where things go a bit south. It's not that what's here isn't of high-quality materials and excellent fit and finish, but rather the design is a bit long in the tooth the same way you might feel when looking at a mansion from the 1990s. Saddle brown leather with charcoal burl trim accents exude a timeless elegance, but clash somewhat by the large curved shapes on the dash. Plus, the giant centre console looks out of place in today's age of clean lines and minimalism.
We also found it odd how the speaker grill on the top of the door card is obscured, and the sunroof is quite small compared to what you'd find in newer SUVs and crossovers. However, we did enjoy the quilted, semi-aniline leather seats that are as sumptuous as anything you'd find in any other modern luxury SUV.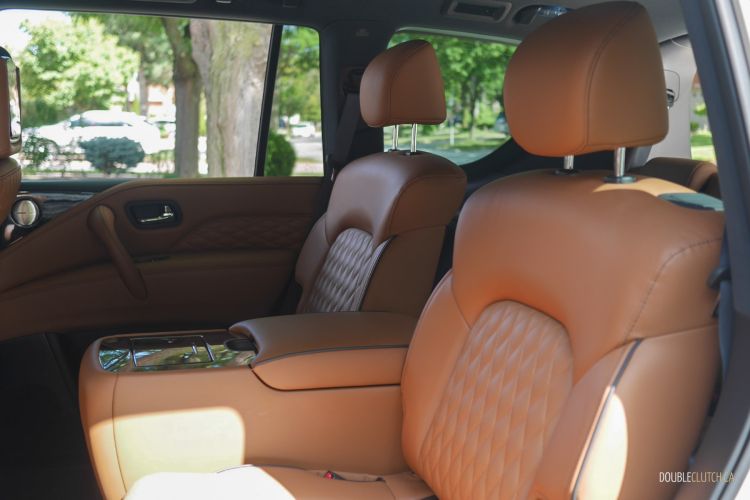 The QX80 is still functional inside, providing ample room for seven passengers. The second-row captain's chairs are heated and have their own giant centre console, with a pair of screens mounted behind the front-row headrests. The 60/40 split third row is powered for passengers to recline and for easy expansion of the cargo area. The QX80 is also available in an eight-passenger version that swaps out the captain's chairs for a second-row bench.
Last year's update to the infotainment screen carries over and really helps the QX80 remain competitive in the segment. The 12.3-inch touchscreen makes navigating the somewhat dated user interface easy, although wireless Apple Car Play and Android Auto compatibility, as well as wireless phone charging, make that a moot point. The QX80 is equipped with a 17-speaker Bose Performance Series sound system providing punchy audio with clarity throughout the quiet cabin.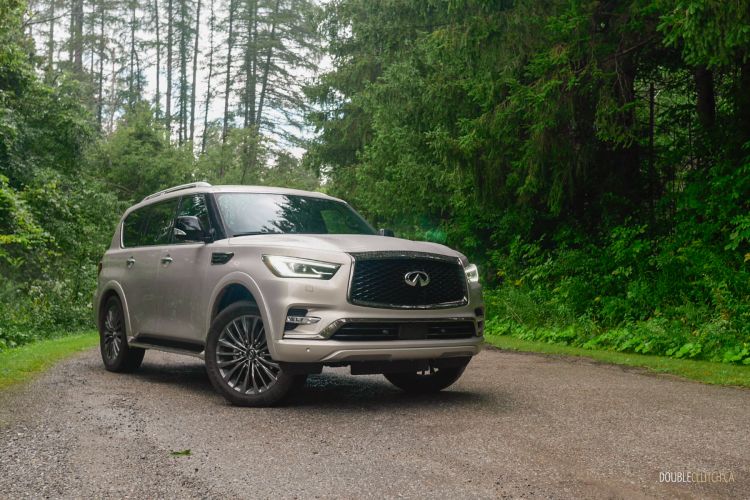 Navigating such a large vehicle is a bit of a challenge, but thankfully the QX80 is packed with modern tech to help guide you and avoid obstacles. There are front and rear proximity sensors, along with predictive warning and blind spot monitors with intervention. A 360-degree camera the arduous task of parking in tight spaces in such a behemoth doable.
The main attraction is what lies beneath that gigantic hood. A good old fashioned, normally aspirated 5.6-litre V8 pushes out 400 horsepower and 413 pound-feet of torque. Power delivery, though not earth-shattering, is silky smooth and easily motivates the QX80's 5,678-pound bottom line. There's no avoiding the topic of fuel economy — with a somewhat dreary rating of 17.5 L/100 km city, 12.2 highway, and 15.1 combined, we averaged 13.3 L/100 km. That's actually quite competitive with the 12.9 L/100 km we observed in the LX 600, and the 13.3 L/100 km in the hybrid Toyota Sequoia, both of which were supposedly more efficient on-paper. Maybe a big V8 isn't all that bad after all.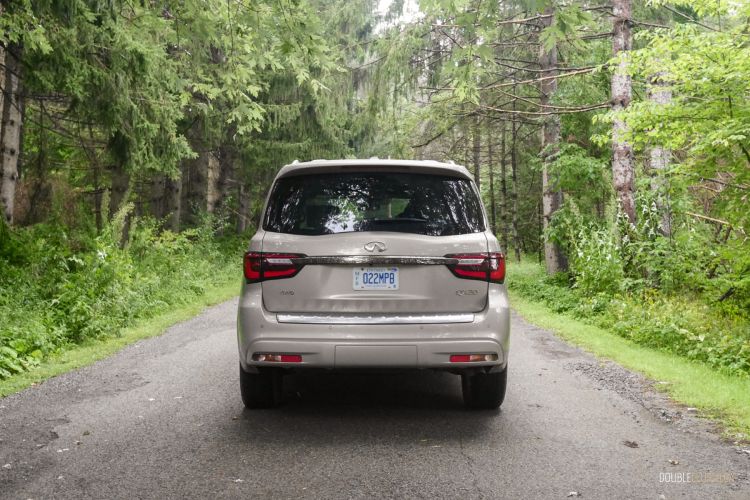 Though you might not believe it from the sheet metal, the QX80's underpinnings make for quite a capable off-road vehicle, as it's based on the legendary Nissan Patrol. It's also equipped with a trailer hitch and towing package that can haul an impressive 8,500 pounds. To help with towing, the QX80 also has a dedicated tow mode, as well as automatic self-levelling rear suspension.
The suspension does a fair job of keeping the body from excessive roll in corners, as well as an admirable job soaking up imperfections on pavement for a body-on-frame SUV. Braking power and pedal feel are good, and the transmission does a great job of putting the power down without drawing any attention to itself. If there is anything to complain about in terms of the driving experience, it's the over-assisted, speed-sensitive power steering. Although we can appreciate effortless steering being a luxury-like feature, it's far too light for our liking and feels too disconnected between the driver and the road surface.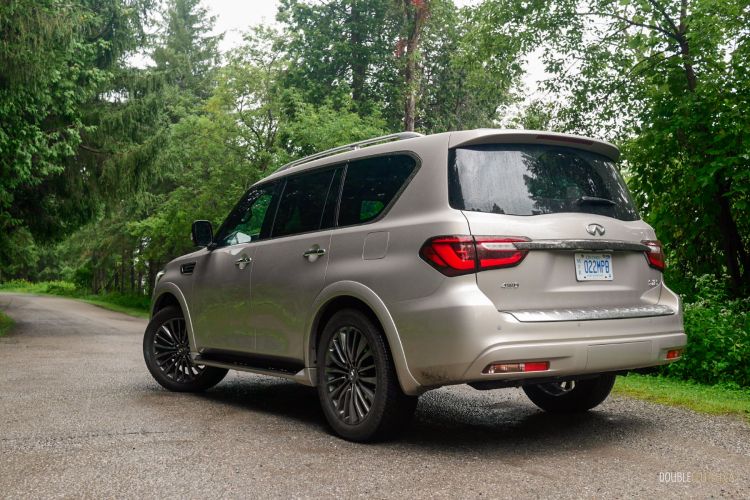 The QX80 starts at $84,095 for the base Luxe trim. Moving up to our particular tester, the ProActive trim — a must for drivers in urban areas, if only just for the driver assists — requires an additional $8,000. This, in addition to another $750 for any colour that isn't non-metallic black, brings our as-tested price to $92,845. The QX80 remains a viable option in the realm of full-size luxury SUVs and one of the last to offer a tried-and-true V8, but its biggest issue is that you can have virtually the same vehicle in the top-trim Nissan Armada for about $15,000-$20,000 less.
The 2023 Infiniti QX80 is definitely a touch more refined and uses slightly better materials than the Armada, but it's hard to justify such an enormous gap in pricing unless the Infiniti badge's added prestige really speaks to you. Pretty soon, we'll be adding the QX80 to the list of vehicles that they "don't make like they used to," so if you want one, the time is now.
See Also
2022 Cadillac Escalade Platinum