Although the Acura TLX dates back only to 2015, it actually has a history much longer than that. The TLX has always been a more luxurious Honda Accord, so its roots can be traced as far back as the 1991 Vigor. A few years later, the Vigor became the TL, and it even spawned the smaller TSX in the mid-2000s. The two coexisted until 2015, when they were merged into what's now known as the TLX — creative name, right? The 2023 Acura TLX A-Spec is the latest in that lineage, promising that "precision crafted" experience Acura always talks about.
Thing is, there's a lot to go up against in the entry-level luxury sedan segment. Among the sporty offerings from BMW and Audi, to the luxury-slanted vehicles from Lexus and Cadillac, Acura generally toes the line between luxury and sport quite well — maybe leaning a little more towards sport — and the TLX doesn't deviate there.
It starts with an athletic exterior, with the strongest feature being the diamond grill and rather attractive headlights featuring a 'chicane' LED light signature. The long hood stretches back into a raked windshield that follows a sloping roofline, finishing off with a small decklid spoiler on the trunk and taillights again featuring the aforementioned signature. The 18-inch wheels look rather tame, but finished in Acura's so-called shark grey — a.k.a. gunmetal — it all comes together to look sporty and athletic, despite the TLX being one of the largest sedans in its class; it's about seven inches longer than a BMW 3 Series. Acura has also settled into a familiar design language, managing to make the TLX look fresh while maintaining an unmistakable 'Acura' look shared with the rest of the current lineup, as well as its predecessors.
Open the driver door and you're greeted by sporty-ish seats with grippy suede inserts, a perforated leather steering wheel that feels great in hand, and red illuminated analog gauges on a silver background, inspired by the RSX of yesteryear. There's definitely a sporting intent from the driver's seat, but turn to your right and the center console is a bit of a button-laden mess. Typical of most Acuras today, you have a button-style shifter just below the rotary dial that adjusts drive modes. That dial would be better-served as a volume knob to control the ELS Studio 3D sound system, which continues to be a bright spot for Acura, always delivering with crisp, natural audio that you never grow tired of. I even liked the roof-mounted speakers to create that 3D soundstage.
Below all those controls is the 'True Touch' touchpad that Acura insists on using to control the 10.2-inch infotainment screen mounted up high. The whole center console isn't wholly intuitive to use, with the touchpad being among the worst culprits, but the shifter buttons aren't far behind. I do appreciate that the climate controls are physical buttons and not integrated into infotainment, and you eventually get used to all of it, but once you get past the usability, the whole setup looks outdated compared to its rivals.  The display also suffers from Acura's strange split-screen setup, where the righmost third of the screen is used for secondary items, but prevents using the full screen for more useful items like Apple CarPlay or the backup camera. Fix this with an update, Acura!
I've documented the UX issues of other Acuras as well, so I'll stop there and move over to the main highlight here — the drive.  The TLX A-Spec is powered by a 2.0L turbocharged four-cylinder engine, driving all four wheels via a semi-responsive 10-speed automatic transmission and Acura's excellent Super Handling All Wheel Drive (SH-AWD) system.  The setup makes 272 horsepower at 6,500 RPM and 280 pound-feet of torque at a very low 1,600 RPM. This is the same engine/transmission combo as the RDX A-Spec, and it feels very similar — which is to say, surprisingly fun and peppy.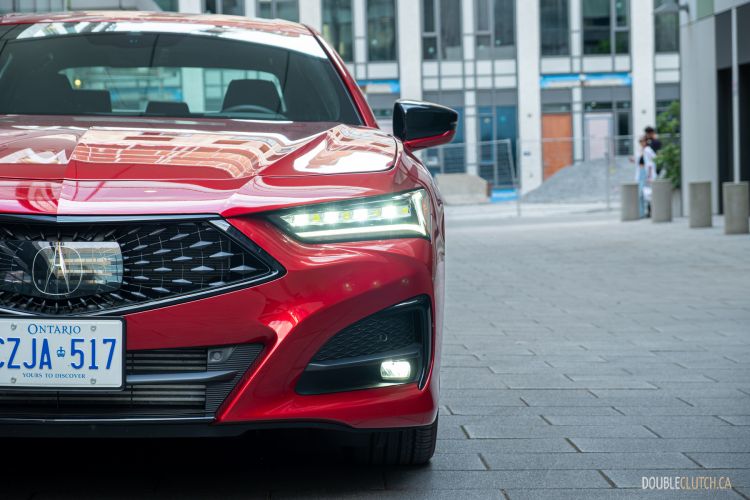 The quoted zero-to-100 km/h run of 5.9 seconds may not seem all that great at first, and indeed falls short of some of its rivals and even the previous-generation Accord, but the TLX still feels spirited in operation and it never really leaves you wanting for more power. I particularly liked how eagerly the powertrain revved up, often shifting well past 4,000 rpm — some may grow tired of that, but it hit me with a sense of nostalgia for older Acuras. Coupled with a suspension setup that's willing to take a corner but definitely errs on the side of comfort, the TLX A-Spec is a car in which you can have some fun before soaking up the miles on a road trip. Despite the TLX's size, weight, and rev-happy nature, fuel economy was decent, averaging around 10.1 L/100 km of mixed driving.
Working out to $55,228.50 as-tested, with $500 of that accounting for the totally worth-it colour called 'Performance Red Pearl — the 2023 Acura TLX A-Spec undercuts most of its competitors, but also shows some of its age. It's a good Acura in its own right, boasting surprising presence on account of its size and styling, and I imagine Acura aficionados will also appreciate its sporting nature and the standard SH-AWD. But personally, I could use a bit more of everything — just a bit more performance, features, tech, and maybe even style — and I feel like the Type S variant will fit the bill. We'll see in the not-too-distant future.
See Also