Do you know what constitutes a luxury car anymore? The line between the upstarts like Hyundai and the old slatwarts like Mercedes-Benz has become more than a little blurry, and our 2023 Mercedes-Benz EQE 500 4MATIC test vehicle this week hasn't made things any clearer. It's nice, sure. Lovely, even. It hits all the premium car targets, with striking style, impeccable refinement, and effortless performance. Despite this, I worry that something has been lost.
Decades ago, cars only had five digit odometers, because they weren't supposed to last beyond that. Used cars were frowned upon because they were already used up after a few years, rusting away, falling apart, leaking inside and out, and making expensive noises. Production and engineering wasn't capable of the level of precision they are now (at least, not at scale). A luxury car didn't necessarily mean it was jammed full of frills and features, a luxury car's greatest luxury was the peace of mind that it was well built, well thought out, and would work for years to come.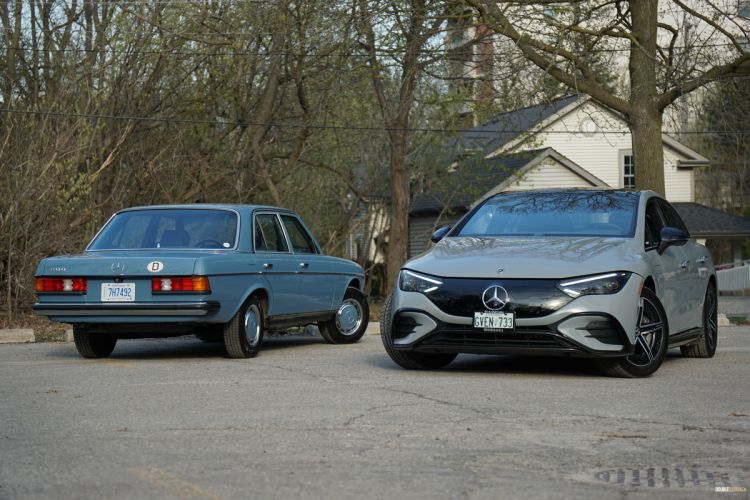 A lot of people don't realize companies like Mercedes built their reputation building relatively humble family cars, with small engines, cloth seats, and crank windows. These weren't just cheap econoboxes, they commanded a hefty premium (much more so than now), and they sold in droves because they were excellent. There was nothing else on Earth as thoughtfully designed and ridiculously overbuilt as a Mercedes-Benz. In some parts of the world, these old Benzes are still dutifully serving as taxis, every bit as relevant now as they were then.
With their new EQ line of upscale electric vehicles, Mercedes is seeking to reinvent themselves and their definition of excellent for the modern era… with mixed results. The flagship EQS Sedan and SUV are impressive showcases of technology, with controversial styling and lame driving dynamics. The little EQB SUV is a little more successful, but is compromised by its shared platform and is priced well beyond its competition. The mid-size EQE we're looking at this week is the middle offering, and I'd say their strongest offering of this new paradigm yet.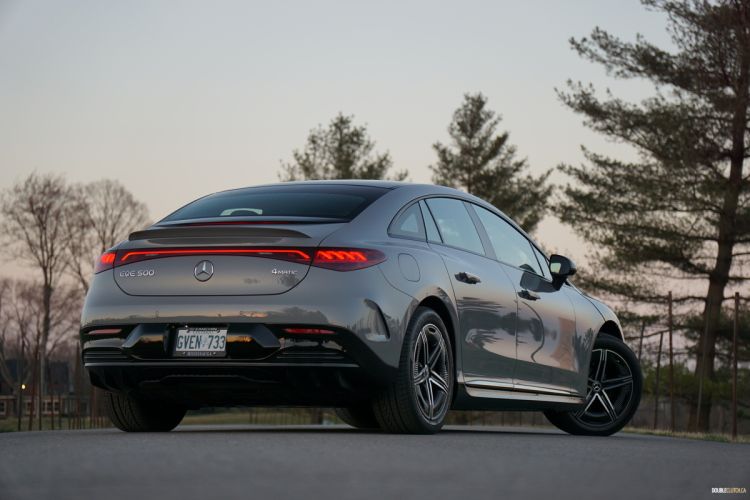 It preserves the distinct gloss black fascia and teardrop silhouette as seen on the EQS, but it's been toned down for the smaller EQE with very positive results. It's distinctly a Mercedes EQ product, but considerably less ostentatious than the bigger flagship model, and our tester's 19-inch AMG bi-color Aero wheels look right at home against its very in-vogue Alpine Grey gloss paint. It would almost be stealthy if it wasn't also a very conspicuously luxe-branded UFO.
Inside, our EQE is toned down considerably from what we've seen on the EQS, to a similarly positive effect. See, our mostly loaded EQE 500 has almost every option box ticked, with the notable exception of the monstrous $9,900 hyperscreen that spans the entire dashboard; it's definitely a little bit way too much and its absence is welcome. In lieu of that, you instead have a 12.8-inch portrait style touchscreen, along with a 12.3-inch digital gauge cluster and in the case of our test car, a heads-up display, similar to what's offered on other Benzes.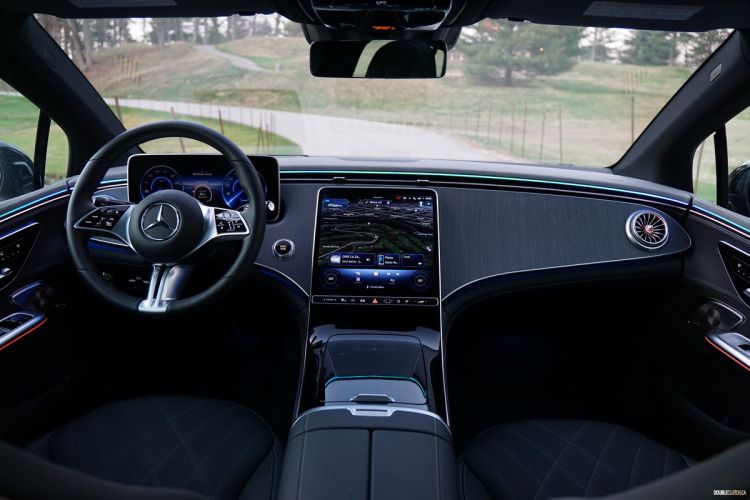 Said screens are all powered by an octa-core processor with 24 gigabytes of RAM, and as such, just about everything is super slick, smooth, and snappy, with only the 3D satellite map  showing the occasional minor stutter. That digital muscle also powers an impressively useful voice command system, which generally works very well. This is a very useful addition, as a lot of essential controls are buried within the touchscreen's various sub-menus, and it's often easier to say "Hey Mercedes, I'd like a massage." 
The navigation system usually works quite well via voice command, but occasionally runs into the occasional annoying hiccup, confidently sending me to the wrong destination (two blocks away), and then refusing to acknowledge the correct destination until I stopped and entered the address manually, like a peasant. To the EQE's credit, the journey to this random house in the middle of nowhere was totally serene and relaxing, and impressively brisk if you're feeling up for it.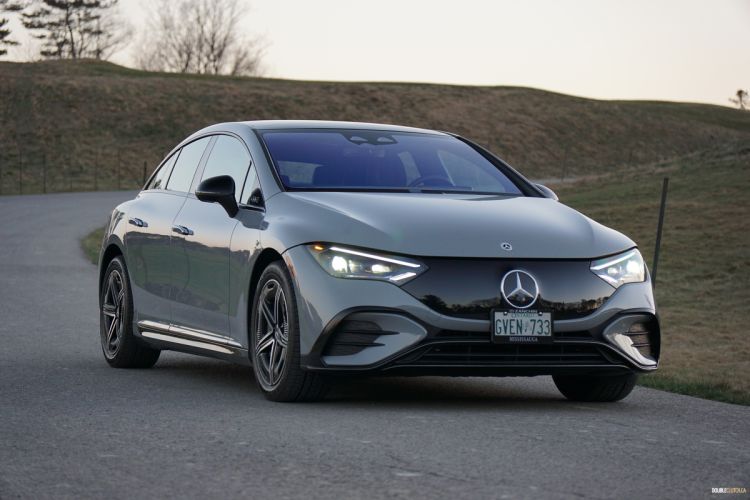 Our EQE 500 model comes equipped with a motor on each axle, combining to generate 402 horsepower and 633 lbs-ft of torque, allowing this UFO to eerily glide across the ground at a pace that's simultaneously alarming and uneventful. Mercedes's outstanding noise isolation makes the cabin remarkably quiet, with almost zero wind, road, or motor noise, save for a subtle artificial tone when you've engaged the warp drive. You need to be paying attention to the speedometer in this thing (the heads up display is almost invisible in daylight), because it will be common for you to look down and realize your license is in jeopardy. 
That outright speed isn't so much exhilarating as it is just astonishingly effortless, like the rest of the driving experience. Like other Mercedes-EQ products, the steering is light and numb, with some artificial on-center dartiness that takes some getting used to. The much maligned braking feel is maybe marginally better, if you give up on the idea of one pedal driving (which it won't do anyway) and just leave the energy recuperation in normal mode, where it almost feels kind of normal, after a while, sort of. In strong recuperation, the brake pedal will physically move under deceleration, and this never doesn't feel weird.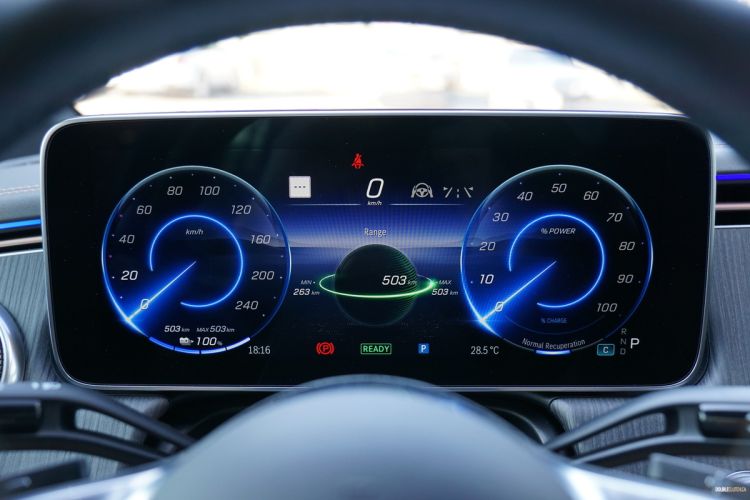 Handling is similarly artificial, very much calibrated to be safe and dull, which makes sense given that the suspension has nearly 5,500 pounds of heft to account for. Said mass is suspended on optional air suspension, whose ride quality is sublime. It's very, very difficult to make an EV feel interesting or even unique from other EVs, so Mercedes has leaned hard on comfort and they've succeeded to that end. 
Our test car also came equipped with rear wheel steering for an incredibly tight turning circle and Mercedes's full suite of driver aids, all contributing to the effortlessness Mercedes was striving for. Its 90.6kWh battery pack pairs with the slippery shape to deliver impressive range, topping out at just over 500 kilometers, so it's effortless to plan trips, too. It may feel like an appliance to drive, but in typical Mercedes fashion, it's one of the most comfortable driving appliances around.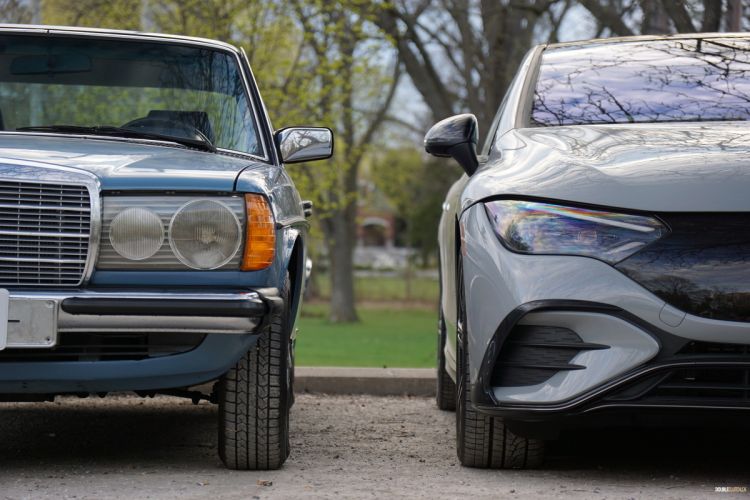 Also in typical Mercedes fashion, the cabin is a nice place to be. Everything "floats," and it contributes to an overall upscale impression (without adding any cost). There's a large piece of textured grey "wood" in lieu of the dashboard-spanning Hyperscreen, that gives the very futuristic space a nice organic touch. Front head and leg room are excellent, and the seats are some of the best around. Rear leg room is good, but the slinky shape compromises rear headroom, and cargo space is only decent, and you'll struggle with larger items.
The infotainment is fairly well thought out, and easy enough to use. It's decidedly Tesla-esque in its approach, but they've added a minimalist smattering of tactile controls to make it significantly more useful. There's some nice detail touches, like the copper accent that spans the dash and the matching stitching above it. There's lots of metallic surfaces, a blend of different vegan leathers, and in keeping with the futuristic motif, lots of loathesome gloss black. I'm sorry, there's nothing futurisic about Blackberry-era capacitive touch controls covered in fingerprints and dandruff. Mercedes should know better.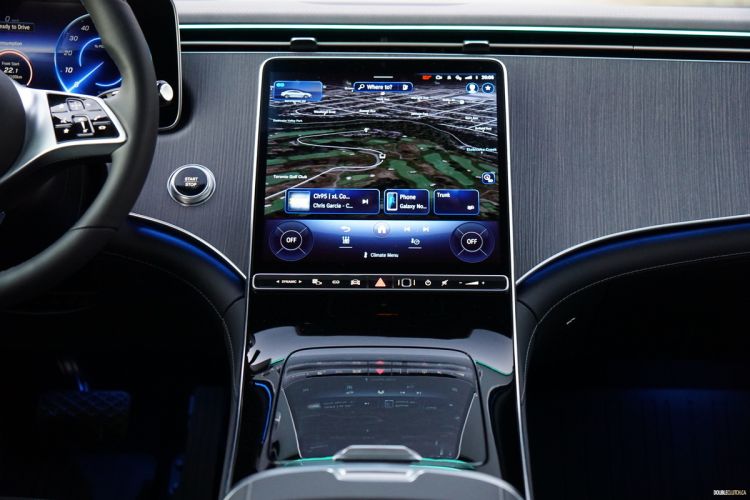 Mercedes probably does know better; they're just adhering to a version of excellence that's driven by trends and marketing. This feels like someone looked a Tesla, realized this is the trendy garbage that the internet has collectively decided is the new hotness, and decided it's easier to join them than beat them. They fixed the dubious build quality, and added the most minimal complement of "buttons" to offset Tesla's impracticality of having everything on a screen, stuck a gigantic three pointed star on it , and sent it out the door. A Tesla by Mercedes.
Our EQE 500 is a pretty excellent car, and it is pretty thoughtfully made, but that extra level of distinction that set them apart and made them timeless is diminished, replaced with very here-and-now trends that'll age like milk. For $117,750 as tested, I struggle to see how its more relevant or more compelling than something like a Hyundai Ioniq 5 (or 6), which is a much more affordable offering that isn't an appreciable step down. If #brands is top-of-mind for you, BMW's offerings are much more compelling, if you can get over their …interesting… styling.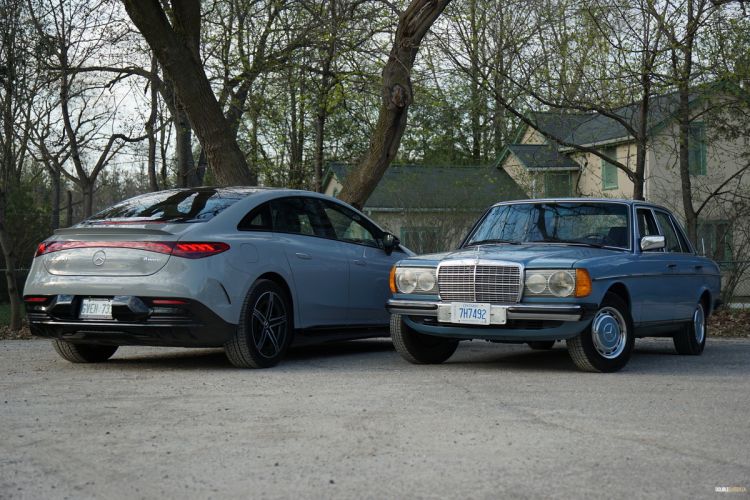 I suppose I can't really blame them for all my gripes. I don't envy the engineers at Mercedes, now at the command of product planners, rather than other engineers. This is the car for people who wanted the chic elements of a Tesla, but with more established brand power behind it. It get more than its fair share of oohs and ahs from moneyed Mercedes customers, and it will sell. I just don't like how it relies so heavily on digital interfaces and energy storage that will make it a disposable product, just a smart appliance or a smartphone. What happens in a few years when they're not so smart anymore?
My biggest issue with it is that long term relevance. A forty year old Mercedes is still relevant; it's still comfortable, reliable, beautiful transportation. The legendary engineering prowess that made them so impressive years ago still works and works well. I can't imagine this very trendy, very digital machine being even vaguely usable in a decade. I know Mercedes is capable of excellence, and to be clear, the 2023 Mercedes-Benz EQE 500 4MATIC is an excellent product, I just wish it had more of the enduring excellence of a Mercedes car.
See Also:
2023 Mercedes-Benz EQS 580 SUV