Infiniti has sort of always struggled with their identity, and their position in the market. Lexus and Acura, Toyota and Honda's respective luxury brands have always had a fairly clear strategy with distinctly different offerings and image from their parent brands, whereas Infiniti has been very up and down with their successes, with some confounding strategy calls contrasted against intermittent flashes of brilliance. Which camp does the 2023 Infiniti QX60 Autograph fall into?
On paper, the QX60 finds itself in an awkward spot in the luxury three-row segment. It's crowded on the bottom with Honda's offerings making impressive strides in refinement, and its own Nissan Pathfinder stablemate being excellent on its own.. Hyundai and Kia have made a huge splash with the Palisade and Telluride, and their own luxury brand, Genesis, has been downright disruptive, offering Bentley-esque style at an extremely competitive price.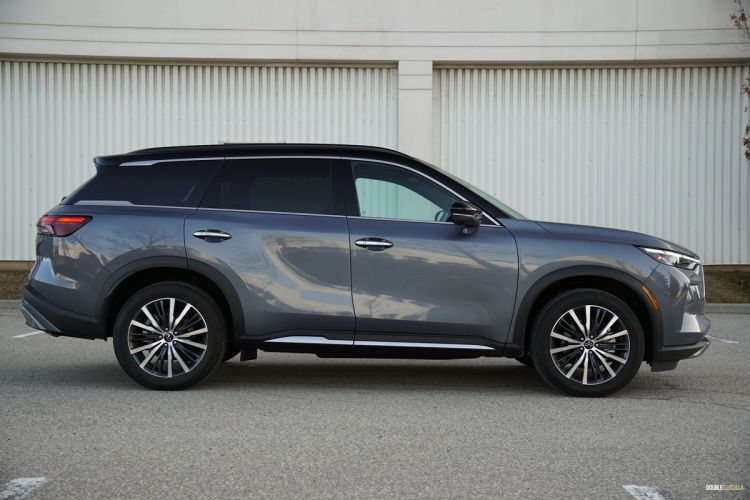 In the case of our QX60, Infiniti has taken a page from Genesis's playbook and borrowed some style from a storied British luxury brand. Instead of going for Bentley's decadence, they've taken some rather prominent inspiration from the more utilitarian Range Rover marque, even down to the name of the flagship trim level: Autograph on our QX60, Autobiography for the bougiest Rangie.

It's a decision that we think works surprisingly well, and it ends up giving the QX60 its own identity. Based on the new for '22 Pathfinder, it tidies up the soft lines from the previous generation and imbues it with handsome, imposing style, and some real presence. Our Autograph's two-tone color combo of Moonbow metallic blue and an Obsidian black roof looks great, with some tasteful garnishes of chrome to frame the blacked out greenhouse. Machined 20-inch wheels complete the look, adding a modest dose of bling.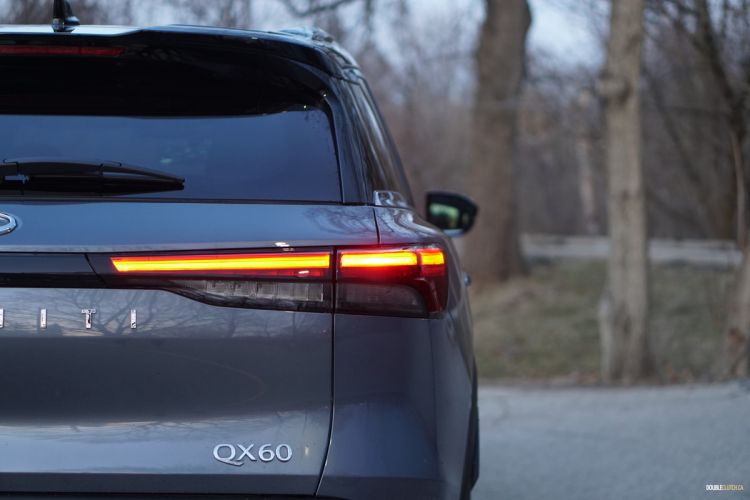 Inside, the QX60 diverges from the Rangie theme with its own distinct style that works incredibly well; it's a lovely place to sit. The seats and dashboard are wrapped in Saddle brown quilted leather, with open-pore black wood trim, metallic accents and white stitching and piping all serving as delightful accoutrements. A standard panoramic sunroof contributes to a bright, airy feel, and all trim levels now feature a wireless charging pad as standard equipment.
Our top-shelf Autograph trim is loaded to the gills with features and tech, including but not limited to heated, ventilated, and massaging seats, 360 parking cameras, blind spot monitoring, adaptive cruise control with stop/start functionality, lane centering, and three-zone climate control with an air purifier. Infotainment is handled by a 12.3 inch touchscreen, perched atop a stack of gloss-black capacitive touch controls which we don't love, but we appreciate the dedicated buttons and knobs for the essential controls.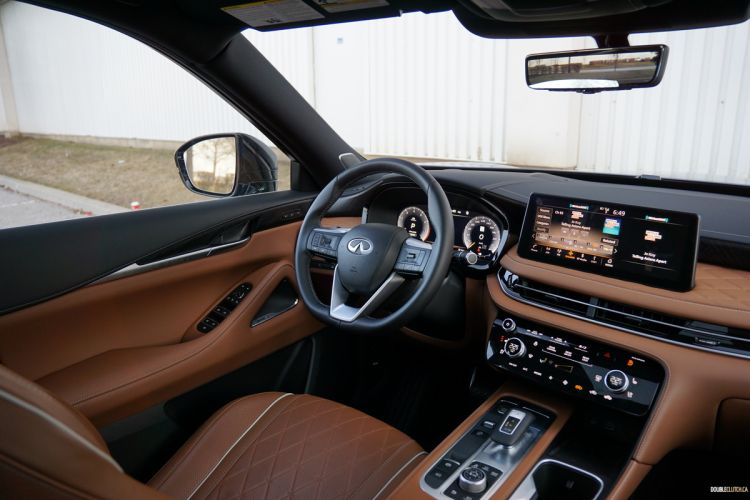 All the technology is easy to use and understand, the controls are intuitively laid out, and the infotainment display, digital gauge cluster and heads up display are all crisp and bright. Nissan's tried and tested infotainment system is well adapted to its new widescreen home and is noticeably snappier than we've seen before. Audio is handled by a 17-speaker Bose Performance Series system which sounds fantastic. 
The driver's seat of the QX60 is a serene station, benefitting from the new Pathfinder's stiffer structure, with additional noise-deadening material to isolate the outside world from your cocoon of comfort. Infiniti wisely chose not to pursue any sporting pretensions, and as such the ride is very much on the soft side, with only sharp imperfections coming from the big wheels. Driver controls feel linear and well judged for this application, making this big luxury barge easy to pilot confidently.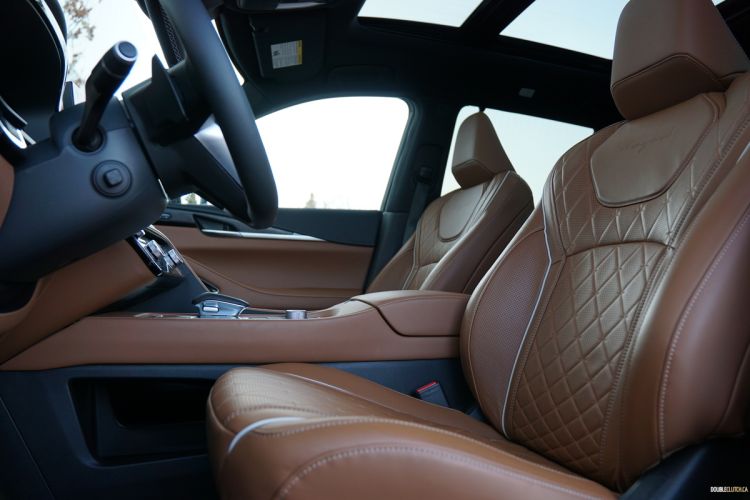 Motivation comes from Nissan's very well proven VQ35DE 3.5-liter V6, which has been in service for more than twenty years now. It's a testament to Nissan's engineering prowess that this relatively ancient engine is not only still relevant after so long, but actually pretty great. It's smooth, it's quiet, it sounds pretty good when you're getting on it, and it performs well with 295 horsepower available. It feels better and has more character than most modern turbo-four engines, and is still more than respectable with fuel use, using 11.4L/100km in our testing.
The big story in the powertrain department is the brand new transmission that's been bolted to this very old motor. The Jatco-built CVT that Nissan's insisted on for years is finally gone, replaced with a ZF-sourced nine-speed automatic. It's a huge improvement, offering dramatically better acceleration, with seamless shifts, great response, and no efficiency penalty.  The added torque capacity of the new gearbox also allows for a 6,000 lb towing capacity, putting it among the best in its class and giving it a utilitarian edge.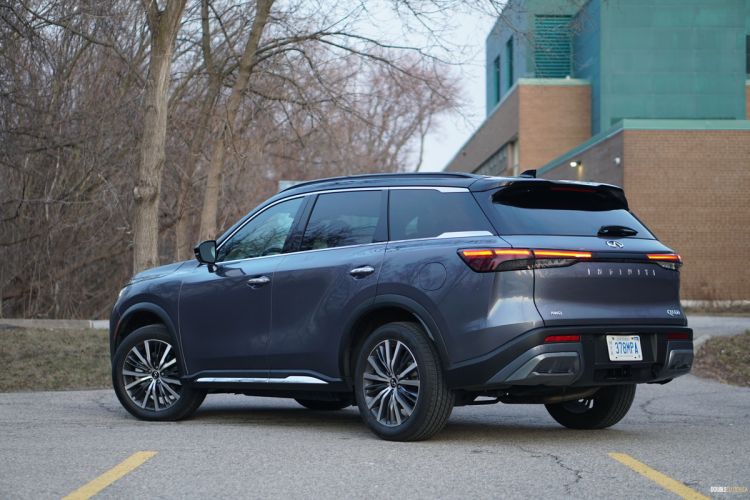 With an abundance of practicality and presence, it does a convincing job presenting itself as a more pragmatic Range Rover. It carries all the luxury frills you could ever want, without the spooky things that can present problems down the road, like turbos and air suspension. At $71,995 for our loaded test vehicle, it offers more utility than its direct competitors, and handily undercuts the comparable European options.
Infiniti may have struggled with identity, but the 2023 Infiniti QX60 Autograph has some intrinsic qualities in its proven powertrain and excellent new platform that will make it very appealing to those who want a luxury SUV that can do everything well for years to come.
See Also: