For a while, things looked pretty bleak. After Subaru killed off the WRX STI hatch in 2014, fans of all-wheel-drive road rockets struck out. Sure, Ford threw us a bone for a couple of years with the Focus RS, and the Golf R stuck around for even longer, but we never had a proper hot hatch that combined the rawness of a rally car with the functionality of a regular car quite as effectively as the STI hatch. Until now. I'm happy to report you can buy a brand-spankin-new, showroom-fresh STI hatch! Except it's not a Subaru; it's called the 2023 Toyota GR Corolla, and it's one heck of a consolation prize because we can't get the GR Yaris. 
The GR Corolla is the result of a promise kept. You see, when Akio Toyoda took the top job a few years ago at the car company his grandfather helped establish, he made a simple promise: to make fun cars again. Fast forward to today, and although Toyoda's tenure has concluded, he certainly made good on his word. We have him to thank for cars like the Lexus LFA and LC 500, the reborn Supra, the GR86 (and I guess by extension, the Subaru BRZ), and of course, the GR Corolla. Come on, what else did you expect from a CEO who races cars in his spare time under a not-so-secret pseudonym?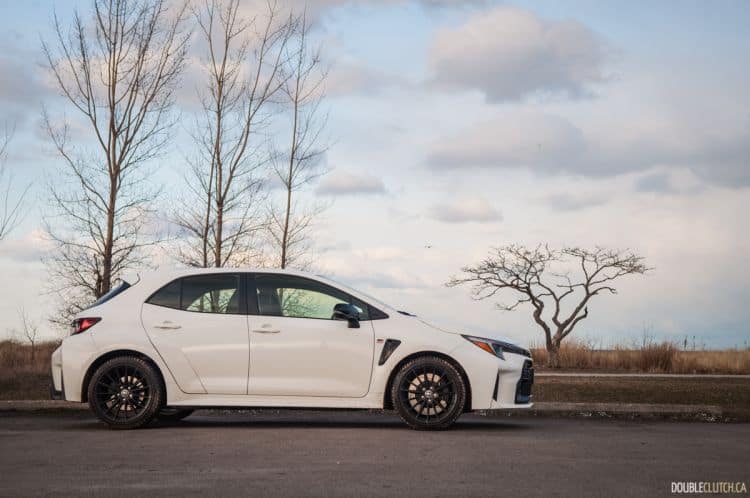 The GR Corolla's focal point is its engine. Rather than some sort of turbocharged four-cylinder, the 'Rolla bucks convention with a 1.6-litre turbo-three. It's a little but mighty marvel; also known as the G16E-GTE, it's the same engine you'd find in the rally-spec Yaris WRC and road-spec GR Yaris, but slightly reworked to negate the Corolla's extra heft. You get stronger pistons and exhaust valves, a larger oil cooler, and of course, more boost — 26.3 psi, versus 20.3 in the Yaris — among many other tweaks. The end result is 300 horsepower and 273 pound-feet of torque, sent to all four wheels via a six-speed manual transmission. You won't win any spec-sheet arguments, but those numbers are solid considering you're working with only three cylinders.
There's a delightfully old-school charm to the way the GR Corolla builds power; nothing, nothing, nothing, then — WHACK! — you're pinned to the seat until you upshift just before the redline hits. It's a lot like an older WRX STI, in that the party doesn't start until about 3,500 rpm and you really have to rev the snot out of it to keep the party going. The GR Corolla probably isn't the best choice for a tight racetrack; by the time you've built up enough boost, you're already at the next corner.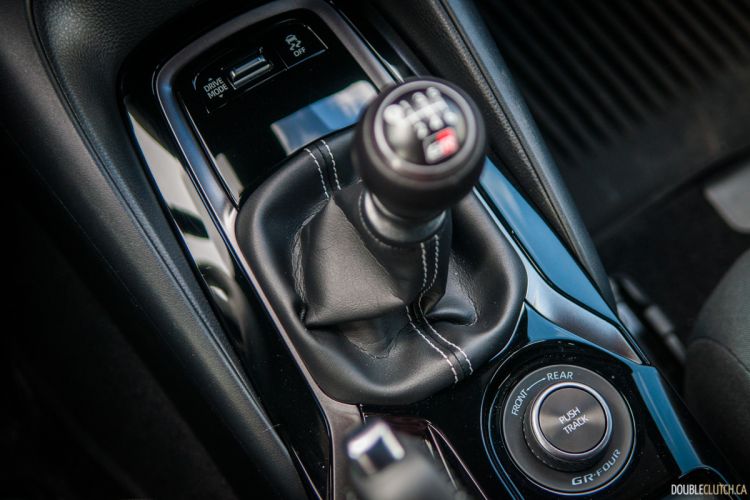 But on a spirited drive on some backroads or that one highway on-ramp that makes your heart beat a little faster when no one's in front of you, the GR Corolla's thwack of boost is properly fun. It's also a vocal little thing: the growly exhaust note sounds almost BMW-like when you wring it out, and the subtle wastegate flutter made me giggle way too much.
Beyond the raucous little engine, Toyota imbued the GR Corolla with all the right stuff. Steering is sharp, responsive, and perhaps more communicative than you'd expect. The ride is definitely firm, but still compliant enough and a worthy trade-off given the extra chassis bracing, virtually non-existent body roll, and loads of mechanical grip, even on winter tires. The six-speed manual transmission is an absolute joy to manipulate, with the kind of precision and fluidity that rivals a Civic Type R and blows the Golf R's rubbery shifter out of the water. Sure, a dual-clutch automatic would open up the buyer pool, but props to Toyota for chasing smiles over lap times.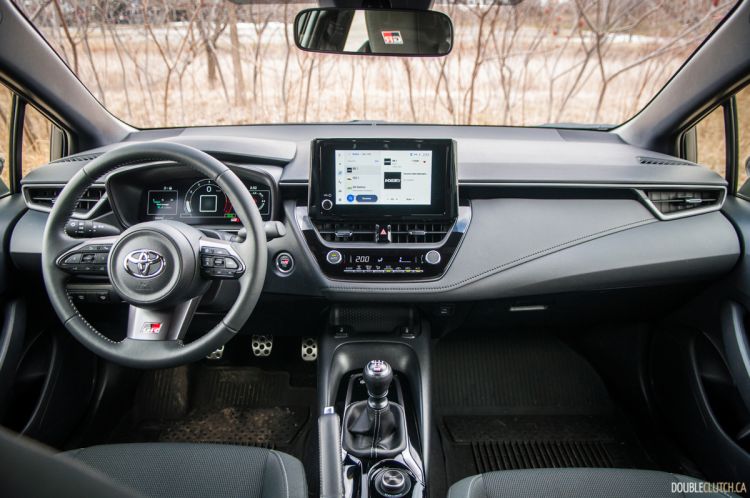 Surprisingly enough, there's very little in the way of electronic doohickeys that make you seem like a way better driver than you actually are. The only concession here is the standard all-wheel-drive system, but that's more so to keep the shiny side up. You can choose between three torque splits: the default mode sends 60 per cent of kick up front and 40 out back, while the 30/70 front/rear allows for a bit more tail-wagging and the 50/50 split is your best bet for the track. All that is augmented by two Torsen limited-slip differentials on the front and rear axles that are standard on all GR 'Rollas in Canada, but optional in the United States. Take that, suckers!
OK, I lied. There are two concessions to electronic gimmickry in the GR Corolla. You also get rev-matched downshifting, but mercifully, when you turn it off, it stays off. Beyond that, it's just you and the car. There's no launch control; it's your job to switch off traction control, hold the revs at 4,000 rpm, and pop the clutch. There's no drift mode; it's your job to yank the handbrake for your best Carlos Sainz impression. There's no fake engine noise; what you hear from the triple pipes is exactly what you get.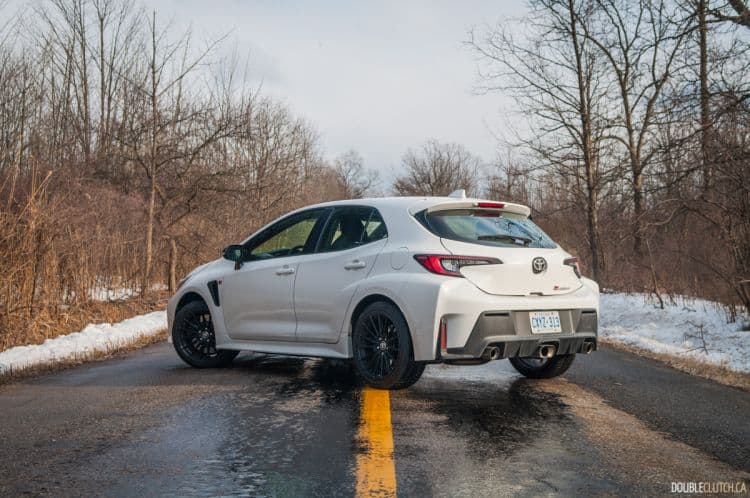 Until now, Toyota very much understood the assignment, but the GR Corolla leaves a bit to be desired in terms of visual and interior pizzazz. Outside, especially in white, you really have to look closely for the box flares and triple exhaust tips to tell the GR apart from the standard Corolla. Inside, for better or worse, the similarities between the GR and lesser 'Rollas is even more striking. It's passable at $25,000, but at nearly double for the GR Corolla, things like the middling fit-and-finish, the tight back seat and cargo hold, and the lack of a heated steering wheel are a tougher sell.
At least Toyota finally freshened up the infotainment, with a more modern-looking user interface! I realize the proper handbrake meant sacrificing the armrest, but a wireless phone charger — so wireless CarPlay or Android Auto doesn't drain your phone's battery — would've been nice, too.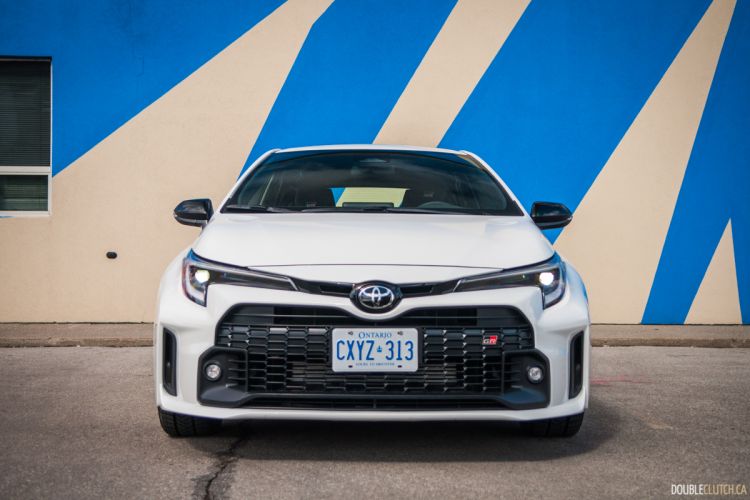 The GR Corolla starts at $45,490 for the base Core trim, before freight, taxes, and all that fun stuff. It's pretty solid value: assuming you get lucky and score one without any dealer mark-ups, it undercuts the Golf R and Civic Type R by a few thousand dollars. Stepping up to the Circuit model adds a number of niceties you could probably live without, such as leather/Alcantara seats, a heated steering wheel, and a vented hood, for $53,990. The range-topping, ultra-limited-production Morizo Edition, of which Toyota is only building 200, will run you just under $60,000. Not that you can buy one anyway, because the 10 coming to Canada are already spoken for. 
It's hard to make a promise and keep it, but Toyota has done exactly that with the GR Corolla. As long as you're willing to give up some practicality and refinement compared to the Civic Type R and Golf R, the feisty 2023 Toyota GR Corolla will put a big, goofy smile on your face, even on the most mundane commutes and grocery runs. If you told me a decade ago that by 2023, Toyota would be making some of the most legitimately fun and engaging enthusiast cars you can buy fresh off the showroom floor, I'd laugh in your face. But somewhere across the Pacific Ocean, Akio Toyoda is having the last laugh. 
See Also:
2023 Subaru WRX Sport-tech SPT