If we were to play a word association game and I got "Lexus ES" I think the first thing that would come to my mind would be an airport limousine and that's not necessarily a bad thing. There's a reason that livery companies across North America use these hybrids, due to their build quality and longevity. The ES also offers a spacious cabin and simple intuitive controls that make it feel like a familiar place for those than are stepping into it for the first time. With the 2023 Lexus ES 300h F-Sport Design we aim to see how this top-spec ES is to live with day to day.
On the outside the 2023 Lexus ES looks almost identical to the previous models. This generation was released in 2018, it underwent a facelift in 2021 and remains a subdued handsome design to this day. Our tester is finished in F-Sport Design guise which adds more aggressive styling and some F-Sport badging. Overall, we feel that the ES continues to look sharp even after many years on the market, with sedans slowly going the way of the dodo bird.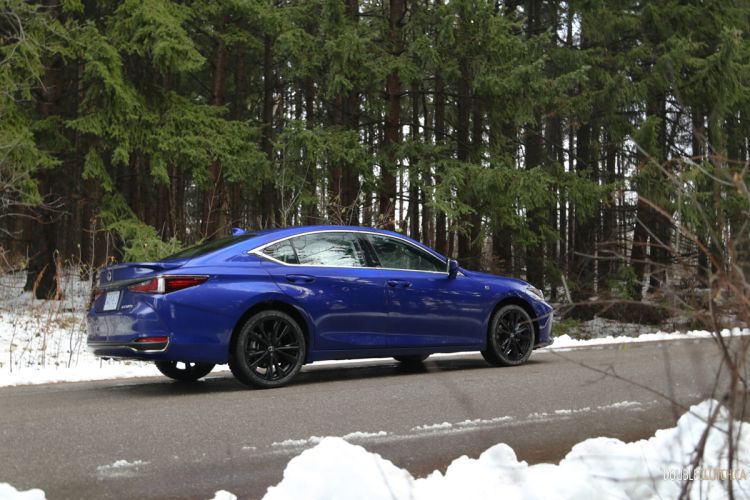 Although not optioned on our tester here, the ES 300h is available with many convenience features that help it stay fresh. If buyers are looking for a slightly more sport-oriented experience, we believe the $6,500 F Sport 2 package which features sport-tuned suspension, Adaptive Variable Suspension, F Sport seats, and a colour 10″ colour HUD among other things is the move. It is nice that Lexus offers a dedicated sport package on what is arguably one of their least sporty models, but we think that most ES buyers will probably be more interested in either the Luxury package or the top-shelf Ultra Luxury package.
Coming in at either $6,650, the Luxury package offers more comfortable seats, triple-beam LED headlights, a power rear window shade and ambient lighting as well as some other small features. Step up to the Ultra Luxury package for $10,600 and you'll be treated all the features of the Luxury package with the addition of the excellent Mark Levinson sound system, rear pedestrian detection, power trunk lid, and the HUD. Both packages are a little overpriced but at least you can get the features if you wish to do so.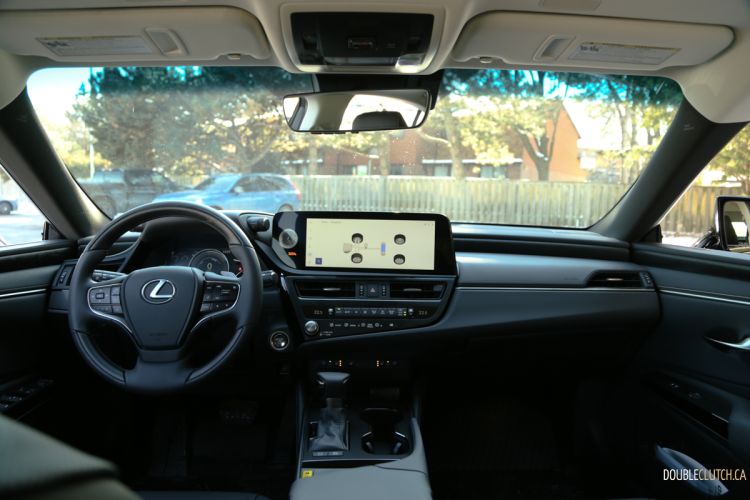 On our test car, we made do without many of the features mentioned previously but the usual suspects are here. Wireless Apple CarPlay and Android Auto work well, and the center screen is vibrant and responds to touch commands rapidly. There is also wireless charging on deck with a decently sized pad that can accommodate the large smartphones of today. The center console has been revised for this model year as there is no more touchpad thankfully, and it its place you'll find the wireless charging pad and two large cupholders.
The general feel of the interior is top-notch, and is easily one of my favourite parts of the ES. The dash design and button placement and feel are good, and materials quality is excellent. Lexus knows its market and what they appreciate, soft-leather, soft-touch materials and rattle-free build quality are the highlights here. Heated and cooled seats are standard up front and have dedicated buttons as well as an auto feature which detects outside temperature. The only gripe we really had with the interior is that the standard seats are not comfortable for longer journeys, especially for taller passengers.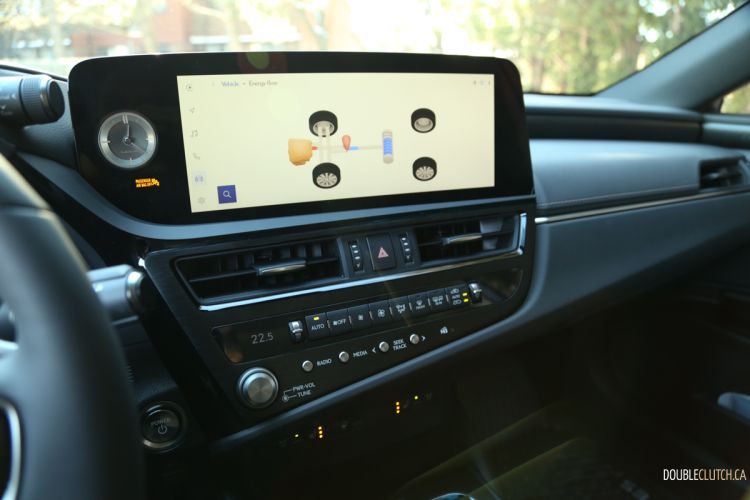 There is also a host of driver aids, but this car is far from the "self-driving" experience many desire. The radar cruise and lane-keep assist are particularly dim-witted and are really starting to show their age. We would like to see these systems updated in the next generation and hopefully features like full self-driving in traffic jams will make its way down to the ES. On the road the ES offers exemplary ride soaking up even large imperfections in the road. The sound deadening is fantastic and even the hum from the winter tires was imperceivable. Steering feel and driving dynamics are nothing to write home about; sporty the ES is not, however if you are looking for a refined chassis that will make commutes a breeze, the Lexus ES is a solid choice.
As far as powertrain goes, this is another place where the ES shows its age. Even though the hybrid drivetrain is what put Toyota/Lexus on the map in green car world, their stubbornness to adapt to the full-electric wave leaves them lagging behind their cohorts. The 2.5-liter inline four combined with the CVT transmission is completely contrary to the rest of the car. Sounding rather agricultural, even the transitions between full EV driving and hybrid-electric are not as smooth as you'd come to expect from Lexus. Combined with the fact that the ES 300h only packs a meagre 215 horsepower punch, this drivetrain combo seems out of place and simply outdated.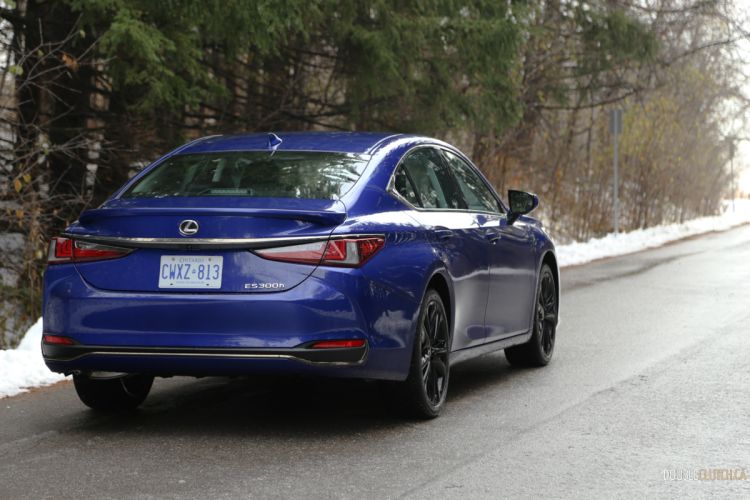 But if you are not bothered by the obsolete powertrain, you will be rewarded with decent fuel economy. Lexus rates the hybrid ES at 5.5L/100km city and 5.2L/100km highway. Due to colder temperatures, and the resultant use of heaters, defrost, heated seats, we were not able to fully take advantage of the full EV mode, rounding out our test week with an average of 6.7L/100km with a strong bias towards highway driving.
We think that if you live in a warmer climate, you'd be able to get closer to the estimated figures Lexus puts out. That being said, because the engine is so anemic, you will need to use the full capabilities of it even for a simple pass on the highway, making us believe that achieving the 5.2L/100km highway would be near impossible in the real world. Thankfully, the ES hybrid, unlike other premium vehicles, requires only regular 87-octane fuel.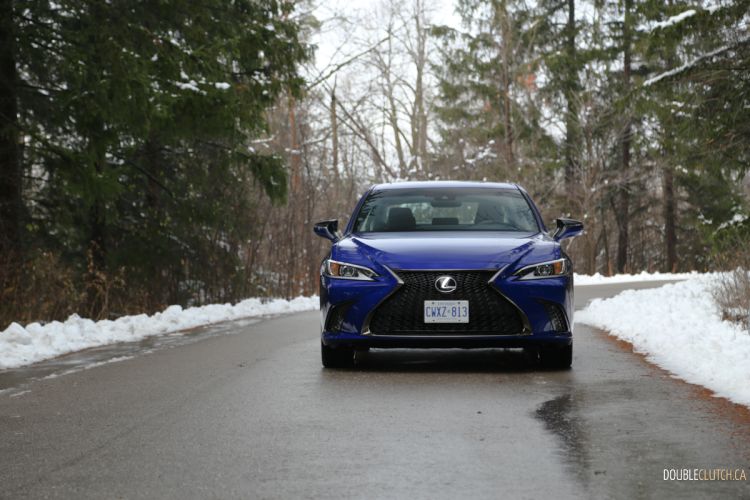 Lexus prices the base ES 250 AWD at $50,982.20 with the ES 300h starting at $56,632.20. The F-Sport Design trim here adds $1,850 but doesn't do much other than add some appearance items. If you would like the aforementioned performance-oriented options, the $6,500 F Sport 2 package is the way to go. We think that adding one of the Luxury packages mentioned earlier is probably the best use of your money, however.
Overall, the 2023 Lexus ES 300h F-Sport Design offers the premium quality that Lexus has become synonymous with, however with a few shortcomings. We think that the in the later years of this generation of Lexus ES, there are a lot of features that just don't make the cut anymore, that being said if you are looking for a comfortable commuter that will last for years and years to come, the ES is still a top choice.
See Also: