When I initially heard that Mazda was adding yet another sport utility vehicle to their lineup, the eye-roll was quick to follow. This is a company that has six vehicles in its lineup and four of those are SUVs. These utility vehicles differ in size but look more or less identical inside and out. Mazda has put the slow-selling sub-compact CX-3 out to pasture, and has replaced it with the CX-30. The compact CX-5 remains a long lasting favorite, and has been joined by the larger CX-50. This week, we're looking at the 2023 Mazda CX-50 Meridian Apex.
The CX-5 has been around for years but remains incredibly popular, and will be sold alongside the more ruggedly styled CX-50. Both are similar in size, however the CX-50 is longer and wider, which makes it look lower and meaner. Where the CX-5 appears a little taller and sophisticated, the CX-50 looks more aggressive with the lower and wider stance. Between the two, the CX-50 is the more attractive vehicle in my opinion.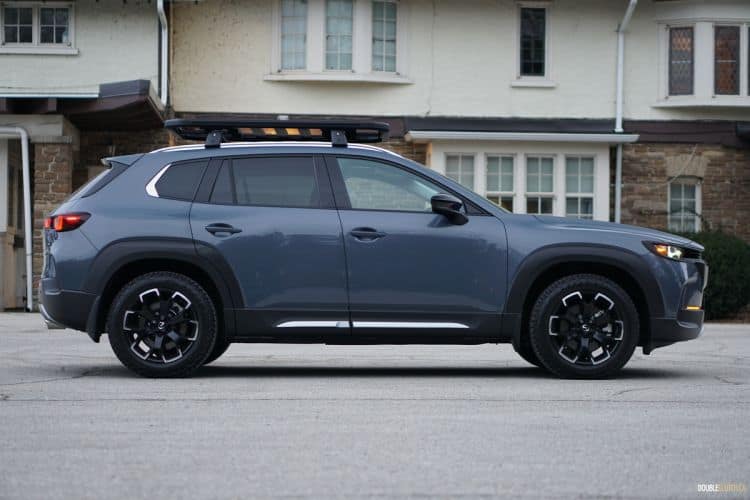 Consumers who have sampled any of Mazda's recent products will feel quite at home inside. It doesn't stray far from the design language and layout used in other Mazdas, but it does employ a more utilitarian aesthetic to match its more chiseled exterior. Like all Mazda offerings it's relatively intuitive and simple to get acquainted with. My only complaint is the rotary control dial that, with some functions, can be cumbersome and require more effort than necessary next to a conventional touchscreen. The build quality is top notch, and when combined with the clean design and excellent materials, it punches above its weight. Our top-tier Meridian trim model has two-tone black and terra-cotta leather with contrasting stitching, and it looks fantastic.
The 2023 Mazda CX-50 shares the same engines as the CX-5. The base four cylinder engine pumps out 187 horsepower while our loaded CX-50 with the optional turbo engine puts out 227 horsepower on regular grade fuel, or 256 horsepower using premium. With a weight of 1675 kg, plus those inside and cargo, you are going to need as much power as possible. Stick with the turbo four and don't be left wanting. The turbo four performs reasonably well and has good torque, but it could be so much better with an updated transmission. Mazda still offers the six speed automatic they've been using across its entire line up for years, and it's started to feel a little dated. Fuel economy suffers, as well.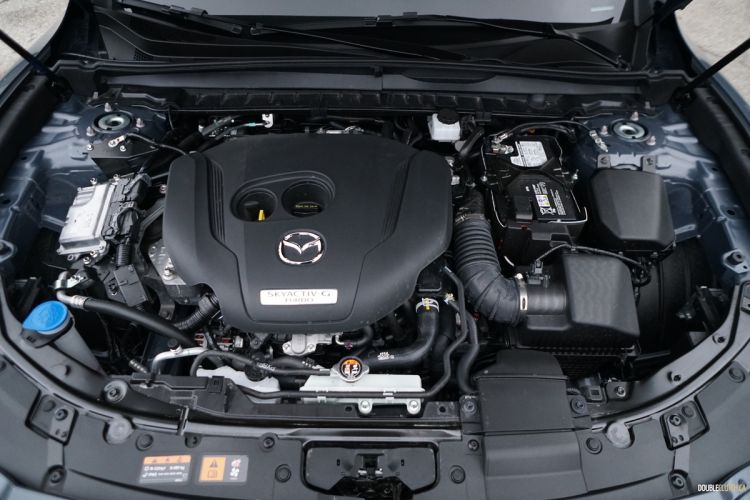 During my week of testing, I achieved an unusually high 12.6 L/100km. Almost one liter more than the last CX-50 we had tested. Mazda has the CX-50 with the Skyactiv-G 2.5-liter turbocharged four rated at 10.4L/100km city, 8.1L/100km highway for a combined 9.4L/100km. The only differences from our last test being my commute being largely city driving, and of course the large roof rack and cargo platform that comes with the Apex Package. While it is an attractive and high quality piece of hardware, there's no denying it has a noticeable effect on wind noise and efficiency. Buyers may want to pass on the Apex Package unless they really need the added utility from the removable roof rack.
It's worth noting that when it comes to cargo space, the 2023 Mazda CX-50 provides more space in the rear by a few liters when compared to the CX-5 (889 vs 871 liters). However, drop the rear seats and the CX-5 jumps ahead in overall usable space (1680 vs 1595 liters). Towing capabilities is where the Mazda CX-50 walks all over the CX-5 both equipped with the turbo four is in towing capabilities. The CX-5's towing capability is limited to 2000 pounds, whereas the CX-50 can tow up to 3500 pounds.  Buyers will need to choose wisely based on their overall needs.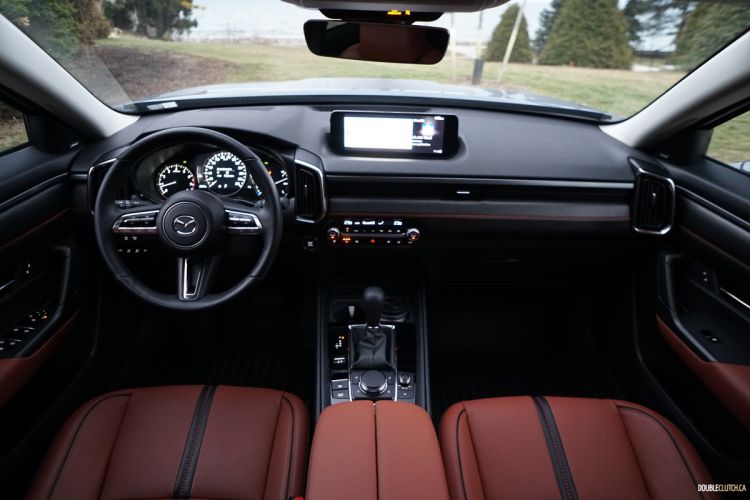 Pricing for the CX-50 starts at an MSRP of $38,250 for the GS-L model. Our decked out 2023 Mazda CX-50 Meridian Edition rings in at an MSRP of $48,200, plus an additional $1,400 for the Apex Package, and $250 for the Polymetal Grey Metallic paint, for a total of $49,850. While the 2023 Mazda CX-50 Meridian Apex Package is far from a value proposition when compared to the CX-5, it is very hard to ignore. It is a very good looking sport utility vehicle, and I am a huge fan of its lowered wide stance. It has more than enough power to keep up with the competition and its towing capabilities and stylish roof rack make it stand out for those that actually use their vehicles for life's adventures – just remember to take that big cargo platform off when you don't need it.
See Also: