One of the oldest names of the luxury automakers, Lincoln is the luxury division of Ford with a long history of building limousines for US presidents. While they no longer produce sedans due to the changing demands of the market, their lineup of crossovers and sport utility vehicles carry on the tradition. First released in 2016 as the MKX and receiving a new name and facelift in 2019, the 2023 Lincoln Nautilus Reserve is here to remind us what American luxury motoring is all about.
Sitting between the Corsair and the three-row Aviator in the Lincoln lineup, the Nautilus has evolved into quite the looker. In 2016 as the MKX, it wore a split-wing grill that probably turned droves of potential buyers away at first glance. It's amazing what a facelift can do as the Nautilus replaced that grill with a more traditional chrome rectangle and with an accompanying update to the front bumper it has gone from "no, that's not for me" to "wow, that's a nice-looking SUV".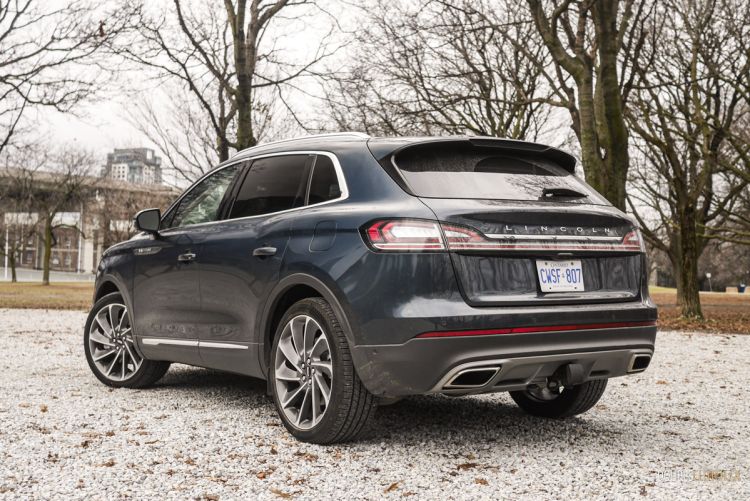 We appreciate the overall proportions of the Nautilus which give it a sort of a chop top vibe with its low roof line. Finished in Flight Blue paint work and sporting 21-inch wheels and LED Multi projector adaptive headlamps and fog lamps, this isn't your granddad's Lincoln. As we take a seat in the sumptuous leather seats and close the doors to this quiet cabin, we bask in the sun coming through the giant panoramic vista roof before enjoying the lounge like atmosphere created by customizable ambient lights reflecting off the chrome speaker grills into the night. Lincoln wasn't kidding when they referred to their interior as a "personal sanctuary".
Our tester came equipped with the aptly named "Ultra Comfort" front seats including power head restraints, thigh extenders and the ultimate luxury feature – active motion massage. You can customize continuous motion for every part of the seat or go with one of the full-on massage programs to prevent fatigue and relieve pain which we took full advantage of.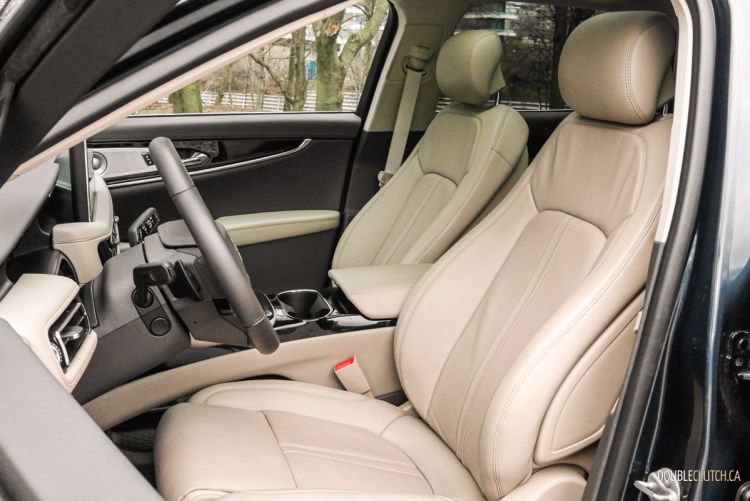 Normally we are fans of tan and wood interior schemes, but there is a bit too much dark chocolate brown in this Sandstone Interior. It feels a little too 70s for all the modern stuff going on in the Nautilus, but that's easily rectified by selecting one of the remaining three interior themes. Thankfully Lincoln has stayed away from piano black and gone for a less fingerprint prone brushed black aluminum for the console.
Instead of the traditional gear selector or dial, an array of buttons (P, R, N, D, S; S for Sport Mode) is tucked in beneath the fan vents above the infotainment and climate controls. This process takes some getting used to when doing things like a three-point turn but it makes for a cleaner looking console creating more room for a storage cubby and wireless phone charger. Physical knobs and buttons rule the day here and the Nautilus is all the better for it.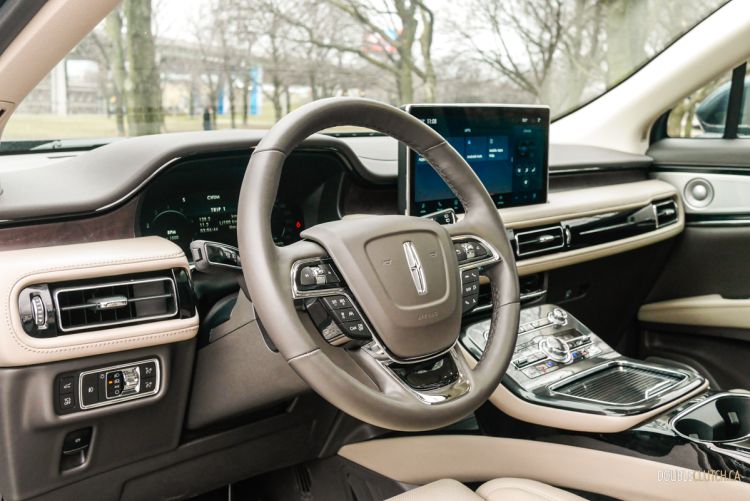 Featuring a large 13.2-inch touchscreen and Ford's latest SYNC 4 system, the infotainment interface is beautiful and intuitive to use. Lively animated graphics look fresh and a really well-designed layout takes full advantage of the screen's real estate leading us to conclude SYNC 4 is one of the best systems on the market.
Upping the ante even more, we have the Revel Ultima Audio upgrade to play with, including a whopping 19 speakers placed around the cabin. You know a system means business when it has a built-in demo feature and this does not disappoint – It's one of the finest factory installed car audio systems on the market along with Bowers & Wilkins and Burmester. Sound is bright with great clarity, punchy bass and great staging. Surround signal processing effects allow you to choose an aural experience between being onstage or a member of the audience to your own personal concert.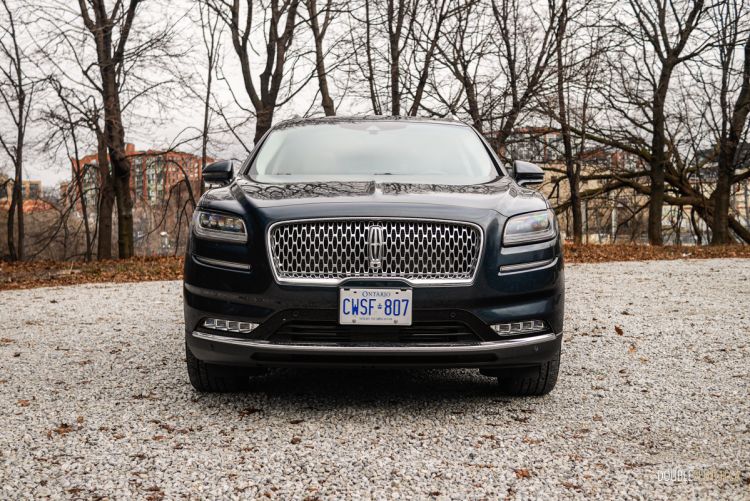 The base Nautilus is powered by a 2.0-liter turbocharged inline-four making 250 horsepower. That's probably sufficient for most families, but for an extra $3,500 you can opt for the 2.7-liter twin-turbocharged V6 setup here. It makes 335 horsepower and 380 lb-ft. of torque making each trip more exciting, especially in sport mode where throttle response is much sharper.
Fuel economy is decent for the class, rated at 12.6L/100Km in the city, 9.3L/100km on the highway, and 11.1L/100km combined – not much worse than the four-cylinder option's 12.0, 9.6, and 10.7 respective numbers. We managed 11.6L/100km in our time with Nautilus spending more time in the city, also in the dead of winter.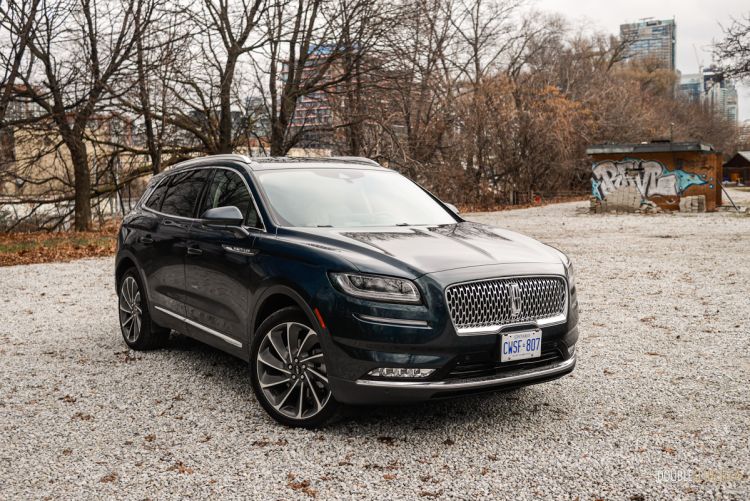 Paired with an eight-speed automatic with SelectShift, when left to its own devices the transmission shifts smoothly and seamlessly. It's only when we tried to play with the paddles did the transmission get confused about which gear it should be in (it didn't seem to want to stay in any one gear for too long).
Suspension tuning is exactly what we would expect from a luxury vehicle like this – akin to riding on a cloud over bumps and imperfections in the road. Of course, this means handling ability isn't all that great with slow changes in direction and a sort of wallowing around tight corners but we'll take comfort over sporty handling any day in a luxury crossover.
The Lincoln Nautilus starts at $60,500, and things escalate quickly when you begin to add options. The Reserve 201A package ($3,600) is required before you can tack on the Ultimate Package for an additional $6,500. Add the bigger engine, tow hitch, massaging seats and some cargo accessories and our tester rings in at $80,745. It's quite the price tag but its hard to think of anything more you could ask for in a luxury two-row crossover.
Modern styling, plush leather with massage seats, incredible audio, great ride quality, a powerful drivetrain – While there isn't anything overly innovative here, everything we expect is done really well right down to the weight of the turn signal indicators. If you need a refresher on what American luxury is all about, the 2023 Lincoln Nautilus Reserve sets a benchmark for empty-nester two-row premium crossovers.
See Also: