Over the past decade, Subaru has had overwhelming success with their Crosstrek, Forester, and Outback models, especially since the launch of their Wilderness trim that became a hit amongst younger audiences who long for the adventurous lifestyle. Somehow, this momentum did not carry to their largest three-row SUV, and recognizing this, Subaru went to work and refreshed the Ascent, and we quickly snatched the keys for a full evaluation – this is the 2023 Subaru Ascent Premier.
The most noticeable update on the Subaru Ascent is the facelifted front fascia; the LED headlights, front bumper, and front grille are all redesigned to give it a bolder and sportier vibe, and the new taillight design is C-shaped to follow the brand's Konoji language. The Ascent's daring styling may not be for everyone, but there is no denying that it is much more distinctive than the outgoing model and closely resembles the brand's other crossovers for a more cohesive image. Moreover, given the success of the Wilderness trim, we will not be surprised to see it on the Ascent in the near future and the refreshed styling is more suitable to the rugged dress-up.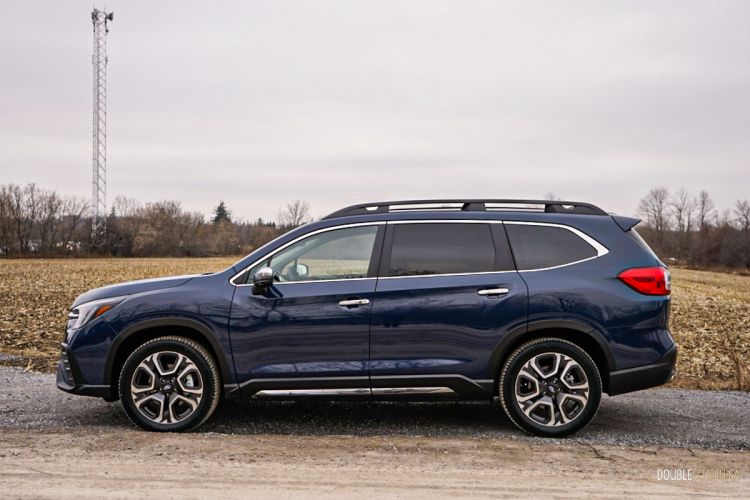 The 2.4-litre turbocharged flat-four engine is carried over from the previous year with output remaining at 260-horsepower and 277 lb-ft. of torque – there is plenty of low-end grunt to get this Ascent moving off the line or overtaking on highways, but do not expect a sustained surge as it does run out of breath fairly quickly once it is in the upper rev range. A continuously variable transmission (CVT) is tasked to deliver power to all four wheels at all times and is quite adequate at its job.
Handling is acceptable for the midsize crossover with decent reflexes and the Ascent feels smaller than most others in its segment. It unfortunately loses points on its overly boosted electric steering system though, as it is too light and steering feel is nonexistent. On the upper trim levels such as the Onyx Edition, Limited, and the Premier, there is a standard dual-function X-MODE for best traction in snowy and muddy conditions, as well as a Hill Descent Control system. Towing capacity is rated at 5,000 pounds.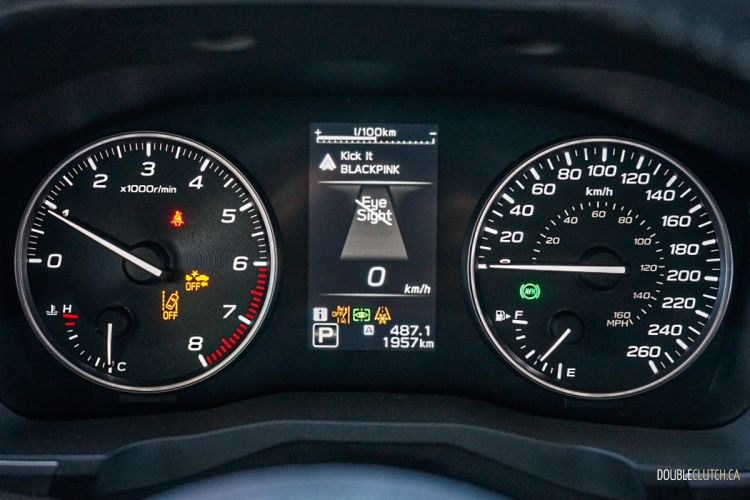 The 2023 Subaru Ascent features above-average ride quality; the suspension system does well to absorb most vibrations and harshness and we much appreciated that as cars and crossovers seem to get firmer and firmer these days. The obvious downside to the softer suspension setup is a higher amount of body roll and a decreased capability for off-road use but we do not expect many to take this Ascent to the trails anyways.
Fuel economy is rated at 12.9L/100km in the city and 9.4L/100km on the highway for a combined rating of 10.9L/100km. Our road tests consisted of mainly city driving in winter and returned an acceptable 13.2L/100km average. The Ascent can accept regular grade gasoline into its 73-litre tank.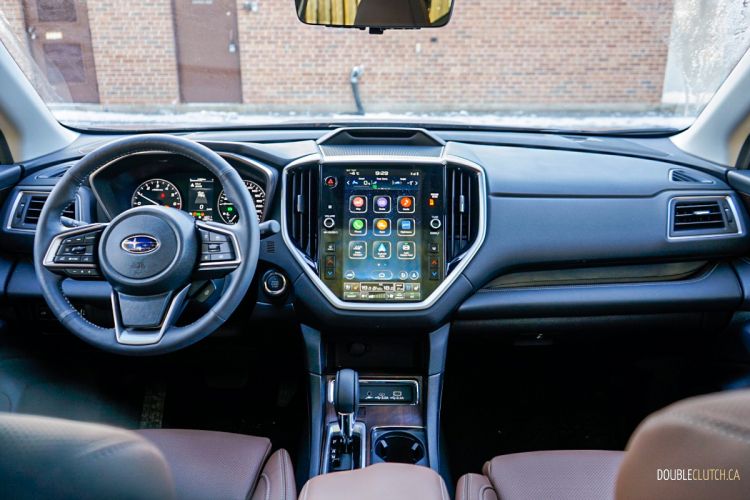 Much like its brand image, the Ascent's interior is utility-focused with above-average visibility, simple and easy-to-maintain material, and a good amount of accommodating storage space. The biggest aesthetic improvement here is the consolidation of the old split-screen setup and physical shortcut buttons and climate control unit into one 11.6-inch tablet-style touchscreen. Though we normally despise the move to get rid of physical buttons on the dashboard, Subaru's software design team did well in ensuring frequently used functions such as climate control and seat heating and ventilation are always on the screen and easily accessible.
Other key updates include the latest version of Subaru's EyeSight Driver Assist technology for better field of view and enhancement in better pedestrian and bicycle detection, new Automatic Emergency Steering function, Cabin Connect feature that uses the embedded microphone and sound system to assist drivers in talking to the third-row passengers, and a new Surround View Monitor for a bird's-eye view of the vehicle's surroundings.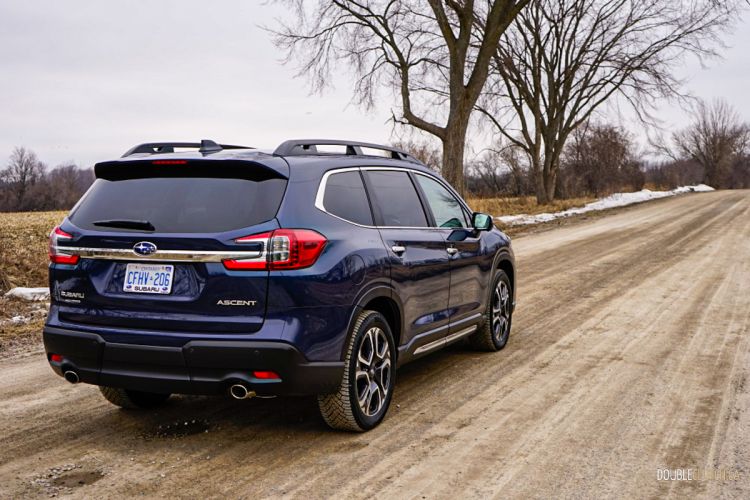 Head and legroom in the 2023 Subaru Ascent is quite good, especially with our Premier trim's captain's chair configuration. Our only complaint is a relatively high seating position especially for the front passenger, but the tall roofline and the panoramic sunroof helped it from feeling cramped inside. Cargo volume is rated at 458 litres and expands to 1,193 litres with the third row folded.
Perhaps the strongest suit for the Ascent is its value as the base price for the 2023 Subaru Ascent is set at $40,995, topping out at $53,995 for our as-tested Premier trim. This gives the Ascent a significant price advantage when you consider that both the Toyota Highlander and Nissan Pathfinder are asking for $45,000 to start the invoice, and the new Honda Pilot starts at a whopping $50,650 and costing well over $60,000 for the two highest trims.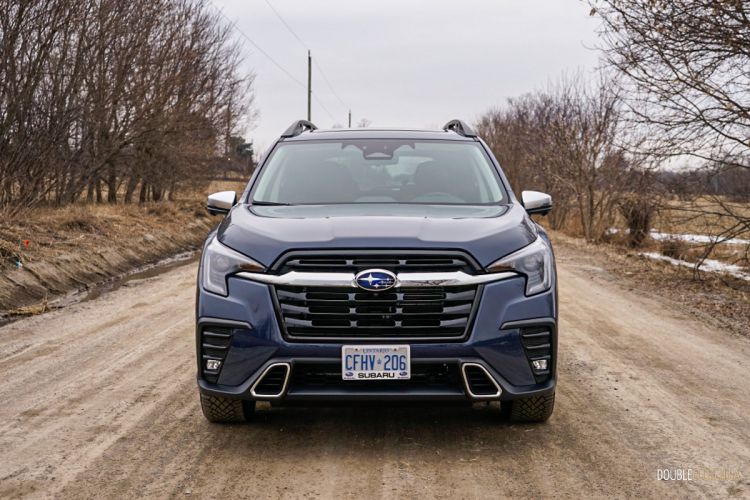 With bold new looks and a lengthier equipment list, the refreshed 2023 Subaru Ascent Premier is a solid choice for anyone shopping for a three-row crossover that can haul and tow. The 2023 Subaru Ascent is not perfect, but neither are its competitions; and once you factor in its consumer-friendly pricing, especially in this environment where mid-size crossovers are edging closer and closer to entry-level luxury car prices, the Ascent suddenly becomes an appealing option and we expect to see more of them on the road in the near future.
See Also:
2022 Toyota Highlander Hybrid Bronze Edition