I recently discovered that there is a rare medical condition called – and I'm not making this up – Alice in Wonderland Syndrome. Basically, the patient suffers episodes of distorted perception, most commonly manifested in objects in the world around them appearing bigger or smaller than they really are. While I was taking photos of our 2023 Volkswagen Atlas Cross Sport tester for the week, I noticed that it simultaneously appears as though it's shrinking and growing from minute to minute. The faux-fastback makes it look tidy, and the slick-brick body contours that are shared with the Audi Q8, Lamborghini Urus, and more conventionally shaped Atlas makes it look imposing, and immense. Looking down at my camera at a mid-size SUV and then looking up to see a mammoth made me feel as though I had followed Alice down the rabbit hole.
At a glance, from a distance, the Atlas Cross Sport looks smaller than it actually is. Up close, its boxy lines and broad shoulders make it look gigantic. It borrows from the trend set by other crossover coupés, with a steeply raked roofline to make it look sleek and sporty. This descending roofline that serves to shrink the visual footprint is perched atop a tall waistline and broad shoulders, whereupon the hood and doors are all very high, square, and stocky. It looks like John Cena wearing a child-size baseball hat, backwards. The hat makes the head look enormous, and the considerable cranium makes the hat look tiny.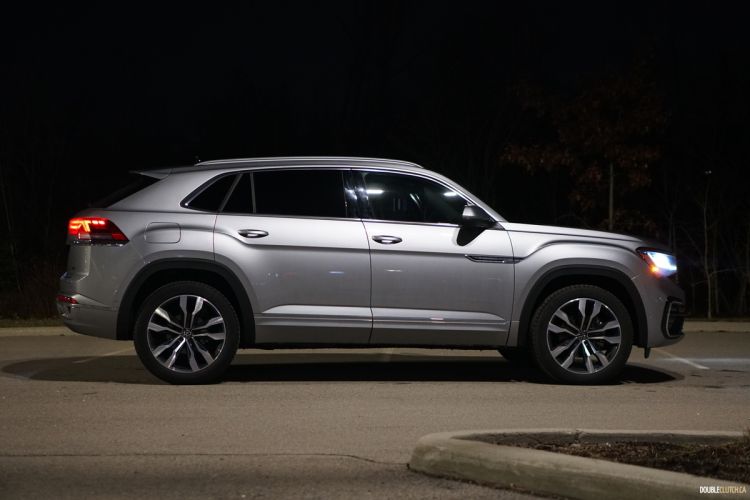 The visual trickery continues inside, too. It's a wide vehicle, and the high waistline and low roofline makes everything look as though you're seeing the world through an ultrawide monitor. Similarly, the large, high, squared off hoodline impedes visibility in parking confines and makes the already large-ish Atlas CrossSport feel gigantic, as you have a vast low-flying blind spot surrounding you, similar to some full size trucks, despite being neither full-size nor a truck.
These generous proportions do have benefits though, as it is a generously spacious cabin, with more head, leg, knee and shoulder room in the front and rear than you could ever need. Since the CrossSport forgoes a third row of seating in favor of its swept roofline, cargo space remains abundant, very much unlike a lot of silly Coupe/SUV things.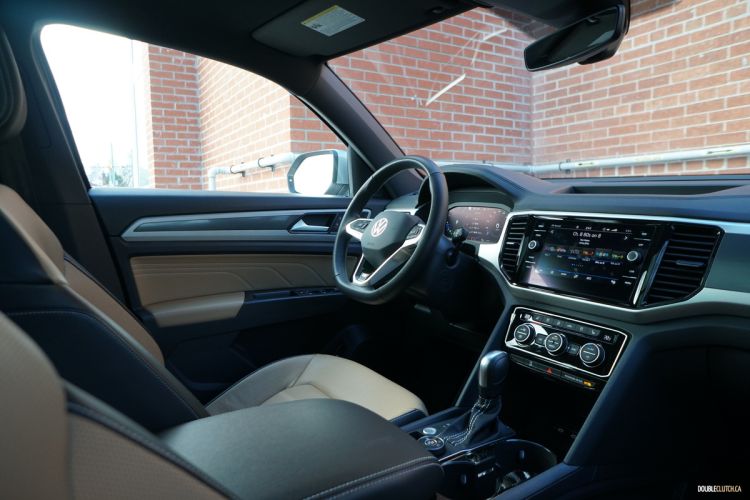 And then of course the pendulum of illusion swings the other way when you get the Cross Sport out of the parking lot and onto the road whereupon it shrinks – its big-and-tall truck proportions disappear and it suddenly feels just like a Jetta. All your driver inputs are light, sharp, linear, and reasonably communicative, and the suspension is calibrated to be taut, with good body control and decent ride comfort, just like a smaller VW. Similarly, wind noise is well isolated but road noise is a little on the loud side, more than handily covered up by VW's Fender Audio system. The flat bottomed steering wheel, center console, and eight inch touchscreen infotainment system, all employ the same clean, utilitarian layout and intuitive controls as seen in just about every other Volkswagen. 
Close your eyes and it might as well be a Golf; come to think of it, the driver aid features like adaptive cruise and lane guidance work so well that you could almost get away with closing your eyes. The driving position and seating are excellent, and our tester's two-tone cinnamon and black leather look great. All the touchpoints feel excellent, but some of the plastics, like on the dashboard that seems to span for miles, will remind you that you're not in an Audi. From a driver's perspective, the only thing that differentiates the Atlas Cross Sport from its smaller VW brethren is 276 horsepower 3.6L VR6 engine laying (comically far) under the hood, shared only with the other, more visually consistent Atlas.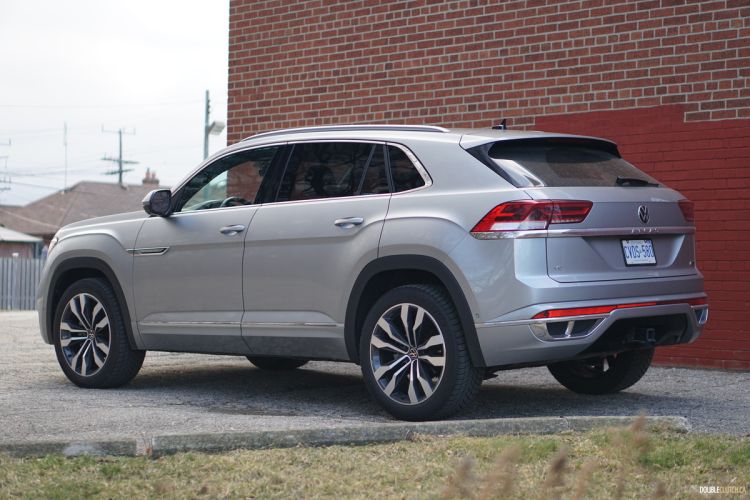 A naturally aspirated six cylinder mill in an era of boosted four-bangers gives the Cross Sport a healthy dose of character, as the engine offers excellent response, wonderfully smooth operation, and a lovely (if muted) growl that's unique to the VR6 motor. The 8 speed automatic transmission its mated to is generally pretty seamless, save for a habitually clumsy first gear shift at a near stop. The whole package is reasonably efficient as well, returning an average fuel economy of 12.5L/100km in our largely urban testing – not bad for a hallucinatory cuboid fastback without the advent of hybridization or turbocharging.
Since its introduction, the Volkswagen Atlas has been a smash hit for Volkswagen, bringing them back into record sales following the doldrums of dieselgate. The Atlas's slightly smaller but visually curious Cross Sport sibling has seen similar success, cementing itself as a handsome, practical, well thought entry into the otherwise impractical coupe-SUV market. Our $57,895 2023 Volkswagen Atlas CrossSport Execline tester may have been a bit of a rolling optical paradox, but with its handsome styling and typically-VW genteel road manners and spacious, ergonomically sound interior, it sure makes a lot of sense even outside of wonderland.
See Also: