I was sitting in the 2023 Volvo XC90 Recharge Inscription, and recalled a memory from many, many moons ago. I was in line at the Ministry of Transportation behind my best friend's father; I was renewing my license plate sticker on my Ford LTD, and he was registering an old Volvo S70 T5 he'd just bought for a song and a dance. I remember overhearing the lady at the counter saying "Oh I love Volvo people, they're always so nice!" I think we all kind of already know that (when was the last time someone in a Volvo cut you off?), but it was illuminating to hear from someone who deals with that sort of thing for a living. 
I don't know who said it first, but Volvos have always had a reputation of being nice cars for nice people. Do nice cars make people nicer, or do nice people gravitate towards nice cars? I think it's pretty obvious that people tend to select cars that reflect their personalities, but I firmly believe that it can go the other way; that a car can have an impact on its pilot as much as the pilot affects the car. On the day I picked up our XC90, after an already long day, I was a mess. I was a grumpy, tired, miserable ball of anxiety, very unsuccessfully trying to quit smoking. By the time I got home, I felt better. For those 35 minutes or so, I forgot I wanted a cigarette.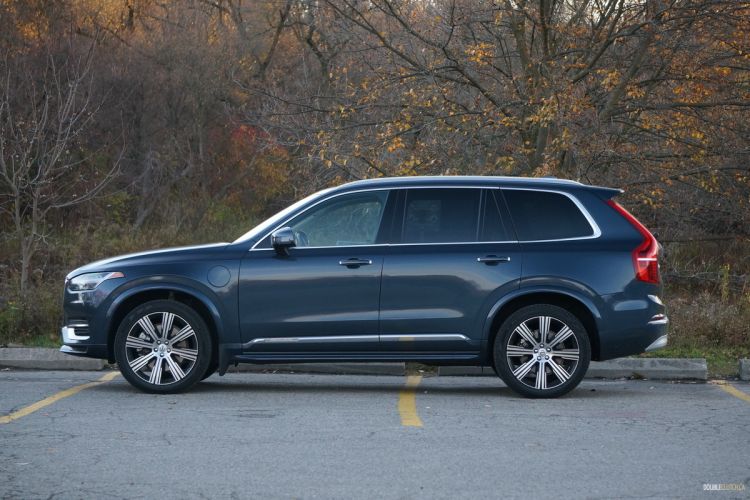 The cabin of the XC90 is a wonderful place to be. Volvo's choice of materials and complimentary colors is exemplary, affording it a unique tranquility that its more costly here-and-now competitors from Germany couldn't hold a candle to. Its dressed with a blend of blond and charcoal Nappa leathers that adorn almost every surface, accented with metallic trim and open-pore Grey Ash, capped with Nubuck textured headliner, and garnished with an Orrefors crystal shifter for the littlest touch of bling. Fit and finish is absolutely superb, visibility is terrific, and the light colors pair with the panoramic roof to give a very airy open-concept vibe.
Not a whole lot has changed in here since this generation of XC90's debut in 2015, and it goes to show that good design doesn't age. While it may be a minimalist aesthetic, it's certainly not minimal on technology. Infotainment is handled by a nine-inch portrait style touchscreen, and Volvo's Sensus user interface is slick, snappy and delightfully intuitive, flanked by a digital gauge cluster and a heads up display. Our tester was fitted with an incredible Bowers & Wilkins audio system, which mates 19 speakers with more than 1,400 watts of power to create what might be the finest sound system available right now. Everything in the cabin makes sense and falls naturally to hand, and whoever came up with the idea of framing the wireless charging pad with sliding doors that makes any phone fit perfectly deserves a Nobel prize.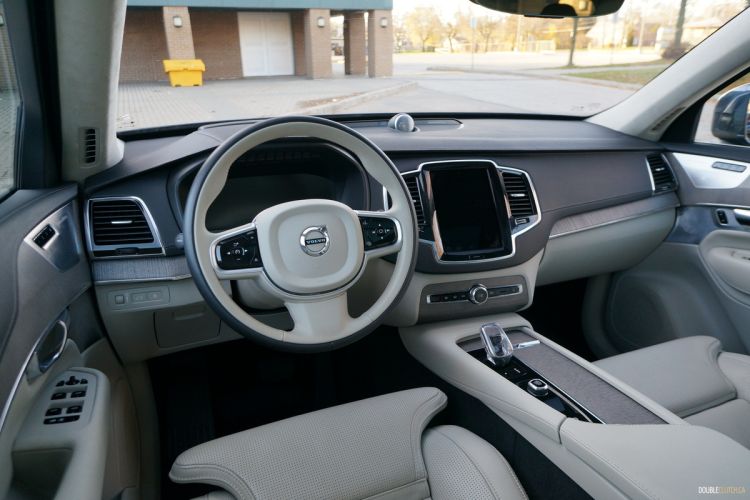 The brilliance continues on the road, whereupon in Volvo's ever-present quest for safety, they've gone to some length to ensure the XC90 Recharge drives very well. Safety does not mean boring, it means confident, secure, and natural. You can't feel safe unless everything feels right, and that's what Volvo's always done well. The suspension tuning is sublime, offering fantastic ride comfort and taut body control, with the only occasional unpleasantry coming from the massive 21-inch wheels. The steering is precise with a satisfying heft, just enough to feel deliberate and confidence inspiring. Throttle and braking feel as they should, offering reassuring linear inputs without being overly sensitive, and without much of any hybrid handover weirdness either. 
Our tester's T8 Recharge powertrain was graced with a significant update this year, to much benefit. The formerly twincharged gas engine is simplified by removing the supercharger, leaving a revised turbo to carry the day, and the electric motor is enlarged along with its battery, now comfortably capable of propelling the XC90 at highway speeds on its own. The adjustments are welcome, greatly improving efficiency and refinement, and they now produce a combined 455 horsepower and 523 foot pounds of torque – which means that unlike most hybrids, this thing can move.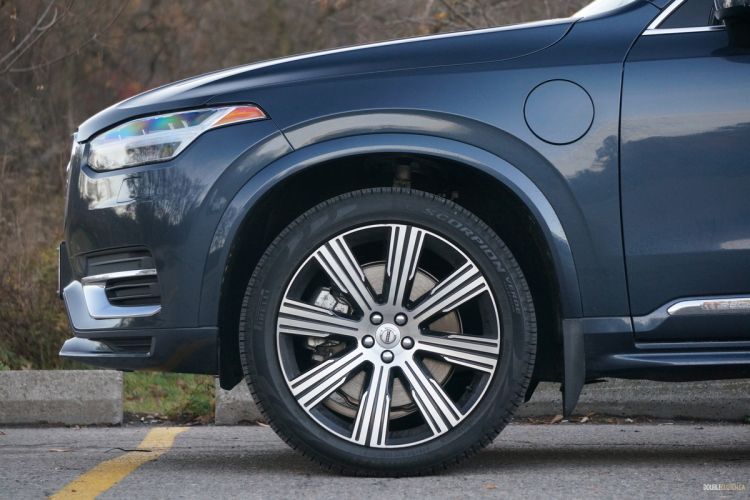 Also very much unlike most hybrids, the T8 uses a conventional gas powertrain for the front wheels, and a completely separate electric drive and battery for the rear wheels. This allows the XC90 to be very flexible, acting either as a semi-conventional gas vehicle, a dedicated electric vehicle, a range extended electric, or a hybrid that blends the slick low end torque of an electric motor and the pulling power of a gas engine with no range anxiety – it's up to you how you want to use it. 
By default, the electric powertrain handles most low speed operations, taking off from a stop and puttering around at low speeds, seamlessly handing over to the gas engine as load increases. Most manufacturers aren't doing this because it's very difficult to make two separate polar opposite powertrains respond to one pedal in a way that feels organic, but Volvo's pulled it off here and it's extremely impressive. Naturally, it's impressively efficient, too. We only charged the 14.9kWh battery (good for 50kms) twice and logged 584 kilometers on our tester, averaging 7.4L/100km, astonishing for this class of vehicle. Of course, if you have a means of charging it regularly, your fuel use could dip down to hardly anything – we were seeing less than 3.0L/100km with the battery charged.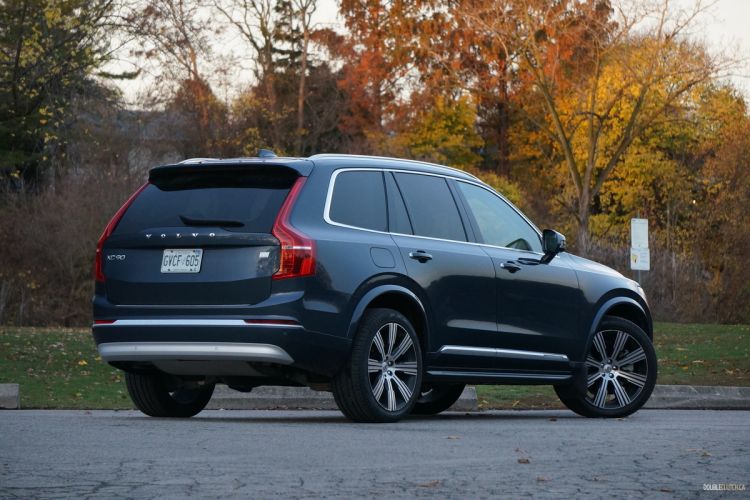 It's designed from the ground up to be thoughtful, and calming. Volvo's impressive suite of safety systems all work incredibly well, so much so that you'd have to go out of your way to get yourself in trouble. It's easy to drive, easy to see out of, and therefore easy to park. It's spacious, quiet, comfortable, and the impeccable sound system and wonderfully sculpted massaging seats make it easy to cover a lot of ground with. It's practical, and very efficient, so it's easy to justify. It's beautifully appointed inside and handsome and restrained on the outside – it looks and feels like a top shelf product without being pretentious. It handles relatively well and can be impressively quick, so it's not dreary in the slightest. It makes so much sense on so many levels.
It's engrained in Scandinavian culture that you should be humble: don't act like you're more special than anyone else, even if you are. This ethos is readily apparent in every facet of Scandinavian design, aiming to be tasteful, pragmatic, and minimalist, with the sole intention of making people feel good. That school of thought has its fingerprints all over the 2023 Volvo XC90 Recharge Inscription, which certainly made me feel at ease in my time with it. It's calming, and satisfying, and just really, you know, nice. It's no wonder Volvo drivers are such nice people.
See Also:
2022 Volvo V90 Cross Country B6