Los Angeles, California – It's always hard to figure out how to start these reviews. What's my angle? What's my hook? What allegory am I clumsily going to try to bookend this with? This car's been around for a while now, you're probably already familiar with it, so this one's gonna be different. This is a story of a very green auto journalist being set free, alone, in Southern California, tasked with completing the gearhead's rite of passage that is carving up the legendary canyon roads encircling Los Angeles. For this assignment, I was provided the most perfect instrument: a 2023 Mazda MX-5 Club. It was a short, saccharine, and surreal dream. Pinch me.
My very driver-spec Club Miata (Mazda calls it an MX-5, but come on, it's a Miata) was adorned with firmer Bilstein shocks, bigger Brembo brakes, a strut tower brace, a Torsen limited slip differential, sticky Bridgestone Potenza S001 tires wrapped around forged 17" BBS wheels, and heavily bolstered Recaro seats, trimmed in grippy alcantara – all of which were put to good use over my three days in and around Los Angeles. I've driven every generation of Miata and adored them all, so I was very curious to confirm if the current "ND" Miata stood up against its predecessors and the hype around it (spoiler: it does), and was eager to see if Southern California is the driver's mecca everyone says it is (spoiler: it is).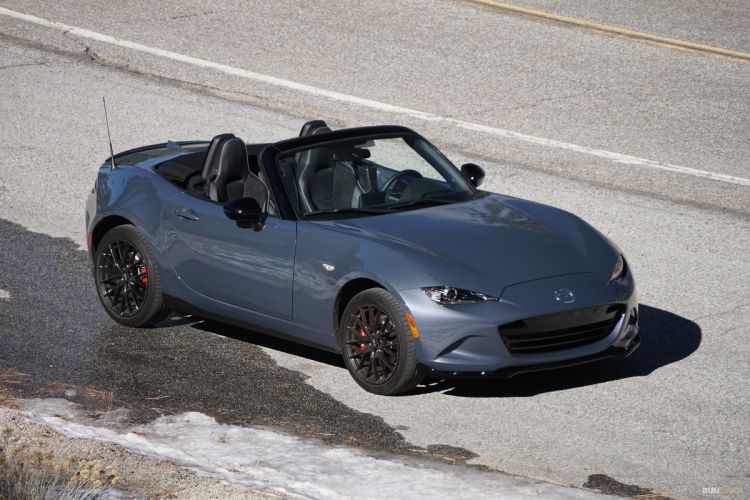 Day one:
My adventure with the Miata began on a gorgeous afternoon in Laguna Beach, where I took my time cruising up Pacific Coast Highway 1 getting acquainted with the car, and reveling in the picturesque coastal views; a sublime introductory cruise. The driving position is spot-on, and the driver controls feel organic, the clutch is light and easy to read, and the engine is very flexible – it's very approachable. It's firmly sprung, but never punishing. Its diminutive dimensions lead to a rather intimate cockpit, but at 6'1", I had plenty of leg room and felt perfectly at home. It may be a little impractical, but it's definitely usable.
That first night, I started exploring some of the Miata's performance capabilities, as I did the cliche thing and headed for the winding Mulholland Drive. The famously excellent gearbox that everyone talks about is that good, with a shifter action that's not only short and slick but also mechanically talkative in the best way. Rather than the following modern trope of feeling like a toy, it doesn't hide from being a literal box of moving gears; you can feel them meshing together, and it's unendingly satisfying. This is a good thing, as the gear ratios are very closely spaced, and you will be shifting often. 
The pedals are flawlessly positioned for heel-and-toe footwork, with the firm brake pedal offering excellent, linear feel, and the throttle serves up immediate blips, accompanied by a satisfying intake snort and exhaust bark. It feels so natural so quickly, but not in a way that's overly accommodating. The Miata speaks to you, and teaches you as you go along. It amplifies your responses in such a way that it subtly shapes what you're doing, and nudges you towards implementing more rhythm and flow into your actions in a way that never stops being fun. It was a fantastic first outing, and it would only get better. Pinch me.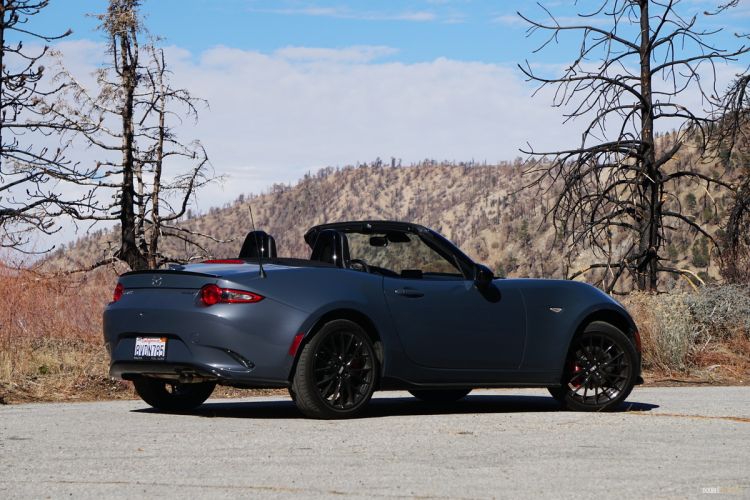 Day two:
First thing in the morning, I hopped back into the Miata, and jetted off downtown, with the intention of seeing the LA Auto Show. On the way there, I learned the same qualities that make the Miata so sweet to drive make it relatively easy to live with when you're stuck in traffic. The seats are supportive and comfortable, it's reasonably quiet, it's surprisingly efficient, and its compactness means it fits anywhere with ease. It's not too loud, the exhaust doesn't drone, and wind buffeting is well controlled with the top down and the windows up. I never drove with the top up, so I can't comment on what it's like when it's all closed up; sorry not sorry.
The LA Auto Show was a bit of a disappointment, so with precious little daylight remaining, I bolted out to Topanga Canyon Road in the Santa Monica mountains, aiming to see one of these knockout sunsets that Cali is known for. Rush hour traffic got in the way, and I arrived in darkness, without much to see. Stuck behind a procession of slow traffic, I cut off to a little uphill side road that I thought looked interesting – and wow did that ever pay off. That little offshoot brought me to some of the most incredible pavement ribbons I had ever seen, snaking up through the hills with incredible views overlooking LA. I'm a Toronto native, I'm used to driving on a flat, lifeless grid. This was something worth savoring, especially in this car. I turned the navigation off, cranked the tunes, and got lost.
The canyon roads are a double-edged sword, dazzling and dangerous, with a steep drop on one side and a rock face on the other, but the car had my back. Like Miatas of the past, its small footprint and flawlessly gauged steering means it's astonishingly agile, and can be directed almost telepathically. Unlike those same Miatas, it is planted, with seemingly limitless grip. No matter how many decreasing-radius blind corners the road threw at me, there was always more traction to call on. It felt like a classic "NA" Miata that had been built for track work, and anyone who's driven one knows that is an enormous compliment. That detour was the best drive of my whole life to date, a title which would stand for less than a day. What a dream. Pinch me.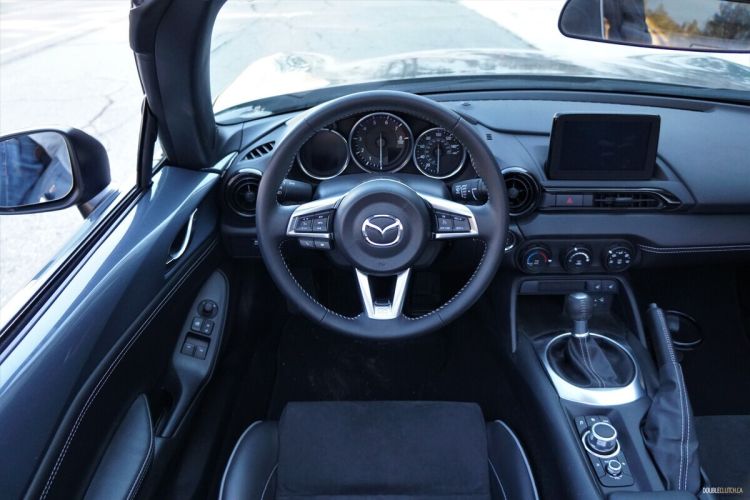 Day three:
The first day was taken up by getting to my hotel. The second day was taken by the auto show. For the last day, I planned to spend the morning driving the Los Angeles Crest Highway and see some of California's majestic geography with the benefit of daylight, then hit the Petersen Museum in the afternoon on my way out to Malibu that evening for dinner at Neptune's Net. Once I got up there and found this astonishing driver's nirvana, I knew I wasn't going to leave until I absolutely had to, and I never made it to the Petersen. I only had the chance to do this for the first time once, and I wanted to relish every possible second. 
One of the greatest joys of the Miata is how usable its performance is; you can wring it out to redline on the regular without being totally irresponsible. 181 horsepower doesn't sound like a lot, but with short gearing and little more than a solitary ton of mass to move, the Miata is decently quick, even when ascending hills several thousand feet up. It was chilly up in the mountains, so much so that there was snow on the shady mountainsides, and the occasional patch of ice on the road. The snug Recaro chairs have ferocious seat warmers, which kept me warm despite it being barely above freezing, so I didn't have to stop driving until fuel became a concern several hours later. I reluctantly tore myself away from the stunning views and rolled back into town to refill with just two miles of range left. I started the day with a full tank – I may have gotten carried away up there.
With the shadows of the palm trees getting longer and longer, I made my way towards Malibu, determined to watch the sun sink below the horizon before I was forced to return to reality. My path there led me along the magnificent Encinal Canyon Road at the optimal time to witness the most picture-perfect Hollywood sunset. After having spent so much time racing around trying to see everything I could, it was a treat to just stop, admire, and soak it in. What a ride. I had thought about this for years, and almost out of nowhere I was there, lucid and alert, in a living daydream. Do I have to wake up?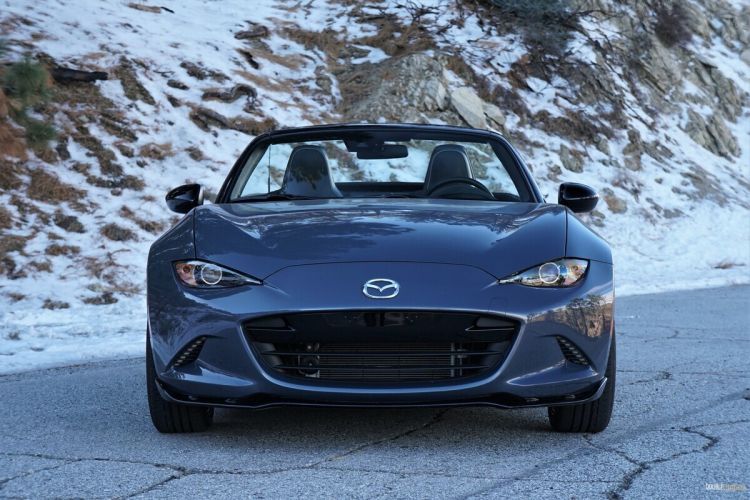 After a quick dinner at Neptune's Net (of Fast & Furious fame), I headed back towards the city along PCH1 with the intention of calling it a night, as I had to be up very early for my flight the next day. This plan lasted for exactly four miles – I saw a left turn back into the canyons on Mulholland Highway, and decided to indulge in one last ride. Mulholland Highway proved to be yet another driver's paradise, offering a delicious blend of fast sweepers and tight hairpins. Just as before, I decided to take a detour and see where it went. It was the tightest, most technical, and trickiest road I had seen yet; a fitting final challenge for this adventure.
It was daunting. I couldn't believe how tenacious this long stretch of winding tarmac was, offering up a never ending series of blind off-camber corners, consecutive hairpins, and occasional fallen rocks to avoid; I almost never made it out of second gear. In this desolate locale and under the cover of darkness, I was determined to delve deeper into the limits of the Miata. It's such an eager and brilliant car to drive, it continually compels you to explore your own abilities and improve yourself. It's so nimble. It's so planted. It turns in so well. It puts its power down and exits so well. It's so sure of itself, and sure of you. There isn't a better driving partner on Earth. I wanted nothing more than for our dance to never end.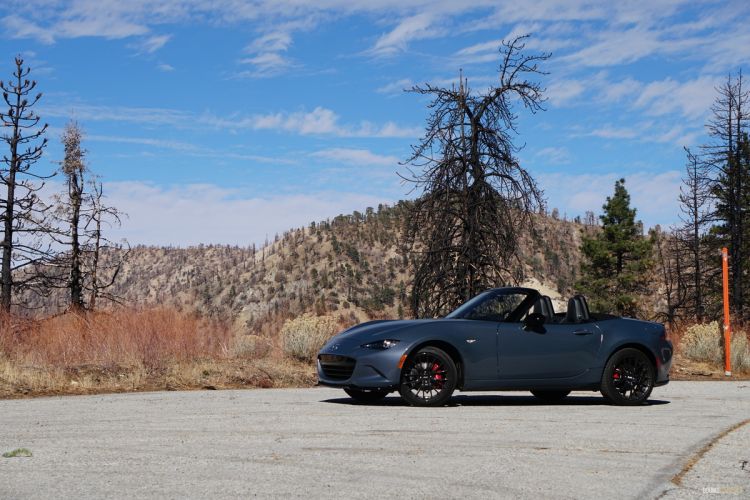 This monster of a road terminated, to my surprise, on PCH1 right next to Neptune's Net, where I began this fantastical canyon blast 45 minutes earlier. Okay… maybe one more loop, for all the marbles. You know the turf now, you can really dig into it. I definitely got carried away on this one, as the big Brembos began to show some weakness, exhibiting mild fade – but anything else would have given up long before. Anything else wouldn't have been as good, or felt as right. I can say with my hand on my heart that there is not a single other car on Earth I would have rather been driving. After having logged over 200 miles of incredible driving that day, I cruised back to my hotel along PCH1 one last time, feeling well and truly satisfied in a way I haven't felt in a very, very long time. Pinch me?
The whole trip was the experience of a lifetime. I've thought about tackling these legendary roads in a car just like this for decades, and I could scarcely believe it was happening while it was happening. Having a 2022 Mazda MX-5 Club on hand for this assignment was, and I do not use this word lightly: perfect. The car itself may not be perfect for everyone, but as an experience, as a means of encapsulating the classic sports car feeling without many of the classic sports car drawbacks, it is peerless. My time with it was a very literal dream come true, and, actually, now that I think about it, don't pinch me. I don't want to wake up.
See Also: