"You're doing it wrong" is one of my favorite memes from the earlier days of the internet, mostly because I do it wrong a lot. I went to Los Angeles and didn't get any tacos. I went to Montreal and didn't get a poutine. I tend to nap during the opening chase sequences in James Bond movies. I had more fun with the EcoBoost Mustang than the GT. My most dependable car is an old Jaguar. I am the personification of doing it wrong. So naturally, when I was tasked with reviewing a 2023 Ford Bronco 2-Door Badlands Sasquatch, the most hardcore offroad vehicle Ford offers short of (maybe) the Raptor, I never took it on a trail and instead used it as a long haul road trip vehicle.
The shortie 2-door Sasquatch is not well suited to this application. It's not well suited to a lot of things. It's loud, the wind noise is pretty bad from the upright windshield, the road noise from the massive 35-inch tires is brutal, the fuel economy is not good and the tank is pathetically small, the cargo space behind the rear seats is abysmal and they don't fold flat either, the infotainment is slow and buggy and the digital gauge cluster already feels dated, and (inhale), it dives way too much under braking, and it rides like a buckboard, and the wind buffeting with the front roof panels off is terrible, and oh, the windows rattle when opening and closing the doors. And, and, and… I didn't want to give it back. I did it wrong, and I loved it.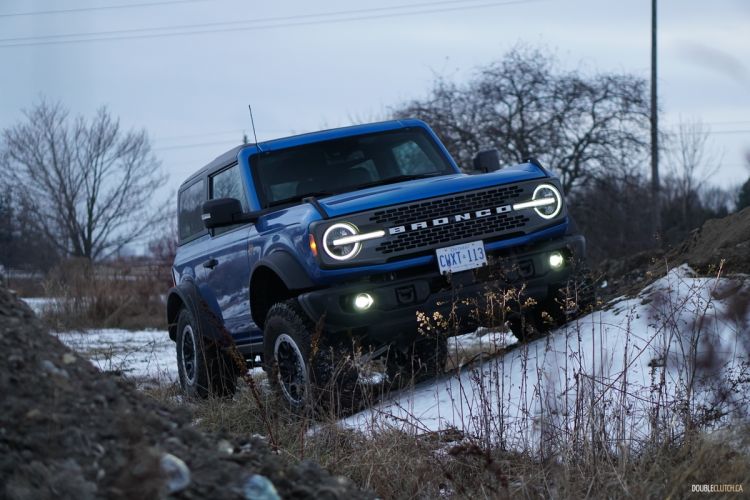 You can tell the engineers behind this thing had fun with it. They knew they were doing it wrong, and proudly soldiered on anyway. It's a magnificent protest against refinement, which I'm coming to believe is the nemesis of character. In the pursuit of ever-better refinement in car design, the mechanical soul is being ironed out. The wrinkles that give character, the foibles that endear are being optimized away, and we're left with a bunch of disposable, inoffensive whatever-wagons that can't decide if they want to be cars or trucks, that all look like half-used soap bars, that all sound like refrigerators, and all feel like nothing. The Bronco, for all its failings in the refinement department, or perhaps in part because of those failings, has something none of those cars have: personality.
The Bronco radiates its charm from every pore, making its mission statement loud and clear before you even open the door. Tall, wide, stalky, and parked on top of enormous 35-inch tires, it looks like a child's drawing come to life in the very best way, and our tester's punchy Velocity Blue paint only added to the effect. It's a retro brick that simultaneously is silly and badass all at once. The throwback theme continues inside, where you're greeted with a simple breadbox dashboard, washable vinyl seats and rubber mats, a couple of body color accents on the doors for flare, and toy-like bright orange highlights on the grab handles and vents just because it looks neat.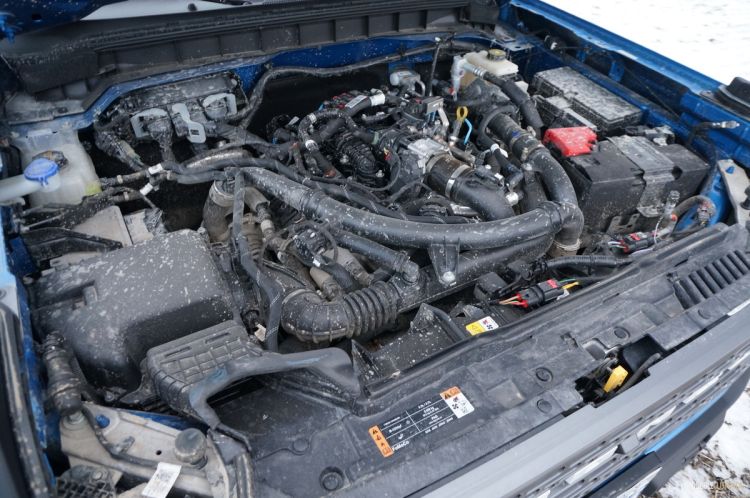 It feels like a toy on the road too. A serious toy, but a toy all the same. The 2.7 liter twin turbocharged V6 is good for 330 horsepower and and a very healthy 415 foot-pounds of torque on tap, which means this bucking horse can move, and it generates an angry exhaust snarl that sounds exactly like the noises I made when I was playing Trucks when I was eight. The 10-speed transmission that we normally don't love for its lack of refinement is pretty well perfectly suited to this application, offering snappy downshifts and smooth enough upshifts, and is geared to make the engine feel appropriately mighty. Our only complaint with the powertrain is the brief range between fill-ups; fuel economy is tolerable at 13.4L/100km, but with only a 63 liter canteen to sip from, you'll be filling the Bronco often.
As mentioned before, the ride on this little chuckletruck is hard. The suspension is very firmly sprung, and the monstrous tires steamroll the pavement, pounding over imperfections, with the stubby wheelbase bouncing you (and in some extreme cases, the whole truck) around all over the place. On the flipside, that same short wheelbase and taut chassis tuning makes it surprisingly nimble and fun to chuck around, feeling like a tall sports car dancing on steel toe boots. The oversized rolling stock translates to fairly hefty steering, but it is relatively communicative and precise, and its independent front suspension layout  means it never feels clumsy or unwieldy – unlike a certain other throwback off-roader.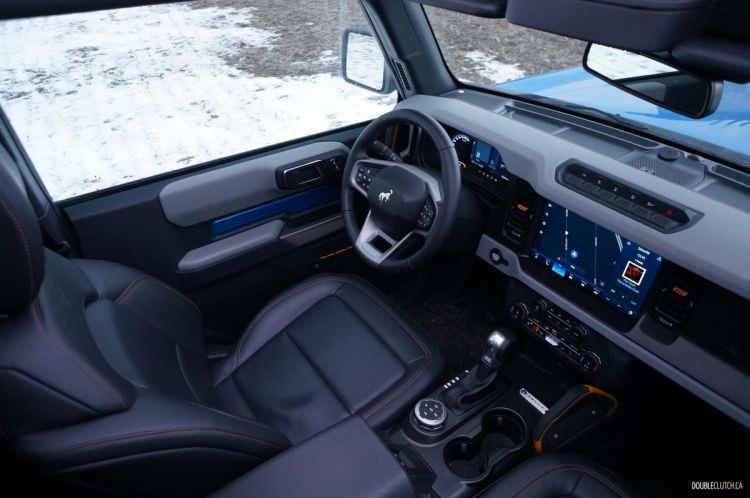 This Bronco and I spent a lot of time together – I covered nearly 1,800 kilometers with it. I can say with some measure of confidence that, for all its minor misgivings, it's a fine means of getting around. The seats and driving position are excellent and plenty comfortable for hours at a time. The heating elements in the seats are incredibly powerful, almost uncomfortably so, which is great if you're an idiot manchild like me and insist on taking the roof panels off in December. The B&O sound system is handily capable of covering up the ambient road and wind noise, and Ford's older version of Sync infotainment here is intuitive (still uses real buttons!) and generally works well enough, save for an annoyingly long startup time, and a bizarre text message glitch: it would notify me of multiple messages from multiple random senders from years ago every time I got a new message.
There's a pile of off road tech too, like locking front and rear differentials, disconnecting front sway bar, hill descent control, and an array of G.O.A.T. (Goes Over All Terrain) modes, hardly any of which I had the chance to put to good use. My colleagues who have had these off-road swear up and down there's not much on Earth that will stop one of these, and I sadly didn't have time to track down a trail serious enough to actually give this beast a challenge. I can say that I drove it 400 kilometers home from Calabogie during a vicious blizzard, and what should have been a white knuckle ordeal was no sweat for it and let's face it: the overwhelming majority of these will probably never see more off-road duty than that. They're gonna get bought just because they look and feel cool, and that's fine by me. More vehicles should be like this. More vehicles should feel alive.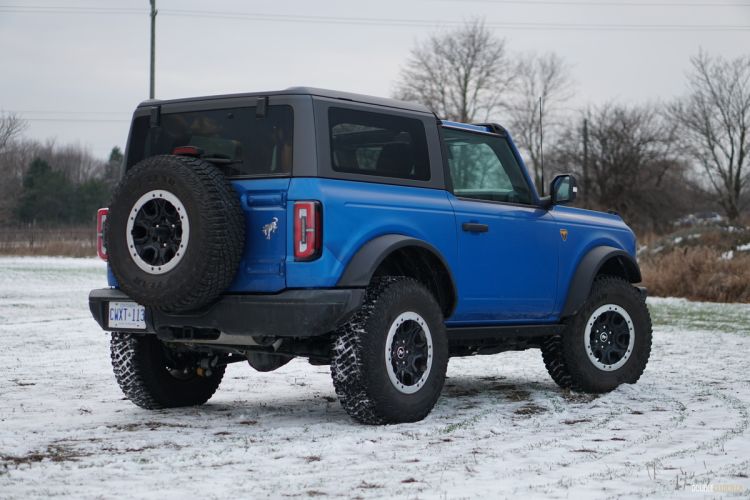 It's not like this was all an accident on Ford's part. They set a target, and they crushed it. The 2023 Ford Bronco 2-door Badlands was designed to go toe-to-toe with Jeep's legendary Wrangler, which stood largely uncontested in the very niche but surprisingly popular semi-impractical-retro-off-roader segment for decades. Our $72,294 Sasquatch model takes that all terrain mission further, by making it one of the most effective rock-crawling weapons to ever sit on a showroom floor. As with all things in car design, everything is a compromise, and Ford deliberately let a lot of compromises fly to hit their mark – conventional wisdom be damned. The retro design will be aerodynamically inefficient! Don't care. The gigantic knobby tires will have enormous rolling resistance! Don't care. The overbuilt suspension will ride incredibly hard on the road! Don't care. Do it. Do it wrong. Just have fun with it.
See Also:
2022 Ford Bronco Sport Badlands