Has it really been 22 years since the first Fast and Furious came out? It seems like just yesterday we saw Brian O'Conner haul a load of overnight parts from Japan across the big screen in a red F-150 Lightning. A lot has changed since 2001: the Fast and Furious crew is now focused on thwarting cyberterrorists, overnight parts from Japan are a click away thanks to Amazon, and the 2023 Ford F-150 Lightning is back — this time as a fully electric pickup truck.
An electric F-150 was never a matter of if, but when. Countless automakers have promised electric pickups over the years, but at this very moment, we Canadians can get our hands on very few. The Rivian R1T and the electric Chevrolet Silverado are probably the closest to reality, the Tesla Cybertruck keeps getting delayed, and electrification barely seems like a blip on Ram's radar. Unlike all of those, however, the F-150 Lightning has one key advantage: you can actually touch one.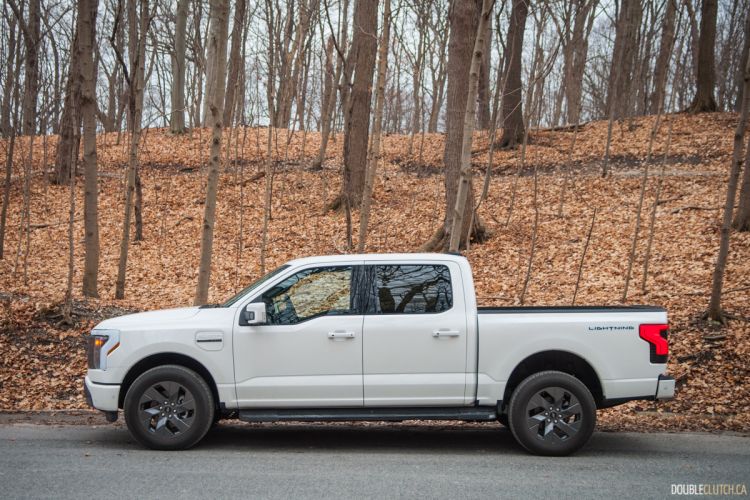 Ford offers a variety of different powertrains with the F-150 lineup. Last year, the Powerboost hybrid was a toe-dip into electrification, and the Lightning now follows as a cannonball. Power comes from two electric motors — thus giving this truck AWD, as opposed to a selectable 4WD system as you'd find in most other F-150s — supplemented by one of two available battery packs. 
A 98 kWh battery is standard, helping the Lightning put out 452 horsepower and 775 pound-feet of torque. A larger 131 kWh battery is available, bumping horsepower to 580. Regardless of your battery pack of choice, the Lightning is quick and pulls hard — middle-aged dudes will be shocked (and delighted) that you dusted them and their Model X off the line at a stoplight.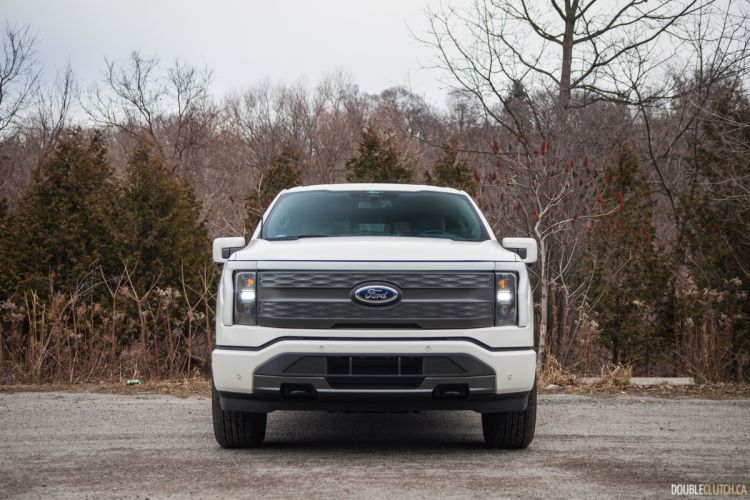 Along with the extra ponies, the bigger battery adds more range. Ford says you can expect about 370 kilometres out of the 98 kWh battery, and roughly 515 km with the larger 131 kWh unit. Charging times vary as well; this particular Lightning was fitted with the big battery, and when plugged into a Level 2 charger, expect a full charge anywhere between eight and 15 hours. Plugging into a Level 3 DC fast charger cuts down that time considerably — Ford says you can expect a charge from 15 to 80 per cent in just over 40 minutes.
That's all fine and dandy on paper, but in the real world, your results will vary quite a bit for a number of reasons. Listen, we all know EVs don't agree with cold weather, but in the nippy mid-December air, the best we could eke out of the Lightning was 330 km — still plenty, but nonetheless a significant delta between Ford's claim — and that's before factoring in the range it lost from simply sitting overnight.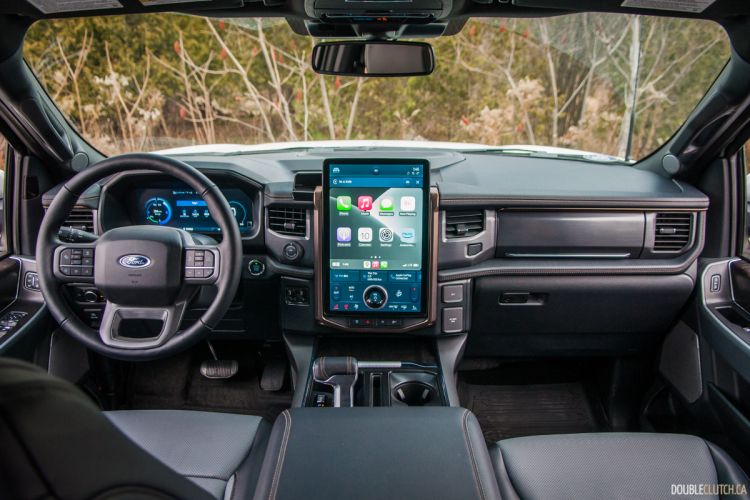 To wit: on one particularly chilly evening, we spent about an hour and a half at our local Level 3 DC fast charger. To be fair, the first 20 minutes were spent on the phone with a helpful customer service rep, trying to figure out why their only fast-charger in the area wouldn't work. But once we were up and running, we juiced up the Lightning from 10-ish to 90 per cent. That was supposed to be good for about 320 km, but we were down to 298 the following evening — 22 km gone from just sitting overnight and for most of the day. Such is life when you rely on public charging infrastructure; Ford recommends you plug in overnight when it's chilly out, but that's tough when you live in an older condo or park on the street.
But those concessions come with any EV; whether or not truck buyers will tolerate them is another story. For many use cases, the Lightning isn't the best option. If you regularly tow, load up the bed, and haul those loads over long distances — also known as "actual truck things" — your range will suffer even more. Think a contractor has an hour to spare when all that plywood in the bed needs to be delivered across the 401 at 3 PM, with 120 km of range left over? Imagine how much of a nail-biter it'll be in winter.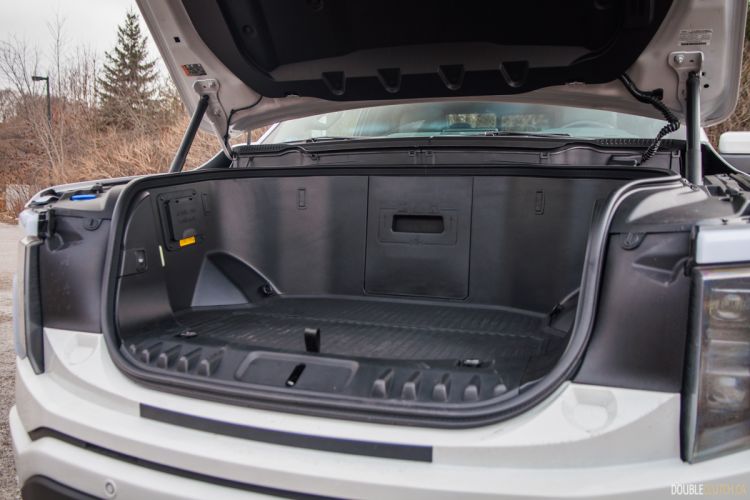 OK, so maybe the Lightning isn't the best work truck. But there are folks out there who, even though they don't actually need a pickup, want one for the image, the just-in-case practicality, or any other subjective reason because we're allowed to like things even though they don't make sense. If any of this describes you, the Lightning fits the bill extremely well. The seats are cushy, fit-and-finish is very good, and the portrait-oriented 15-inch touchscreen will dazzle your non-car-nerd friends, although it's a little slow to respond at first. The Lightning is also exceedingly roomy: the cubbies and storage pockets are massive, there's no shortage of headroom up front, and the back seats can not only comfortably fit three adults with room to spare, but the seat bottom flips up to accommodate large and awkward cargo that doesn't really belong in the bed, like houseplants. Lots and lots of houseplants. Don't ask.
What's more, the Lightning boasts a 400-litre front trunk — or "frunk", as it's known in the academic community. These spaces are usually tiny, if an EV even has one at all, but the F-150's blocky hood means this is a legitimately useful space that keeps your groceries (or even more houseplants) protected from the elements without impeding passenger space.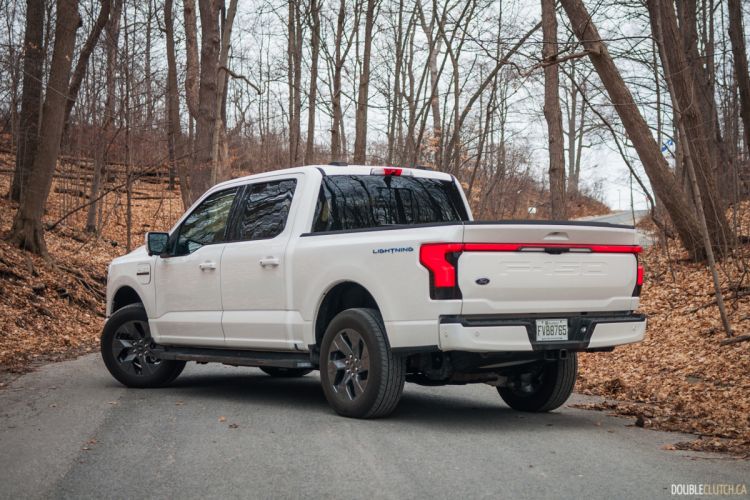 Treat the Lightning like a regular daily driver, and you'll find the lack of engine noise serene, there's minimal wind and road noise, and the instant torque makes merging or passing a breeze. However, there are a few shortcomings you need to know about. For one, the suspension needs some fine tuning; unless you're driving over perfectly smooth pavement, the Lightning keeps bouncing and takes a long time to settle after you've taken any sort of bump or pothole. Moreover, the Lightning is big — driving downtown, parallel parking, or squeezing through underground garages is tough the first few times, but the generously sized windows and 360-degree camera system make this a bit less of a nail-biter. If you're coming from another truck, you're probably used to all this. But if you're stepping up from a car or a CUV, it'll take a while before you're fully comfortable behind the wheel.
Pricing for the Lightning checks in at $79,000 for the base XLT and $90,000 for the mid-range Lariat with the small battery. The fully loaded Platinum is available exclusively with the big battery, and rounds out the lineup at $121,000. Upgrading to the bigger battery isn't cheap; it's a $16,000 option on the XLT and $18,600 on the Lariat. With a few more options thrown into the mix, our Lariat tester topped out at an eye-watering $110,250.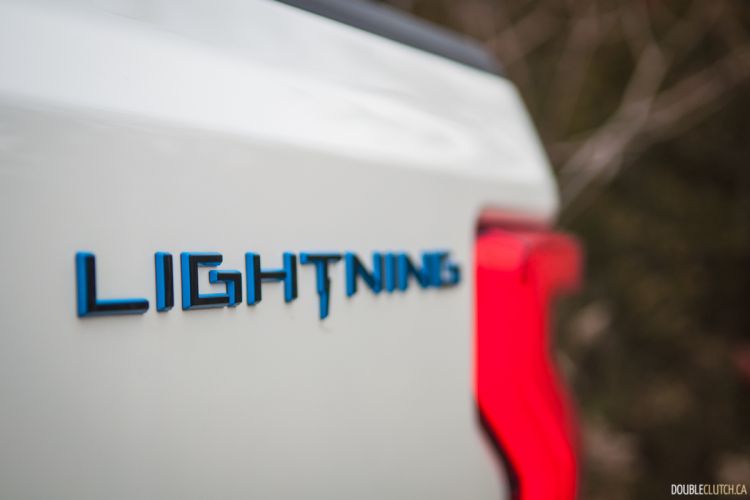 Listen, if you're looking for a work truck, the Lightning isn't the right tool for the job. It's not the Lightning's fault per se; we get that electrification is inevitable, but factors like charging infrastructure, climate, and operating conditions are wildcards that are simply too risky to deal with in a workhorse.
But we all know a lot of people out there who want a pickup even though they don't actually need one. In this regard, there's a lot to like about the 2023 Ford F-150 Lightning. If you can stomach the bouncy ride and eye-watering price tag in exchange for incredible practicality and gobs of instant torque, the Lightning is an excellent choice — albeit your only choice — at least for now.
See Also: