It wasn't that long ago that Subaru was involved in the World Rally Championship and enthusiasts would snap up the latest WRX STI. Today, Subaru is no longer involved in WRC and the STI has been removed from their lineup. This is now a company that is focused on family friendly vehicles that prioritize safety, capability and value over anything else. The 2023 Subaru Outback Premier XT is this week's test car and with a mid-cycle refresh under its belt, we set out to see if it accomplishes its intended duty.
If not for the Dark Mahogany Pearl optioned on our tester, the Outback wouldn't garner a second look. Those yearning for a wagon will opt for the Outback as it is one of the few handful now available in the automotive industry while everyone else has focused on crossovers. Subaru took little risks with the overall design but that seems to be fine with their loyal customers as they do sell in respectable numbers consistently, with no signs of slowing down.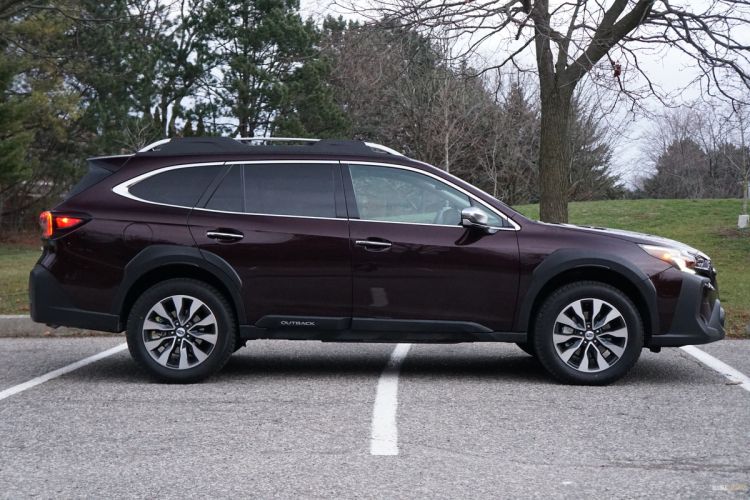 To keep up with the competition, Subaru has made a few nips and tucks all around. The grill is larger than last year's model to make for a cleaner fascia, the lights have been redesigned and more body cladding is used. The cladding design around the wheels has taken an odd angle and takes some getting used to since the plastic around the front wheels reaches higher than on the rear. All the additional cladding would help protect the paint when taking your Outback off the beaten path. Subaru has also provided standard roof rails with crossbars for overlanders to carry a variety of accessories.
With our Outback Premier XT, the quality of the materials used inside are top notch and compete well in this segment. Nappa leather seats are found, but the interior is overall untouched since the model's redesign a couple of years ago. It maintains Subaru's fairly simplistic. The seats are comfortable, there is ample space for those up front and adults will find little to complain about if seated in the second row. Those up front are treated to heated and ventilated seats with the Premier XT.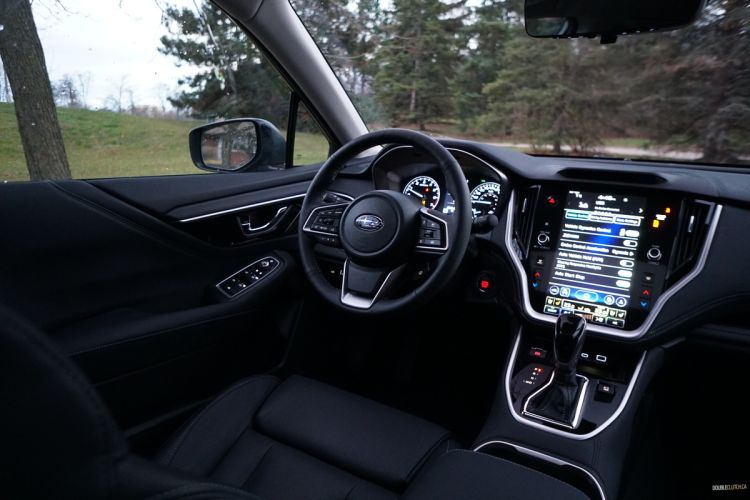 With the 2023 Subaru Outback being a proper wagon, there is a very generous 923 liters of cargo space available in the rear. Drop the second row seats and that number climbs to 2,141 liters. There are numerous sport utility vehicles that don't come close to this level of utility. Add the option of trailer brakes and the 2023 Outback will tow up to 1,588 kilograms.
Lower trim Outback models make do with a small seven-inch touchscreen while our Outback Premier XT receives the much larger and competitive 11.6-inch scfreen housing the infotainment system. Navigation is standard and we love that this is offered as there are some consumers that haven't embraced the standard wireless Apple CarPlay and Android Auto also connectivity offered here. The sound system has been upgraded with a Harman-Kardon unit that sounds adequate, sitting below the likes of Toyota's JBL and Mazda's Bose systems.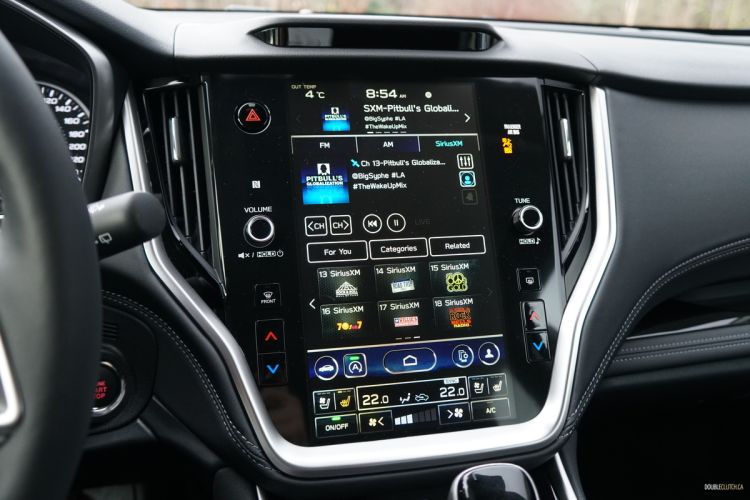 With the Subaru Outback XT, buyers are treated the bigger 2.4-liter turbocharged horizontally-opposed four-cylinder engine. Lower trim cars get a naturally aspirated 2.5-liter four, which does the job adequately but isn't anywhere near being called "quick". Output for the 2.4-liter turbocharger XT model is 260 horsepower at 5,600RPM and 277 lb-ft. of torque at 2,000RPM.
This powerplant provides more than enough grunt for your daily commutes. Passing power is muted in its performance, due to the CVT which is the only transmission available. It's worth mentioning that Subaru's CVT has been improved drastically over the years, and while it's still not an engaging unit, it's smooth, quiet in operation, and maximizes efficiency. The Outback's additional ground clearance and suspension absorb the worst road conditions with ease, and makes for excellent ride quality.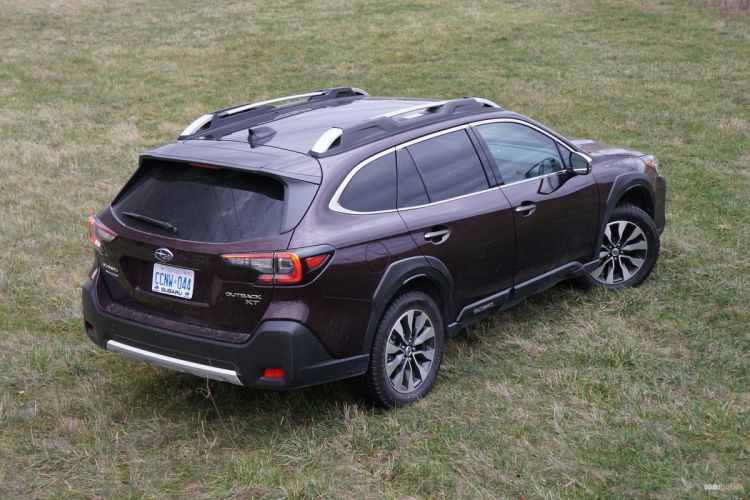 On the positive side the Outback Premier XT only requires regular grade 87-octane fuel to fill the 70 liter tank. Subaru Canada's official ratigns are 10.6L/100km in the city and 7.9L/100km highway, for a combined 9.3L/100km. Given the bitter cold temperatures and long city commutes, I observed 11.4L/100km over my week's worth of testing.
Even at the base Convenience trim at $32,695, Subaru offers the full Starlink safety suite with driver assist. Our top-trim Premier XT comes with features like Nappa leather interior, the top-tier infotainment, and much more for $46,395. It's still priced below top-trim rivals like the Toyota RAV4 and Honda CR-V, while offering similar or better versatility in the shape of a wagon. The 2023 Subaru Outback Premier XT is a unique offering that ticks off the majority of boxes for most buyers looking for versatility. It's no wonder Subaru's customer loyalty is some of the best in the business.
See Also: