When it comes to the 2022 Ford Bronco Outer Banks, Lizzo said it best: it's about damn time. Pretty much since the Mesozoic era, the Jeep Wrangler has ruled the roost of off-road-ready SUVs that'll happily take you anywhere, regardless of the weather. And, not to mention in that time, the Wrangler also amassed such a dedicated fan base, it can almost be described as a cult. So yeah, it's about damn time a challenger emerged from the bushes. This one just so happens to be wearing a Blue Oval badge, and it's coming back after a 26-year hibernation. 
Ford keeps the Bronco's powertrain options simple. A 2.3-litre turbocharged four-cylinder serves as the base engine, putting out a respectable 300 horsepower and 325 pound-feet of torque on 91-octane gas. Next up, you have a 2.7-liter turbocharged V6, rated at 330 horsepower and a generous 415 lb-ft. of torque on 91-octane fuel. An even larger 3.0-litre twin-turbo V6 rounds out the powertrain lineup, putting out a whopping 418 hp and 440 lb-ft of torque, but the hi-po six is exclusive to the Bronco Raptor.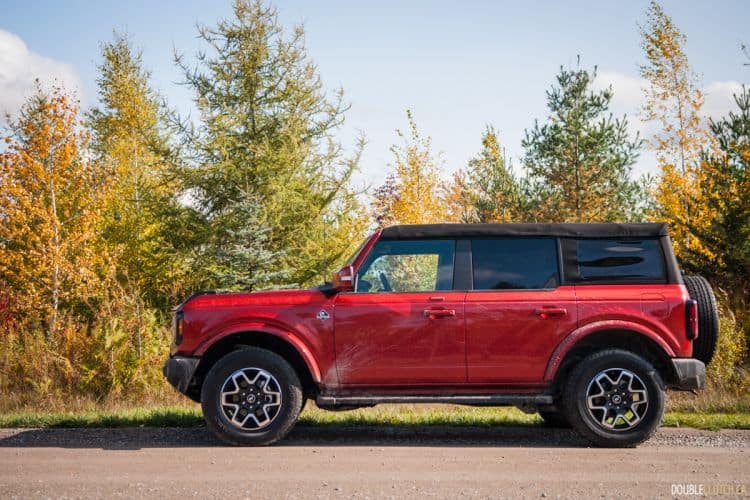 Nevertheless, if you're shopping on the lower end of the Bronco lineup and you have to choose between the base four-banger or the upgraded V6, do yourself a favour and go for the six. It's a fairly inexpensive upgrade — it's a $2,250 step up on our mid-range Outer Banks tester — but it's worth every penny. It's not so much the extra power, but rather the torque: the extra 90 pound-feet of shove really makes this box-on-wheels hustle. The Bronco even lets out a pretty mean snarl when you floor it, too. 
But there's a catch. If you want the Bronco's seven-speed manual on the Outer Banks, you're limited to the turbo-four. Otherwise, V6 Broncos get the 10-speed automatic, but that's not necessarily a bad thing. The automatic is fairly smooth and smart in its operation, kicking down quickly when you need the power and happily fading into the background when you don't. If we had to nit-pick, the throttle is a bit too sensitive in the default drive mode. It may seem sacreligious, but bumping the Bronco into Eco mode softens the initial tip-in while also remaining snappy enough when you need the power.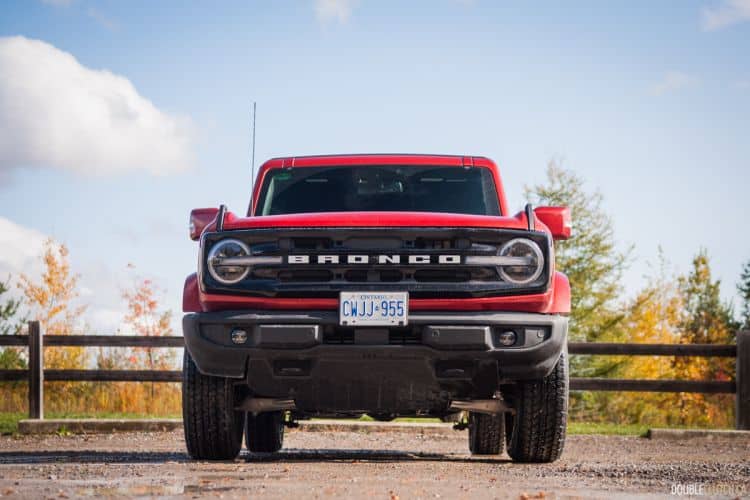 Although it's easy for armchair critics to get lost in the endless barrage of numbers and specs, one often overlooked aspect to the Bronco's appeal is just how easy it is to live with on a daily basis. Around town, the Bronco is fairly easy to manouevre thanks to its high seating position, generously sized windows and mirrors, and slab sides — the latter particularly impressive, given its sheer size. On the highway, the Bronco is less of a chore to drive than the Wrangler, but not by much: the steering wheel doesn't require constant seesawing to keep you in your lane, but you'll still be nudged around on particularly windy days, and the wind noise from the soft top and frameless windows at highway speeds can make conversations with rear-seat passengers difficult.
Fuel economy is about what you'd expect from a brick like the Bronco. On paper, the V6-and-automatic combo is officially rated at 12.8 L/100 km in the city, 11.9 on the highway, and 12.4 combined. We averaged 12.8 L/100 km over a fairly even mix of city and highway mileage. You wouldn't expect it, but the Wrangler has an advantage here thanks to its frugal diesel and plug-in hybrid powertrains — although to be fair, the EcoDiesel isn't long for this world. Regardless, we can't help but daydream about a Bronco with the F-150's Powerboost hybrid powertrain.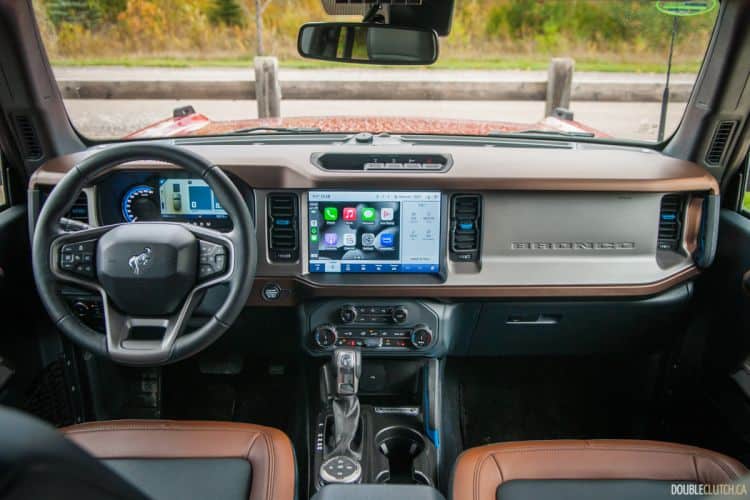 To beat the Wrangler, you have to live and look the part. Ford knows this — like the Wrangler, the Bronco is essentially a brick with four wheels. In fact, if you spot a Bronco from a distance, we'd forgive you if you thought it was a Wrangler. The basics are there, such as the boxy greenhouse and the exposed spare tire out back, but the Bronco sets itself apart with a few unique design touches, such as the rounded wheel arches, headlights that are a throwback to the OG Bronco, or tail lights that form a "B". There are a few smart tricks up its sleeve, like side-view mirrors that stay put when you remove the doors, or a soft top that is actually easy to stow as long as you have a second person helping out. 
It takes a bit of a hike to climb into the Bronco, especially if you're vertically challenged. But once you're in, it's actually a pretty good place to keep yourself dry while you send it through muddy puddles. The grippy rubberized textures and chunky controls suit the Bronco's rough-and-tumble attitude, it's all logically laid-out, and visibility is excellent thanks to the big windows and upright seating position. Infotainment is handled by Ford's fourth-gen Sync system; it's a snappy, intuitive, and crisp-looking setup, further augmented by a generously sized and easily legible digital display in the instrument cluster.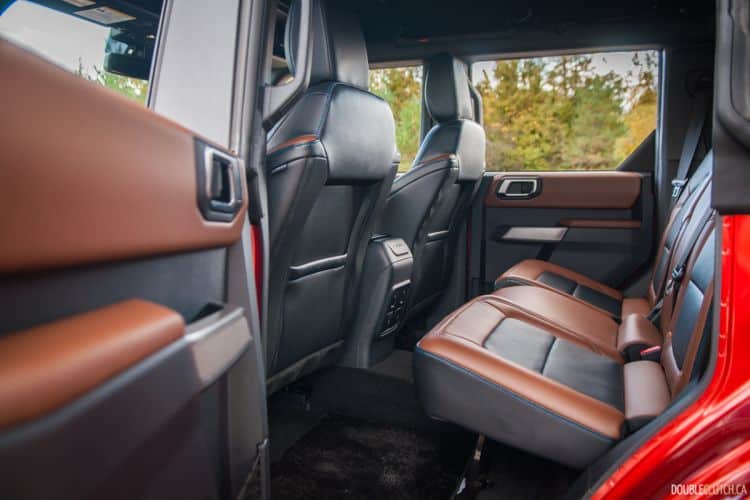 No matter which seat you (or your passengers) find yourselves in, the Bronco is plenty roomy all around. Cargo space punches in at 1,085 litres with the rear seats up, opening up to a whopping 2,350 when folded. Be warned, though: the right-hinged tailgate is a little cumbersome with the rear spare tire on there, and the cargo floor is high, so lift with your legs. 
Obviously, the Bronco takes aim at the Wrangler in more ways than one, including price. Pricing starts at $43,199 for the base two-door, running all the way up to just shy of $99,995 for the top-spec Raptor. The cheapest four-door Bronco will run you $48,049, while our Outer Banks tester starts at $54,794. Go easy on the options, though — our particular tester came loaded up with just over $9,000 in options, bumping the as-tested price to about $64,000 as-tested. For context, a base two-door Wrangler starts at $40,540 and tops out at $105,640 for the flagship (and nutty) Wrangler 392. The closest competitor to the Bronco Outer Banks would be the Wrangler Unlimited Sahara, starting at $53,840.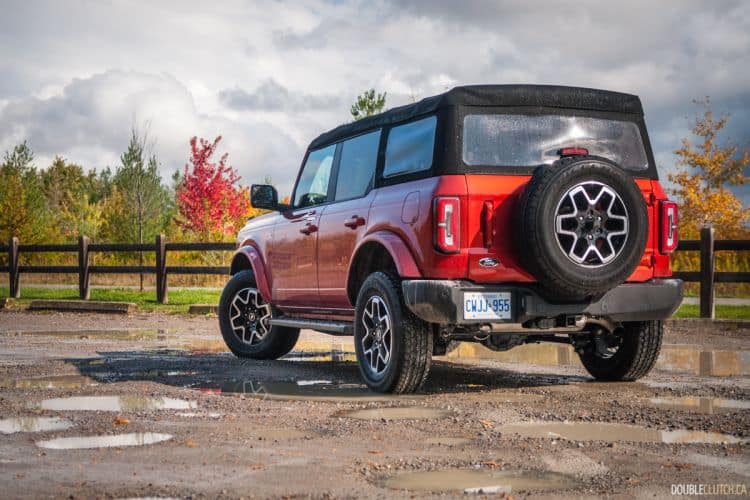 Look, if you're obsessed with these things, your mind is already made up. Hardcore Jeep fans won't be tempted out of their Wranglers anytime soon, and Blue Oval buffs need no convincing that the Bronco reigns supreme. But if you're in that niche of enthusiasts who appreciate off-road-ready SUVs and don't really care about the badge, the 2022 Ford Bronco Outer Banks may very well win you over thanks to its rough-and-tumble attitude without sacrificing comfort and road manners. You'll drive this thing on pavement more often than you'd think. 
See Also:
2022 Ford Bronco Sport Badlands
2022 Jeep Wrangler Rubicon 392