There was a while where we were worried about Lincoln, Ford's long lived luxury brand. They were going in the same direction as so many GM brands (as well as Ford's defunct Mercury brand), being held back by mismanagement and a perniciously stale image, slowly sliding into irrelevance. They were onto something in the late 90s with the Navigator SUV, but were quickly superseded by Cadillac's Escalade – whose name is much easier to rhyme in a rap. Let's look to this week's tester, a 2022 Lincoln Corsair Reserve, to see how their recent return to relevance is going.
First, the Corsair is a compact crossover, because that's what's relevant now. Second, very much unlike an unfortunate number of Lincoln's past offerings, the Corsair does not just feel like a Ford with leather seats, doughy suspension, and more chrome. The team at Lincoln have done a phenomenal job hiding the shared lineage with the Ford Escape, which the Corsair borrows its underpinnings from. Third, it's actually a lovely vehicle that drives well, is exceptionally comfortable, and exhibits impressive attention to detail. Alright, not a bad start.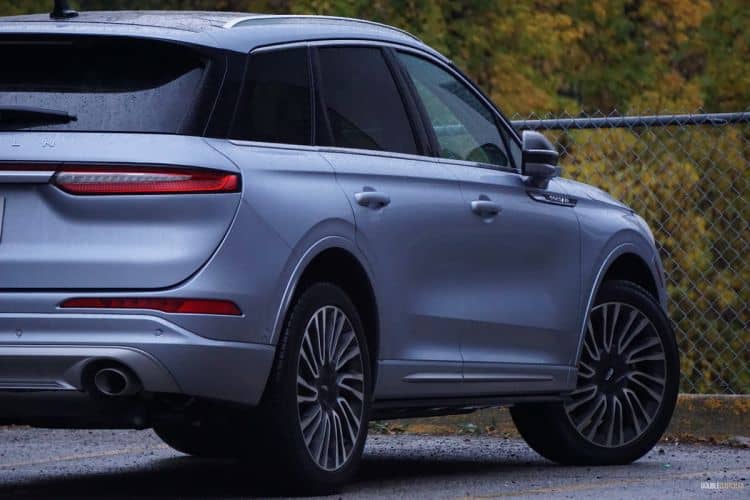 It's incredibly well equipped, although I suppose it ought to be for the $64,700 you'd need to cough up in order to bring our tester home. The Corsair Reserve starts at $49,700, and then our tester piles on some fifteen grand worth of options, which is a lot, but in this luxury segment, it's very easy to spend well more than that elsewhere. Our loaded Corsair Reserve is about as maxed out as you can get before getting into the plug-in hybrid Grand Touring trim, and we prefer this one, anyway. Notably, it is thousands less than its comparably equipped European counterparts. 
It starts with a $4,000 Sport package, which sounds like a lot, but includes a lot. Visually, it adds 20-inch machined aluminum wheels, body colored fascia trim, illuminated door plates, and a unique black grille – all serve well to make the little Corsair look as in-vogue as the more established luxo offerings. It also includes all wheel drive, and a more powerful 2.3-liter turbocharged four cylinder, which offers 290 horsepower and 310 foot-pounds of torque, putting it among the best in its class, save for the vastly more pricey six cylinder models. It also includes adaptive suspension and an additional drive mode: Excite.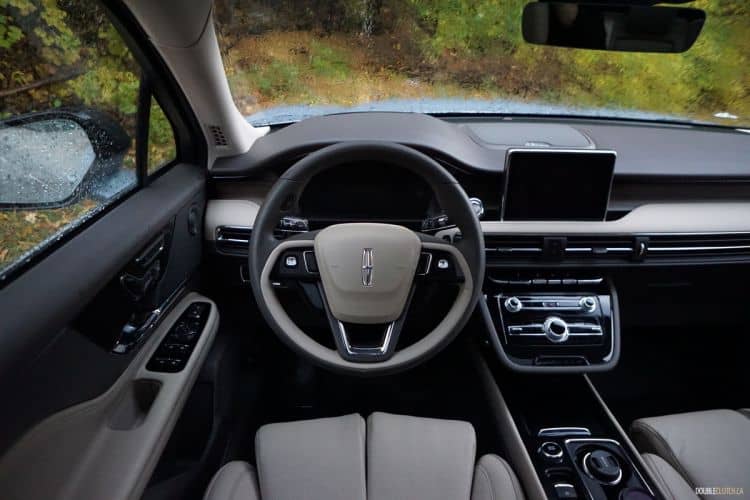 Excite mode adds some heft to the otherwise breezy steering, amps up the throttle response, and stiffens the shock absorbers for flatter cornering. I am not sure I'd call it genuinely exciting, but it does succeed at giving the impression of engagement. The engine is eager to deliver its ample shove, the steering gains some feel, and the chassis gets noticeably more taut. It's no Porsche Macan, but then again, the Macan isn't much if any faster. And it isn't this comfortable. And it's a lot more expensive. And we're talking about crossover whatever-mobiles, so who cares about the nuances of chassis feel? The Corsair prioritizes comfort and excels to that end.
The cabin is a marvelous place to be. Lincoln's design team has been on a roll ever since they unveiled the new Navigator, and the littlest Lincoln is no different. It makes use of tasteful complimentary colors, elegant flowing lines, and excellent materials like sumptuous Weir leather, real open pore wood, and sweeping metallic accents to feel warm and classically luxurious in the vein of a concert hall. Speaking of, our tester's 14-speaker Revel audio system (part of the $3,100 Luxury Package) sounded remarkably crisp and well balanced, handily able to deliver the concert hall experience. Of course all this would be for nought were it not for proper seating, and our tester's $3,500 Technology package incorporates heated and ventilated seats with a whopping 24 means of adjustment, including with individual thigh supports and a massage function as icing on the cake.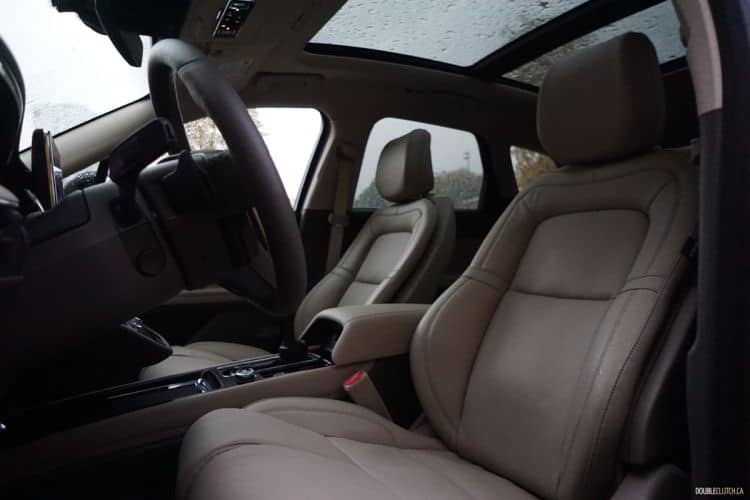 Infotainment is handled by an eight inch touchscreen, which is a little smallish these days, but is far from dated. It's every bit as bright, sharp, snappy, and intuitive as the megascreens taking over other dashboards, without being nearly as garish. The gauge cluster is a digital 12.3-inch unit, which is attractive and easily tailored to your needs, and augmented by a heads up display. Essential controls like climate and audio are handled by buttons and knobs on a decorous lower dash pod, along with the P R N D controls that Lincoln calls piano keys. We don't love this, and we certainly don't love that the only use of piano black is where all the buttons are, but it fits the vibe of the cabin. 
Comfy and quiet is the vibe Lincoln is after, and it carries through on the road. Excellent sound deadening, acoustically laminated glass and a new rear suspension design all coalesce into a vehicle that quietly glides through the wind and over the road. The steering is featherweight and effortless, but just sharp enough to confidently place the Corsair. Braking is a tiny bit too jumpy for our tastes, and the throttle is tuned to be tame until you get about a third of the way into its travel, at which point you can almost hear a butler say "yes, right away sir" and then you're hurried off in a hushed turbo whoosh. We pretty much never noticed the eight-speed automatic transmission or the all wheel drive system working, which is spot-on for this sort of vehicle.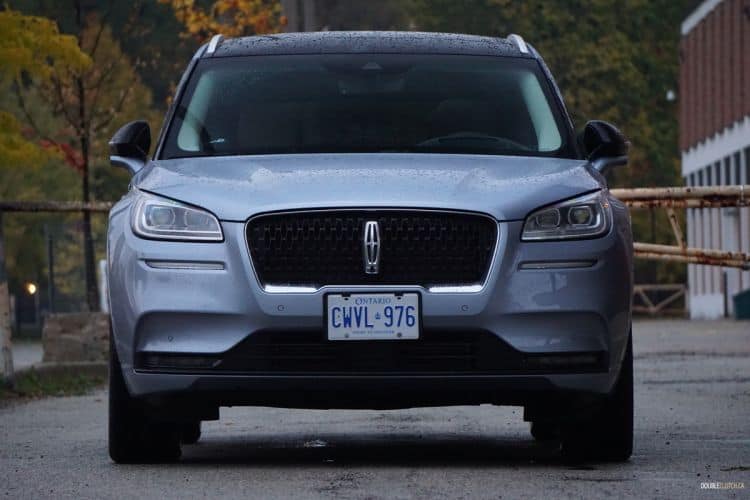 The Corsair goes out of its way to make itself easy to live with. Not only is it easy to drive, but it will largely drive itself if you're not in the mood, with excellent adaptive cruise and lane centering, and it will even park itself when after it's whisked you to your destination. This is a neat party trick, but honestly, the Corsair is small enough and easy enough to see out of, that we pretty much only used it to see it work. Head and leg room front and rear are excellent, with the rear offering best in class accommodation via a long range of adjustment. Cargo space is similarly commodious, and its fuel use of 10.1L/100km is right in line with everything else in its class, but it's happy to make do with the cheap stuff. It's a practical, thoughtful thing. 
We auto journalists are a notoriously fussy bunch, and the Corsair frustrated us exactly zero times – almost unheard of. Its greatest strength is integrating its understated design ethos with a comprehensive feature set into a package that's cohesive, and meticulously polished. It has it all, and does it all, skillfully. It's biggest foible is that sixty-some-thousand dollar sticker I mentioned earlier – this isn't to say you're not getting your money's worth, but it does place the Corsair right smack in the middle of the established players: Mercedes GLC, BMW X3, Audi Q5, and the Porsche Macan.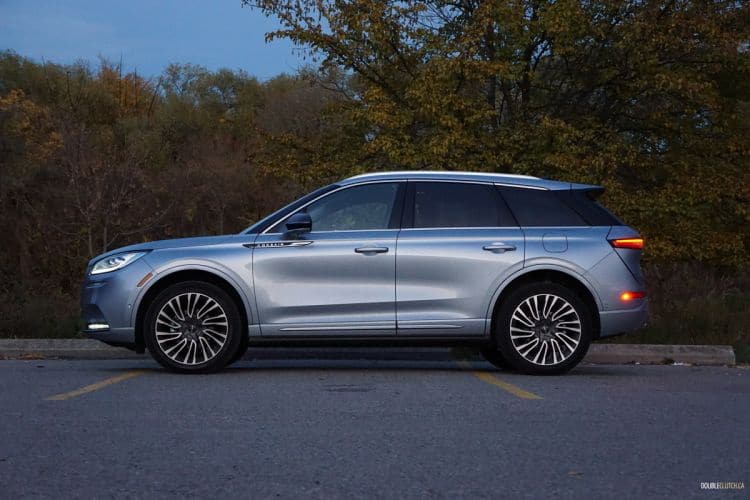 It may be in the same space as its European contemporaries, but it's not playing the same game. It offers a distinctly different, very American take on what a premium compact SUV should be. It's very inconspicuous, for better or worse. The 2022 Lincoln Corsair Reserve will require you to look inside yourself and ask what luxury means to you. It offers more for less, giving you everything and the kitchen sink, but you don't get a Porsche badge, or whatever other Euro crest your secret inner snob desires. What matters more: taking care of yourself, or taking care of what others think?
See Also:
2022 Lincoln Corsair Grand Touring