Due to recent world events, these past years seem compressed – it doesn't seem like all that long ago when Chevrolet unveiled the all new fourth generation Silverado.  And yet here we are taking a closer look at the mid-cycle refresh, specifically the 2022 Chevrolet Silverado High Country.
As we pull up to pick up our presser in a sea of giant pickup trucks the High Country immediately catches our gaze. The traditional ideals of a top trim truck are all here – Beautiful paint job, 22-inch chrome wheels, and lots of leather and wood the High Country ticks all the boxes; it's a statement maker for sure. Finished in a beautiful Dark Ash Metallic Grey, it seems to have an almost denim like blue tint in the right light which suits the theme of this truck.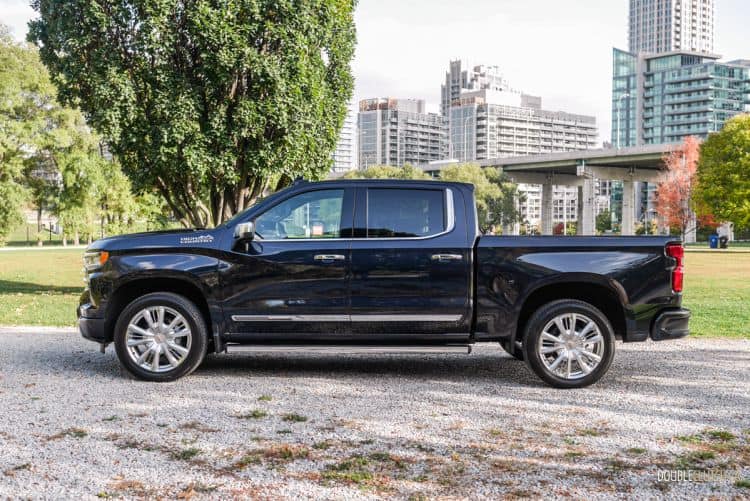 This latest Silverado has some tall body lines especially at the front end; the top third of the grill being divided on the other trim levels only serves to make the front end look even taller. Not so on the new High Country which gets a much more traditional chrome grill dialing down the aggressive looks – it's the easy choice if you're looking to keep things classy.
Speaking of tall, it's quite a climb to get up into this truck so we're very happy to find the optional power retractable assist steps which deploy quickly when a door is opened. Chevy has gone all out to make the bed as accessible as possible. The rear bumper retains a step like cut-out, there is a folding handle bar in the bed to aid ingress, and the Multi-Flex tailgate transforms into a step while also providing a multitude of configurations to help with loading and unloading. Both tailgate doors have dampers which take all the weight out of them.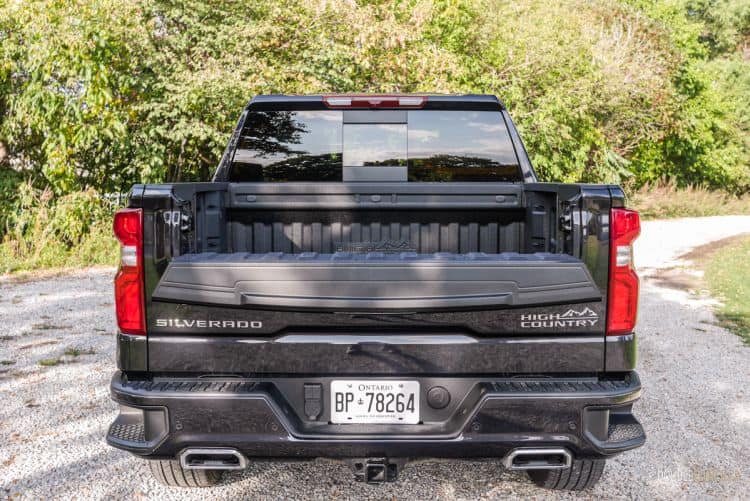 It may look a bit old school on the outside but the interior is anything but. New for the 2022 refresh is an updated interior, equipped with the latest in technology powered by Google. We now have a 13.4-inch touchscreen for the infotainment and a 12.3-inch driver information center (DIC) in place of the traditional gauge cluster. The DIC has several layouts, ranging to a full digital representation of the classic gauge cluster to a very modern minimalistic one with only a few digital readouts. Putting that big infotainment screen to use is an impressive array of cameras to assist with parking and towing providing 14 views.
High Country buyers will enjoy the Bose seven speaker surround system plus subwoofer, as well as a multitude of USB outlets, 120V outlets, and a wireless Qi charger. Overall the technology package truly brings the Silverado up to date with all the functionality we expect with an attractive, snappy user interface and wireless Apple CarPlay and Android Auto support.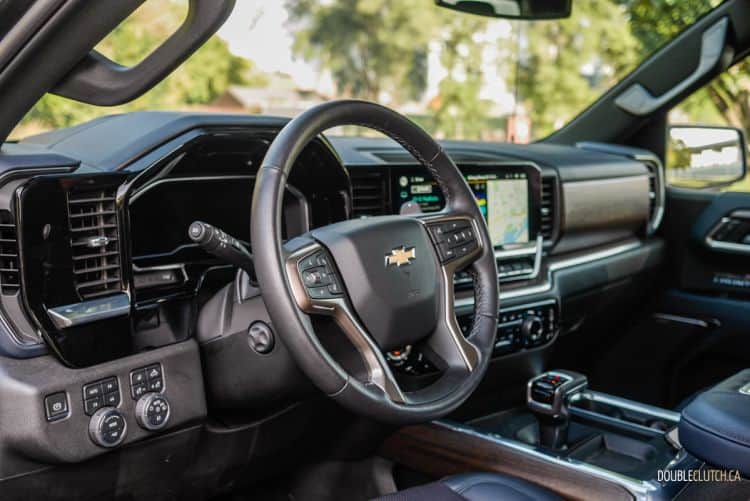 As with the exterior, the interior of the High Country is upscale in both materials and visual appeal. Our tester is equipped with Jet Black and Nightshift Blue leather with the obligatory open pore wood accents throughout. The bucket seats get the premium perforated leather treatment with some nice stitching details and are both heated and ventilated. Being able to activate the seat back heater separate from the bottom cushion is a novel feature and much appreciated by those of us with sore backs. The Crew Cab configuration extends the luxury treatment into the back seats, with plenty of head and leg room.
Also new is a traditional center console gear shift lever between the bucket seats which sacrifices some storage space for improved ergonomics. Despite this we don't think you'll be left wanting for more space as there are plenty of little storage areas of various shapes and sizes. We especially like the hidden second glovebox and two cubbies built into the rear seat cushion.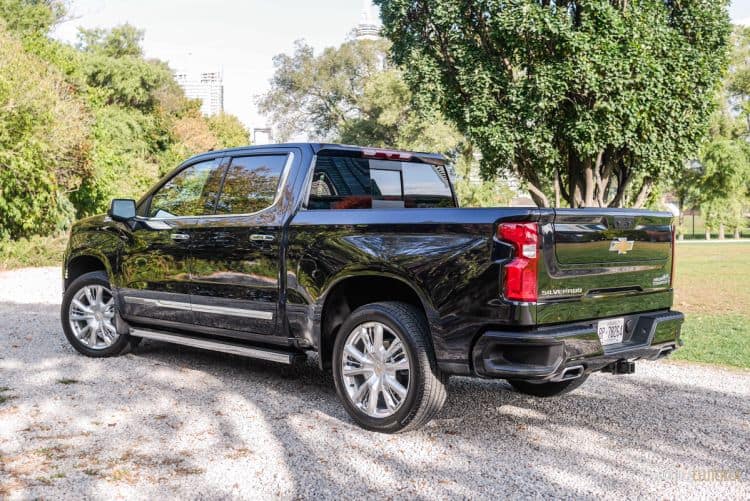 We were a bit surprised to find the 5.3-liter V8 under the hood of the High Country, though the 6.2L is an available option. The 5.3 puts out 355 horsepower and 383 lb-ft. which is just enough power to get this truck moving as it glides quietly and smoothly down the highway. With all the sound deadening we could barely hear the engine, often being caught off-guard as the engine auto starts because we didn't even realize it had shut off.
Mated to that V8 is a 10-speed automatic transmission which can automatically decide which of the transmission ranges should be used be it 2WD, 4-HI or 4-LO. It very shifts smoothly, imperceptible most of the time. Throttle mapping feels a bit lazy in Normal mode but Sport cleans this up. Our test vehicle has the optional adaptive ride control feature which adjusts damping forces on the fly. The system provides a comfortable body on frame ride quality with good body control through corners. We did find the initial bite of the brakes to be a bit lacking though overall performance is good.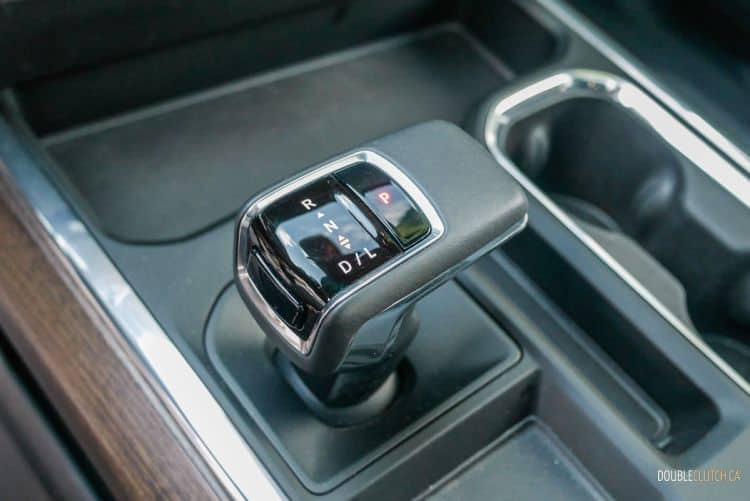 As we settled in for a long highway cruise, we engaged the cruise control and pressed a button to set following distance. We noticed a graphic on the DIC indicating the exact distance to the vehicle in front of us down to decimal points. As it turns out Adaptive Cruise Control is not equipped on this truck. Hopefully this is a function of the microchip shortage as it seems like a no brainer given all the other hardware and displays are in place.
Also noticeably absent from our tester were steering column lock, heated second row seats, and front and rear Park Assist. This one really caught us off guard as the park assist button is on the dash, and we did feel the safety alert vibration kick in while reversing though we later found out this was for the rear pedestrian alert or rear cross traffic alert. Rather than holding inventory back, Chevrolet dealers are delivering vehicles with missing components to be installed at a later date when parts become available and offering a small credit for each missing feature.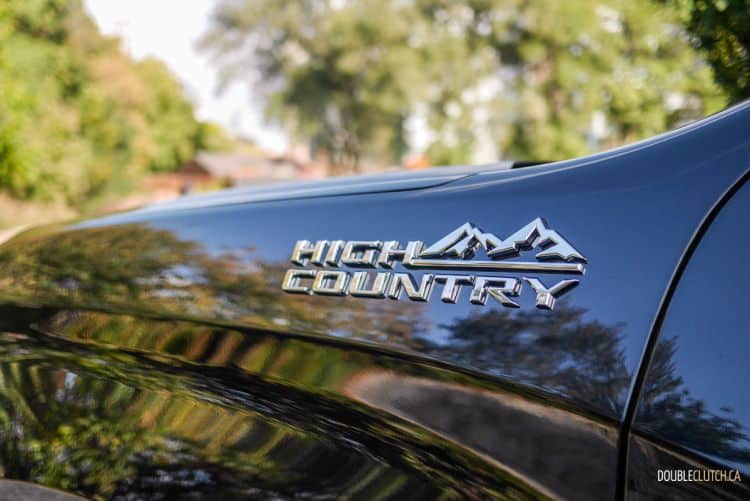 Our test vehicle was also missing the Dynamic Fuel Management system which can effectively turn off cylinders while cruising on the highway to improve economy. We still managed 12.1L/100Km which is pretty decent given the massive proportions of the Silverado 1500 and well within the rated figures of 16.8L/100KM in the city, 12.4L/100km highway and a combined 14.8L/100km.
For $42,903 you could bring home a Silverado 1500 with a regular cab, rear-wheel-drive, and a turbocharged four-cylinder. At the opposite end of the spectrum you'll find our 2022 Chevrolet Silverado High Country starting at $73,748. With all of the options, our tester came in at $79,568 including adjustments for the missing components. The Silverado has always had the metal to remain competitive, but this refresh really addresses its main weakness, the dated interior. In High Country trim, this truck is truly one to aspire to and something owners can truly be proud to own.
See Also: