2022 brought big updates to GM's full-size trucks, with a significant interior and exterior refresh aimed directly at addressing common complaints and shortfalls against competitors, many of which have been apparent since the current trucks were launched in 2019. Now fresh and ready to go head to head with its toughest competition, the GMC Sierra also boasts a new trim level, the AT4X off-roader. To see how these refreshed details, and brand new package, stack up in the red-hot pickup truck market, I spent a week with a 2022 GMC Sierra Crew Cab AT4X.
I tend to flip flop between preferring the Chevrolet or GMC variants, depending on the particular generation or trim level, and I have to admit that with the current generation of GM trucks I am firmly in the GMC camp. Where the front end of the current Chevrolet comes off as a bit over styled with its massive full-width grille, the GMC is a lot more traditional and conservative with a boxier grille and headlamps that flow better with the rest of the truck. Similar can be said about the bumpers and rear taillights which just look more refined than on the comparable Chevrolet.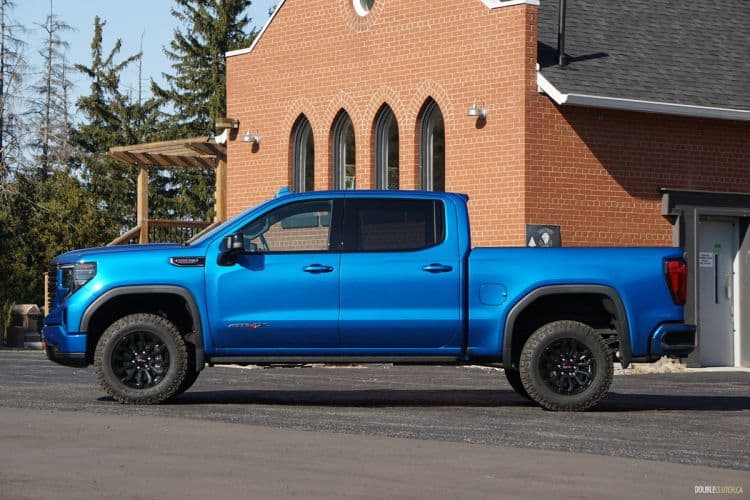 This all means that the GMC Sierra is quite a handsome truck, even though the current crop of domestic trucks all have hoods that are much too high. The AT4X looks particularly striking thanks to beefy skid plates, bright red tow hooks, 33-inch Goodyear Duratrac All-Terrains and optional black step bars that double as off-road rocker protectors. Ours came finished in Dynamic Blue Metallic, a bright colour that compliments the off-road kit and gloss black accents quite well.
The AT4X is a lot more than just some cosmetic off-road goodies though. It takes the already decent AT4 package and takes it a few steps further with MultimaticTM DSSV spool-valve dampers, unique off-road focused chassis tuning, and front & rear electronic locking differentials. That makes this a very capable off-road rig, without compromising on-road comfort or towing and hauling capabilities. If you intend to spend considerable amount of time off the beaten path, the AT4X is a worthy package that will allow you to tackle the tough trails.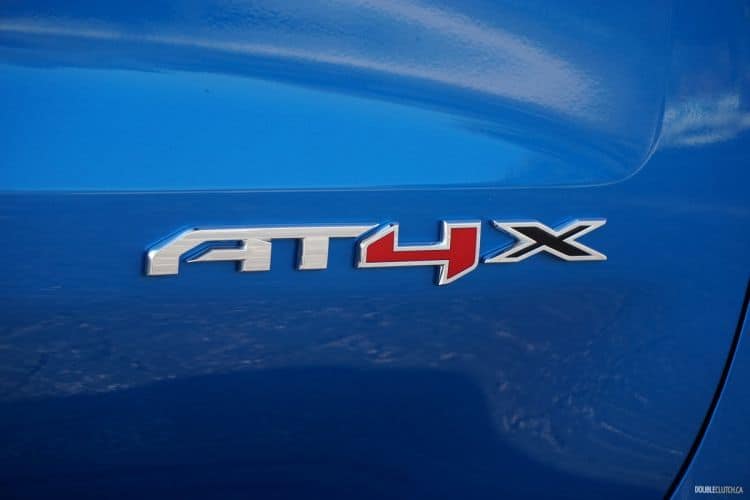 Unlike prior generations, in the current iteration there is a significant difference in dashboard layout between the Chevrolet and GMC variants, and again, the GMC captures my preference. It's visually sleeker thanks to moving the center vents above the screen, which allows for a shorter, wider, screen. The center stack has also been re-worked and is better integrated with the center console. I didn't notice much difference in ergonomics, but the trailer brake control has been moved onto the center console, which falls to hand easier if you use it frequently, but also takes up console space and is likely more susceptible to spills.
As an AT4X, our tester is quite a luxurious truck with some features on might not expect on an off-road oriented unit such as heated and ventilated 16-way power front seats with massage, Obsidian Rush interior with full-grain leather and technical grain leather accents complimented by authentic Vanta Ash wood. There are nice details such as leather wrapped grab handles, black faux suede headliner, and white piping with contrast stitching on the seats, door panels and dash.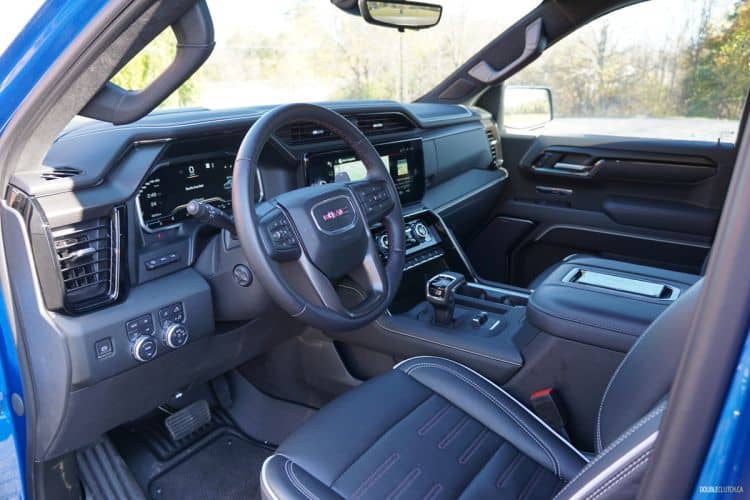 Of course, in crew cab format there's loads of space for the whole family, and plenty of well planned out spots to keep your stuff. Whether it's tools, equipment, safety gear, or just your everyday items, truck owners tend to keep a lot of stuff in their cabs and GM delivers with huge door pockets, a deep center console, optional under rear seat storage, and hidden storage cubbies within the rear seat backs.
One big upgrade for 2022 is the Sierra's infotainment system, which is totally new for and on SLT models and up resides in a crisp 13.4-inch touchscreen. The system looks great, responds quickly, is fairly intuitive to use, and offers new features such as wireless Android Auto and Apple CarPlay, as well as a built in Google suite including Google Maps.  There is a real volume knob, but no tuner knob, which can make surfing between the six country stations on satellite radio a little cumbersome.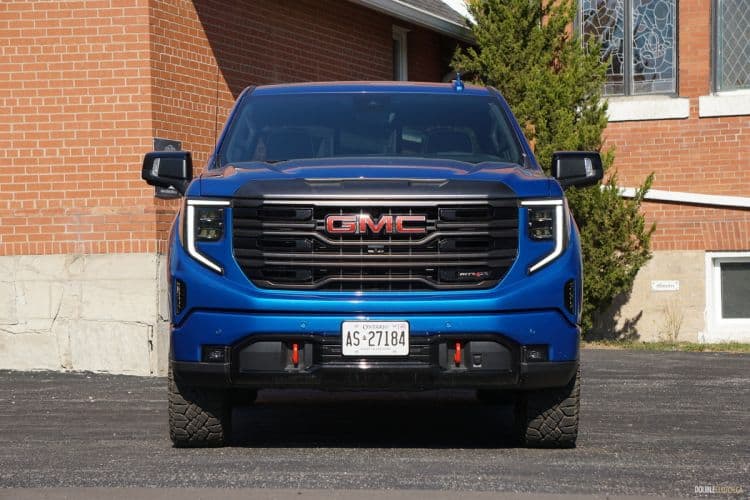 The GMC Sierra can be spec'd with a number of engine options ranging from a turbocharged four cylinder, two V8s, and a Duramax diesel. The only engine available with the AT4X package is the 6.2-liter V8 which comes mated to a 10-speed automatic. It makes a healthy 420 horsepower and 460 lb-ft. of torque, which moves the truck around with authority and grace. It's responsive, throaty, delivers gobs of nice linear power and if you're gentle with your right foot is capable of impressive economy.
However, unlike the Silverado ZR2 we tested awhile back, the 6.2-liter in the AT4X Sierra is surprisingly quiet; if you put your foot down there's enough sound to remind you that you're driving a V8, but it's not going to wake the neighbours in the morning. It's a simple naturally aspirated V8, with no turbochargers or mild hybrid systems, like you're finding in many of the Sierra's competitors, to create service headaches down the road.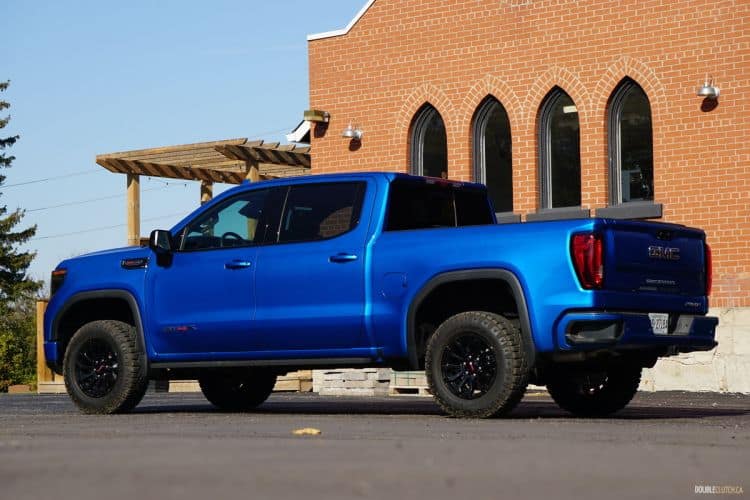 With the Sierra AT4X, we spent a lot more time on the highway, with maybe only 30% city driving, which resulted in a rather impressive 13.4L/100km observed economy. Premium fuel is recommended for maximum performance; it will run on regular, but the engine management system will detune to accommodate the lower octane and you'll feel the difference in available power.
Like the Chevy ZR2, the GMC AT4X isn't the hardcore over-the-top off roader that you'd find in a Ford Raptor or Ram TRX, but it is a step up from the likes of the F-150 Tremor or Ram Rebel. The key differentiator is the MultimaticTM DSSV spool-valve shocks, which are widely regarded as some of the most innovative and effective off road shocks on the market. That, combined with all the other off-road goodies, and a healthy 11.2 inches of ground clearance, you've got a truck that can really surprise even the most seasoned off-roaders.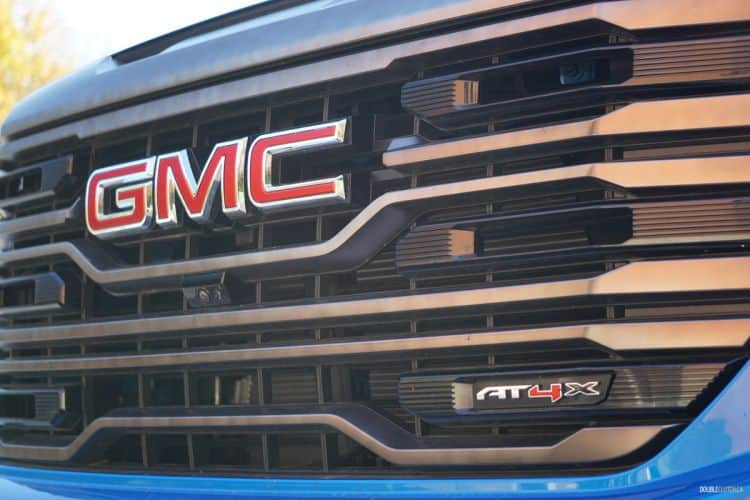 That said, we spent most of our time with the AT4X on the highway, and found it surprisingly comfortable and compliant on the road, again, thanks in part to the Multimatic shocks. Despite the chunky all-terrain tires, the truck tracks straight at speed, has confident on-center steering feel, rides smoothly, and offers minimal noise levels inside the cabin. I maintain that the GM trucks have the best steering feel and response of the current full-sized trucks, and this is no exception.
We're living in inflationary times, and trucks are far from immune, so a 2022 GMC Sierra AT4X is currently ordering for $93,203, and as an AT4X comes very well equipped, so the only option on our test truck is the high-clearance off road step bars for $1,340 which brings our as tested price to $95,038. That's in the same range as a Sierra Denali, where you'd be trading off some off-road prowess for some luxury. Regardless, the AT4X comes really well equipped with everything from a large power sunroof, to the massage seats, a 12-speaker Bose surround sound system, the Multi-Pro tailgate, advanced trailering package, and more.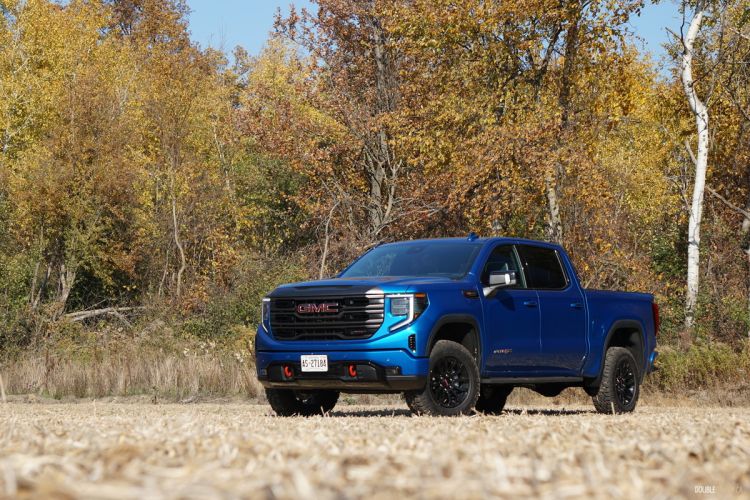 The more conservative looks and slicker looking interior of the Sierra bump it to the top of my full-size truck list. It just feels a little more refined and mature, and that makes it an even more compelling option in the segment overall. While trucks have come such a long way that it's really pretty difficult to pick a bad truck these days, the merits of the engine combined with the compliant driving manners put this truck at the top of its class. If it's the off-road element that has you shopping trucks, the 2022 GMC Sierra Crew Cab AT4X package is hard to ignore and delivers plenty of capability and equipment for everyone but the most hardcore off-roaders.
See Also: