Let's say we're doing something of a blind taste test, but with cars. Here's a recipe for you to chew on: Rear wheel drive, soft top, four seats, a close ratio 6-speed manual with limited slip differential and aggressive gearing, and a turbocharged four cylinder engine with forged internals and 330 horsepower. That sounds pretty great, right? Now, we take the proverbial blindfold off to see this thing and it's… a 2022 Ford Mustang EcoBoost Convertible. I probably almost had you excited for a second there, but then you heard it's a Mustang that's not a GT and you've tuned out. You're rolling your eyes at me right now. I know you are.
You're gonna roll your eyes all the way into the back of your head when I say this: I had more fun with this car than I did with the brawny 10-speed Mustang GT coupe we tested a few weeks ago. Seriously. Go ahead and laugh, I don't care. Go ahead and revoke my car guy cred, it doesn't matter. This Mustang does everything we as enthusiasts want cars to do, and we dismiss it out of hand because Mustangs without V8's aren't for real enthusiasts. If it had literally any other badge on it, it'd be a darling in the community.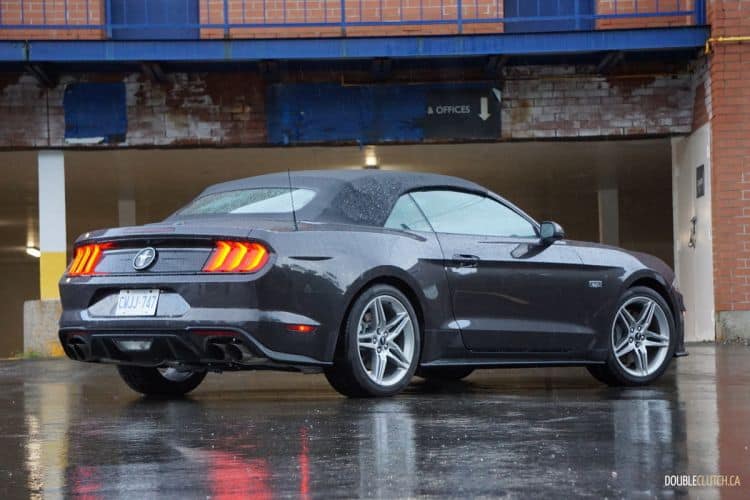 Car enthusiasts are a weird bunch. Even the most well adjusted person can quickly slip into gatekeeping, elitism, and condescension when the topic of cars comes up. We're nearly all guilty of it (myself included, but I'm working on it, honest), and it gets even worse within specific communities. Perhaps the most pervasive bias in all of car-dom is that any Mustang with anything other than a V8 engine under the hood is worthless; a sad excuse of a car for clueless poseurs. 
These gatekeepers tend to forget the Mustang was originally little more than a humdrum economy car with a sporty coupe body, and little more. Nonetheless, over the decades, Ford has developed the Mustang from an okay street car into a serious performance machine, with the current GT offering genuine world class capability on track. This is largely brought about by the incredible 'Coyote" V8 engine, which as I've noted previously, totally dominates the experience.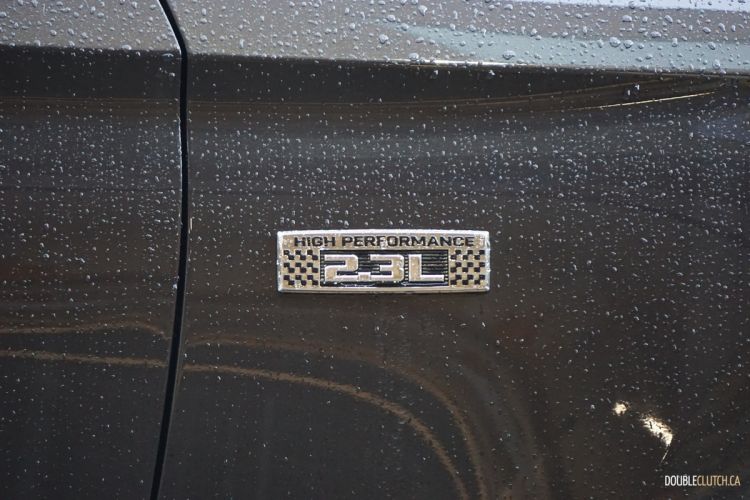 Without the added mass of that big quad-cam V8 hanging over the front wheels, the EcoBoost Mustang has better balance and brilliant handling. Perhaps moreover, without that same V8 stealing the show, you're left to focus on the excellent chassis and a more exploitable engine. I love a good V8, and in the past have been guilty of the same V8-or-nothing gatekeeping mentioned above, but this little four banger is just plain more fun to drive around town, especially when paired with the six-speed manual in our test car. You can actually, you know, use it.
The GT's monster motor feels like it's too much on the street, and this is amplified when paired with the manic 10-speed automatic. You're constantly tiptoeing around it, and it feels like there's never enough road to unleash it. The EcoBoost neatly avoids that problem, offering more than enough power to get you into trouble, but not so much that you can't play with it. With 330 horsepower on tap, It has more muscle than any of the allegedly badass GT models before the actually badass Coyote came around.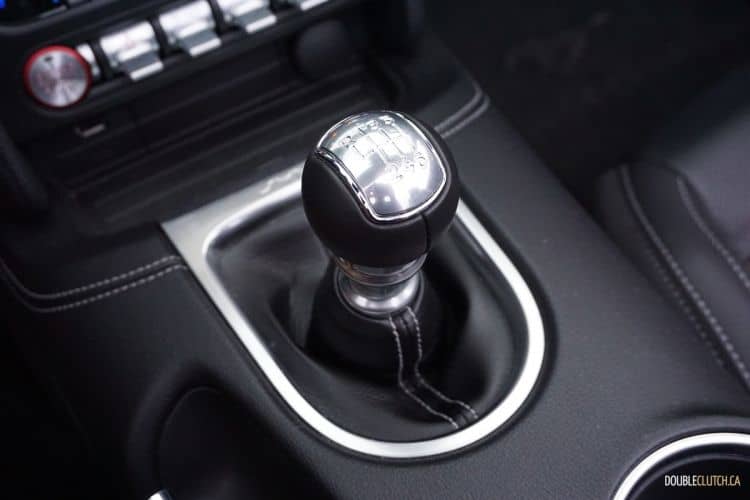 Our test car came equipped with the $6,500 2.3L High Performance Package (HPP), which adds a considerable amount of go-fast hardware for your money. This project originally began at Ford as a project to swap a Focus RS engine into a Mustang and pair it with some of the GT's hardware to support it. The package includes pistons from the aforementioned Focus RS, with a slightly lower compression ratio to allow a slightly larger twin scroll turbocharger to push more boost through the engine, generating 330 horsepower and 350 foot pounds of torque. This extra muscle is supported by a larger radiator, four-piston brakes from the GT, a strut tower brace, stiffer springs, shocks, and sway bars, and sticky Pirelli P-Zeros wrapped around exclusive 19-inch wheels. 
The results are very impressive, with terrific response and almost zero turbo lag above 1500 rpm. The powerband is a wide plateau, with torque coming in lower and power holding on higher into the rev range than the base car. This prodigious grunt is accompanied a very un-traditional soundtrack for a Mustang, as the tuned EcoBoost sounds pretty much exactly like a Focus RS, complete with the distinct bassy four-popper warble, whistling turbo noises, and piercing high-rev snarl that you'd expect from a sport compact tuner car. We found it best to leave the Active Valve Exhaust in quiet mode, as it sounds plenty meaty enough, and the louder settings mostly just turn the chunky thrum into a booming blat.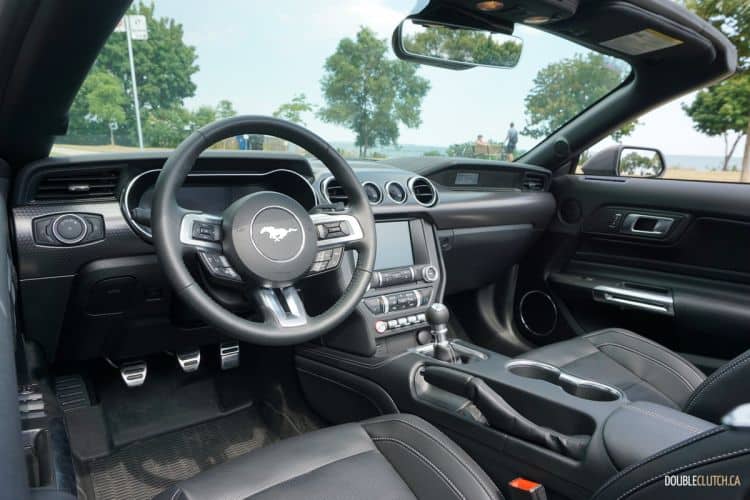 The engine is paired with Ford's MT82 six-speed manual transmission, which feels very much at home here. Its action is short, tight, and very mechanical feeling; maybe a little too mechanical sometimes. It calls for a very particular rhythm to avoid overly notchy 1-2 shifts, which is a common complaint against this gearbox – you can really feel the synchros working against the rev hang if you're not careful. I personally am accustomed to older cars, so I quite enjoyed that it felt like a literal box of gears as opposed to the synthetic toy-like movement of a lot of other modern shifters, but your mileage may vary. 
Otherwise, it was easy to use with clearly defined gates, a slightly heavy but easy to modulate clutch, and well positioned pedals. Rev matching, heel toeing, all that classic fun stuff comes very naturally, and the ratios are perfectly suited to this engine. It's paired with gloriously short 3.55:1 gearing in the differential, which allows you to engage with the car on your own terms and run through the gears without going a million miles an hour. Ford really nailed this, it's so satisfying.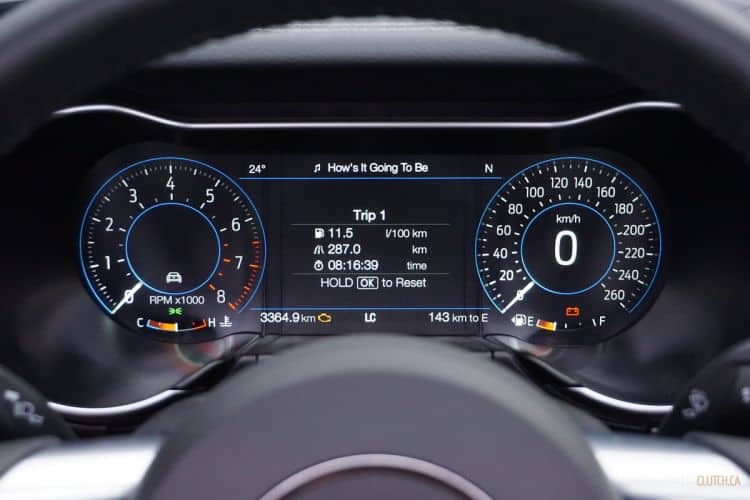 The Mustang is genuinely fun to drive in a way that few cars are anymore. It's confidence inspiring, engaging, and fast. The steering is recalibrated for the 2.3 HPP and is sharp, direct, and communicative, as is the entire chassis. It exhibits impressive reflexes and surprisingly good transient handling, as the traction control is also tweaked to allow a good few degrees of sideways action before dialing things back on track. With the traction off, the Torsen diff makes it easy to break the rear end loose on corner exits, and it simultaneously ensures it does so in an easily controllable way. This car makes you feel like a great driver without doing all the work for you; it'd be perfect to hone proper driving skills. 
The chassis is all the more impressive given that it's a convertible, which gives up some structural rigidity and adds some weight over the coupe body – I can only imagine how much better the coupe would be at a track. On the street, I felt the car handled admirably and never wanted to trade the open top experience for a hardtop's stiffer structure. The manual shifting experience and wind in the hair made it feel less like a four-cylinder Mustang and more like a big Miata. The soft top opens and closes quickly, with only one latch to twist to lock and unlock it. With the top up, the Mustang is quiet and reasonably comfortable, with NVH levels not far away from the coupe models. Cowl shake is definitely noticeable on rough roads, but not to a bad degree.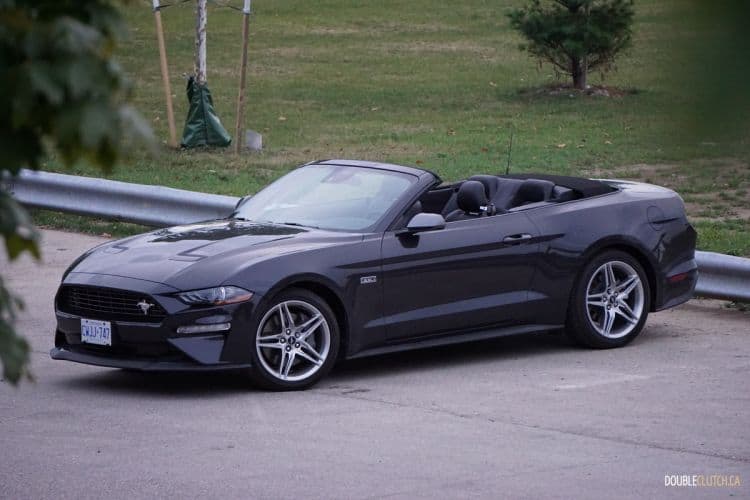 For all the fun and performance our EcoBoost convertible offers, it's reasonably practical, too. It's one of the few four seat convertibles on the market, and while the rear seats are tight, they're not completely useless, as is often the case. Cargo space is adequate, with the convertible top not taking too much away from the coupe's decent trunk. Our test car's B&O sound system sounded fairly good, although definitely geared on the bassy side – lots of wattage for open air tunage. As you'd expect with the performance tuned suspension, the ride is very much on the firm side, but stops well short of being abusive, and it's assisted by fantastic seats. 
Also as you'd expect, at less than half the displacement of its "Five-Oh" big brother, the Ecoboost returns good fuel economy as well. Our testing mostly lined up with Ford's claims, culminating in an average of 11.5L/100km. The lowest we recorded was 7.9L/100km on a highway trip on a dreary, rainy day, and even our worst-case-scenario city traffic only saw 13.8L/100km, which is about what our last GT model did as a combined average.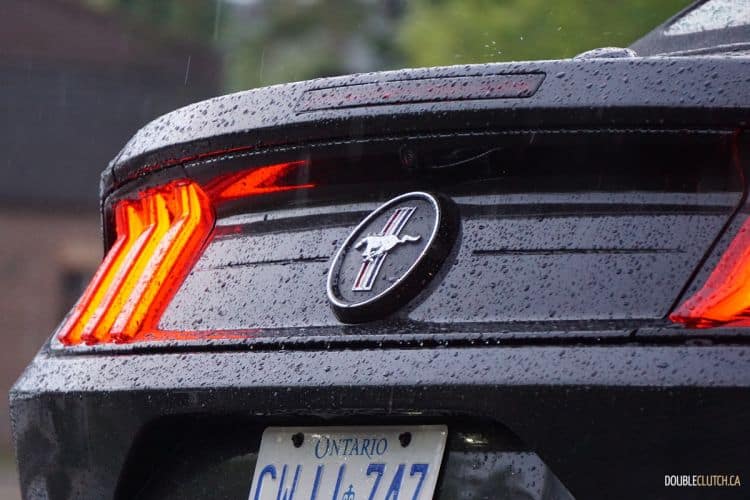 I keep bringing up the GT because the GT is the ever-present ominous shadow, lurking in the background of the 2.3 HPP. The GT is the one you're supposed to want, right? It's the one for real enthusiasts. You're supposed to want the big angry V8. You're supposed to want to be intimidated by the mighty Coyote engine. I'd counter that you're also supposed to want to drive your Mustang, and I'm not sure I'd want to drive that GT every day – in fact, I had a short week with it and I parked it for one of the few days I had it. In contrast, I had the EcoBoost for an extended period and drove it every chance I had. You could definitely make a daily out of it. 
Without the Coyote to dominate the experience, you're left to focus on the rest of the Mustang, which I'm delighted to say is an absolute gem with the resurrected Focus RS heart beating under the hood. It's a genuinely entertaining, and engaging driver's car that doesn't give up much in the way of practicality or usability. It doesn't ask you to give up as much your wallet either, as our tester rings in at $58,170 which, granted, is not a small amount of money, but it's also some $12,000 less dear than a comparably equipped GT, say nothing of the EcoBoost's advantage with running costs as well. If you really wanted, you could get into an HPP EcoBoost Mustang for about forty grand if you wanted to forgo the convertible top and leather seats.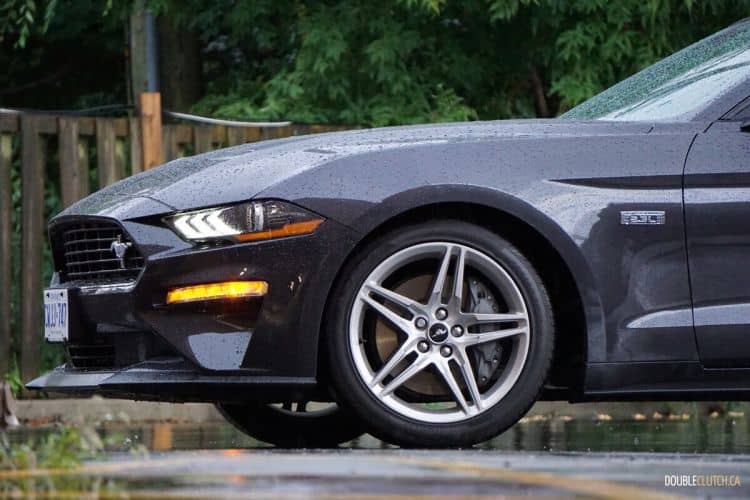 The Mustang GT has ascended into an echelon of performance that is, by and large, totally unusable most of the time. It's spectacular when you can use it, but the rest of the time you're stuck with a loud, ungainly, thirsty monster. The High Performance Ecoboost slots in underneath it very neatly, offering exciting, impressive performance that you can actually use in an attractive package that makes sense as a daily driver. The 2022 Ford Mustang Ecoboost Convertible ups ante further by offering all the classic open-air sports car thrills with hardly any of the drawbacks. This was not a car we expected to like as much as we did, and we suspect if you can let go of your V8 biases, you'll feel the same. 
See Also:
2021 Ford Mustang EcoBoost Convertible
2020 Chevrolet Camaro SS Coupe