Let me get something off my chest: I don't love modern cars, and I don't care at all about crossovers. I think they are compromised whatever-mobiles for people who don't care about driving. As a writer for a car magazine tasked with reviewing modern cars, and knowing full well that most of them will be crossovers because that's what absolutely everybody wants now, I try to keep up with what's new and what's happening, but again, because I don't really care and because there's so many of them, I tend to miss some things. For example, when I arrived at GM's local media center to pick up our 2022 Buick Enclave for the week, I had no idea what I was looking for. What does Buick even do these days? Oh right, crossovers. Blegh.
Standing in the parking lot not knowing what I was supposed to be looking for, I hit the unlock button on the remote and saw the lights on our tester flash. No word of a lie, I did the exact same thing as the actors in those "That's a Buick?" commercials from a few years ago. I saw our test car, and I audibly oohed, very surprised to see what was waiting for me. This thing looks contemporary, smart, and dare I say it: pretty. All of the sudden my week became a hell of a lot less dreary.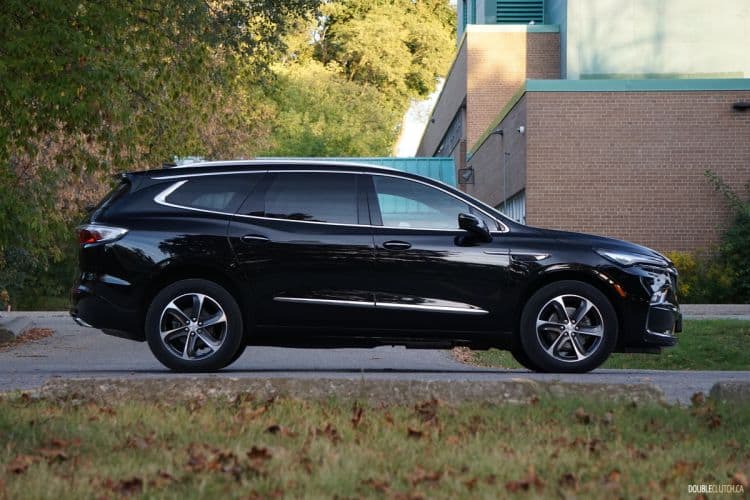 I deduced (again, I came into this stone cold with zero knowledge) from the size and the third row seating that the Enclave was the premium stablemate to the Chevy Traverse, which I reviewed not long ago and ended up really liking. Alright, so it's good looking, and it's built on a good foundation that should drive well, so we're off to a good start. I climb in and am greeted with a cabin space that's significantly more upscale than the Traverse, with elegant, asymmetrical sweeping lines, and tasteful use of materials and complimentary colors. The eight inch infotainment screen and the four-point-something inch gauge cluster display are familiar, but are augmented by nicer controls borrowed from the top shelf of GM's parts bin, and prettier gauges.
I opened the hood and discovered that the Enclave is motivated by the same 310 horsepower 3.6-liter V6 as found in the Traverse, and routed through the same nine-speed automatic transmission and the same all wheel drive system – all of which are excellent. Getting on the road verified that Buick saw fit not to mess with a good thing, as it delivers the same smooth character, linear powerband, and almost exactly the same fuel efficiency – 11.7L/100km. We did note the stop/start function wasn't quite as slick as seen in the Traverse, and it maybe felt like the throttle response was dialed back a smidge, but overall it's an excellent powertrain that gives the Enclave a healthy dose of refinement when you want it and athleticism when you need it.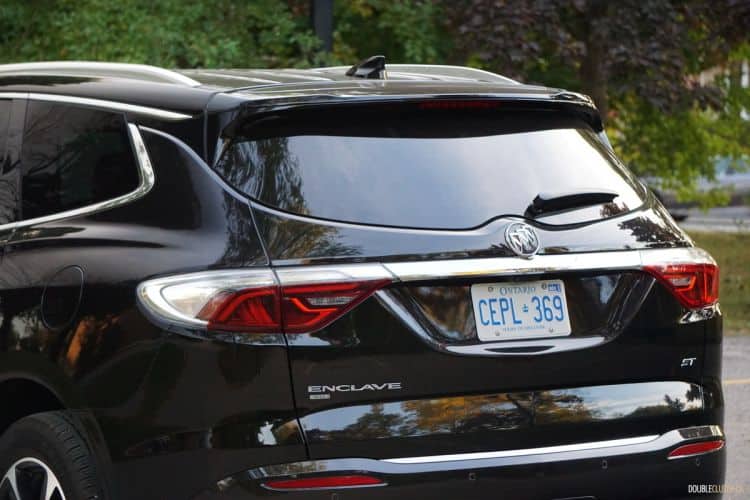 Conversely, the athleticism that the Traverse displayed in its suspension calibration is notably absent here. The Enclave is (as you'd expect) tuned to be much softer, with a much greater emphasis on comfort and isolation. Steering and braking are light and effortless, but feel natural. While it is very much on the doughy side, it stops well short of wallowing, and all body motions remain well controlled. This is part of what I would later learn to be part of Buick's QuietTuning, which incorporates acoustically laminated glass, vibration isolators, aerodynamic paneling, thermal baffles and liquid sound deadeners to make the Enclave whisper quiet and almost totally impervious to the harshness of dilapidated/missing pavement, even with our tester's twenty-inch wheels.
Those wheels are part of a new-for-2022 Sport Touring package, which includes a black mesh grille, black and/or body colored trim pieces, and those aforementioned twenty-inch machined and satin wheels. All these accouterments pair with an also new-for-2022 facelift, which sees the Enclave's sweeping lines complemented with sharper, more modern front and rear fascias, courtesy of tighter lighting and a revised grille design, and it goes a good job making the Enclave look more Euro-fancy. Our tester was also fitted with the $1,595 technology package, which adds a very effective adaptive cruise control, excellent surround view parking assist, and GM's trick Rear Camera Mirror that makes a crisp rear facing display out of the center rearview mirror.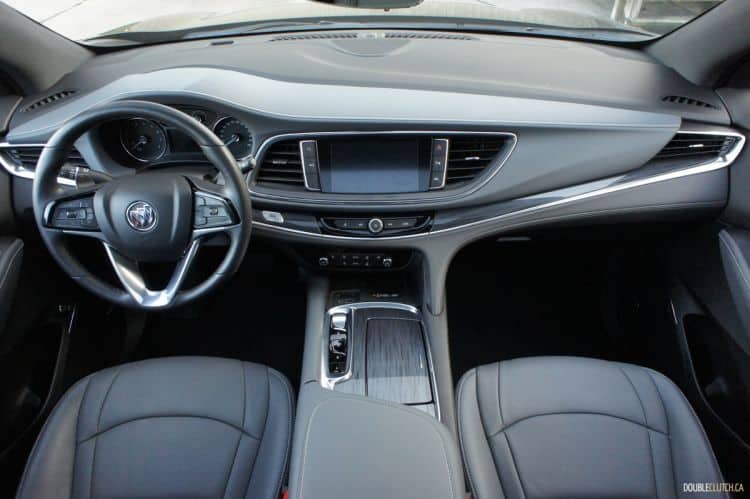 Upon further review of the spec sheet, I found our tester also came fitted with the $2,905 Experience Buick package, which… isn't the most creative name, but includes a moonroof and a rear skylight, a 10 speaker Bose sound system, navigation, and a 120 volt power outlet. This brought the total of our Essence trim (that means base) Enclave to $58,488, which makes it some six thousand dollars more than our Traverse RS tester, and we feel that with how much nicer it is, and with how much more comprehensive its standard equipment list is, it's money well spent. 
Moreover, it is many thousands less than its similarly sized competitors from Europe, and considerably more spacious than other upper-middle class three row competitors in the same price range. It's quieter and more comfortable to pilot than any of them, save for maybe the slightly smaller but oh-so lovely Mazda CX-9.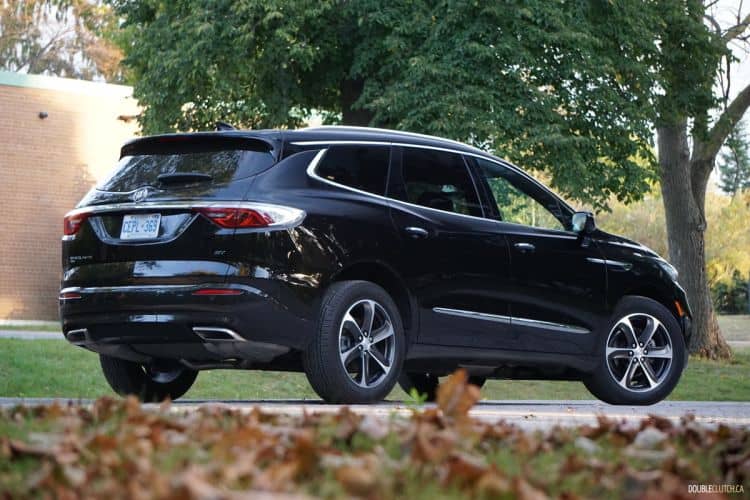 There are more engaging options in the segment, but if you're a fan of traditional elegance and smart style, with a priority on space, comfort and practicality above all, the 2022 Buick Enclave is a solid choice. The only criticism we can really level against it is that you might call it bland, but then again – it's this author's opinion that all these crossovers are bland, so what does it matter? This does everything people want crossovers to do, it does them all well, and it looks good doing it. I can get behind that.
See Also: