The 2022 Nissan Armada Midnight Edition is an interesting vehicle that really divided our team. One camp did not care for it at all. They said it feels dated, and there are too many more compelling options in that price bracket. In the other (my) camp, we really liked it. It's a huge, unabashedly old school truck based SUV that has absolutely no bones about being a huge, old school SUV. Car makers all know from sales figures that everyone wants a big SUV, but they also don't want to deal with a large, ungainly monster, and so they go to great lengths to make said SUV or truck feel smaller than it is. The Armada looks at that trend, looks at those consumer preferences, and says "no." It is gloriously unapologetic. 
My colleagues in the nay camp aren't entirely off base. The Armada feels like an older vehicle than it actually is, and this is mostly because it is an older platform, dating back to 2010. The Armada shares it's innards with the Nissan Patrol, which has long served in the rest of the world as Nissan's answer to Toyota's Land Cruiser. It has been and remains popular around the world for its unburstable reliability and toughness. For the North American market, the Armada maintains that tanklike hardware and garnishes it with a more upscale exterior design, and a more plush cabin.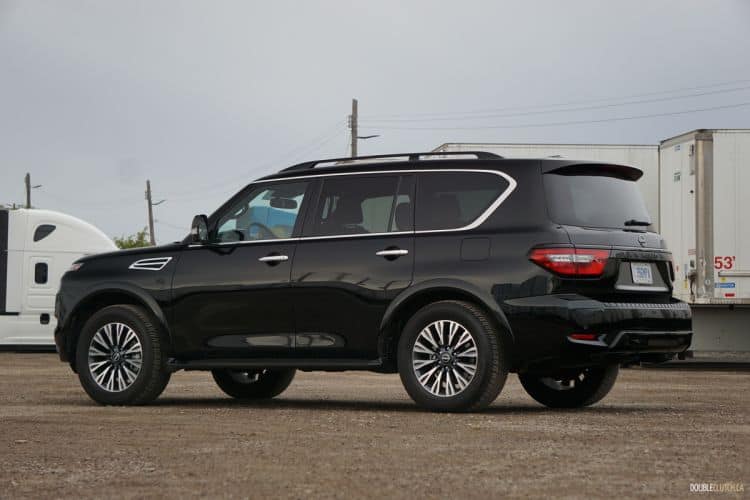 That engine carries the same tank credentials as the rest of the truck – it's the VK 5.6L DOHC V8 that Nissan has been using in its heavy duty trucks and commercial vehicles (and a brief but sweet stint in the M56 sedan) for more than a decade now. It's a peach of a motor, offering abundant, linear power and a very satisfying grumble you can only get from a big V8. With 400 horsepower and 413 foot-pounds of torque on tap, it's more than enough muscle to get this leviathan moving effortlessly. Said muscle is routed through a 7 speed automatic transmission, which we're pleased to report might be the best transmission Nissan offers at the moment – it's smart and seamless.
The styling is pretty excellent too, as the Armada's recent facelift combined with its unique extra-large Hoffmeister kink on the rear gives it a very commanding presence that's simultaneously elegant and a little intimidating. Our Midnight Edition features exclusive 20-inch  machined wheels and a blacked out grille, with pairs well with its obsidian paint to give it an even more menacing mafioso presence.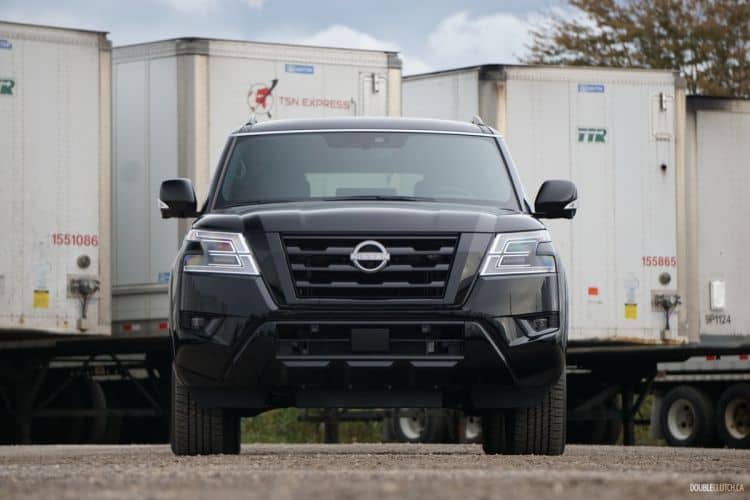 On the road the Armada feels mighty, and totally flagrant about being a giant, brawny beast of a thing. The steering is slow and very much on the heavier side, making every movement feel deliberate – this is accentuated by the Armada's use of hydraulic power steering, which makes it surprisingly feelsome and communicative. If you're used to modern vehicles with their quick, effortless and numb steering, it may not be to your taste, but I loved it. In keeping with the Armada's theme of bucking trends, it doesn't bother (like, at all) with trying to feel sporty. It's more than a little doughy, it rolls around a bit, and it feels ponderous – but not necessarily in a bad way. Again, this is a 5,900 pound behemoth and it doesn't even try to hide it, and I'm in the camp that believes it's all the better for it. 
The cabin space, which is similarly unconcerned about being anything other than plush, isn't quite as successful. It's a nice place to sit, featuring thick-feeling sumptuous leather pretty much everywhere and glossy finishes everywhere else. The seats are large, wide, and flat – captain's chair ergonomics are always a winner but a little more sculpting and support would go a long way here. All of the buttons on the center stack are, as mentioned, glossy piano black, which we never like – it's impossible to keep clean, and ends up looking chintzy in short order.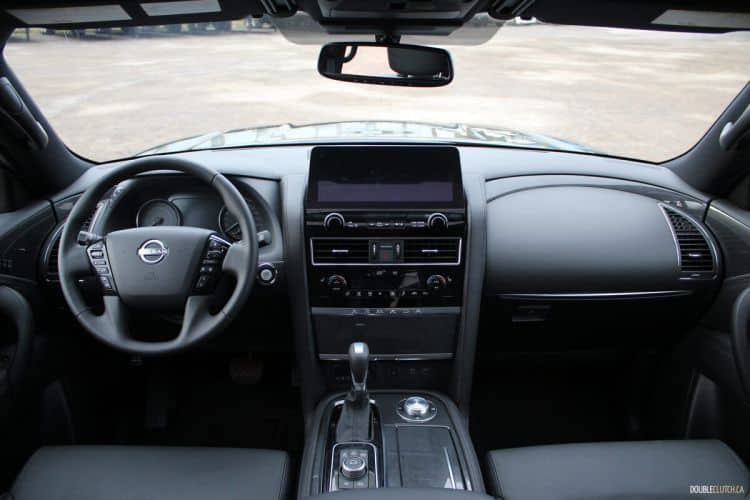 The swooping upper dash and lower center console are decorated with an alternating gray textured pattern that, much like the rest of the truck, divided us. Some liked it, some didn't. Nissan's UI makes a return and, again in keeping with the theme, works well enough but definitely feels a little past its prime. It's all intuitive enough, and in this iteration it's adorned with a wide 12.3 inch screen which is sharp, easy to see and generally responsive enough, but is held back by an aging aesthetic and very low resolution parking cameras. 
We also noted considerably more software quirks than we usually see on Nissan vehicles – for example, the text message function would frequently get confused and read me text messages from mid conversation from four years ago (which was hilariously awkward on a date night). We liked that Nissan offers an iDrive-esque knob and button system on the Armada, which allows for fairly intuitive physical control without having to reach out and touch the screen, if you're so inclined. Further, the Armada offers knob and button controls for all essential functions, which is a big win, even if they're all piano black.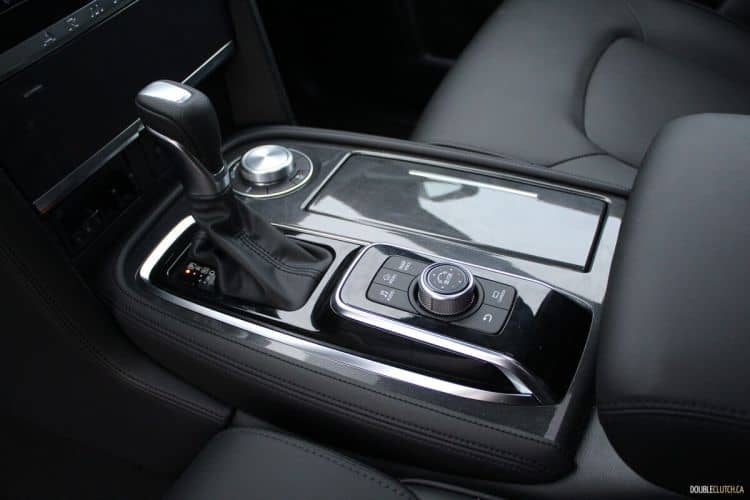 The Armada has another kink: as sweet as that motor is, it sure does like a drink. We'll add the caveat that there's a very wide spread, as we noted fuel usage below 11L/100km on a steady highway cruise, with it going up sharply in city driving – we averaged out at 14.7L/100km. For it being a huge old school tank with a monster motor, piles of seating and cargo space, and four ton towing capacity, it's not bad by any stretch, but it's not exactly the most frugal truck around. Speaking of, our Midnight Edition tester rang in at $72,998, which is a decent value for how much vehicle you get, but that also puts it within spitting range of some very compelling options – most notably the GMC Yukon Denali.
We like when a vehicle has a singular purpose around here, and is shameless about what it is. The Armada is an unabashedly old school, overbuilt beast of an SUV, and some of us adored it for that. For all its minor foibles, the Armada exudes a sense of classic durability that is unmatched in this day and age, and stocks just enough modern niceties and creature comforts to be an effective everyday warrior.  For everyone who has ever asked why they don't make trucks like they used to, the 2022 Nissan Armada Midnight Edition is that truck – for better or worse. 
See Also:
2022 Cadillac Escalade Platinum