Gas isn't cheap these days, so we don't blame you for wanting to save a few bucks on your next fill-up. There are many compelling reasons to go electric, but if you're not quite ready to flip the switch — and we don't blame you for that, either, because going electric requires a pretty big lifestyle shift — the 2022 Ford Escape PHEV could very well be the perfect stepping stone.
Plug-in hybrid electric vehicles (PHEV for short) are inherently compromised, but compromise isn't always a bad thing. The key with PHEVs is to marry an electric powertrain to a gas engine, offering a taste of emissions-free motoring with a back-up should those electrons run out. Sure, your electric-only range in a PHEV is a fraction of what you'd expect in a fully electric vehicle, but you can keep driving once you've used up those sweet, sweet electrons.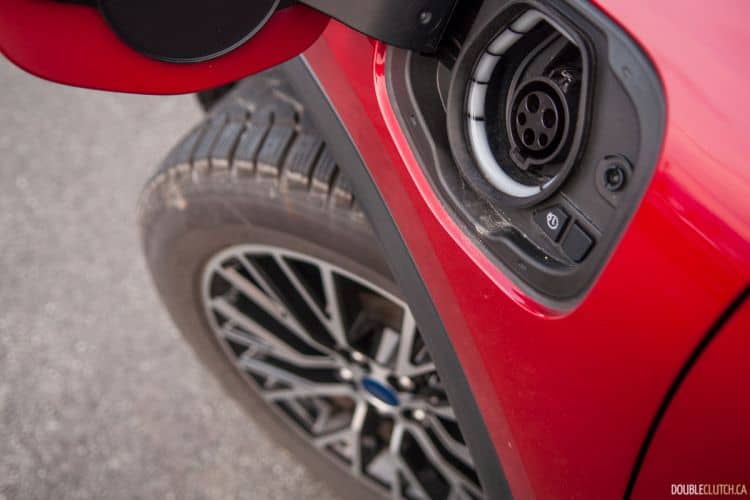 Launched last year and heading into 2022 unchanged, the Escape PHEV is powered by a normally aspirated 2.5-litre four-cylinder engine. That's augmented by a single electric motor and a 14.4 kWh battery pack, bringing the net system output to 221 horsepower and 155 pound-feet of torque. Frankly, it's a bit of a snooze-fest and the fact that your only transmission option is a CVT doesn't help.
On the highway, anything more than half throttle forces the Escape into gas-only mode, coaxing seemingly endless groaning and droning out of the gas engine, not to mention a borderline hilarious amount of torque steer — the Escape PHEV is front-wheel-drive-only, which may be a detriment for some buyers here in Canada — as you get up to speed. The Escape doesn't like going fast, and you'll hear about it.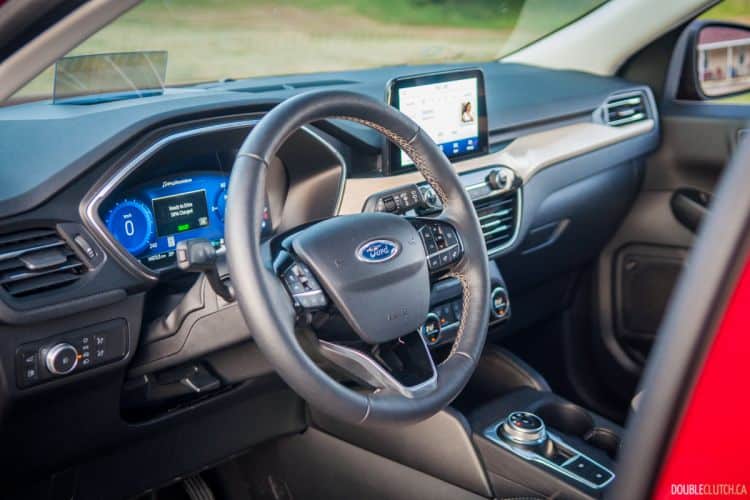 But just like you don't buy a pair of Louboutins to run a marathon, you don't buy an Escape PHEV for the performance. Instead, you buy it for the fuel economy and road manners. Here, the Escape is an all-star: it'll happily — and silently — putter around town in electric-only mode, keeping your fuel-burning to a minimum. Ride quality is pretty good; the Escape is a little jarring over bigger bumps and potholes on the highway, and there's a touch more road noise on the highway than a Toyota RAV4 Prime, but around town in electric mode, the Escape is pretty serene.
And how 'bout that fuel economy. On paper, the Escape PHEV sips 2.2 litres equivalent per 100 kilometres in EV-only mode, and when the gas engine kicks in, that climbs to 5.5 L/100 km in the city, 6.2 on the highway, and 5.8 combined — that's better than the Hyundai Tucson PHEV, and more or less on par with the RAV4 Prime. Of course, your mileage may vary wildly based on where you drive, but over the 2,400 km we covered with the Escape mostly on the highway, the trip computer settled at 5.5 L/100 km — and about 870 of those kilometres were electric. 
Speaking of, the Escape's electric-only range is commendable. At 60 kilometres on a full charge, it again bests the Tucson but not the RAV4, although it's generous enough that most round-trip errands and commutes won't burn a drop of gas. Fully recharging the battery from empty takes about 10-11 hours on a standard 110-volt outlet — call it overnight — and bumping up to a Level 2 or a 220-volt outlet cuts that charge time down to 3.5 hours. 
Like the closely related Lincoln Corsair Grand Touring, we found the Escape PHEV's drive modes surprisingly useful. Drive modes are typically a set-it-and-forget-it gimmick, but we kept flipping between the default "Normal" mode for tooting around town and "EV Charge" mode on longer highway jaunts to put more juice in the battery via regenerative braking.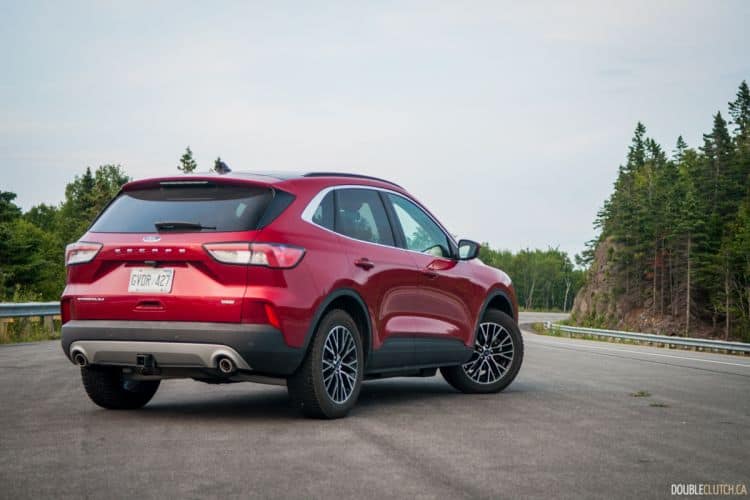 Save for the charge port on the driver's side fender, the Escape PHEV is virtually identical inside and out to its gas-powered siblings. Two years into its run and the current-gen Escape is a handsome-looking sport-ute, but there's a refresh coming for the 2023 model year that's slated to introduce freshened styling all around — and hopefully inside, because that's where the Escape needs the most help.
Let's get the good stuff out of the way first: visibility is excellent, the infotainment is easy to use, and there's no shortage of physical buttons and knobs controlling basic functions. The Escape is reasonably roomy, too: there's plenty of headroom and legroom regardless of where you sit, and with cargo space punching in at 974 litres with the seats up and 1721 with them stowed, the Escape is a touch roomier than the Tucson PHEV and RAV4 Prime with the seats up, but both the Hyundai and Toyota have the edge when those rear seats are stowed. Still, the Escape is more than competitive.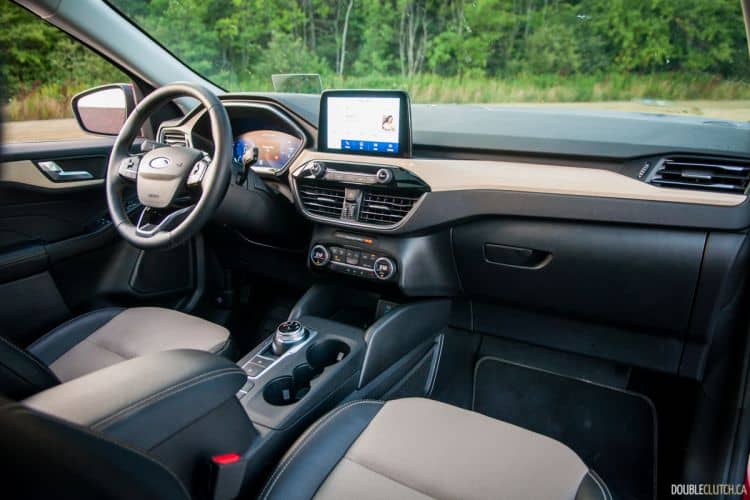 Unfortunately, Ford could've sweated the finer details a little better. PHEV or not, material quality and fit-and-finish aren't a strong suit for the Escape, with lots of scratch-prone hard plastic throughout and a surprising amount of rattles. Here's hoping Ford classes up the joint with the 2023 refresh.
Price-wise, the PHEV is right at the top of the Escape lineup. There's only one way to spec it — fully loaded — but starting at $43,749, it's good value compared to the Tucson and RAV4 Prime, both of which handily cost a few grand more. Notable standard features include a hands-free liftgate, LED lighting all around, power-adjustable seats with memory settings — seriously, never underestimate memory seats — plus a heated steering wheel and a laundry list of active safety bits, including adaptive cruise control, lane-keep assist, and blind-spot monitoring with rear cross-traffic alert.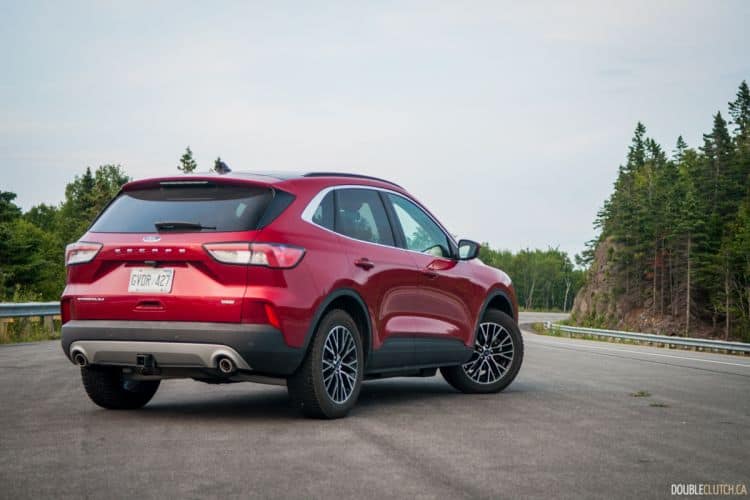 The only notable options on our particular tester were fancy red paint, a trailer hitch, and a package that adds a panoramic sunroof and wireless charging, bringing the as-tested price to $47,099. That's pretty good considering a fully loaded Tucson PHEV and RAV4 Prime are well above the $50,000 mark, although to be fair, those two come standard with all-wheel-drive.
In the ever-growing world of mainstream, plug-in hybrid crossovers, the RAV4 Prime is a 302-hp hot rod with the most electric range of the bunch, but it's pricey. The Tucson PHEV puts up a good fight for less money, but some may be put off by the polarizing looks. This leaves us with the 2022 Ford Escape PHEV: while it could benefit from a glow-up on the inside, and its FWD-only configuration may be a detriment, the Escape's efficient powertrain and palatable price make it a near-perfect stepping stone for those looking to dip their toes into the world of EVs — without dropping more than $50,000.
See Also:
2022 Lincoln Corsair Grand Touring