The 2022 Jeep Wrangler Rubicon 392 should not exist if you were to listen to the green evangelists that have stated that gas powered vehicles have no place in society today. Owning one of these bad boys is basically a middle finger to all the hybrid and EV owners on the road. However, there is still a good number of people out there that love naturally aspirated gasoline motors, and this one commands their attention.
Since the Ford Bronco was released several months ago, the Jeep Wrangler never had any real competition in the market. The fresh design and wide range of available models has been a winner for Ford who is struggling to keep up with demand. In order to keep interest high and make one of the baddest off road vehicles of all time, Jeep decided that a V8 Hemi with all the suspension tricks would help keep Ford at bay. Did they succeed?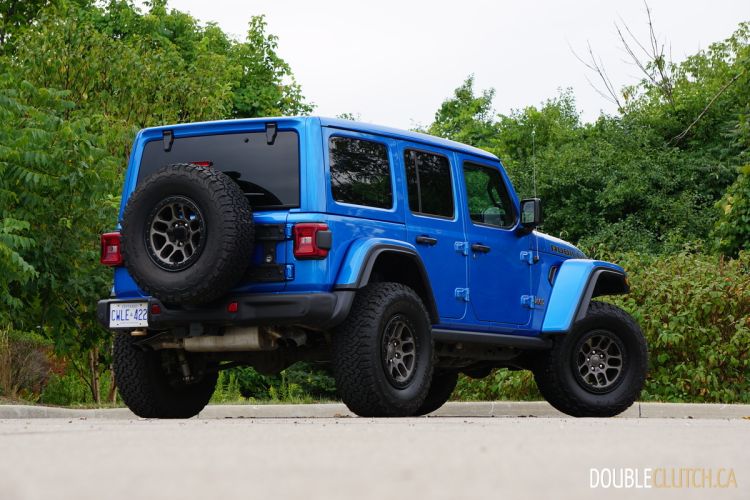 The 2022 Jeep Wrangler Rubicon 392 ticks off all the boxes to go head to head with the competition and throws in the kitchen sink. This off roader commands attention wherever it goes and that also includes city streets. This is due to the wonderful exhaust note and massively tall ride height. Yes, the overall design looks like a regular Wrangler, however the bulging hood, bronze tow hooks and 35 inch wheels bring a bit of brawn to the table.
Jeep enthusiasts have waited decades for a V8 to be stuffed under the hood of a Wrangler and the faithful will not be disappointed. A 6.4-liter HEMI is packed into the Rubicon 392 and while it's mostly good news, the one major sore spot is hard to ignore. Power is more than sufficient with 470 horsepower and 470 lb-ft of torque on tap. A 100km/h run from a dig takes 4.5 seconds and it hits the quarter mile in 13 seconds. The engine sounds great and when you tap the dual mode performance exhaust on.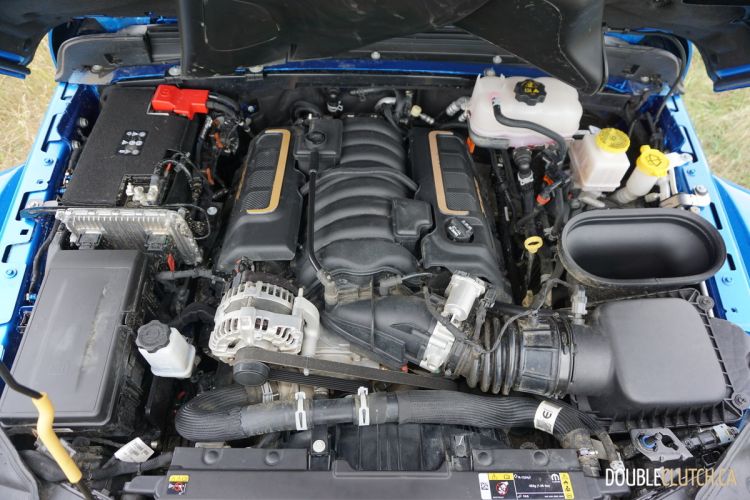 Sadly, the huge weak spot when choosing to own a Wrangler 392 is the gas bill. This Jeep is thirsty. Every time I looked down at the fuel gauge at a stop light, the needle had moved slightly. During my test week, I observed an eye popping 18.8L/100km in mixed driving. Cylinder deactivation is present, and the official numbers are 18.5L/100km city and 14.1L/100km Highway. With the aerodynamics of a brick, this is pretty much expected.
The high torque capacity TorqueFlite 8HP75 eight speed automatic transmission allows the Wrangler 392 to handle the power found under the hood. There are paddle shifters behind the steering wheel but they're slow to respond and not really well-suited to the Wrangler's personality. Sadly, a manual transmission is not even offered – for this you'd need to stick with the regular 3.6-liter Wrangler.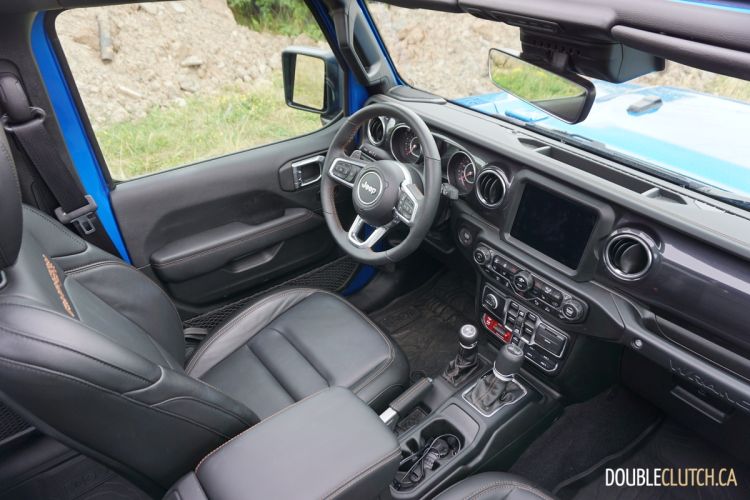 The Wrangler 392 has been outfitted with the Xtreme Recon Package that includes 35 inch tires that look fantastic and Fox High Pressure Shocks. It's great for those that take this bad boy off road but a handful for those that stick with city and highway commutes. The Wrangler's steering was never something to rave about and is pretty much the same here, just amplified slightly. Course correction is a constant and encountering rough roads at high speed will produce white knuckle driving.
With the addition of a few nods to the 392 engine sprinkled throughout the interior, there is not much different from the lesser priced models and that's okay. Our tester has the optioned Sky One-Touch Power Top which is one of my favorite features and a must have. Roof open, windows down or doors removed is truly an experience. Wireless Apple CarPlay and Android Auto are present. A rather small 8.4 inch multimedia touchscreen is standard here but is snappy in its operation.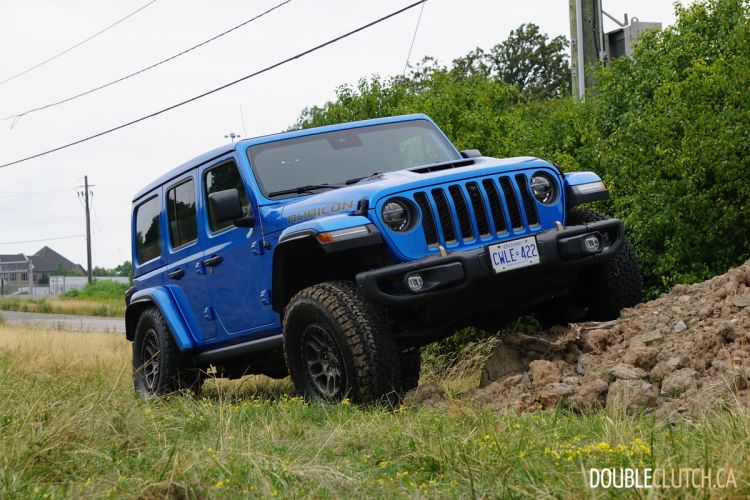 Pricing for the 2022 Jeep Wrangler Rubicon 392 starts at a heart stopping $101,445. The 2023 model starts at a couple of thousand dollars more. Our tester rang in at $116,890. A Ford Bronco Raptor starts at $99,995 but packs a boosted V6 rather than a V8, so there isn't all that much in terms of competition.
While the 2022 Jeep Wrangler Rubicon 392 may be out of the reach for most buyers, it is something that Jeep needed to give its customers. With the Bronco taking its fair share of this market being the new kid on the block, the Wrangler needed a response. While jokes have been made about stuffing a HEMI into all Stellantis products, this one actually made sense. While far from perfect, it does make you smile when you're just cruising around or taking the trail off the beaten path.
See Also:
2022 Jeep Wrangler Rubicon 4xe