We always look forward to the release of a new Range Rover model. Having established itself as king of the SUVs for decades now, the British icon is a truly special vehicle with a global following. Once known as a strict off-roader, this 2023 Land Rover Range Rover P530 also offers an exquisite balance between capability and no-compromise luxury motoring. Once in a segment of its own, we spent a week with this latest Range Rover to see if it still reigns supreme after a number of rivals have shown up to level the playing field.
The Range Rover is the original no-expenses-spared luxury SUV, but as the crossover and sport-utility market continues to expand, models like the BMW X7, Mercedes-Benz GLS, and Bentley Bentayga have arrived in the form of serious competition. While each of these offer their own unique styles, powertrain configurations and experiences, the Range Rover remains the only vehicle of its kind that offers this level of capability. It truly is a do-everything vehicle that will support a variety of lifestyles.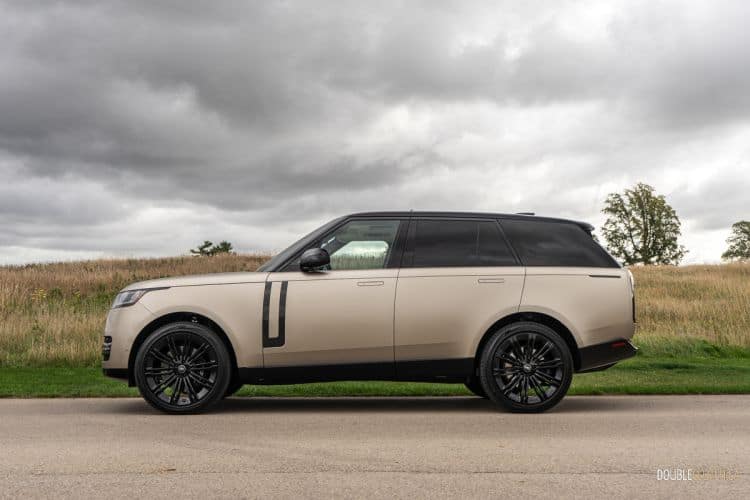 Though the latest Range Rover doesn't look like a massive departure stylistically from the model it replaces, it is a full redesign. The classic British styling remains, with the most obvious change being a new wrap-around taillight bar design that looks like nothing else on the road. The massive two-box look is fantastic and offers a commanding presence as well. It's still a very elegant look and is a good choice from those who don't want the gaudy big-grille of the BMW or the overall bling factor of the Bentley.
Powertrain offerings are revamped as well, and the Range Rover now offers three new configuration. Base models get a turbocharged inline six-cylinder engine mated to a 48-volt hybrid system, called the P400. A plug-in hybrid variant known as the P440e is available on the short wheelbase Range Rover, but the one you really want is the P530. Tested here, this top-dog engine option is actually sourced from BMW, but this isn't a bad thing in the slightest.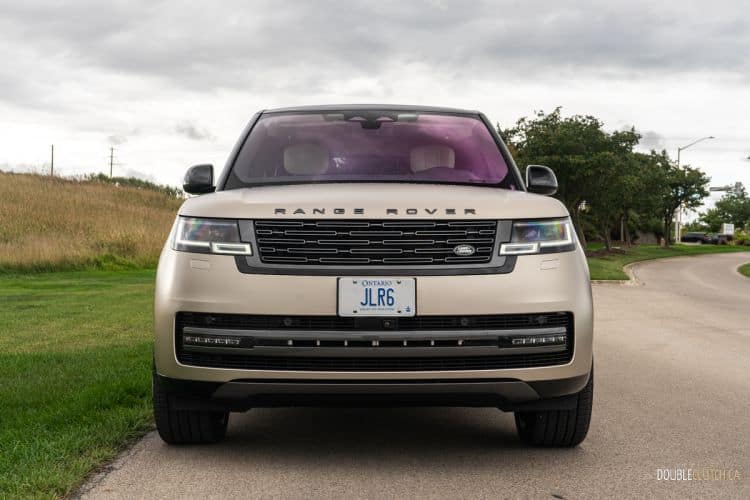 Known as the "N63" in BMW lingo, this 4.4-liter twin-turbocharged V8 puts out 523 horsepower and 553 lb-ft. of torque. It does replace the creamy smooth Land Rover 5.0-liter supercharged V8, but after driving it – this is a very good thing. While the BMW V8 lacks the personality of the old mill, it offers better response, overall performance, a great noise, and best of all – better efficiency. Land Rover claims an acceleration time to 100km/h of 4.6 seconds, which is seriously fast for a six-thousand-pound SUV that has the size footprint of a Toronto condominium.
The Range Rover has superb body control as well, to a level we haven't seen this side of the Rolls-Royce Cullinan. It has confidence in the way that it wafts along the highway, and it absorbs bumps, road imperfections, and noises imperceptibly. The four-corner air suspension is adjustable for a variety of uses, and delivers the best ride quality in its class by a wide margin. Our tester was the short wheelbase model, though we've spent brief time in the longer one and found no appreciable differences. All-wheel-drive is standard on all Range Rovers sold in North America.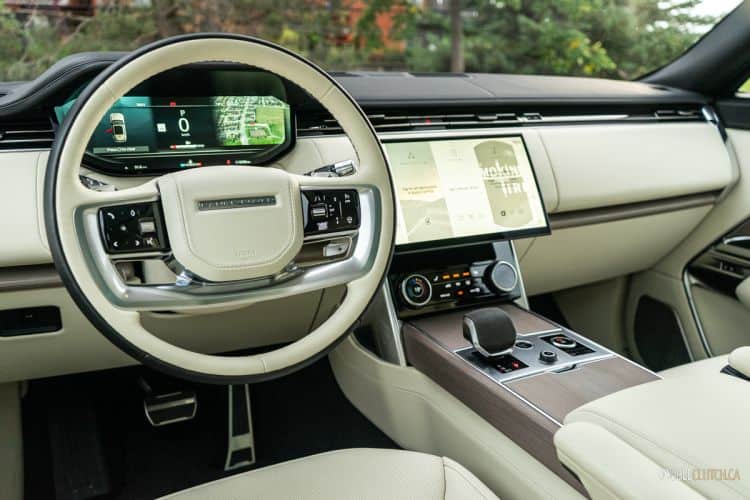 We observed about 12.3L/100km in combined driving over nearly 600 kilometers traveled, with a mix between city and highway driving. One longer highway run yielded 10.4L/100km, which is astounding and surpasses all manufacturer claims for this model. The massive 108-liter tank will help with longer travel range before needing to refuel, and naturally requires 91-octane premium gasoline.
Stepping into the cabin of the Range Rover, occupants are immediately reminded that they are in one of the highest quality vehicles money can buy. Every single material is top-notch, and fit and finish is some of the best in the world. Front passengers get superbly comfortable leather seats that are heated, cooled, and offer a number of massage settings. The rear seats are also adjustable and fit for executives, with an array of variables to be altered for the utmost comfort. For the first time ever, a third row is available on the big Rover, and while it's fairly useless for adults, it still makes for a good occasional use case.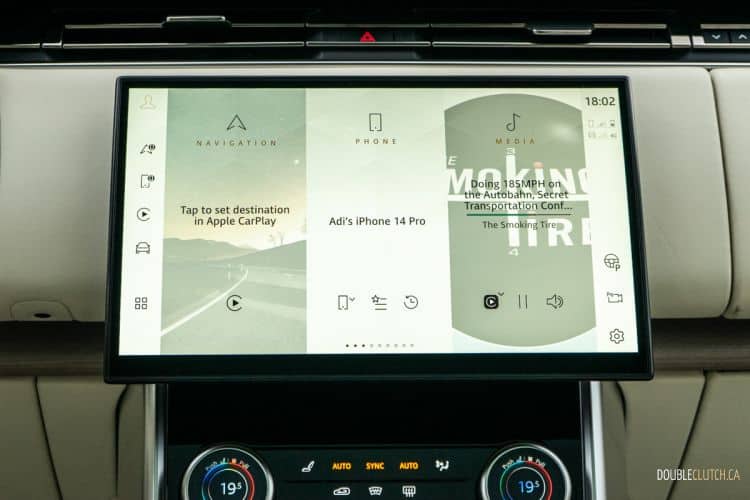 A 13.1-inch curved touchscreen houses the infotainment in the Range Rover, using a system Jaguar Land Rover calls Pivi Pro. Apple CarPlay and Android Auto can be operated wirelessly, though we tried the native interface and found it to be a vast improvement over JLR systems of the past. We found connectivity to be easy and seamless, with graphics quality rivaling that of BMW and Mercedes-Benz. The 35-speaker Meridian stereo is also an audiophile's dream, and the noise-canceling technology works well with the double-paned windows to offer a truly serene experience.
Pricing starts at $126,550 for the base SE with the mild hybrid powertrain. Opt for the big V8 and it automatically bumps the price to $143,900. Our First Edition tester came jammed with 23-inch wheels, 24-way power seats, rear entertainment, and a $9,400 paint job in Sunset Gold with a satin finish. All in, it came in right around the $200,000 mark before the new luxury tax, additional fees and sales tax.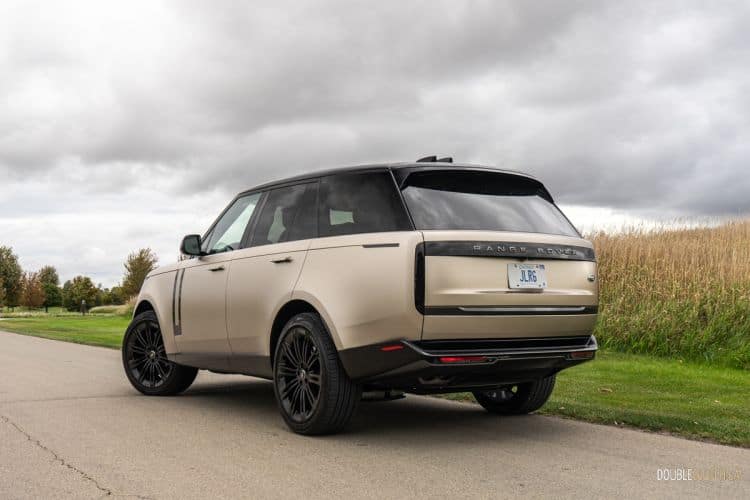 The competition is fierce, though in the super-luxury sport-utility game there are a few options. The Aston Martin DBX starts around this price point, however offers a sportier drive. Bentley's Bentayga is essentially a gussied-up Audi Q7, and we haven't found it to offer ride quality even close to what the full-size Range Rover brings to the table. If off-road capability is even somewhat on the priority list for your luxury ute, the 2023 Land Rover Range Rover is still the king – comfortably still holding its spot on the throne.
See Also: