In 1997 Nissan introduced the name "Frontier" to replace the outgoing Hardbody compact pickup truck. We now have a third-generation Frontier – this time a dedicated mid-size pickup exclusive for the North American market and the lone truck in Nissan's lineup. We spent a week with the 2022 Nissan Frontier PRO-4X King Cab to see how this stacks up.
The new Frontier has grown five inches over the previous model and is available in both King Cab and Crew Cab configurations. Both are the same overall length so it's up to buyers to prioritize. It's either cab space, or an extra 13.7 inches of bed length and an additional 130 lbs of payload capacity. In doing so, buyers will save a few thousand dollars as well.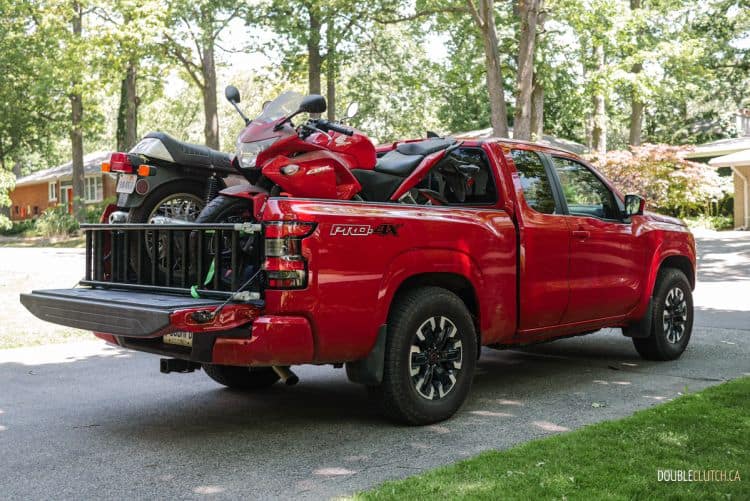 The new chunky styling of the Frontier is finished in a "Red Alert" paint job on our tester making for an eye-catching, handsome truck. The PRO-4X trim adds lava red accents, overfenders, skid plates and all terrain tires. Our tester's bed came equipped with spray-in bedliner, the Utili-track® Channel System with tie-down cleats, and under-rail bed lighting to make hauling a breeze. We were able to safely transport a pair of vintage motorcycles. We would also opt for the electronic tail gate lock option to keep valuables safe in tandem with a tonneau cover.
The interior is a nice place to be, comfort owing to the zero gravity heated seats, heated steering wheel and one of the softest leather steering wheels we can remember. The PRO-4X has lava red anodized accents, lava red stitching throughout and embroidered logos to make the interior stand out, but it's not over-styled.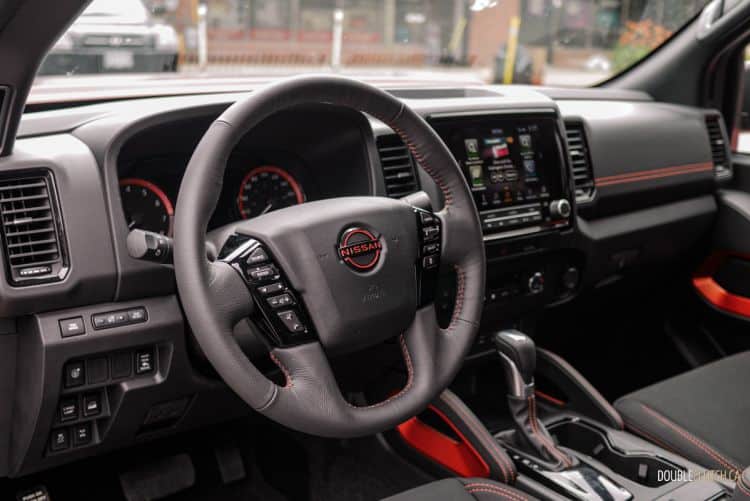 The King Cab's rear pillarless doors create a large opening for loading cargo, with two rear stool like seats that flip up to make extra room. Center console storage is plentiful, and Nissan includes a removable rear under seat storage tray for extra organization. A nine-inch color touchscreen serves as the focal point for infotainment, driving a six-speaker audio system. The interface is easy to use, and we appreciate the physical volume and tuning knobs along with shortcut buttons to quickly switch between media, camera, and map screens.
Climate controls with buttons for heated seats, steering wheel and parking sensors also keep things simple and intuitive, just the way we like it. A new bird's eye view "intelligent around view monitor" is created by stitching together multiple camera angles, but is let down somewhat by low resolution exacerbated by the large display. Though totally usable as is, we hope Nissan upgrades them for next year.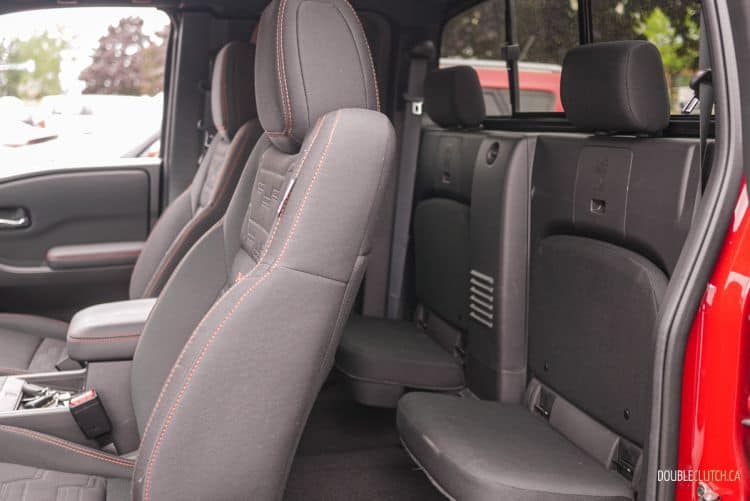 All the modern amenities we have come to expect are here without any extra bells and whistles like capacitive buttons to make things overly complex. This includes remote engine start, wireless Qi phone charging, 120V adapter, USB and USB-C connectivity, and even an Impact Sensor which alerts you with a horn chirp for a small impact or full alarm if something more serious like a break-in or wheel theft is detected.
The first thing we noticed as we set off is how heavy the steering feel is. The more we drove, the more we love it. There is a mechanical connection between the driver and the road – and that's because Nissan has gifted us with a traditional hydraulic assisted power steering rack and a steering damper to keep things manageable at low speeds. This worsens fuel economy slightly, but it's a tradeoff we happily accept for such communication through the wheel.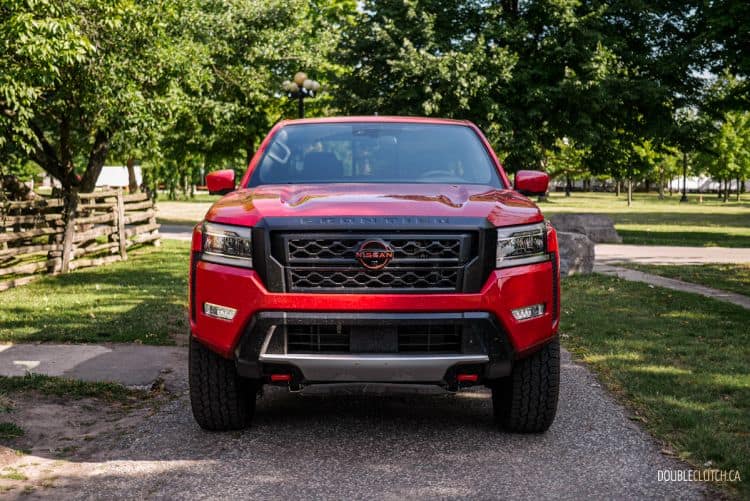 In PRO-4X guise the Frontier comes equipped with Bilstein off-road shocks which soak up everything we can throw at them with ease and comfort. Combined with its sublime steering, independent double wishbone front suspension, front sway bar, and rear stabilizer bar this Frontier takes first prize for best handling mid-size truck.
The Frontier is powered by a 3.8-liter V6 with direct injection which puts out a best in class 310 horsepower at 6,400RPM and 281 lb-ft. at 4,400RPM. The powerplant has plenty of low end grunt and is as simple as it is effective – no hybrid or turbos here. The engine is mated to an all-new nine-speed automatic transmission providing the ideal ratio be it for passing, towing, or just cruising as economically as possible.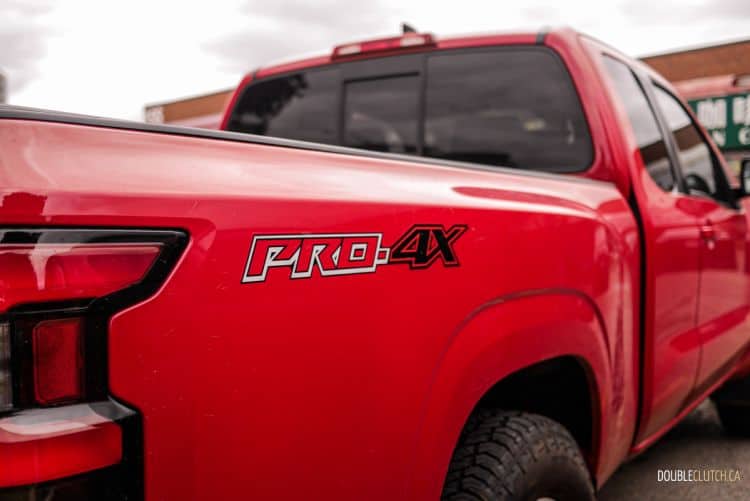 We did find a consistent vibration when coming to a stop – you can feel it through the seat and through the brake pedal which was a bit unsettling at first. This made us take evasive action on a few occasions thinking we had somehow locked up the wheels. We think the transmission tuning may be at fault, perhaps being a bit slow to shift into neutral.
Keeping with the theme of simplicity going you won't find any fancy paddle shifters here – though you can row up and down the gears using the shift lever in manual mode if you want to wring the motor out.  All Frontier models in Canada come equipped with four-wheel-drive and a two-speed electronic transfer case. Our PRO-4X has an electronic locking rear diff providing maximum traction both on and off-road.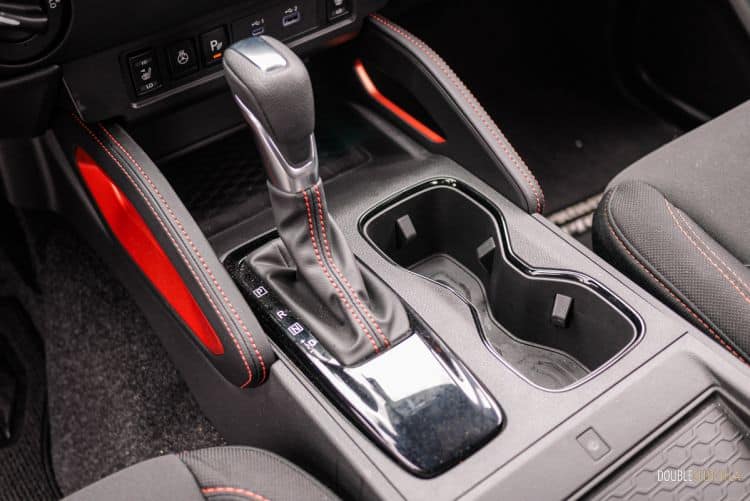 Nissan reports fuel economy to be 13.7L/100km in the city and 10.6L/100km on the highway, for a combined 12.3L/100km. Our actual economy after a week of mixed highway and city driving was 11.3L/100km. We were pleased to see some of our highway journeys register in the 9.0 range – showing that we can have our V6 and hydraulic power steering cake and eat it too.
For 2022 the Nissan Frontier starts at $40,498, and we think the PRO-4X is well worth the $46,098 asking price for its added off-road style and capability. We'd opt to spend the extra $510 for electronic tailgate lock, and $558 for step rails to make getting in and out a bit easier for vertically challenged folks like myself.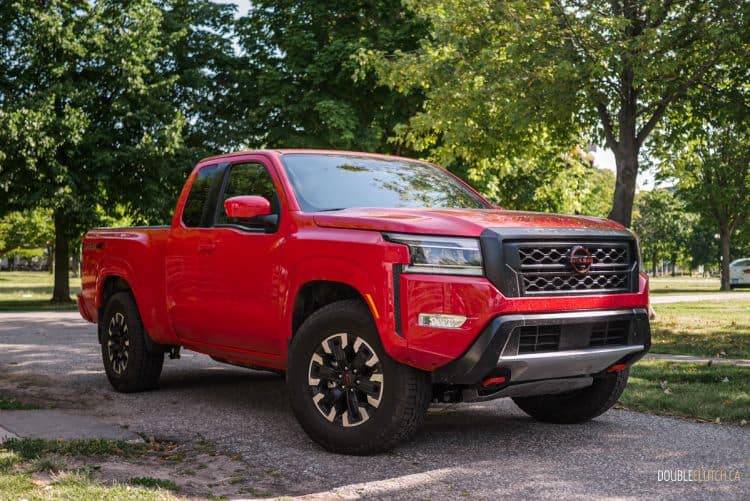 The 2022 Nissan Frontier PRO-4X King Cab may not be the first truck that comes to mind when considering mid-sizers, but it really should be. It does everything you expect a modern truck to do and does it well. It doesn't drive like a car or SUV – it's an honest to goodness body on frame truck and a great one at that.
See Also:
First Drive: 2022 Nissan Frontier