After leaving the North American market in 2012, the Ford Ranger returned in 2019 to meet growing market demands for compact pickup trucks. However, market reception has been lukewarm, so Ford is taking a page out of the recent success from their own 'lifestyle trucks' and has created what it calls the most off-road-capable factory-built Ranger ever offered in North America – this is the 2022 Ford Ranger Lariat with the Tremor Off-Road Package.
From a distance, the most giving visual cue that distinguishes the Tremor Off-Road Package from a standard Ranger is increased ground clearance and the aggressive Continental General Grabber A/TX all-terrain tires. These gave the Ranger Tremor an instant appeal that is similar to the GMC Canyon AT4 and the Chevrolet Colorado ZR2. Look a little closer and you will notice a different grill and red accents, special 17-inch Magnetic-painted wheels and badging. The differences are minor and our guess is Ford is saving the wild stuff for the upcoming Ranger Raptor.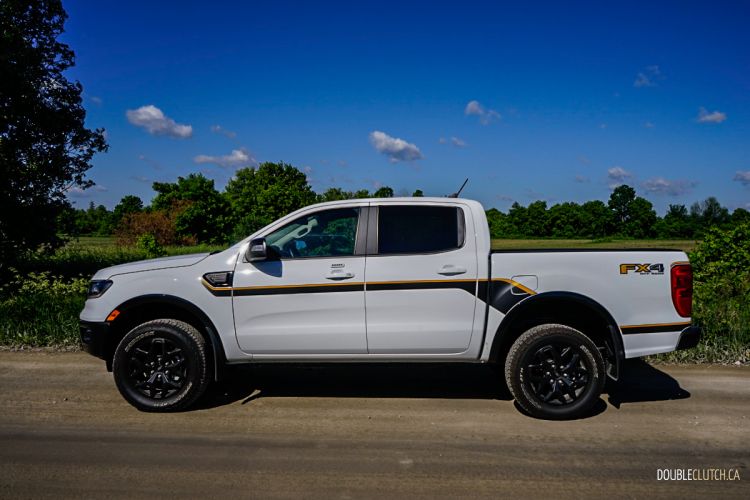 Powered by a 2.3-litre four-cylinder EcoBoost turbocharged engine, the Ranger Tremor outputs a healthy 270 horsepower and 310 lb-ft. of torque – plentiful for both city and highway use. A ten-speed automatic transmission is tasked to deliver power to all four wheels through an electronic locking rear differential, and while it is sufficient for the job at hand, the sheer number of gears made the Ranger a bit confused at times as it hunted for the right gear.
Getting off from a standstill, we often found the truck upshifting too soon only to see it kick down several gears, leading to a jerky experience. In contrast, the smaller Ford Maverick with its 2.0-litre turbo engine and eight-speed transmission was a much smoother performer and is worth considering if urban driving is a priority over hauling and towing.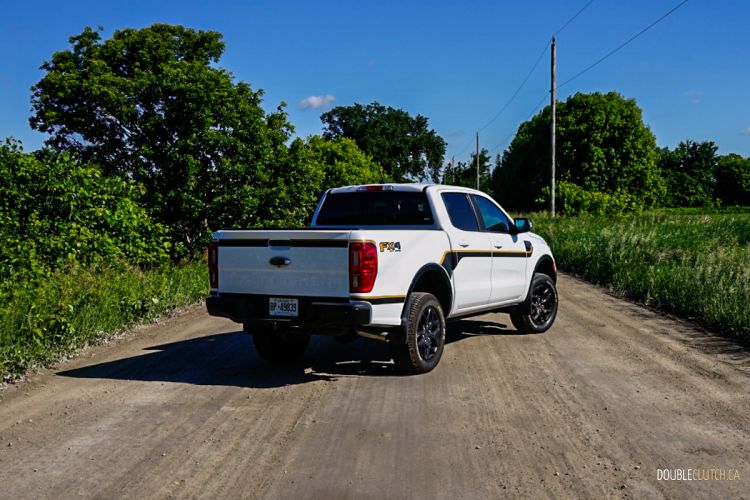 To make the Ranger Tremor worthy off the beaten path, Ford has installed a frame-mounted steel front bush plate and underbody skid plates to protect its radiator, steering rack, transfer case, and fuel tank from the elements. There is a dedicated Terrain Management System similar to the one in the Bronco that offers four drive modes and a unique Trail Control feature that is recalibrated for improved acceleration and traction in gravel.
Aside from the lifted suspension, the Ranger Tremor Off-Road Package also receives unique off-road tuned FOX 2.0 monotube dampers and the front coilover and rear left springs had also been specially tuned to handle the rugged terrain. For an off-road ready truck, the Ranger Tremor's ride quality is actually quite acceptable and we never felt unsettled even at highway speeds. Steering has good weight to it, and the Ranger felt easy to maneuver even in tight urban settings thanks to its tight turning radius. Our biggest concern with the way it drives is with the mushy brake pedal feel that made it hard to modulate and stop smoothly.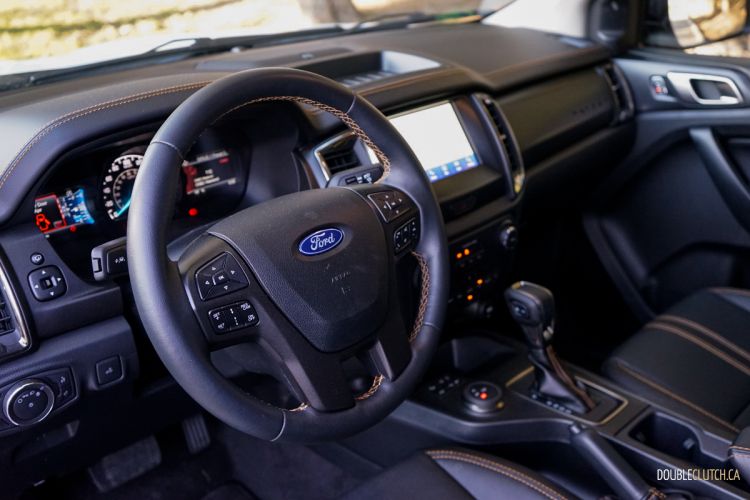 Fuel economy on the Ford Ranger Tremor is rated at 12.4L/100km in city and 12.3L/100km on the highway for a combined figure of 12.4L/100km, closely matching our observed consumption for the week. Max payload is rated at 1,696 pounds, and we were able to make full use of the Ranger's five-foot cargo box when we had to move some appliances during our week with it. Those looking to tow with the Ranger will be able to do so up to the 7,500-pound limit which is very useful without going to a full half-ton.
Interior comfort is quite good in the Ranger – the seats are comfortable and it was quite easy to see out of the truck on all sides. There are physical buttons for most controls and are well within reach of the driver, but the overt use of hard plastic makes it all look outdated and low-grade. In contrast, the Maverick's interior is much chicer and resonates with the lifestyle truck buyers more.
The Ford SYNC 3 infotainment is controlled using the touchscreen with intuitive system navigation, but screen resolution leaves a bit to be desired. The Bang and Olufsen stereo is a decent upgrade over the standard unit for those Apple CarPlay or Android Auto playlists, but don't expect the premium quality that you would get in a luxury vehicle.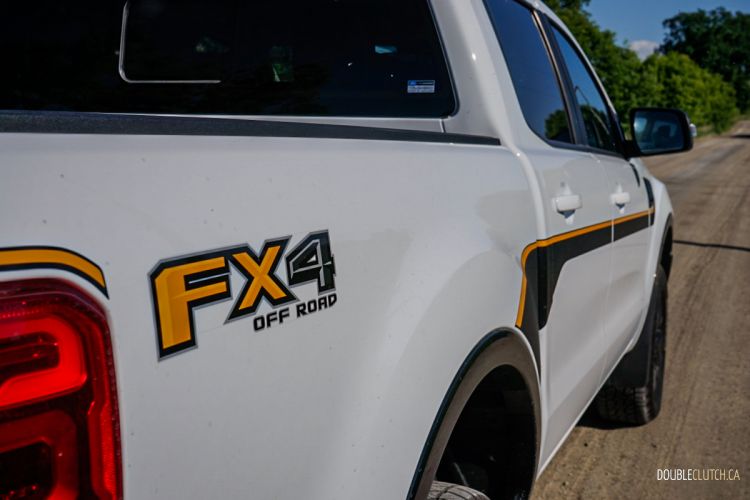 Built off of the Lariat that starts at $44,890, the Tremor Off-Road Package adds all the off-road goodies for an additional $5,250. Factoring in a few other options that were sprinkled in and we arrived at an as-tested price of $50,740 for this particular vehicle.
The 2022 Ford Ranger Lariat competes in a crowded off-road truck segment against the Toyota Tacoma TRD Pro, GMC Canyon AT4 and the Chevrolet Colorado ZR2. They are all aimed at the same group of buyers that want to do more with the trucks than just hauling, and the good part is that these customers are not afraid to spend to look the part. As long as urban driving is not part of your commute, the Ranger can be a good truck for its well tuned handling and comfort. If you have to drive in traffic, just do yourself a favour and order a Maverick – it is a better truck for city living and the utility is not far behind.
See Also: