There are cars you buy for their talkative and telepathic steering, their raucous exhaust notes and tire-shredding performance, or their heartthrob-good looks. There are also cars you buy for their roomy back seat and trunk, their comfortable ride and impressive fuel economy, and their laundry list of safety features. Care to guess where the 2022 Nissan Altima Midnight Edition fits in?
Much ado has been made about the demise of midsize sedans. In recent years, Ford and GM famously pulled the plug on their mainstream sedans for the North American market, effectively forcing people into costlier crossovers. Nissan, on the other hand, is one of the holdouts — although its own lineup is flush with sport-utes of all shapes and sizes, the Altima is among not one, not two, but four sedans to choose from. Not everyone wants a high-riding, blob-shaped mobile appliance as their family hauler, and Nissan clearly recognizes this.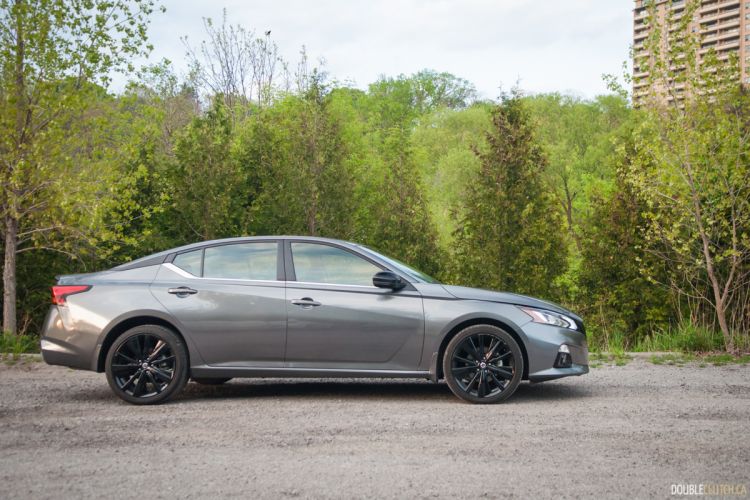 In Canada, all Altimas are powered by a normally aspirated 2.5-litre four-cylinder engine. Putting out 182 horsepower and 178 pound-feet of torque and paired exclusively to a CVT, it's neither over- nor underwhelming — it's simply whelming. Whether that's "enough" is a matter of perspective and budget. If you're trading up from your 10-year-old Versa Note from, you'll probably think the Altima is a hot rod by comparison. But if your heart's set on an Accord 2.0T or a V6-powered Camry, and your brain's telling you to check out the Altima because you'll save a few grand, the lack of kick may be disappointing. There's no hybrid version, either. Evidently, variety isn't the spice of life at Nissan. 
So, it's clear the Altima isn't a hot rod, but it's not supposed to be. Instead, it's extremely capable at simply being a car: 186 horsepower won't set your pants on fire, but it gets out of its own way on the highway. Nissan's CVTs tend to be a lightning rod for criticism, but the Altima's is generally unobtrusive unless you really put your foot into it — and even then, it's smart enough to simulate gear shifts so it doesn't force the car to drone too badly. The Altima rides well enough; only the roughest of imperfections really find their way into the cabin, and wind and road noise on the highway are minimal. The Altima is totally unremarkable in the way it drives, and that's the way it should be in a car like this.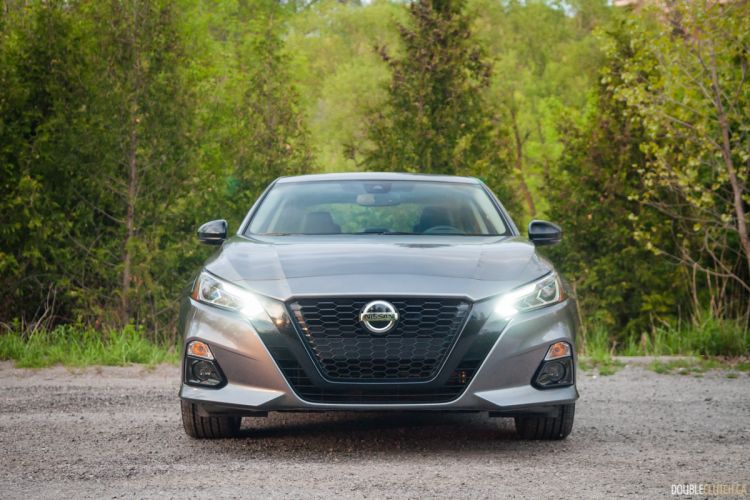 But the Altima has an ace up its sleeve: all-wheel-drive is standard across the lineup. It's not as advanced as the AWD system you'd find in the GT-R, but it's enough to add a bonus layer of foul-weather confidence, and depending on your priorities, a leg up over midsizers like the Accord and Sonata, where AWD isn't even an option. That said, with AWD available on the Camry, and standard on the Kia K5 and of course, the Subaru Legacy, the Altima isn't alone.
On fuel economy, the Altima is commendably stingy. Officially, the Altima's rated at 9.1 L/100 kilometres in the city, 6.5 on the highway, and 7.9 combined. That's firmly mid-pack for the midsize segment; it's a touch more frugal than the AWD Camry and K5, although the Legacy is a touch more frugal. We eked out 8.0L/100 km by the end of our affair with the Altima, and even got it down to as low as 6.4 on a couple of mostly highway jaunts. Not bad, considering it's AWD and happily takes 87.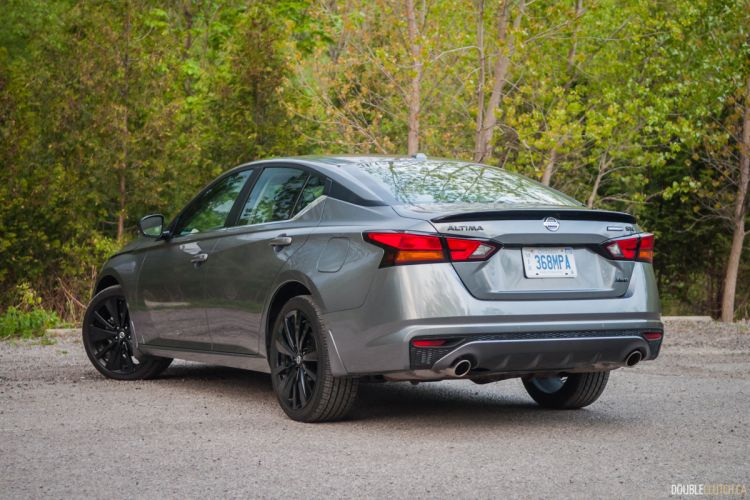 Nissan unleashed this latest-gen Altima in 2019, and inside, it definitely shows. It's not as though the Altima's interior is totally lacklustre, it just lacks the visual pizzaz you'd find elsewhere in the segment. Fit-and-finish is good, but the fake carbon fibre trim cheapens the look. Infotainment is intuitive enough and it's handled via an eight-inch touchscreen, but the displays and graphics don't look or feel particularly modern, even compared to newer Nissans like the Sentra and Rogue.
Nissan makes a big deal about its so-called Zero Gravity seats, and while it's easy to get comfortable, taller drivers might want a little more thigh support. There's ample headroom and legroom all around, and the Altima's trunk is rather roomy, but the smallish opening when you stow the rear seats is a bottleneck for transporting longer items.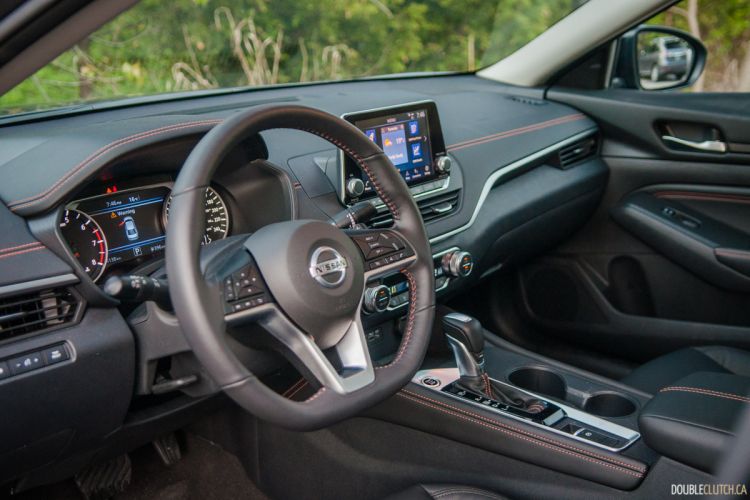 On price, a base Altima will run you $30,598, and it comes standard with most of the active safety bits you'd expect in 2022, including automatic braking, lane-departure warning and blind-spot monitoring, and rear-cross-traffic alert, but you're missing basic goodies like LED lighting, Apple CarPlay and Android Auto connectivity, and a heated steering wheel and heated seats. Snagging those bits and bobs means stepping up to our particular tester, the mid-range $33,198 Altima Midnight Edition — plus, you get a handful of black accents all around. 
Even then, you're still missing features like adaptive cruise control, a 360-degree camera; for that, you'll have to step up to the Platinum trim, which tops out at just over $36,000. That's a decent chunk of change; the Altima remains competitive if you're after standard AWD, but you'll have to pay to play if you want certain bells and whistles. And if you want more beans or a hybrid powertrain, you'll be better served by one of the Altima's few remaining competitors.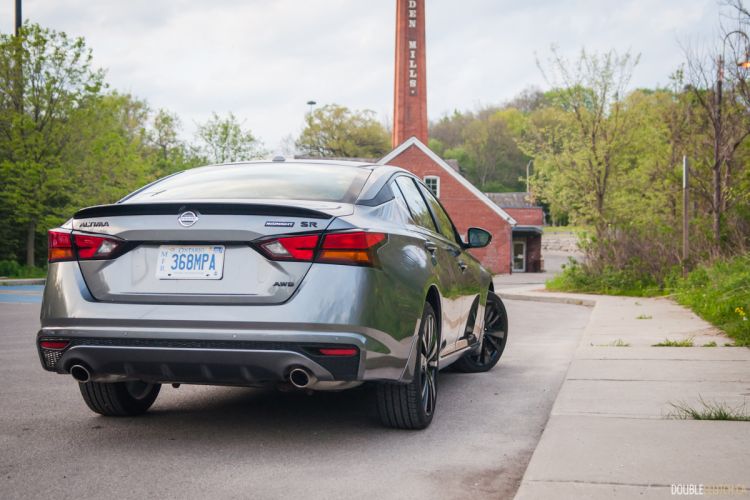 The midsize sedan market is undoubtedly shrinking, but the 2022 Nissan Altima Midnight Edition is one of the holdouts. Truly a jack of all trades and a master of none, the Altima isn't a particularly glamorous option, but it's comfortable, roomy, and the standard all-wheel-drive is a boon for those seeking four-season capability in something that isn't a high-riding, blob-shaped crossover. 
See Also: