The current Maserati lineup has a weird dichotomy going on. On one hand, the brand brings with it decades of prestige, Italian craftsmanship and drop-dead gorgeous styling. Conversely, the Stellantis family parts bin has resulted in some unfavourable interior bits that have enthusiasts and buyers alike complaining about similarities to the likes of the Dodge Journey. We spent a week with what's supposedly an enthusiast's special, the 2022 Maserati Ghibli Trofeo, and set out to determine whether or not it packs legitimate credentials living up to the brand's storied heritage.
There are no two ways about it; the Ghibli Trofeo is a looker. Its proportions are just right and the stunning metallic red paint on our tester is even more flattering. The fascia is corporate Maserati, the tri-portholes on the front fender are sharp, and the profile is downright muscular. It's not particularly a menacing design, but it's handsome enough to be noteworthy and stand out from the German competition, which tends to blend together. The BMW 5-series may be a superior car, but it won't garner nearly as many looks as this.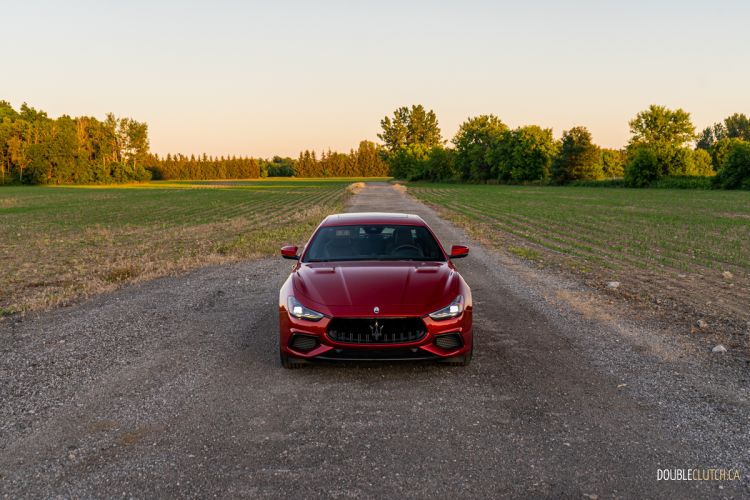 Stepping into the cabin, it's obvious that the Italians have had their way with things. The interior is lined with luscious leather that has a scrumptious smell, lovely contrast stitching, and liberal use of carbon fiber. The materials are top notch, and everything is fitted together correctly – which is remarkable considering Italian tradition. The cockpit is just as handsome as the exterior, with a large touchscreen housing wireless Apple CarPlay and a somewhat infuriating user interface. However, there are enough hard buttons to take away some of the anger.
Maserati's infotainment system is a re-jigged version of Stellantis' Uconnect, which is a good thing. The rotary scroll device to control it is nice to have, but the touchscreen's operation is fairly easy. We wish there were physical buttons for heated and ventilated seat controls. The Bowers & Wilkins stereo equipped here is a darn good one, though we longed for more equalizer settings to really fine tune the audio to our liking. The only real downside to the interior is that much of the plastic switchgear is Stellantis-shared, and adds a rather cheap aura to an otherwise very nice space to be.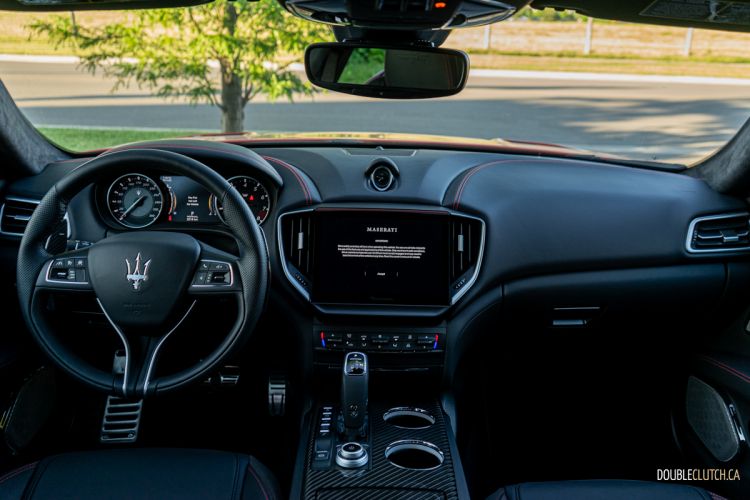 All Trofeo models are powered by a twin-turbocharged 3.8-liter V8 engine. It shares some components with Ferrari and pushes 575 horsepower and 583 lb-ft. of torque. It's rear-wheel drive and puts power down through a ZF eight-speed automatic transmission. Put your foot down and it's immediately evident that this thing is seriously fast, hitting 100km/h in 4.3 seconds. Power is urgent, there is minimal turbo lag, and acceleration is met with a confident roar from the exhaust.
Stuff the Ghibli into a corner and while its 4,300-pound weight isn't exactly hidden, it exhibits a considerable amount of confidence. It responds with urgency and is willing to dance on demand. Flick the drive mode selector into "Sport/Corsa" and everything firms up nicely. While the Ghibli lags behind its E 63 and M5 Competition rivals in sheer numbers, it doesn't feel much less precise. If anything, it lacks that very serious German feel and replaces that with some Italian character and style. There's poise to its actions, and personality is very important when shopping in this price bracket.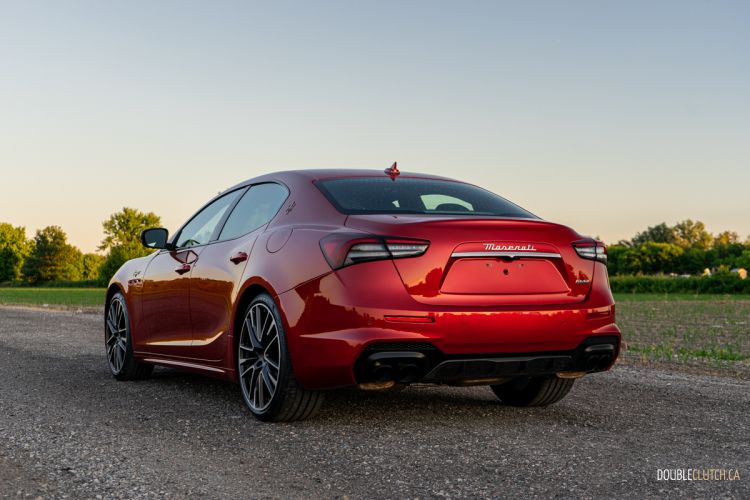 Maserati rates the 2022 Ghibli Trofeo at 17.4L/100km in the city and 11.9L/100km on the highway, for a combined 14.9L/100km. We observed about 13.6L/100km over our weeklong test on 93-octane premium fuel, and this consisted of a good amount of highway cruising. It's about on par with the Ghibli's rivals, though buyer beware that taking advantage of that sweet-sounding V8 has a direct correlation on fuel consumption.
The Ghibli starts at $107,400 for the base six-cylinder Modena Q4, and $139,300 for the Trofeo. Our tester was equipped with a few niceties like the Interior Carbon Fiber Package, Climate Package, Bowers & Wilkins sound system, and a few other bits, taking the price to just about $150,000. The last BMW M5 Competition we tested was $150,250, and the last E 63 was $139,300. The pricing is comparable, but the Ghibli is a heart choice and not necessarily a brain choice.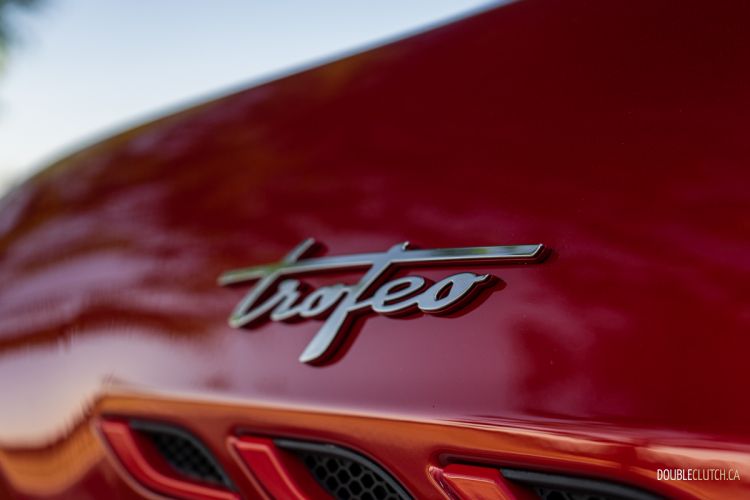 The 2022 Maserati Ghibli Trofeo is a car with a lot of character. It has looks that could kill, a heart that beats with true passion, and a metric ton of sheer elegance. When spec'd right like our tester pictured here, the Ghibli gets the right kind of attention on the road; appreciation. While passerby may scoff at the aggressiveness of an M5 or E 63, the Trofeo brings class to the roads. It's not perfect, and has plenty of flaws, but this car does tug at the heartstrings in a way many of today's performance cars don't.
See Also: